Time Attack Competition Car Classes
Find out more about our classes and what they mean
Time Attack is about turning up to a track and attacking it for the quickest time you can achieve from your car. It is open to all manufacturers and drive train layouts so whether its a standard front wheel drive Vauxhall to a four wheel drive Audi, we have a class suitable for varying degrees of tuning and modification.
Our classing system is designed to roughly categorise cars which are of similar layout, power, modification and most importantly speed and time around a track in order to create competitive classing and a safe environment for those in each class. Unlike other forms of motorsport we categorise cars by the modifications, what they are, what potential they have and how far removed from a standard car they are which can unusual and after years of categorising a sport which is all about time, not winning a race – it is the only way to provide the classing for the cars that compete.
As a result we have many varied cars and drivers but all have the same challenge – how to kill the clock and nail down the quickest time possible.
When a car has proven itself on a track its clear to see what it is capable of but to start with, for new entrants we ask a few direct and simple questions about the car along with asking for supporting pictures. This is a requirement that enables us to put a ready reckoner on what we feel the car is capable of and where it should sit in the Time Attack classing system. As has been the case for many years, the system is sometimes subjective and is merely a starting point so we normally come to a realistic agreement with the owner/team and see how they get on.
Classification of the car is normally a process of consultation between the owner/team and our internal panel which consists of open discussion between Andy Barnes, Rob Barnes, Simon Slade our Championship Coordinator and our MSA Chief Scrutineer Mike Mattison, who between them have decades of experience in building, tuning and racing at National and International level. Being 'in touch' and aware of the tuning industry standards and techniques is vital to understand the anatomy of a Time Attack car as well as the high standards of quality required by the MSA in order to pass the correct judgement on car classing for the sport.
The concept of classing cars is to ensure fairness and safety between classes without restricting the on-going tuning and modification of the car, after all that is the essence of what the teams are attacking for – constant development and aiming high to lower the times by improving the car. Fairness is defined in having cars of similar capability battling for trophies during their Time Attack campaign and safety defined as ensuring cars of particular speed and modification are well equipped for the job and that the differential in speeds between cars on track is not too great.
Time Attack operates its safety and sporting rulebook alongside the MSA, the UK's governing body of motorsport with many areas of Time Attack cars conforming to the notorious and annually updated MSA Blue Book.
The standing classes of Time Attack :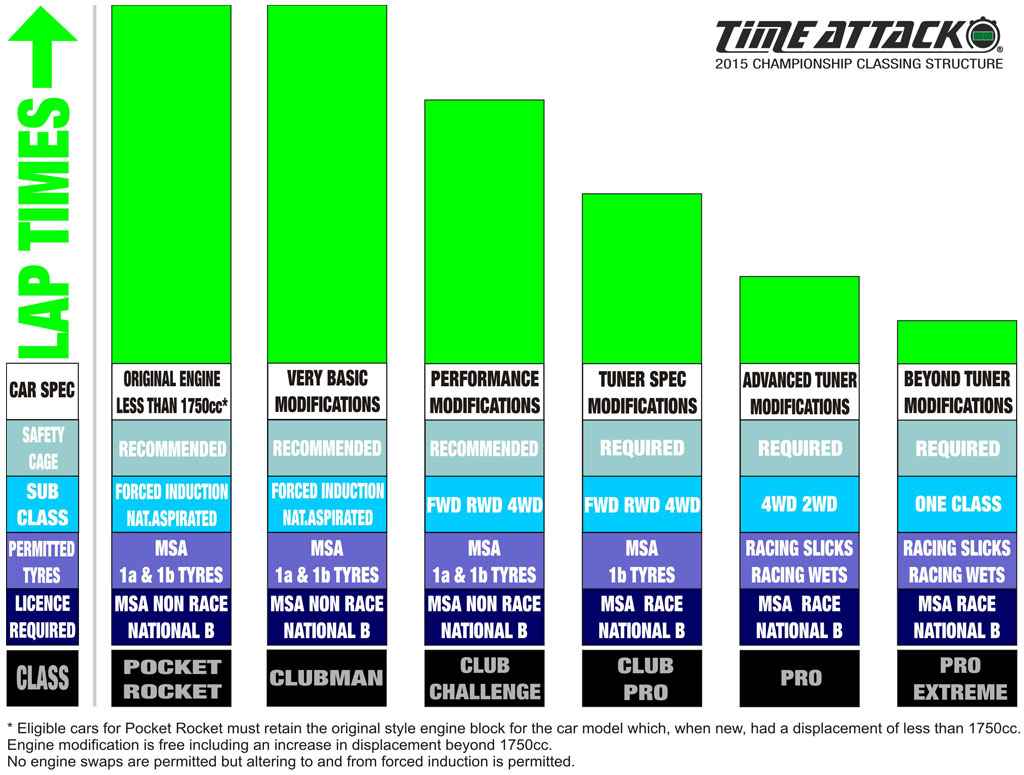 Regardless of class or full/partial season entry, classing for your vehicle will be determined by the Time Attack officials, both sporting and technical. Classification is based on our rules, car modification, driver experience and overall safety, power and aero performance of the car.
More on this:
Class entry, submission and the initial questions to see how you can enter your car email : Simon Slade
Scrutineering, engineering and modification eligibility questions including MSA rulebook interpretation email : Mike Mattison