Before you look to closely at the times from Brands Hatch on Saturday, we have to talk about the weather..
Cold, wet, damp.. then repeat. All day. So the times achieved on the day aren't representative of outright pace. They are however, a testament to how quick these cars are in slippery conditions – and how brave and skillful the drivers are. Coping with a wet track is difficult enough, but when the grip levels literally change with each corner, it becomes extremely difficult for the drivers to find the limits of adhesion, and for the teams to set the car up effectively.
Three of our four Club Challenges were already won: Dave Coe (4WD), Kevin Jones (RWD) and Mark Burnett (NA). However, the FWD class was a two-way fight between reigning Champion Marc Donnelly (Mk3 Ford Escort) and new challenger Adam Jones (EP3 Honda Civic Type-R). While there were still some runners-up to sort out across all classes.
Club 4WD Challenge
Damien Bradley – Subaru Legacy
This is Subaru Legacy driver Damien Bradley's debut year in Time Attack. Looking at the timing screens you wouldn't know it though. He's been extremely fast all year and he lives relatively close to Brands Hatch, did that have an effect on his performance? Possibly, as Damien dominated Club 4WD all day. He was fastest in qualifying by a massive three and a half seconds! Before going on to set his fastest time of the day in the final, which he won. Damien's maximum points haul meant he finished just 30 points behind our 2014 Club 4WD Champ Dave Coe, so it was very close. Damien dedicated his win at Brands Hatch to Simon Roe of Jolly Green Monster. Simon maps the ECU on Damien's car and is suffering from ill health. Simon is very popular in the Time Attack paddock, supporting drivers and also driving himself earlier in the year as a One-Hit-Wonder. We'd like to join Damien in sending our best wishes to Simon and his family. Damien's performance was a worthy tribute.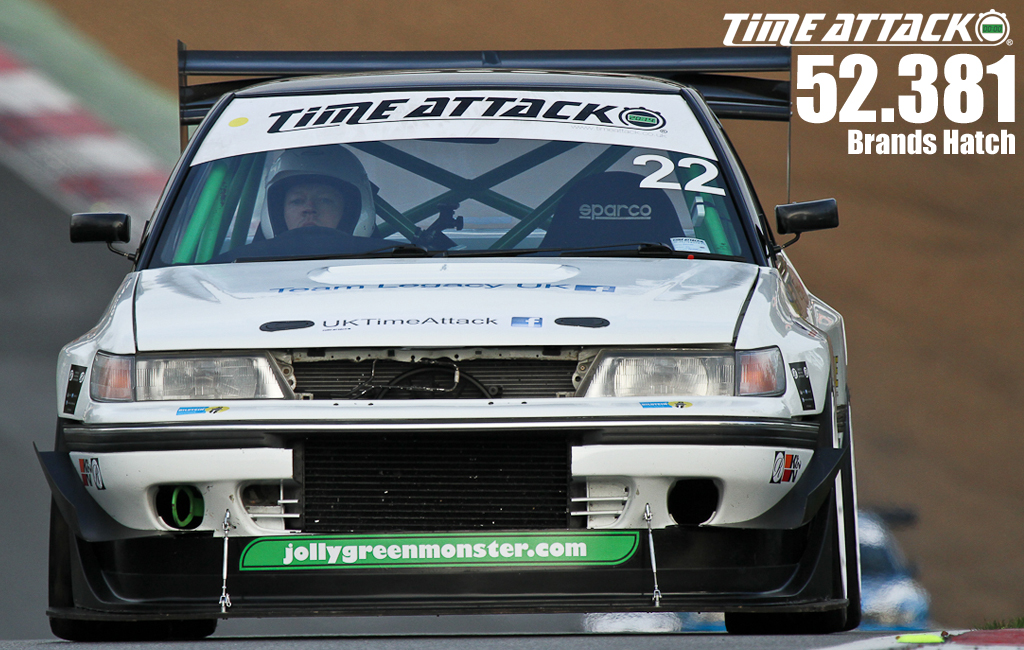 Jason Bird – Mitsubishi Evo
What an end to the season Jason Bird has had! Three runner-up performances in a row has seen Jason pull clear of his rivals to land third place in the championship overall. We're not sure what Eurospec have done recently to make Jason's Evo faster, or perhaps the pace is down to Jason's driving? Either way, he's clearly stepped things up a notch in recent events.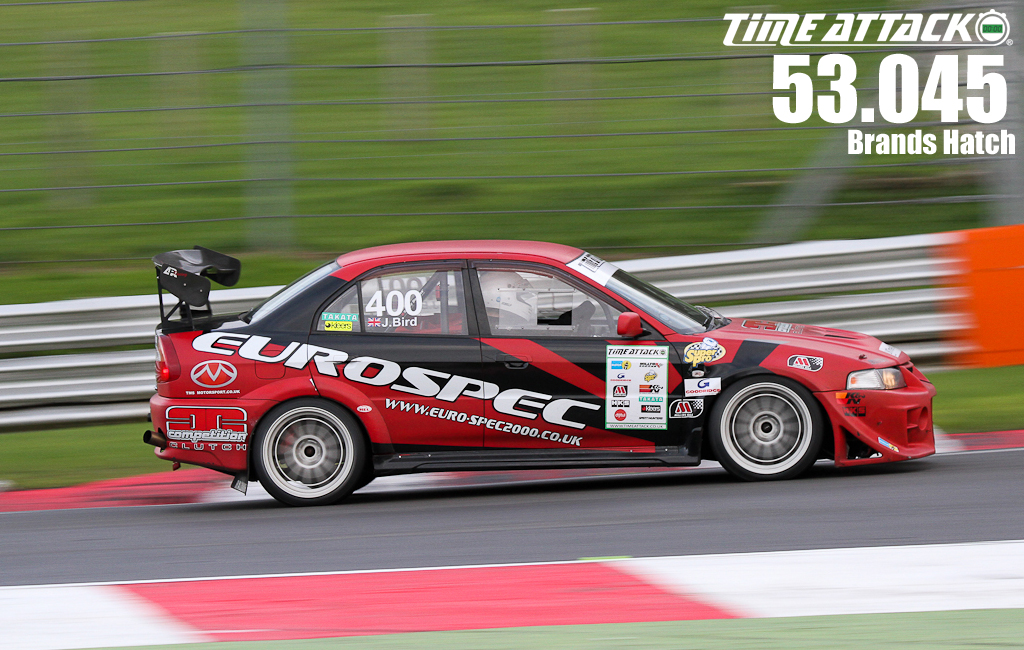 Club 4WD Champion : Dave Coe – Subaru Impreza
Dave arrived at Brands Hatch with huge spotlights attached to the front of his Subaru Impreza, ready for the Night Attack. Did it slow him down? Well, only slightly. Dave qualified in second place and then went significantly faster in the final, finishing third. However, with the title already secured at the previous round, and the Night Attack to look forward to, it's possible Dave was keeping a little something back. Dave won the title by starting the year strong. He won the final of the first four rounds, the last two of which he won qualifying too. After this extremely successful year, Dave has to decide whether he wants to take the step up into Club Pro or defend his Club 4WD title in 2015.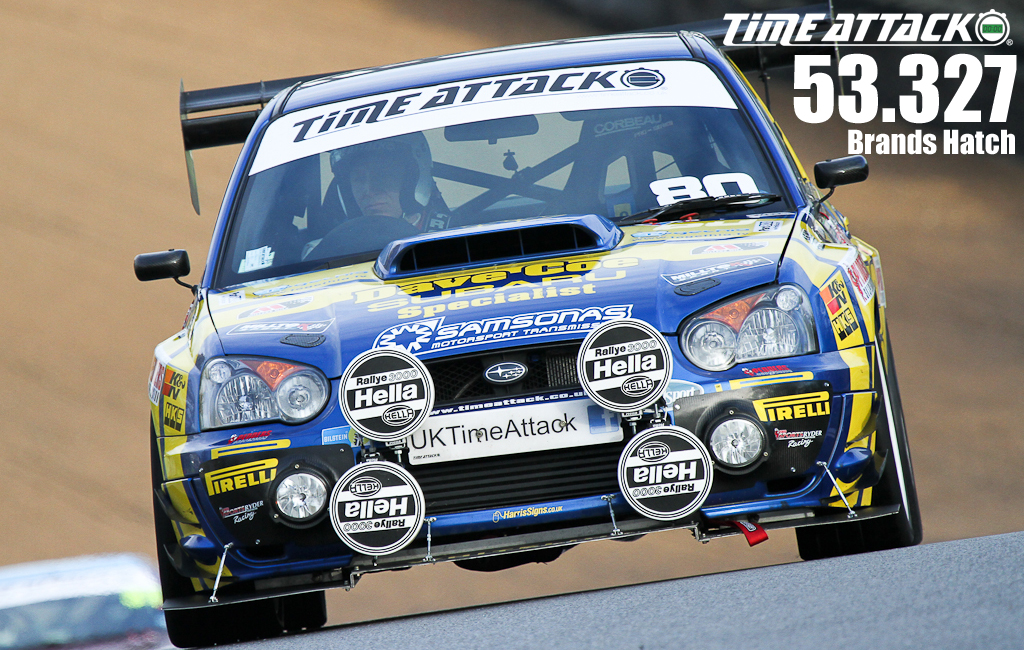 (OHW) Adam Kindness – Subaru Impreza
One-Hit-Wonder Adam Kindness had borrowed the 2.35-litre Subaru Impreza owned by his understanding wife Fiona. The couple are driving mad, each having a highly-tuned car to use on track and a collection of trophies to go with them. In qualifying, Adam learned a lesson the hard way as he found himself at the back of the pack, meaning he didn't get a dry lap in before it started to rain. His final was interrupted with boost issues but he still managed to put in his fastest time of the day. Adam left slightly dissapointed, feeling he could have gone faster with a few more laps under his belt.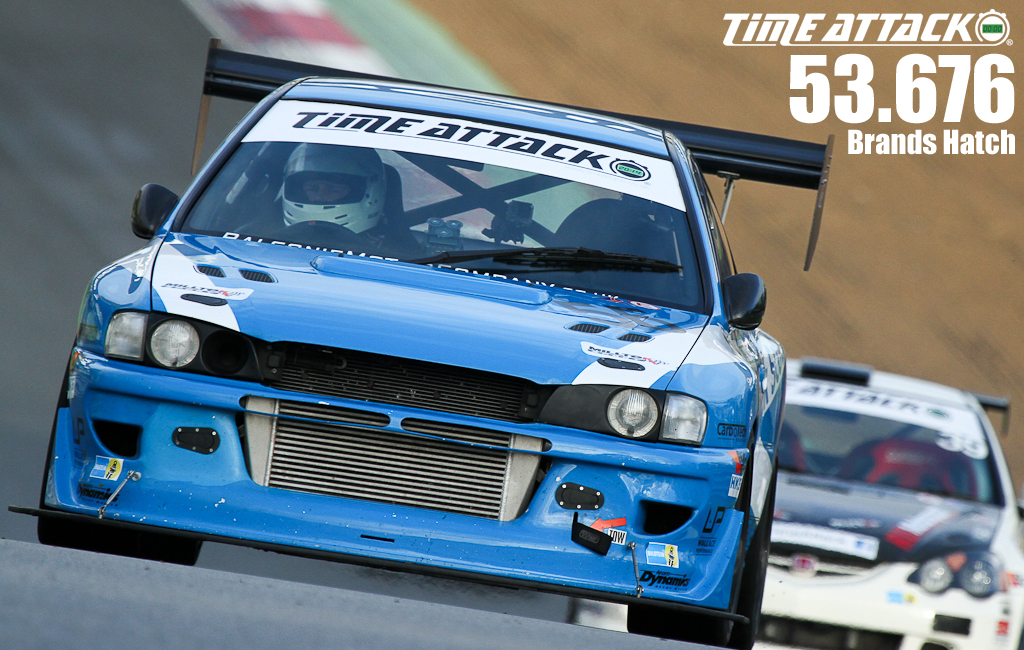 Eric Holmes – Mitsubishi Evo
There's no way to dress this up, it was a very disappointing final round for Mitsubishi Evo driver Eric Holmes. He entered the final round in a head-to-head battle with Jason Bird for third place in the Championship. However, technical issues with the car meant Eric qualified way down the order. After some speedy repair work, he made the final and drove as hard as he could, setting his fastest time of the day to finish fourth. It's been an up-and-down year for Eric, who has shown genuine pace at times. Occasional niggles with the car have stopped him from performing to his best, but Eric and his team deserve credit for always getting on with whatever needs doing. You never hear Eric complaining, he just rolls up his sleeves and gets on with it. Let's hope he can concentrate more on the driving side of things and spend less time underneath the car next year.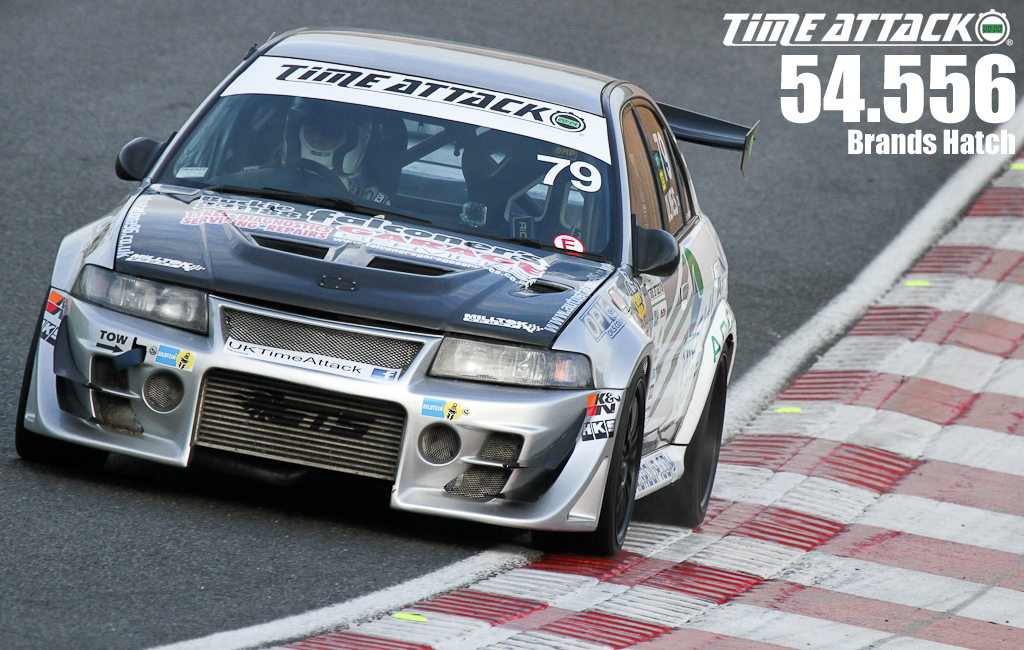 Mark Flook – Nissan GT-R
When Mark's Mitsubishi GTO became troublesome at the start of the season, Mark Flook had a choice to make: pack up and go home or find another car. As Time Attack will know, Mark decided to enter his Nissan Skyline GT-R road car and hasn't looked back. It's only very mildly modified, but the bits that Eurospec have tweaked have proved very effective. In the true Club Challenge spirit, Mark drove his GT-R to and from events this year, setting some very quick lap times in between.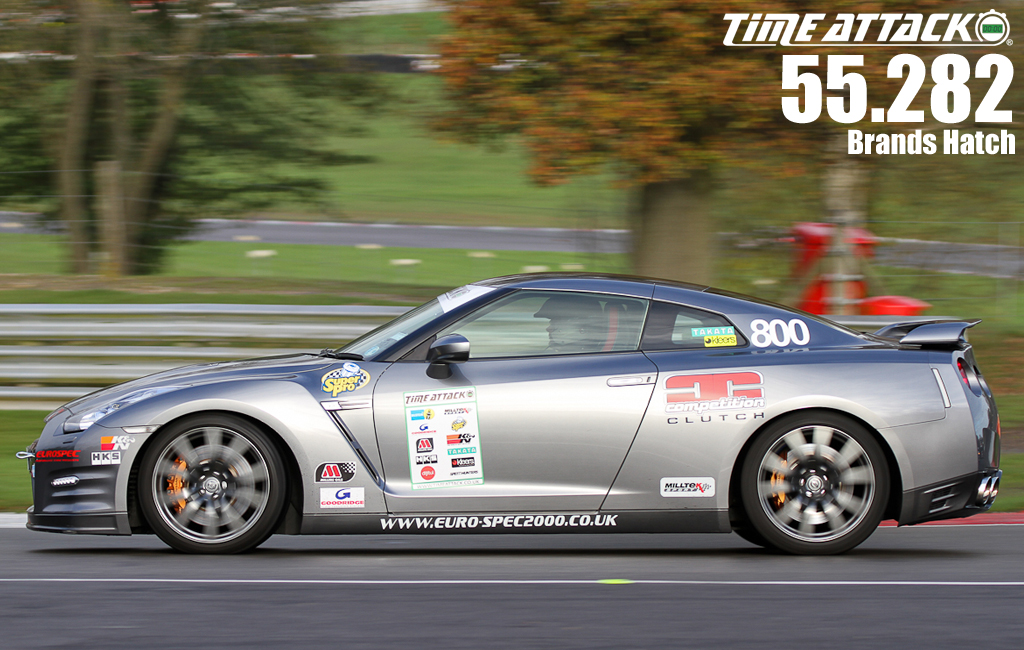 (OHW) Chris Roberts – Subaru Impreza
The enthusiasm Chris has for Time Attack was very clear at Brands Hatch. As a One-Hit-Wonder, his black Subaru appeared to be out on track for every minute of every session. He completed more laps throughout the day than the vast majority of the Time Attack field. Chris set his fastest time of the day on his final lap of the final, indicating he was going faster and faster as the day progressed.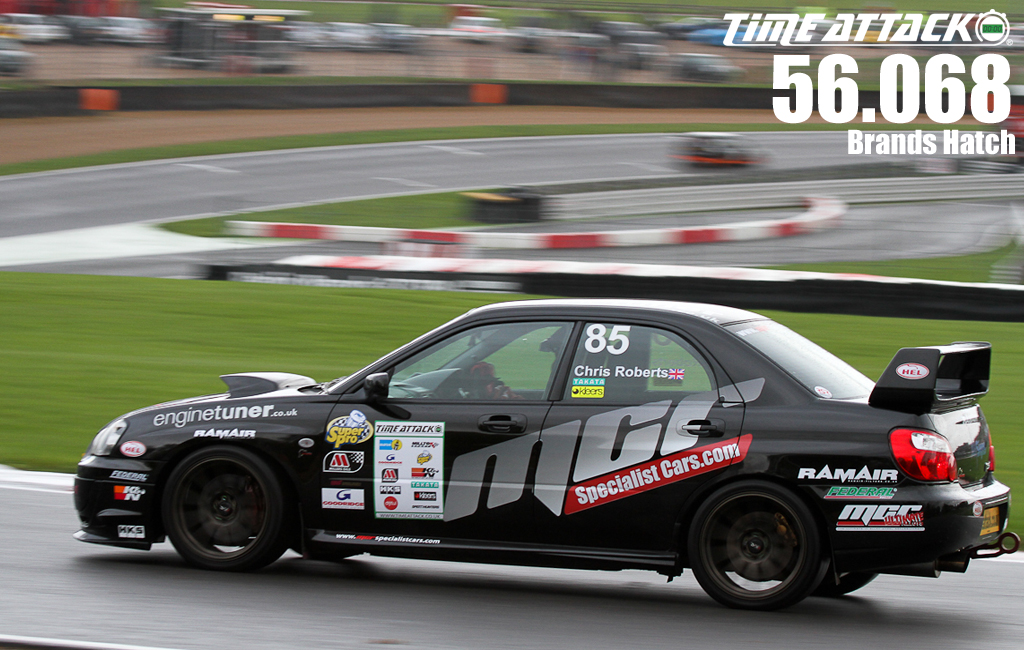 Club RWD
2014 Club RWD Champion : Kevin Jones – Noble M12 GTO-3R
As has been the case all year, Kevin Jones had a comfortable gap to his RWD rivals all day. His Noble is prepared by Jetstream Motorsport, and the combination of Kevin's driving and the Noble's fearsome capabilities have allowed Kevin to run away with the title. In fact, Kevin is the only driver across all seven Time Attack classes that scored the maximum 150 points at every single round. That meant that even his dropped score was a maximum. It's been a stunning year for Kevin and there were rumours in the paddock about his plans for next year. We can't say too much yet but this certainly won't be the last you'll see of this Noble in UK Time Attack.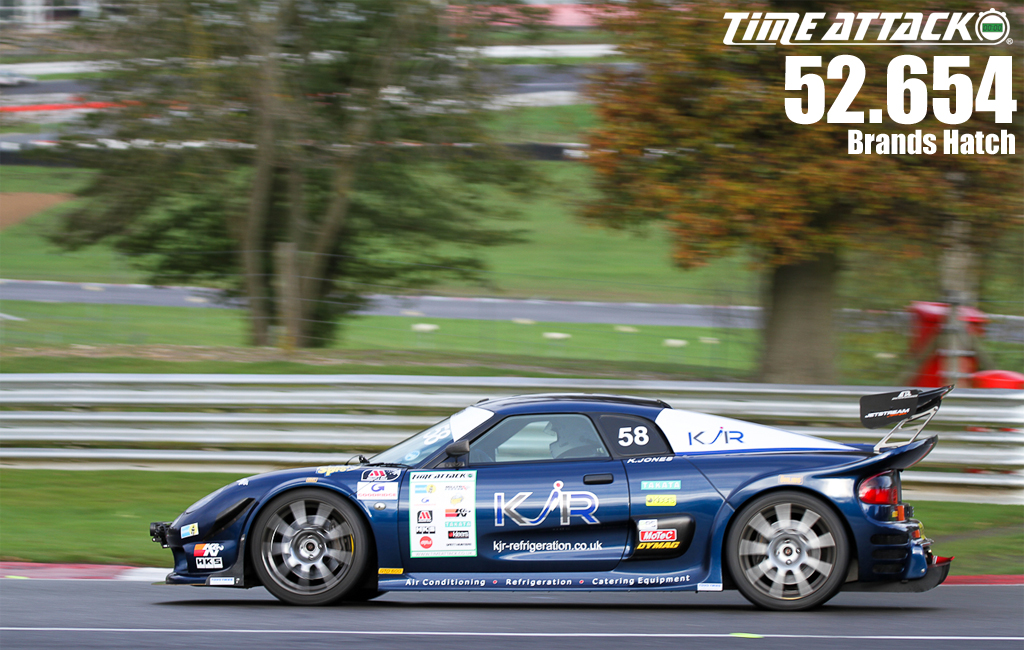 Neil Clark – Mazda RX-7 FC3S
Like a super-sub in football, Neil Clark picked himself off the bench at half-time in the season and went on to become the game changer. A swap to a smaller, faster-spooling turbo was a key part of some important changes halfway through the season. The result was Neil suddenly had a car that was working with him, not against him. The result was instant success and a sharp climb up the Club RWD standings. So steep was his rise in fact, that by securing second place in every qualifying and final session over the final three rounds, including Brands Hatch, Neil grabbed the runner-up spot in the Club RWD Championship. A spectacular turn-around that also awards him the unofficial title of the fastest Mazda RX-7 driver, of the three that began the season.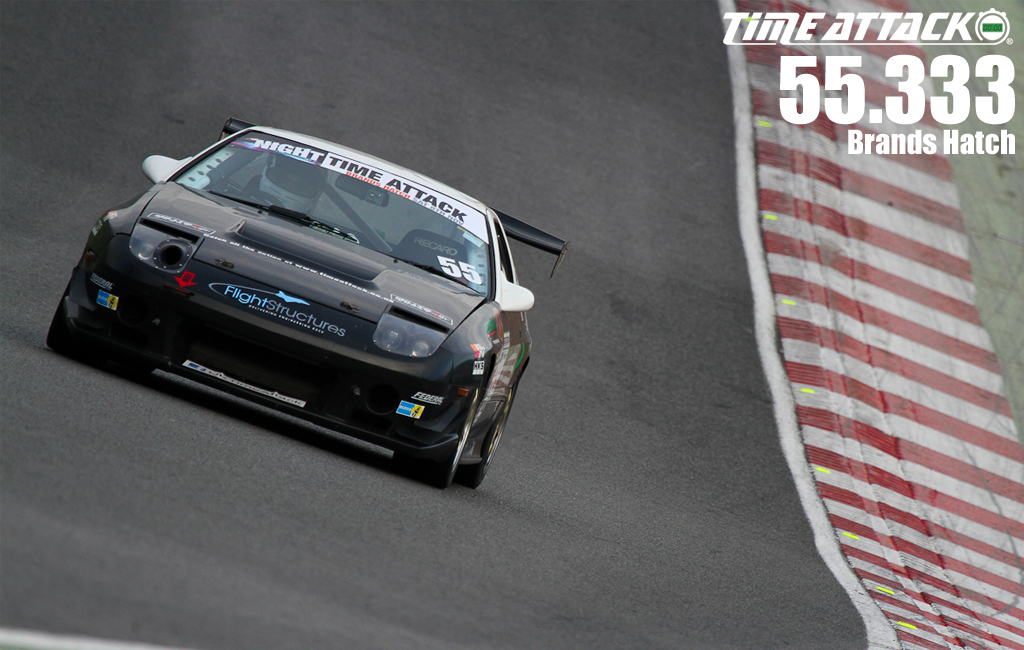 Umar Masood – Mazda RX-7 FD3S
It's been a mixed year for Umar Masood and his widebody FD3S RX-7. Often turning up to events having not slept, it was a similar story at Brands Hatch. Umar runs a garage himself which generally means putting customers first and leaving his preparation until the very last minute! Umar also had a change of engine tuner this year, with RotaryMotion coming on board to build a specially-ported rotary engine for the car. It was clearly working well at Brands Hatch, as Umar pounded round all day in the Championship before doing exactly the same in the Night Attack, spitting flames everywhere. In his battle with Neil Clark, Umar only just missed out on the points at Brands. There was just 0.136 secs between the pair in qualifying and just 0.054 secs in the final!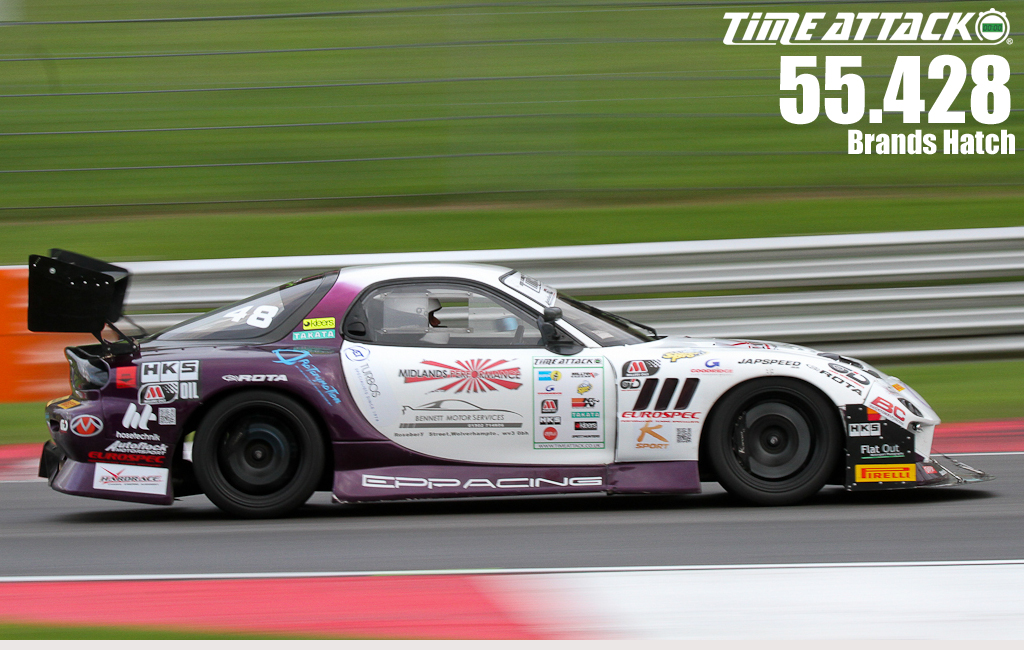 Club FWD
Jonny Fletcher – Vauxhall Astra GSI
It's been a season of mixed foruntes for Astra driver Jonny Fletcher. He's been blisteringly fast at some tracks but then fallen victim to mechanical woes elsewere. As a result he arrived at Brands Hatch knowing he couldn't make the Championship podium. However, he did have a newly rebuilt gearbox thanks to G-R Performance. Despite some typical bad luck creeping in, Jonny showed us how fast he and his Astra really are. He didn't score any points in qualifying after his gear selector cable broke. After creating a temporary fix, Jonny went out in the final. Even with fuelling issues meaning he was down on power, Jonny pushed as hard as he dared and was quite surprised to come in and find out he'd won and was the quickest fwd car of the day too! With full power and on a dry track, we suspect Jonny could go a lot quicker too.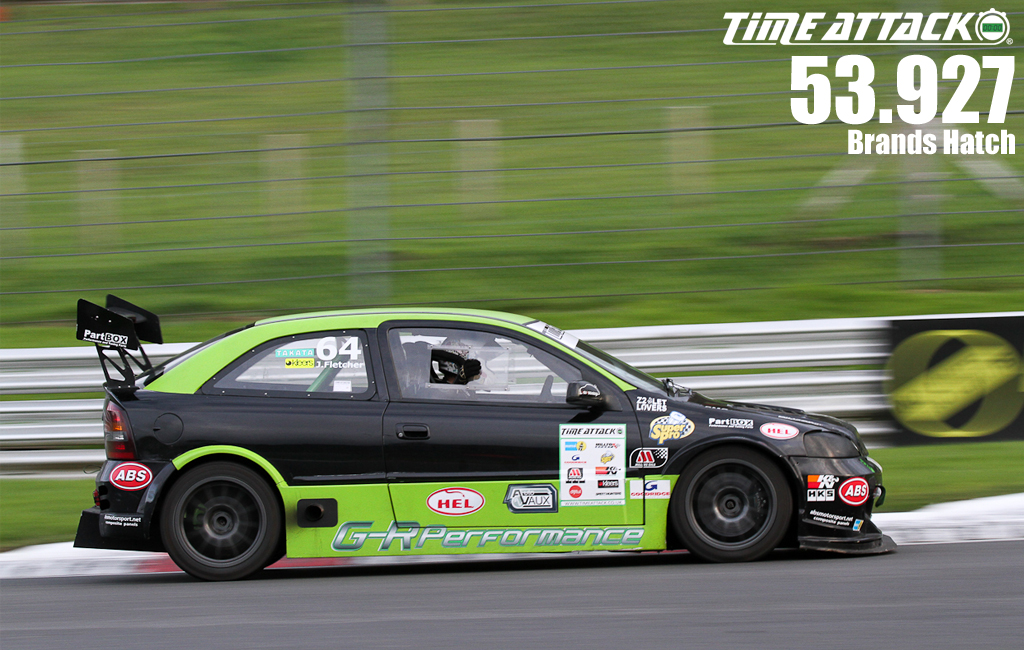 (OHW) Robert Burkinshaw – Honda Integra DC5
You never know what you're going to get with One-Hit-Wonders. At least that's usually the case. Robert Burkinshaw returned to Time Attack at Brands Hatch after going off to do racing for a couple of years. He's just been crowned Champion of the VTEC Challenge racing series too, so everyone knew he would be quick. Just like Darren Spooner in the Peugeot 205, Robert wanted to fight against the turbo'd and supercharged FWD class. Despite being down on power and slower through the speed traps, Robert was clearly making up massive time through the bends, finishing only 0.127 secs behind the fastest Club FWD time of the day. Very impressive.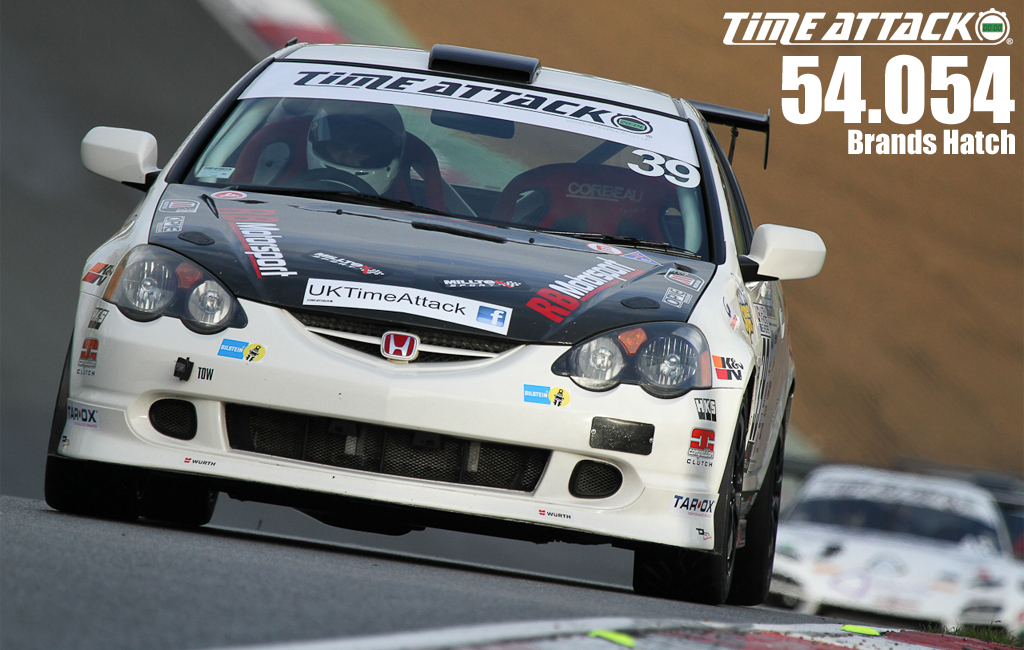 Daniel Clark – Vauxhall Astra VXR
Going into the final round, at least four drivers stood a chance of landing third place in the Club FWD Championship. Daniel Clark had a tough few weeks in the build up to the shootout, as he rushed to rebuild many parts of his car. He also squeezed in a successful weekend of racing at Brands Hatch too. Perhaps that experience helped Daniel fight his way though the crowd to snatch third place in the Championship? He mastered the tricky conditions in qualifying to score maximum points, before backing that up with a third overall in the final, just 0.055 secs behind OHW Burkinshaw. Daniel deserves special credit for not giving up this year, after a couple of relatively heavy crashes and some mechanical issues, he's always worked hard to be ready for the next round. He got his reward at Brands Hatch.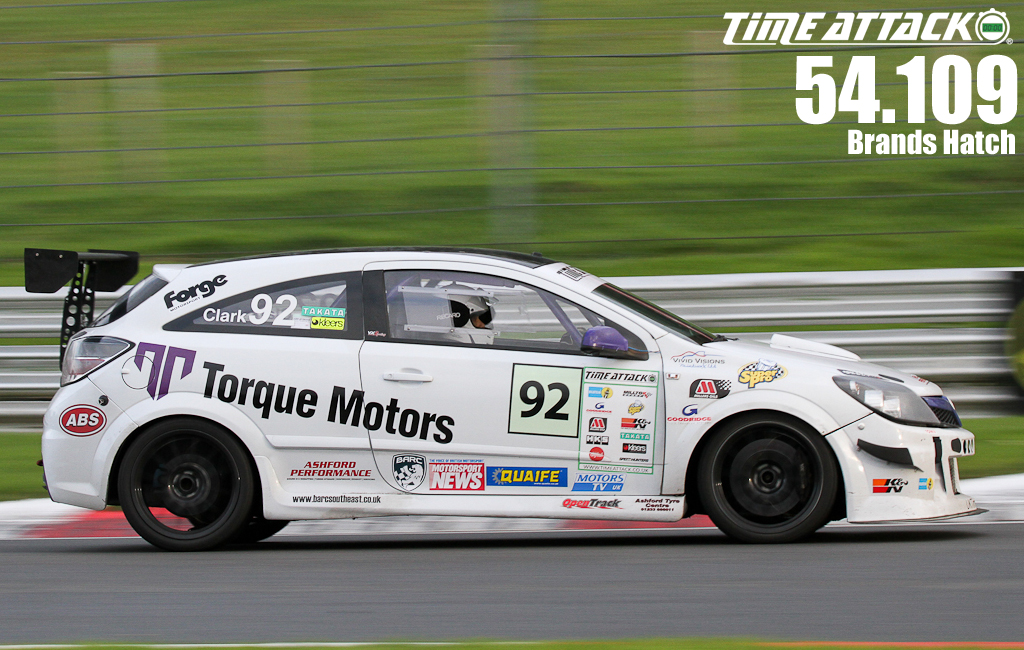 2014 Club FWD Champion : Marc Donnelly – Ford Escort
The only 2013 Time Attack Champion that managed to defend his title, Brands Hatch was a nail-biting experience for Marc Donnelly. He was stuck in the middle of a two-way battle with Adam Jones in the Civic turbo; whoever had the better final round at Brands Hatch would take the title. Things didn't start well for Marc as he qualified in fifth place, below Adam. With the Championship in the balance, Marc took a deep breath and went out in the final session with an "all or nothing" mentality. When the final session of 2014 ended, Marc was third fastest. More importantly, he had been over a second quicker than Adam in a very closely-packed field. He'd done it! Retaining a Time Attack title is a very difficult task, so Marc deserves all the plaudits that he and his team receive.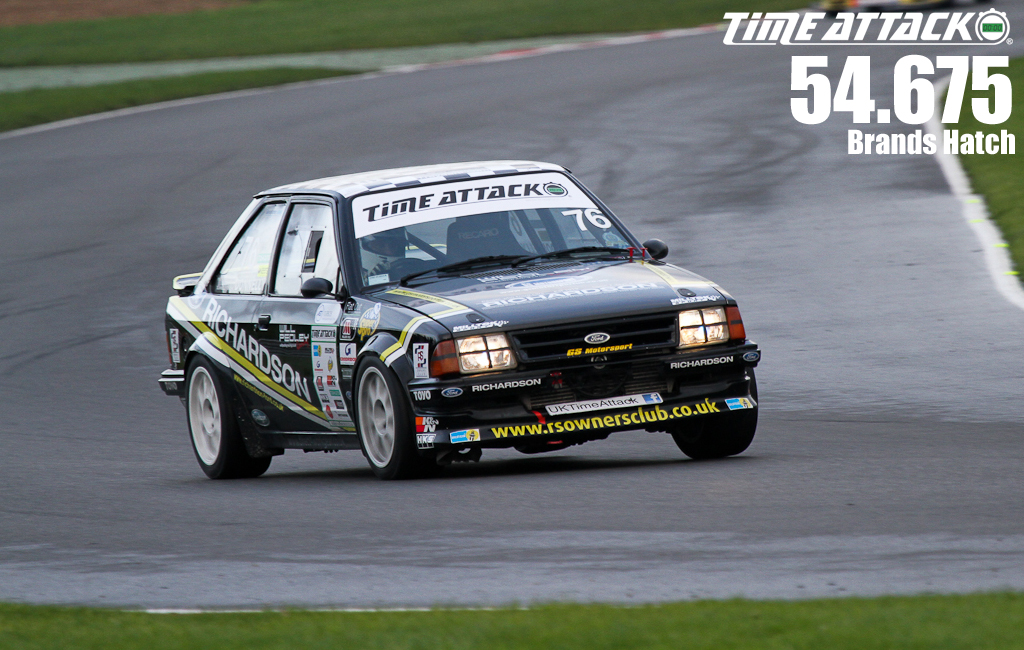 Will Watson – Vauxhall Astra VXR
Will admits he found it tricky at Brands Hatch. The circuit was slippery and unpredictable all day, as several rain showers came and went. He was still among the Club FWD who completed the most laps and managed to grab fourth in the final session. So it was far from a disaster for Will in the DCE Motorsport Astra. He can look back on 2014 and be proud of his achievements; Will took his debut win at Snetterton in Round 3, and he earned enough points at Brands Hatch to seal fourth place in the Club FWD Championship, amongst a very competitive field.
Neil Wrenn – Honda Civic
Another driver who has rolled his sleeves up and fixed his mechanical maladies himself between rounds, Neil Wrenn's turbocharged B-Series Honda Civic is a true home-built car, one that has become faster and more powerful as the year has progressed. Neil was still in contention for third place in the championship when the action began on Saturday. Sadly, his chances were badly damaged when on his first flying lap in qualifying, the back-end of Neil's Civic stepped out at the high-speed entry to Paddock Hill bend, sending him backwards into the gravel trap. Despite this, Neil did amazingly to dust himself off and return to the track, managing to nail fifth by the end of the session. He then went even faster in the final, setting his fastest time of the day and sixth in the final championship table.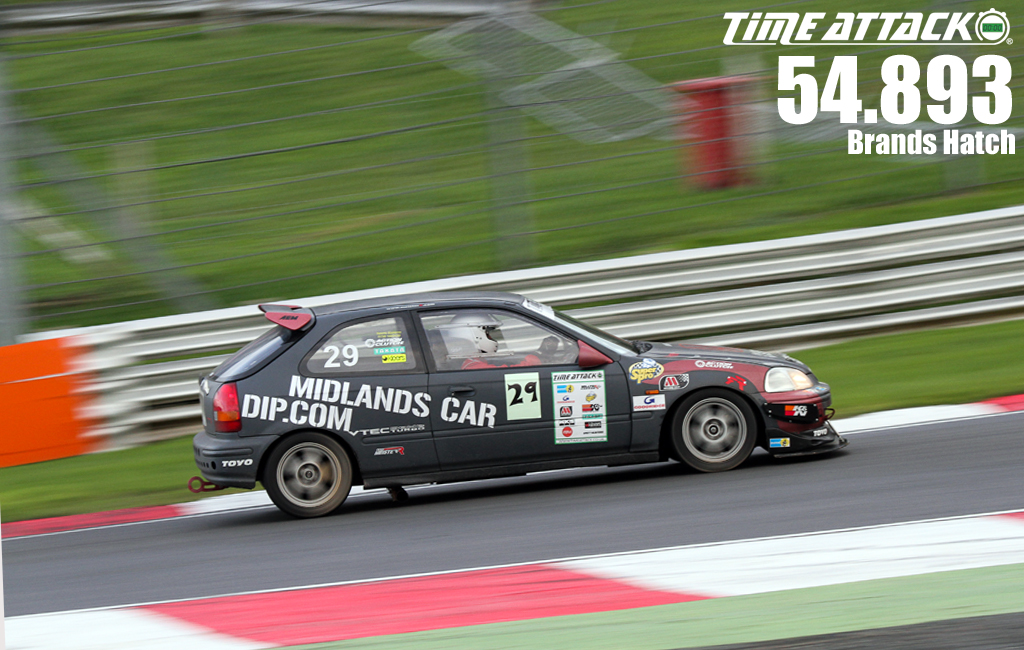 Adam Jones – Honda Civic
Coming off the back of two consecutive wins, both with maximum points, Adam Jones and his TDI North turbocharged EP3 Honda Civic Type-R were the in-form partnership in Club FWD. His recent results meant it was a straight fight between him and Ford Escort driver Marc Donnelly for the Club FWD title. After qualifying, Adam looked all set for victory. He had scored 40 points with a 58.312 earning him second place, while Marc could only manage a 58.498. The difference between their lap times was just XXXX but such is the competitiveness in Club FWD, Marc's lap was only good enough for fifth place and that meant just 10 points. So it was advantage Adam heading into the final session of the season. Unfortunately for Adam, things didn't really click for him in the final and he came home sixth with his fastest time of the day. the records will show Adam lost out on the title by 20 points, but the true margin was less than a second. If he was just tenths of a second faster in that final session, Adam would have been crowned champion. That shows why Club FWD has been the hardest-fought Time Attack class in 2014, and why Adam can still celebrate a very impressive debut year in UK Time Attack.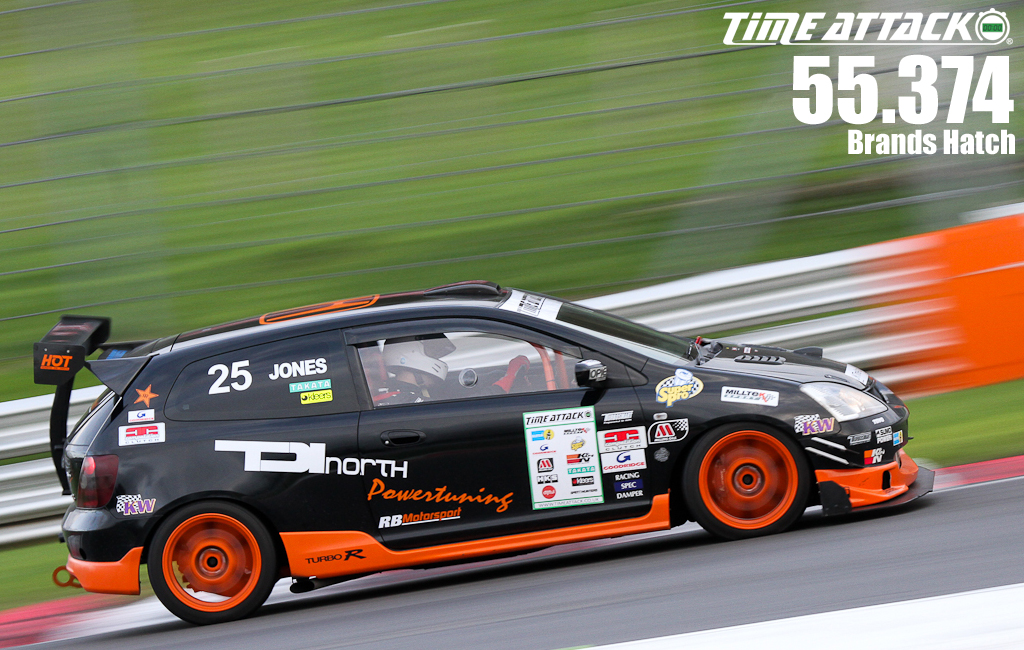 Darren Spooner – Peugeot 205
One thing stood out at Brands Hatch about Darren Spooner; he loves the wet. The only Club FWD Championship contender driving a naturally-aspirated car, Darren's Peugeot 205 is powered by a 2.0-litre naturally-aspirated GTi-6 engine mated to a 5-speed 'box. More importantly, it really handles as Darren showed all day and indeed into the night at Brands Hatch. It says a lot that [in comparison to his rivals] Darren was faster in the wet than the dry. He qualified third in the wet qualifying session with a 58.387, and went on to be runner-up in the later Night Attack one-off event. However, as the track dried for the final, Darren found his relative lack of power showed once again and his fastest time of the day was only good enough for seventh place. That doesn't reflect the immense amount of skill and bravery Darren showed in tricky conditions.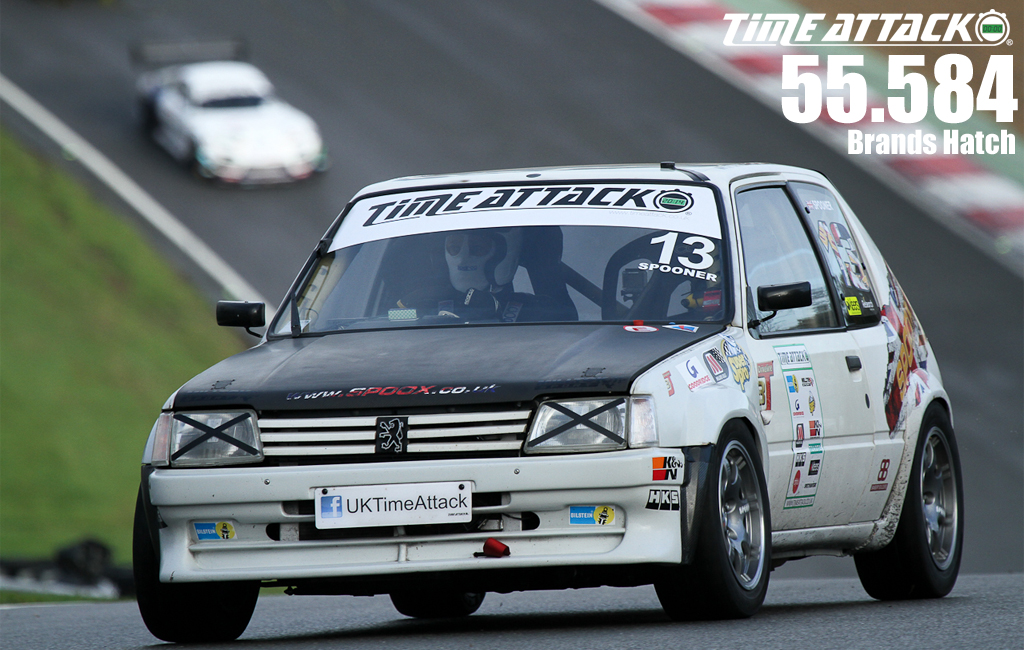 Stewart Summers – Citroen Saxo
Stewart arrived at Brands Hatch having never driven the circuit before, and with a completely new rear wing. The PlanetSaxx pocket rocket is a homebuilt hero, using a 1.6-litre engine with a Rotrex supercharger. So the lightweight machine only has 240 bhp to fight with against cars with over twice the horsepower in some cases. Even so, Stewart put in a fine performance including the Night Attack, where he managed third place! It's been a challenging year for Stewart with the horsepower deficit but he's always driven hard. It was made even more difficult by having to build an all-new car halfway though the season, after rolling the first version at Snetterton in Round 3! Fair play to Stewart for pulling it off, and it's great to see a genuinely entry-level car competing thanks to some ingenuity and committed driving.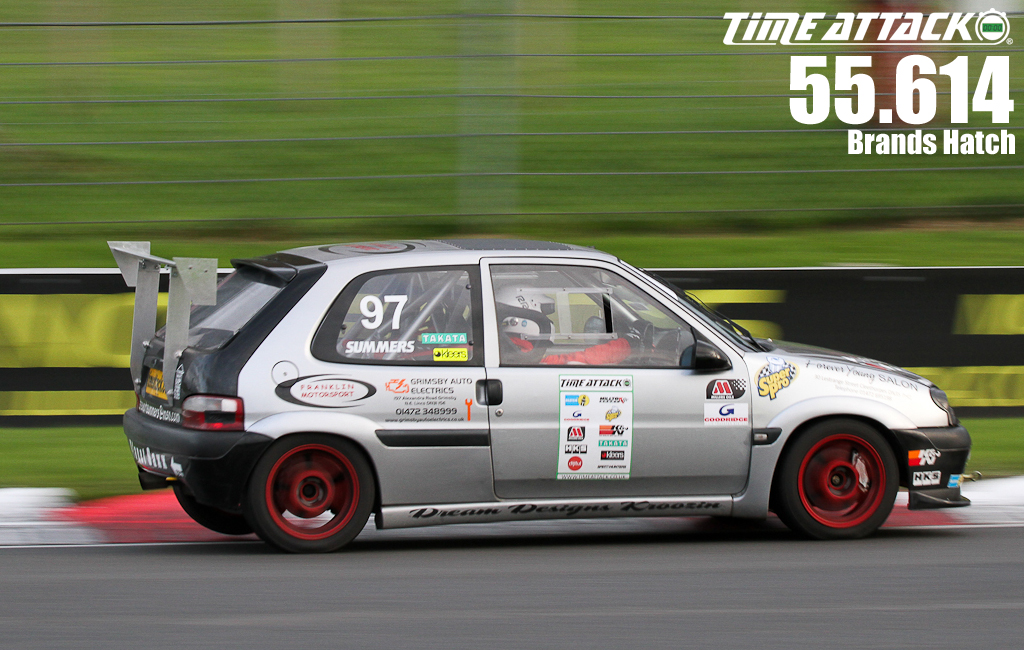 (OHW) Martyn Henry – Vauxhall Astra VXR
There was another Astra VXR amongst the ranks at Brands Hatch. One-Hit-Wonder Martyn Henry joined the party, and did his reputation no harm at all with a solid performance. He might not have been the fastest Astra at Brands Hatch but it was a fine effort for a Time Attack newcomer.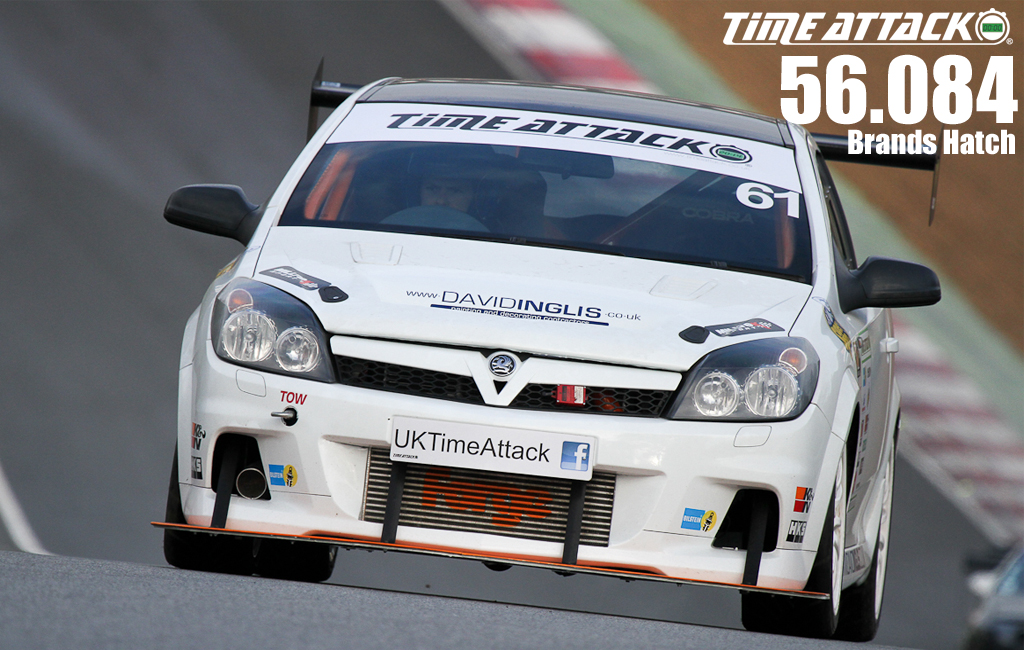 Gerry Atkinson – Seat Leon
It's been two years since Gerry Atkinson was in Time Attack. During that time he's been circuit racing and he couldn't resist the temptation to return at one of his favourite tracks. Gerry is a former Club FWD Champion, which he won in a Seat Leon. So it was no surprise he was on the pace all day. However, as a former champ Gerry will be slightly disappointed he didn't challenge higher up the time-sheet. Does this OHW entry hint that Gerry might return to Time Attack in 2015?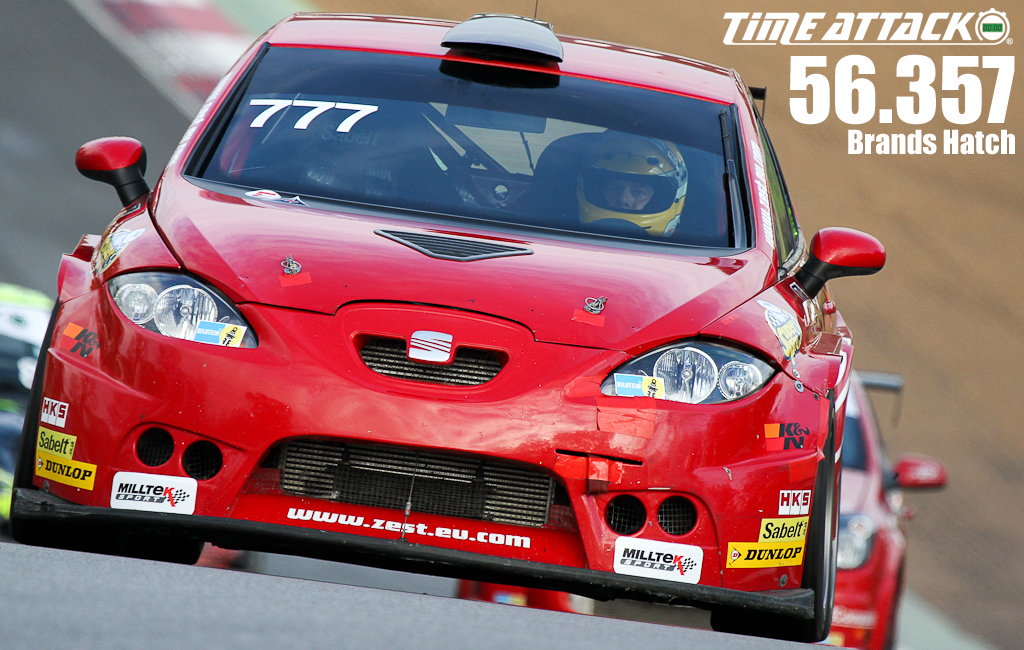 Adrian Daniel – Vauxhall Astra GSI
Not a bad season all round for Adrian Daniel. After completing his first ever car build, first engine build and his first year of competitive driving, Adrian ended up 10th in the Club FWD Championship. The recent work by RS Tuning helped bring 400bhp and 400lb/ft torque back to the Astra's front wheels, which Adrian admitted probably made things more difficult for him in the wet at Brands. Even so, it's been a steep learning curve with lots of laughs along the way for Adrian and his supporters.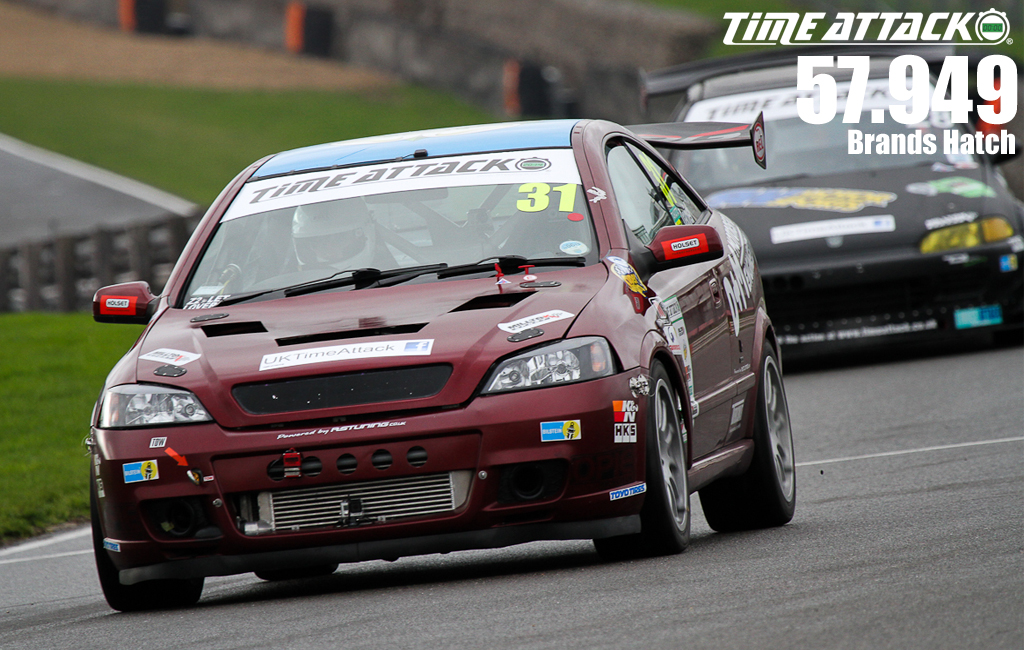 Jeff Alden – Vauxhall Astra
There was a new kettle and frying pan in the Bookclub Racing pit garage, which should tell you this guys meant business at Brands Hatch. Jeff and his team are a shining example of entry-level Motorsport at it's finest. With grins on their faces all day, they were treating Brands Hatch like the end-of-season party. Jeff had prepared a Vectra for the Night Attack, but it was his Saab-powered Mk3 Astra that he drove once again in the Club FWD Championship round. The yellow Astra has evolved over the season, with more aero and some new bits under the bonnet, but always with budget in mind. Jeff has got faster too, and his attitude is spot-on: challenging himself against the track and the clock, not necessarily what his rivals are doing.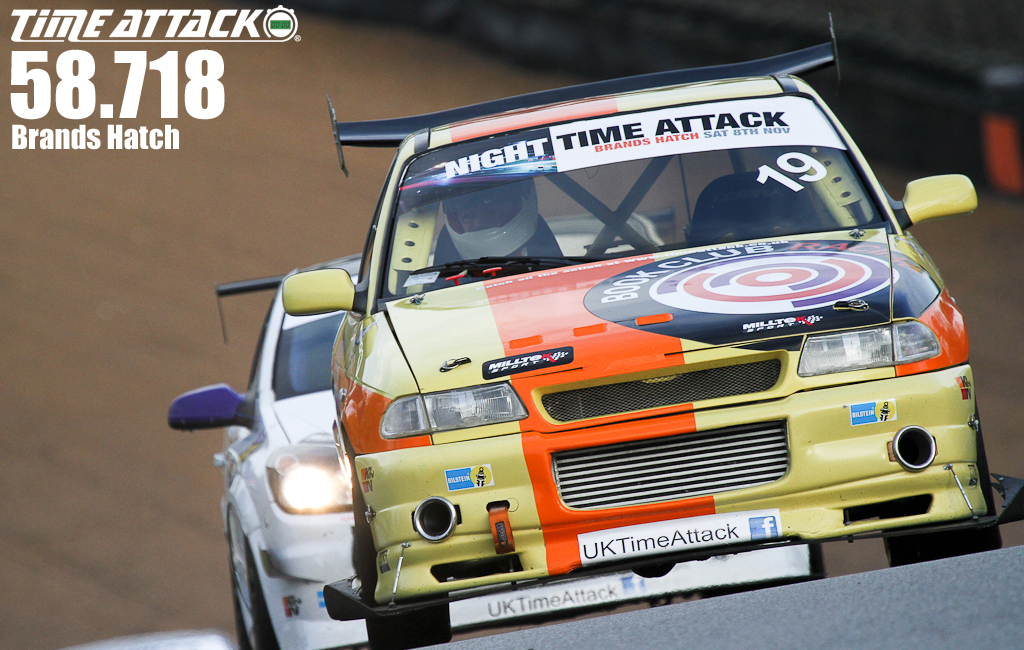 Antonio Giovinazzo – Alfa Romeo 155
Another example of home-build heroes, the Giovinazzo brothers brought their d.i.y turbo converted 2.0-litre twinspark Alfa 155 to Brand Hatch. Dipping under the 1-minute mark in difficult conditions was a great effort, let alone in a unique car created by their own hard work. The Time Attack paddock would be lacking some style and enthusiasm without these very special Alfisti.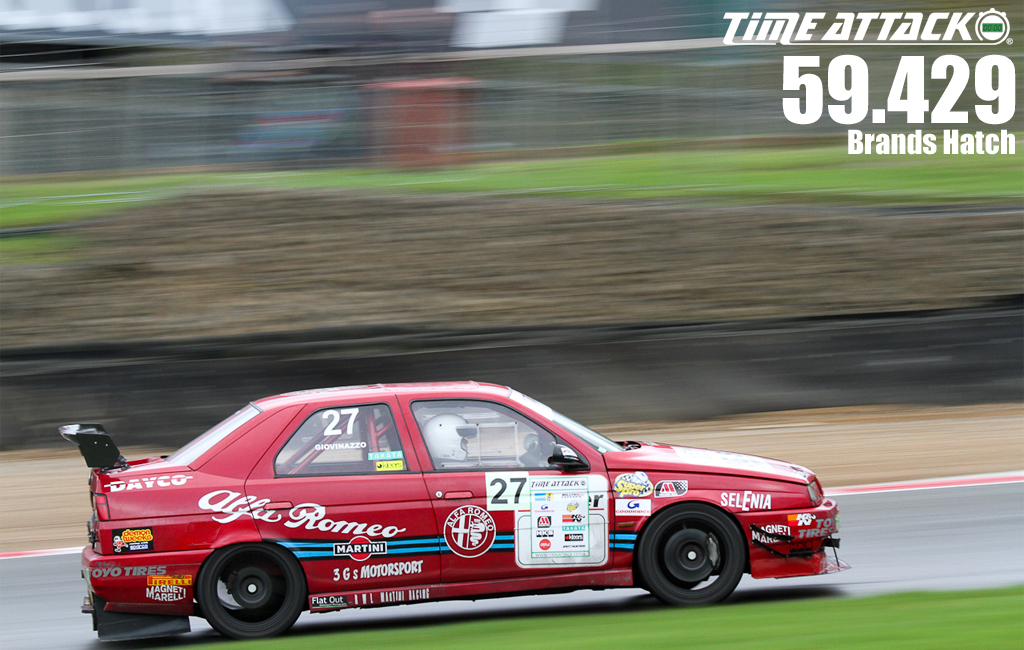 (OHW) Tim Kite – Mini Cooper S
You couldn't miss Tim Kite's brightly-coloured Mini, especially in the darkness of the Night Attack, which he competed in later on. Tim rounded off a very competitive Club FWD class with a 59-second lap, meaning every Club FWD driver managed to dip under the 1-minute barrier, despite the greasy surface. Tim's supercharged R53 Mini has a 1.6-litre engine so he had less power than many of his rivals, but thanks to some tweaks from Airtec he was still able to put in a great performance.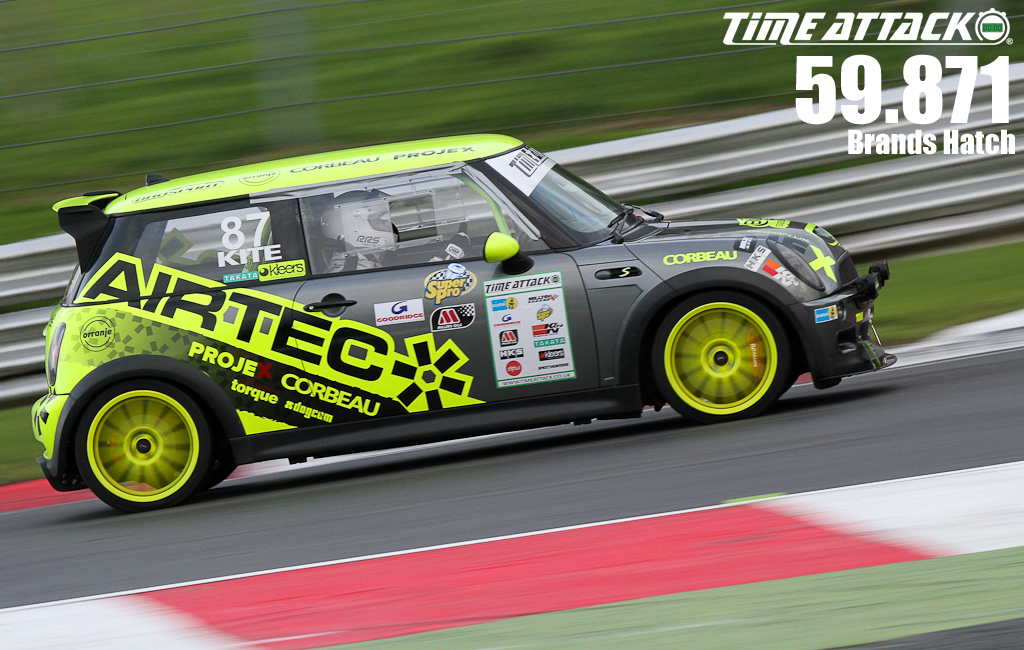 Club NA
2014 Club FWD Champion : Mark Burnett – Honda Civic
It was yet another maximum points weekend for Mark Burnett, the driver who has dominated Club NA throughout 2014. With new lap records along the way and a particularly impressive showing at Cadwell Park when he beat the turbo fwd entrants too, Mark has proved how effective the H2B conversion really is. The only blot on the Backyard Civics driver's record this year has been qualifying in second place at Snetterton in Round 3. Otherwise, he's grabbed every point possible. Thanks to every driver having to drop their weakest score this year, Mark still finishes with the maximum possible 750 points!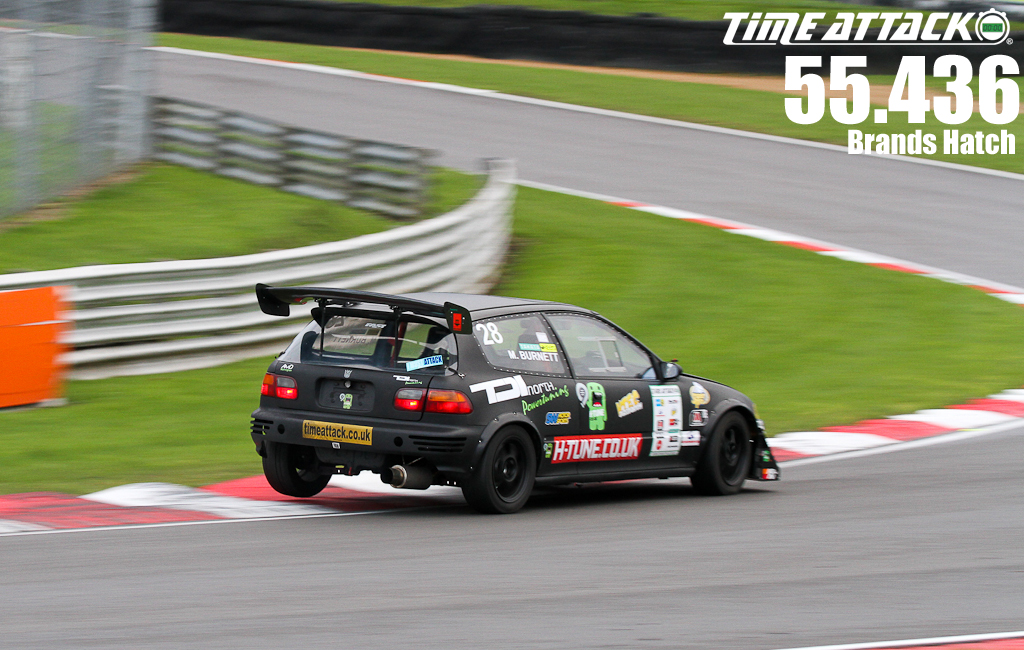 James Procter – Honda Civic
It's been a year of further development for James Procter as he tried to chase down Mark in the other Civic. The VR Dyno Tuning Civic has often been in the mix, showing that James has potential. He's been modest enough to acknowledge that his relative inexperience of track driving has played a part this year and he's definitely showing signs that he's heading in the right direction. With two One-Hit-Wonders at Brands, it was nice for us all to see how James compared. He was a good couple of seconds faster than his nearest competitor, which shows James is definitely quick. He's just been up against an exceptional rival this year.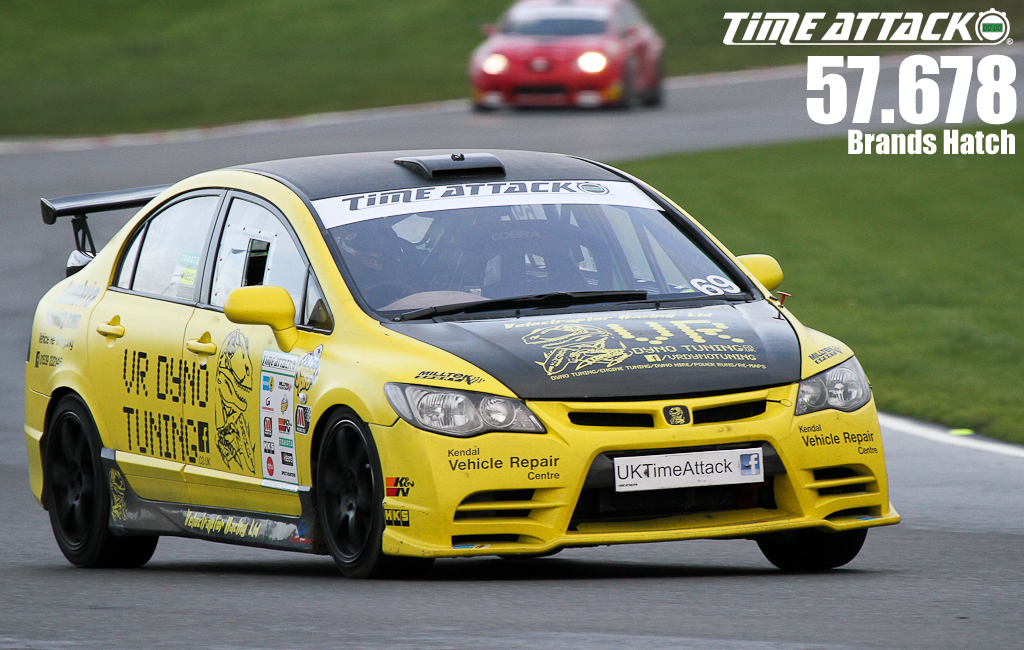 (OHW) David Franks – Austin Mini
Old's cool! We're not sure David Franks could get any more stickers on his retro Austin Mini? Low, light and lithe – David and his Mini did what we all expected; suffering on the straights slightly but making up time in the corners. He managed to beat Kai Barker to the title of fastest Club NA One-Hit-Wonder, beating him in both qualifying and the final. He managed to dip just under the 1-minute barrier on his fastest lap of the day, right at the end of qualifying.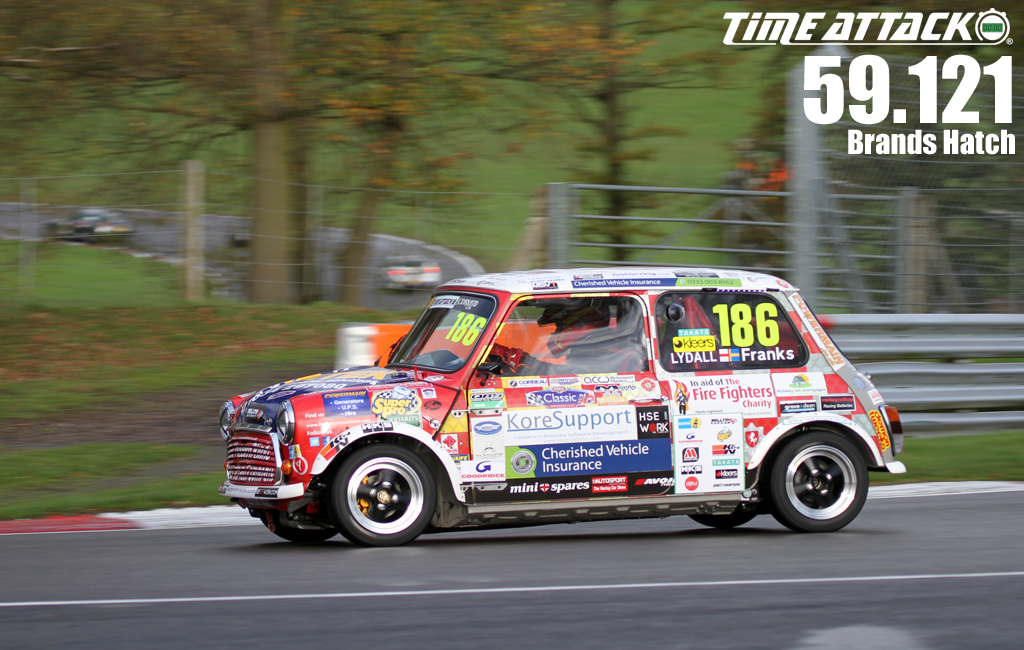 (OHW) Kai Barker – Ford Fiesta
With a One-Hit-Wonder win already bagged this year, Ford Fiesta driver was hoping for another at Brands Hatch. Sadly he couldn't repeat the heroics he performed at Silverstone and Cadwell Park earlier in the year. After three One-Hit-Wonder appearances this year in his Fiesta ST, we wonder if Kai will enter the Championship race next year?