It all went a bit bonkers in our Club Challenge classes at Silverstone on Sunday, at Round 5 of the 2014 UK Time Attack Championship.
With a dry and warm track for tyres to bite into, our Club drivers set personal bests throughout the field. They also set two impressive new lap records around the Silverstone National circuit:
New Club Challenge RWD Lap Record – 1:02.228 – Kevin Jones, Noble M12 GTO3
New Club Challenge FWD Lap Record – 1:04.028 – Adam Jones, Honda Civic Type-R
By the end of competition on Sunday, three Club drivers had scored enough points to be crowned class champions with a round to spare. So huge "Congratulations!" to the following drivers:
2014 Club Challenge 4WD Champion : Dave Coe, Subaru Impreza
2014 Club Challenge RWD Champion : Kevin Jones, Noble M12 GTO3
2014 Club Challenge NA Champion : Mark Burnett, Honda Civic
How did each driver get on during the event? Read on to find out..

Club 4WD
Damien Bradley – Subaru Legacy
Subaru Legacy driver Damien Bradley went from the bottom of the leaderboard in qualifying to the top in the final, after a stressful day chasing a misfire. By the end of it he had secured his first ever Time Attack win!
Damien arrived at the track after a very succesful mapping session using his new Nimbus Motorsport supplied Torco race fuel. However, he struggled in the early sessions with a misfire and understeer. The result was Damien qualified in last place with the slowest lap he's ever done of Silverstone, a miserable 1:29.723.
Then with just minutes until the final, Damien's team discovered a broken coil plug wire – the cause of the misfire! It was quickly fixed and he joined the back of the queue just in time for the start of the session. the drama still wasn't over however, and after a quick pit-stop to remove the new front splitter (that was making a horrific noise), and to fix a boost leak, Damien went out and attacked the track. The car felt great. He began building up the speed, putting in a couple of quick laps while building up heat in the tyres and brakes. Just as he lined up for his maximum attack lap, a boost pipe popped off. To make matters worse the session was simultaneously red flagged. Bringing it to an early conclusion.
Damien cruised into the pits in a cloud of swear words. He looked over at Steve Darley of SD Motorsport who had a single digit raised, informing Damien he had won. That soon turned his frown upside-down!
It shows just how fast Damien and his Legacy are now. He was able to win without the new front aero and on a warm-up lap!
The final round is at Damien's home circuit, Brands Hatch. He will arrive knowing he's already guaranteed the runner-up spot in the 2014 Club 4WD Championship too, thanks to the 110 points he scored at Silverstone. No doubt he"ll be hoping for the same result in the final there, but without the stress!

Jason Bird – Mitsubishi Evo
Well done Mr Bird! A third consecutive podium for Jason and his Eurospec Evo, and a repeat of his second place finish at the last round.
Jason was on the pace from the outset at Silverstone. Never finishing lower than second in class all day, Jason was super-consistent and scored 140 points at Silverstone, the highest number of points of any Club 4WD competitor.
He finished in second place in the final to earn 90 points, with a 1:03.700. However, it was qualifying where Jason really shone, taking first place and the maximum 50 qualifying points with his fastest time of the day (1:03.156).
It was a great effort from Jason and the Eurospec team, following a barren start to the season with just 60 points form the first two rounds. In recent rounds Jason has come back stronger and faster, fighting his way into a three-way battle for third place in the 2014 Club 4WD Championship, along with Eric Holmes and Andy Grady. Brands Hatch is going to witness an almighty struggle for that final step on the podium.

Dave Coe – Subaru Impreza
2014 Club Challenge 4WD Champion!
Dominant, impressive, it's hard to know which word describes Dave Coe's season best? Dave and his Subaru Impreza have been the class of the Club 4WD field. Qualifying second and finishing third in the final at Silverstone scored Dave 120 points, enough to see him crowned 2014 Club 4WD Champion without needing to turn a wheel at Brands Hatch in November.
It's been a very impressive run of results and the damage was done in the final sessions of each round, where Dave scored the maximum 100 points in each of the first four rounds. Ironically, on the day he wins the title, Dave finishes third in the final, the first time he hasn't been on the top step of the podium!
Dave had refreshed his engine before Silverstone and turned up with one eye on the times of Club RWD driver Kevin Jones as a target. After taking the warm-up gently, he increased his pace in practice (1:03.156) – setting a new P.B and beating Kevin, so that made him smile.
That turned out to be his fastest time of the day as an intermittent fuel fault reared it's ugly head. Dave was grateful to Pro Extreme OHW Andy Forrest for lending him a new set of fuel injectors, but it failed to fix the problem. Dave suspected one of the fuel pumps was at fault, but had run out of time. He was still able to pick up the important points that sealed him the Championship though. So becoming 2014 Club 4WD Champion wasn't exactly a bad end to his day!

Mark Flook – Nissan GT-R
Mark is possibly the bravest man in UK Time Attack. He spent his 8th wedding anniversary driving his Nissan GT-R around Silverstone! So a quick "thanks" to Mark's lovely wife Alice for being so understanding. She knows how committed Mark is to Time Attack. In fact, he's so committed that once he realized his Mitsubishi GTO wasn't going to be ready in time, he immediately made plans to drive his R35 GT-R instead. A very understanding better-half and an R35 GT-R daily driver? It's a hard life, eh Mark?
Mark's GT-R had a boost of power in the run up to Silverstone. The 3.8-litre V6 twin-turbo engine is completely standard with just a y-pipe upgrade to the exhaust system. Thanks to some ECU wizadry by Eurospec, it now kicks out 590bhp along with an extra 100lb/ft more torque than the standard car.
Mark managed to qualify in third place (1:06.275), before setting his fastest time of the day in the final (1:05.570) earning him fourth place. An impressive performance by Mark in his road car!

Walter Morris (OHW) – Nissan Skyline R33 GT-R
Our fastest One-Hit Wonder, Walter Morris continues to drive the Midlands Performance R33 GT-R 'beater' as he recovers from his leg injury that has kept him out of the seat of his R32 GT-R Pro car. Like Walter's leg, the R33 GT-R has received some rehabilitation since Cadwell Park. To be blunt, it refuses to die!
Walter drove the wheels off it to record his fastest time of the day in the practice session (1:06.475). In fact, all his times were pretty consistent (1:07.083 in qualifying, 1:06.775 in the final) – suggesting he had his foot welded to the floor all day long. That's one way to rest it.

Andy Grady – Mitsubishi Evo
Another Time Attack driver in his road car, Andy shocked everyone by replacing his usual eye-catching blue and yellow Subaru Impreza with a Mitsubishi Evo!
It was a case of 'needs must' for Andy, as he continues work on his poorly Subaru Impreza, which he hopes to have back in time for the final round at Brands Hatch. Andy mentioned the straights seemed much longer this time, compared to Round 1 when he was driving the Impreza.
By the end of the day Andy had completely ruined a set of Toyo R888s trying to make up time in the corners. Overall, he was just pleased that he wasn't the slowest one there. Interestingly, the points he scored could be important in the race for third place in the Championship.

Club RWD
NEW LAP RECORD : Kevin Jones – Noble M12 GTO3
2014 CLUB CHALLENGE RWD CHAMPION!
Kevin Jones once again demonstrated he is the fastest driver in Club RWD by taking the maximum 150 points on offer. He qualified in first place before winning the final. In the process, Kevin scored enough points to make sure none of his rivals are able to catch him at Brands Hatch, making him 2014 Club Challenge RWD Champion. Congratulations Kevin!
His 3-litre twin-turbo Noble has been fast all year and Kevin proved to be consistent all day. As an example, there was just a fraction of a second between his best lap times in both qualifying and the final; 1:02.250 vs 1:02.228. A stunning performance once again.

Simon Roberts (OHW) – Noble M12 GTO3
Simon made a welcome return to Time Attack at Silverstone following his OHW debut at Cadwell Park in round 4. In the early sessions it looked like he might be able to upset the Club RWD Championship leader, marginally beating Kevin Jones in the warm-up and topping the Club Challenge time sheets outright.
Simon's Noble was treated to some new upgrades for Silverstone, including stiffer Protech dampers fitted by Jetstream Motorsport, coupled to their own specification Eibach springs. As Simon's car is making the transition from a road car to a more track-focused vehicle, the trip to Center Gravity for a full race-spec chassis setup was an important one.
When he managed a 1:03.905 on his 14th lap of qualifying, Simon admitted the expense had been worth it! He tried to improve upon that time even more in the final, but it was taking three laps to get the front tyres switched on, and with two red flags and traffic it just didn't happen for him. He was still chuffed with the progress. So much so that he's already ruled himself out of Brands Hatch.. so that engine work can begin with one eye on doing a full season next year. It looks like Kevin and the rest of Club RWD might have even more competition next year.

Neil Clark – Mazda FC3S RX-7
It's so good to see Neil Clark and his Mazda RX-7 delivering on their potential. After a tricky start to the season, Neil is now finding a regular spot for himself on the podium – this being the second consecutive event he's secured second place in both qualifying and the final.
Neil had a new turbo fitted in preparation for Cadwell, focused on response. In preparation for the longer straights of Silverstone, Neil had Pip at WGT Auto Developments remap the car for a bit more grunt. Pip managed to increased power from around 360bhp at the wheels to 390bhp at the wheels, without sacrificing that rapid power delivery.
It certainly seemed to do the trick. Neil recorded his fastest lap of 1:04.416 in qualifying, taking the unofficial title of fastest RX-7 in the process.

Umar Masood – Mazda FD3S RX-7
Poor old Umar doesn't get much sleep these days. Once again he was left with only a few hours kip in the build-up to the event after his RX-7 required a last-minute engine swap. We don't have enough space to explain the zig-zag lines that Umar and his friends drove across Britain, picking up parts to get the job done in time, but they managed it.
Unfortunately the problems followed him to Silverstone. Umar eventually borrowed the light blue Mazda RX-7 belonging to his engine tuner Chris at RotaryMotion, to complete the event. A quick car but not as track-focused as Umar's. Hopefully Umar will stop walking under ladders or whatever he's doing wrong, and be back to full strength for Brands Hatch in November.

Club FWD
NEW LAP RECORD : Adam Jones – Honda Civic EP3 Type-R
Adam is absolutely flying in his Honda Civic Type-R turbo at the moment. Not literally of course, that would be against the rules. Two wins out of two, with maximum points and a new lap record at Silverstone; it doesn't get better than that.
Running a completely stock K20 engine with a TDI North bolt-on turbo conversion, Adam's Civic has come on really strong in the latter half of the season and Adam is now pushing it to the limits as his lap times show. With just one event remaining, Adam has put himself into contention for the 2014 Club Challenge FWD title – which now appears to be a straight shoot-out between himself and Ford Escort driver Marc Donnelly. Choose your favourite and get along to Brands Hatch to support them. It's going to be an epic fight!

Bo Nielsen (OHW) – Vauxhall Astra VXR
The great Dane Bo Nielsen just popped into see us at Silverstone and show that he's still got it. The Time Attack veteran has been developing his Vauxhall Astra VXR for many years, with help from the likes of Forge Motorsport and Owen Developments.
Bo clearly had the bit between his teeth and was pushing hard. He was very quick and clearly deserved his trophy for fastest FWD OHW, effectively breaking the old Club FWD lap record and finishing a split-second behind Adam and his Civic Type-R. A strong performance by Bo in a very competitive field.

Marc Donnelly – Mk3 Ford Escort
Club FWD Challenge leader Marc Donnelly had a busy few days in the lead-up to Round 5. With a week to go there was still nothing sat in his engine bay! Marc is grateful for the help he had from Will Pedley Racing, Paul Dolan at Co-OrdSport/PartBox and Graham Hopper at GS Motorsport, who all helped to make his last-minute engine refresh happen in time.
After a near-miss with the spinning Umar Masood in the warm-up session, Marc settled into his usual routine of being bang on the pace. He topped the FWD practice session (1:05.574), before a precautionary hub change in time for qualifying where he finished in second place behind Adam with a 1:05.154.
An intermittent misfire in qualifying motivated a change of coil packs before the final, but it didn't really happen for Marc. A combination of red flags and traffic at crucial times meant he couldn't nail the perfect lap, although he did improve on his qualifying lap, grabbing third place in the final with a 1:05.031.
Next up is the final round at Brands Hatch on Saturday 8th November, where Marc will go head to head with Adam Jones for the 2014 Time Attack Club FWD Challenge title. It'll be Ford versus Honda, the reigning champion versus the young challenger. We can't wait!

Neil Wrenn – Honda Civic
Neil's B18 turbo Honda Civic received a few tweaks before Silverstone. The biggest of which was a new 3in exhaust system and subsequent re-map, resulting in the lightweight Civic now having a mighty 427bhp at the front wheels!
Taking to the track for the first time with the new power on Sunday, Neil admits it took him by surprise and will take some time to get used to. The engine is now so powerful that he actually removed some turbo boost from third and fourth gears during the day, saying it was an absolute rocket in a straight line but he needed to become more familiar with the circuit and work on his line. Ultimately, a blown gasket between the turbo and exhaust manifold brought his fun to a premature end, but Neil is definitely one to watch at the final round.
WATCH : Neil in action at Silverstone

Jonny Fletcher – Vauxhall Astra GSI
Some days you shouldn't get out of bed. Silvertone was a bit like that for Jonny. After his first practice lap Jonny lost 3rd gear completely. Four laps later his inner CV joint collapsed and he had all sorts of fun with a suspension damper trying to free itself from the hub! In many ways it's surprising these cars hold up to the abuse so well, considering the deadly combination they all have of big torque output and lots of grip.
Without a suitable replacement, GR Performance set about creating a replacement by welding two shafts together in the paddock. Incredibly, it worked. Jonny recovered and was only 0.2 seconds off a podium place despite only using two gears! It makes you wonder where he would have finished with a healthy car?

Daniel Clark – Vauxhall Astra VXR
It was a case of reverse engineering for Daniel at Silverstone. His Astra had been treated to a new larger turbocharger, but the last-minute mapping session was cut short by a gearbox oil leak. Fixing the leak took up valuable time and the result was Daniel arrived at Silverstone with an ECU that hadn't been mapped for the new turbo.
As a result he spent the whole day fiddling with the car, removing some of the supporting parts for the new turbo and tweaking the boost levels so the car would run as well as it could on the new turbo and old ECU settings. He had moments where the car felt stronger than at previous rounds, but ultimately the engine was getting hot. Red flags helped Daniel by providing him with time to check logs and fiddle with settings but they also hindered him. When the final red flag came out at the end of the day, drawing the final to an early close, he hadn't been able to complete a satisfying lap.
So it was a case of time running out for Daniel at Silverstone. He now has almost two months to prepare his Astra for the final round, so we should see the Astra in full health with more power than ever before.

Stewart Summers – Citroen Saxo
1.6litres, one supercharger and 240bhp. Stewart Summers' Citroen Saxo is the kind of car we love to see in Club FWD. A home-built giant killer, Stewart's car is even more of a unique creation than it appears from the outside. Take the custom gearbox for example, which Stewart has created on a budget using parts of Citroen Picasso, Peugeot 205 and finished off with a Quaife ATB limited slip differential.
Frustratingly, Stewart had a recurring issue with a vacuum pipe popping off the map sensor. It will be fixed in time for Brands Hatch, along with a few upgrades. Stewart admits he's looking forward to it, describing his season so far as "an awesome experience."

Darren Spooner – Peugeot 205
The only naturally-aspirated car in Club FWD, Darren and his Peugeot 205 continue to battle the turbocharged opposition. He is probably the most consistent driver in UK Time Attack, as his times at Silverstone on Sunday proved.
After registering a 1:08.595 in the warm up session, Darren went on to record ridiculously close fastest laps in each of the three remaining sessions; 1:07.571 in practice, 1:07.541 in qualifying and 1:07.537 in the final! Showing he is repeatedly pushing the absolute limit of what his 2.0-litre handling-machine Pug will do, compared to cars with more than twice the horsepower. Brands should suit him.
WATCH : Darren's Warm-Up Session (1:08.595)

Will Watson – Vauxhall Astra VXR
Another driver with mechanical issues at Silverstone. Will said the car felt good in the warm-up but when he started to push during practice, it began overheating. Will suspected the cylinder head was lifting off the block, so decided to pull out of qualifying with the idea of going for one flat-out run in the final, hoping it would all hold together.
Sadly, all that happened was the engine started running on three cylinders, ending his day. After only scoring 30 points at Silverstone, Will has dropped himself right into the fight for third place in the Championship, along with the likes of Daniel Clark, Jonny Fletcher and Neil Wrenn. Thing is, with budgets being stretched so far already, there's a chance Will won't make the final round. Let's hope he can find a solution as it wouldn't feel right for Will to be missing at the season finale after such a strong showing this year, which included his first ever Time Attack win at Snetterton in Round 3.

Adrian Daniel – Vauxhall Astra GSI
Adrian says Round 5 was his favourite round yet, despite having a catalogue of issues! From CV failures to high-speed vibrations so violent he couldn't see, to teething problems with his new 3in exhaust system – it wasn't Adrian's day to be honest. Still, he went out and made the best of it. After getting back to D&M Motorsport Engineering HQ, Adrian now suspects the head has been lifting. Perhaps there is a design issue there with the Vauxhall engines? Or maybe it's simply coincidence, and the result of everyone pushing each other to more extreme levels of tune? Either way, Adrian has the best part of two months to work on it now, so he's another driver that can look forward to having a much, much faster car at Brands in November.

Jeff Alden – Vauxhall Astra
Five rounds into his debut season, newcomer Jeff Alden is making real progress in Time Attack. His Vauxhall Astra is very close in spec to a road car. The main modifications being the ECU mapping, suspension damping and removing as much weight as possible.
In preparation for Silverstone, Jeff and his Book Club Racing team made three important new changes to the car. The first was a set of DMack Medium/Soft tyres for more grip, a new 3in exhaust to help the engine breath better and most importantly of all, a microwave for the team transporter so they don't go hungry. Potentially the most vital bit of equipment Jeff has purchased all year!
Joking aside, Jeff is getting to know all of the tracks on our calendar and is taking on the steep learning curve head-on. The opening round of the 2014 Time Attack Championship was also at Silverstone National, so our return offered Jeff his first chance to gauge how far he had come.
The bottom line is that Jeff was an impressive two seconds faster than he was in Round 1, with roughly the same amount of power – showing that Time Attack isn't about how much horsepower you have. Better still, Jeff was consistently faster than he was at Round 1 too.
In fact, Jeff could have gone even quicker. Sadly, his gearbox gave up at the end of the qualifying session, just after Jeff had set his fastest time of the day. It was a tad frustrating for the Astra driver, as he believed there was more lap time to be had. Still, Jeff was upbeat about it all. Pointing out their tight budget and the fact he was moving in the right direction.
The box will be fixed in time for Brands, although Jeff won't be taking the advice of his cheeky crew on board. It was suggested he would go faster if he lost some weight from his own chassis. That would be a step too far, he says.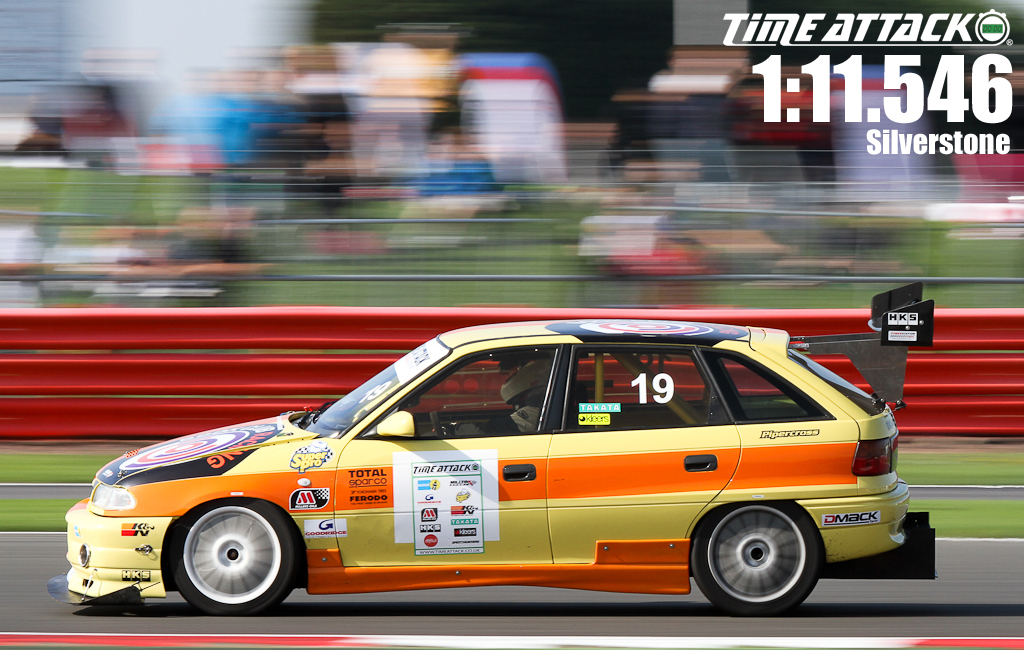 Antonio Giovinazzo – Alfa Romeo 155
The Giovinazzo brothers always bring smiles to Time Attack. Even when their car caught fire in the final, they were still beaming away. "It gives us an excuse to play with it some more" was the response. Thankfully it was only brief and was put out very quickly by the alert marshalls, although it did bring the red flags out and the Club final to an early end. We look forward to seeing the changes the Italian brothers make to their D.I.Y turbocharged twin-spark 155 for the final round.

Club NA
Mark Burnett – Honda Civic
2014 Club NA Challenge Champion!
We were a tad optimistic in challenging our Honda Civic drivers to beat the Silverstone lap record set by a TVR Tuscan in 2008, but they both had a bloomin' good go! In particluar, Backyard Civic driver Mark Burnett even removed his rear wing during the final in the hope of making his EG Civic a bit more slippery. Unfortunately, it had too much of an effect as Mark had two huge oversteer moments during that final session!
Still, it was a valiant effort from Mark in a car only geared to 120mph. He might not have broken the lap record, but he did score maximum points for qualifying in first place and winning the final, in his Accord Type-R powered Civic hatchback. This means he can't be caught in the Championship leaderboard at Brands Hatch, crowning him the 2014 Club NA Challenge Champion! Well done Mark, it's thoroughly deserved. It also makes for a double victory for TDI North, who have supported Mark this year, with Adam Jones winning the Club FWD Championship.
A quick mention for Mark's mate Ben Hatherley too, for surprising Mark with some fetching Backyard Civic clothing for the event. So the new Champion was looking the part too.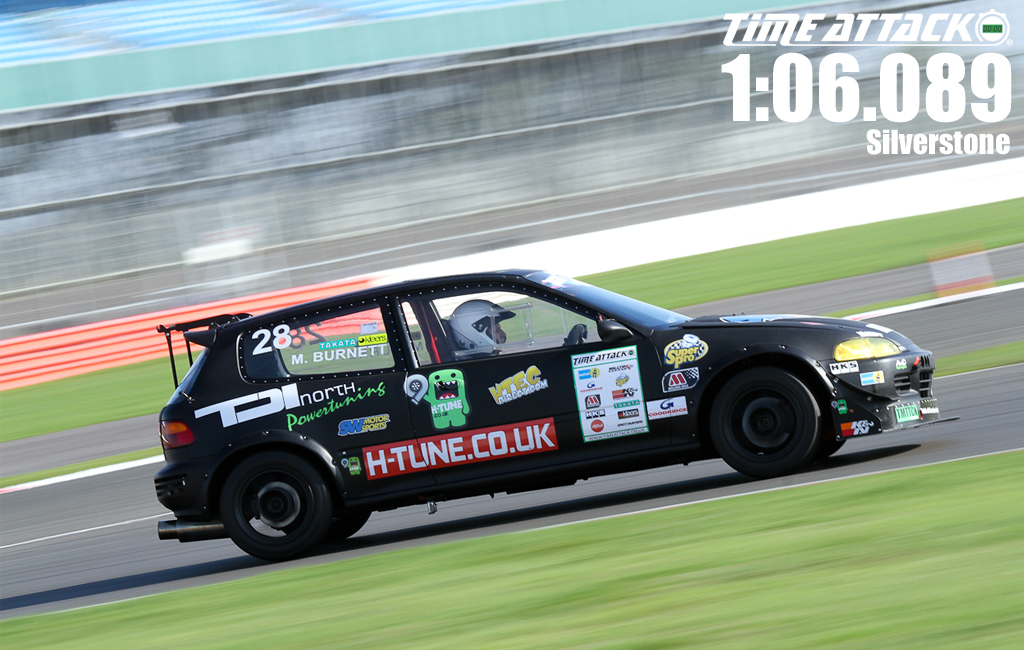 James Procter – Honda Civic
Once again James fell just shy of Mark's pace at Silverstone, but he can console himself with the fact he's hardly needed to show his FD2 Honda Civic a spanner all season. His build is the result of a trackday accident which damaged the side of his Japanese import. The FD2 is a rare beast over here in the UK, and before long the rebuild had taken a definite turn from road car to track car.
The engine is a frankenstein K20/K24 making 249bhp and 280lb/ft torque. James admits they could have been a bit more aggressive with the tolerances to extract a bit more power, but the idea was to have a completely reliable engine. This was built and then fitted to the car just two days before Round 1. The whole car has been built by James and his old school friend Chris Elleray, and a tuning company has been born out of the association; VR Dyno Tuning in Kendal, Cumbria.
James admits Mark has been very quick and hard to catch this year. When pushed on the main differences between the cars, James suggests the relative weights play a role and that potentially his own driving could improve, which is very humble of him. James is already eyeing up Time Attack in 2015 and has started drawing up a list of areas he could remove weight from the car. He isn't sure he'll stay in Club NA either. We suspect this is one car that will get more and more extreme over the coming months and years.

The final round of the 2014 Time Attack Championship takes place at Brands Hatch on Saturday 8th November. You can buy tickets here
You can view the current Championship leader boards here