BILSTEIN SUSPENSION SHARE THEIR YEARS OF EXPERIENCE WITH THESE TOP TIPS TO HELP YOU LOWER YOUR CAR EFFECTIVELY
When car manufacturers set the ride height of their vehicles, they take lots of things into consideration. In general, the more comfortable a car is, the more a manufacturer is likely to sell. However, as we become more focused on performance or looks, we allow our cars to become more compromised in exchange for improvements in those areas. Here is a brief guide by suspension experts and Time Attack sponsors Bilstein, explaining what can be changed and how, in order to make your car look better and more importantly to us Time Attack fans, perform better.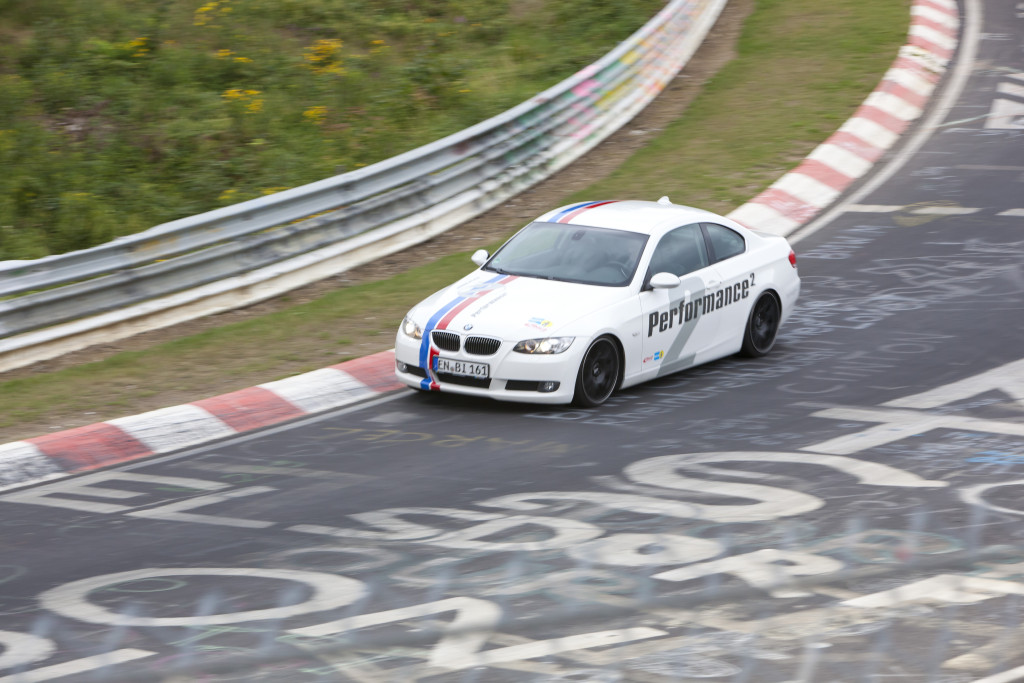 THE BASICS
Lowering your car's center of gravity will improve the way it performs in the bends. Everyone knows that. However, there are a whole lot of caveats along with that sentence. If you go too low, you will adversely affect the car's roll-centre, the point around which it effectively pivots, making the handling worse than it was before!
There are two main parts to suspension; a Damper or 'Shock Absorber' and a Spring. Making a large generalisation, a damper absorbs the bumps, while the spring is responsible for body control.
Equally, lowering your car excessively will force your suspension arms to work at extreme angles. Do this and your suspension will not only work improperly but you'll also be replacing bushes and joints far more regularly as they take up the extra strain.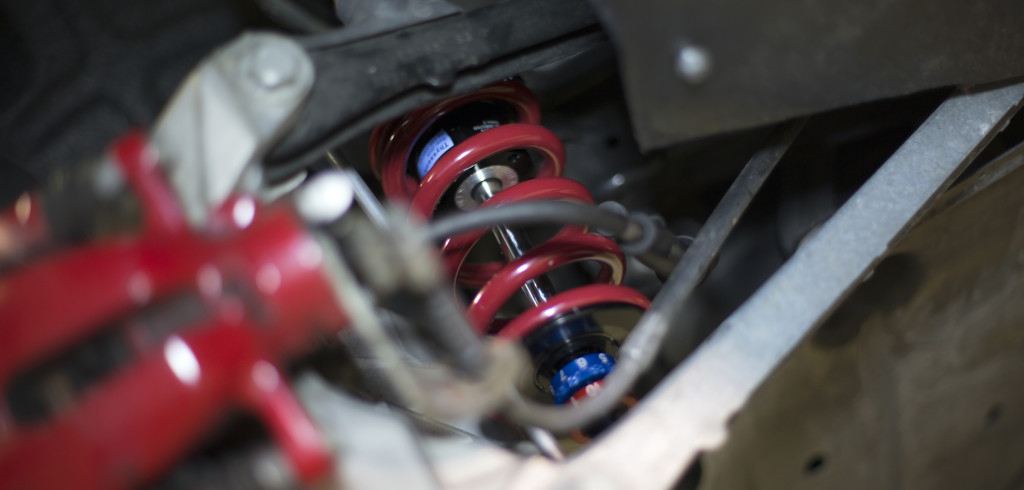 SPRINGS
Assuming that we are all sensibly ignoring the age-old (and decidedly dangerous) method of cutting OE springs to effect a ride height change, the most cost-effective way of safely improving your car's looks and handling is to fit a set of high quality aftermarket springs.
Generally speaking, quality springs work well with healthy OEM dampers. A 25-30mm drop is perfect for a daily driver looking to balance ride with comfort. While a 50-60mm drop will look more dramatic if you're going for style, it will come at the expense of ride comfort. It doesn't take a genius to work out when you go lower, you are reducing the amount of suspension travel, therefore the springs must become stiffer to compensate. This is what can give 'over-sprung' cars that bouncing sensation.
Another issue with going lower on springs and original dampers is that the damper piston rod is now no longer operating where it was designed to be. At best this means that the valving isn't perfectly optimised to work with the new stiffer spring – a problem made even worse when fitting stiff new springs to old, worn-out dampers of course! Also, if the part of the damper piston rod now going through the seals is a section that was previously exposed to the elements when the car sat taller, its surface can be pitted and rough, meaning that it soon rips through the shock seals leading to premature damper failure. This is generally only a problem on big drops and older dampers, but it's one to bear in mind when you're pricing the alternatives up.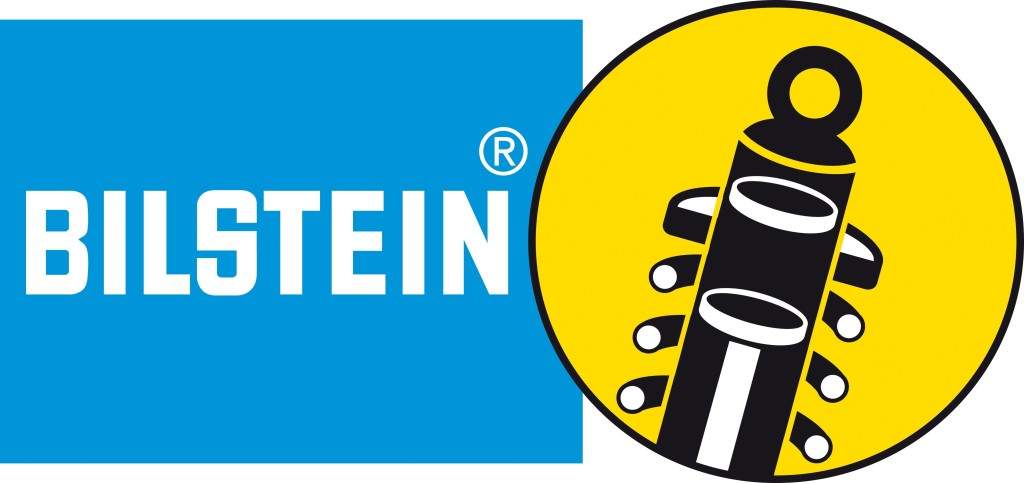 Look for quality, well-known brands which come with TUV approval and you won't go far wrong. BILSTEIN work closely with Eibach and have optimised many of their dampers to work with their springs, which leads on neatly to our next section.
Pros Cheap. Work with standard dampers. Quality springs ride well.
Cons No adjustment. Can wear dampers.
UPRATED DAMPERS
Whenever you fit a set of lowering springs, it's highly recommended to do a damper efficiency check on the old OEM units to make sure they have the same gas and oil pressure that they did when they were new. If they don't, you're wasting both time and money fitting the whole lot back together again. Without the correct damper efficiency, the car is never going to handle, no matter what you do to it.
BILSTEIN B6 dampers are an OEM-length solution, but with an improved and optimised damping rate. Therefore they work perfectly with uprated lowering springs. Thanks to mainly using inverted monotube technology, which uses oil and gas to maintain a more constant temperature – and therefore damping rate – versus the simpler and cheaper twin-tube design of the factory dampers, these are a great idea for subtle drops or original springs and are ideal for drivers that like to really 'press on' a bit. Being brand new, they fit perfectly of course and are a lot more fun than trying to refurb and refit a tired old set of originals.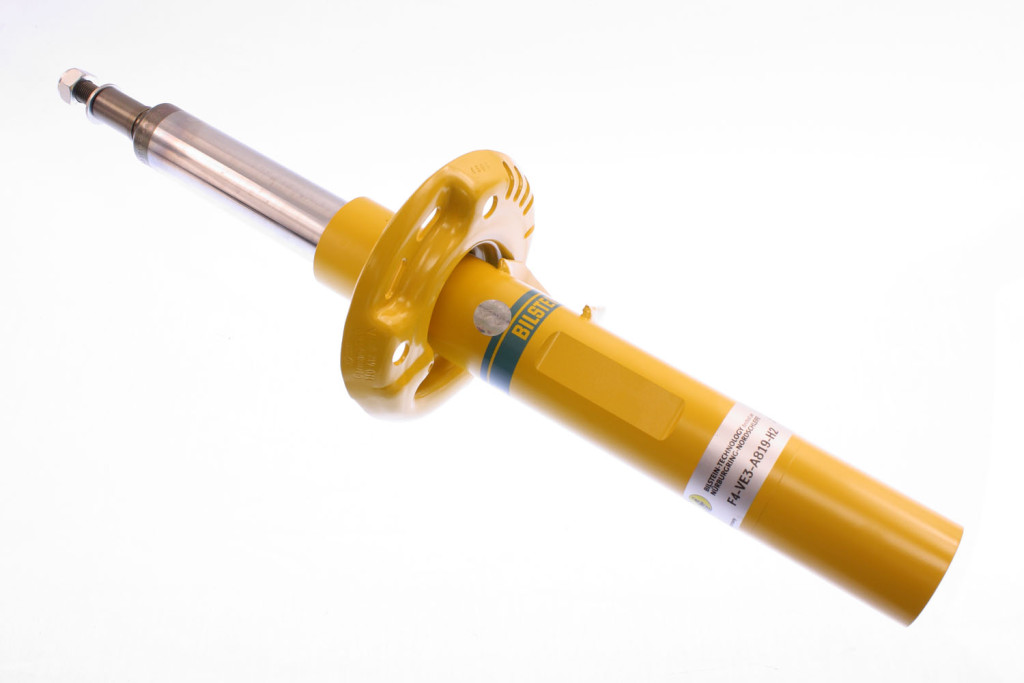 For those looking to fit more aggressive lowering springs, BILSTEIN also offer their B8 spec dampers. These are effectively identical to the B6 units, but constructed in a shorter damper body to ensure that the damper operates perfectly throughout its entire stroke. Even severely lowered vehicles can be made to handle extremely well on a set-up like this once correctly aligned.

Pros Peace of Mind. Relatively inexpensive. Ride Comfort
Cons May not exactly match your spring kit's rate. Non adjustable for height or rate
MATCHED SPRINGS AND DAMPERS
For many, this is the holy grail of handling set-ups for road-going vehicles. A set of brand new lowering springs and fresh, shiny uprated dampers, sold as a kit to give your car abilities it never, ever had – even fresh from the showroom. BILSTEIN sell their B12 kits which offer exactly this situation. Most B12 kits pair monotube dampers with either Eibach Pro-Kit springs (30mm drop) or Sportline springs (50mm drop). This solves the problem of trying to match spring and damper rates, the calculations and R&D has been done for you! Generally speaking, larger diameter springs also give a nicer ride too, meaning that this is usually the best balance of compliancy, usability and great handling.
Pros Ride Quality. Simple Installation. Perfect Compromise of value and effect. Everything matched
Cons Lack of height and rate adjustment
NON-ADJUSTABLE COILOVERS
The next step up the ladder is a set of "non-adjustable" coilovers. BILSTEIN cite their B14 as an excellent example of the art here.

The term "non-adjustable' refers here to the damping rate of the unit, which is optimised for the spring rate at the factory and then fixed. What is adjustable however is the ride height. With each damper using a threaded body or platform to allow infinite ride height adjustment, your car can be dialled-in to select whatever stance you want. BILSTEIN kits offer a wide range of adjustment. The instructions suggest that you stay within a 30mm to 50mm drop range, but that is to stay within the TUV approved figures for the kit. In reality these kits will go lower, if that's your sort of thing. That's before you start looking at the extra possibilities brought about by shorter aftermarket competition springs like the Eibach ERS range, which can be used to really make your suspension package bespoke.
Once fitted, coilovers can be carefully adjusted by an expert and corner-weighted. This effectively means that the car is distributing its weight perfectly on all four tyres, giving consistent contact patches and theoretically more predictable handling. We're getting into the serious stuff now, compromising ride quality but with huge handling improvements in return.
Pros Handling, Adjustment, Ability to corner weight, serviceable dampers
Cons Cost (vs. Springs/dampers). Lack of damper adjustment
ADJUSTABLE COILOVERS
Knocking on the door of the Pro-race equipment is the BILSTEIN B16 kit, used by many club racers. The B16 offers everything that the B14 does, with the additional benefits of adjustable damping rates. Here, bump and rebound can be adjusted in unison by the simple rotation of the adjuster knob on the damper itself. 'Full soft' for everyday commuter comfort, 'full hard' for a day at the track – with a big range of adjustment in-between. This allows you to experiment with differing front and rear characteristics on your car to dramatically alter its handling behaviour on the limit too, so if you want a loose back-end and obedient front grip, it's only a twirl away…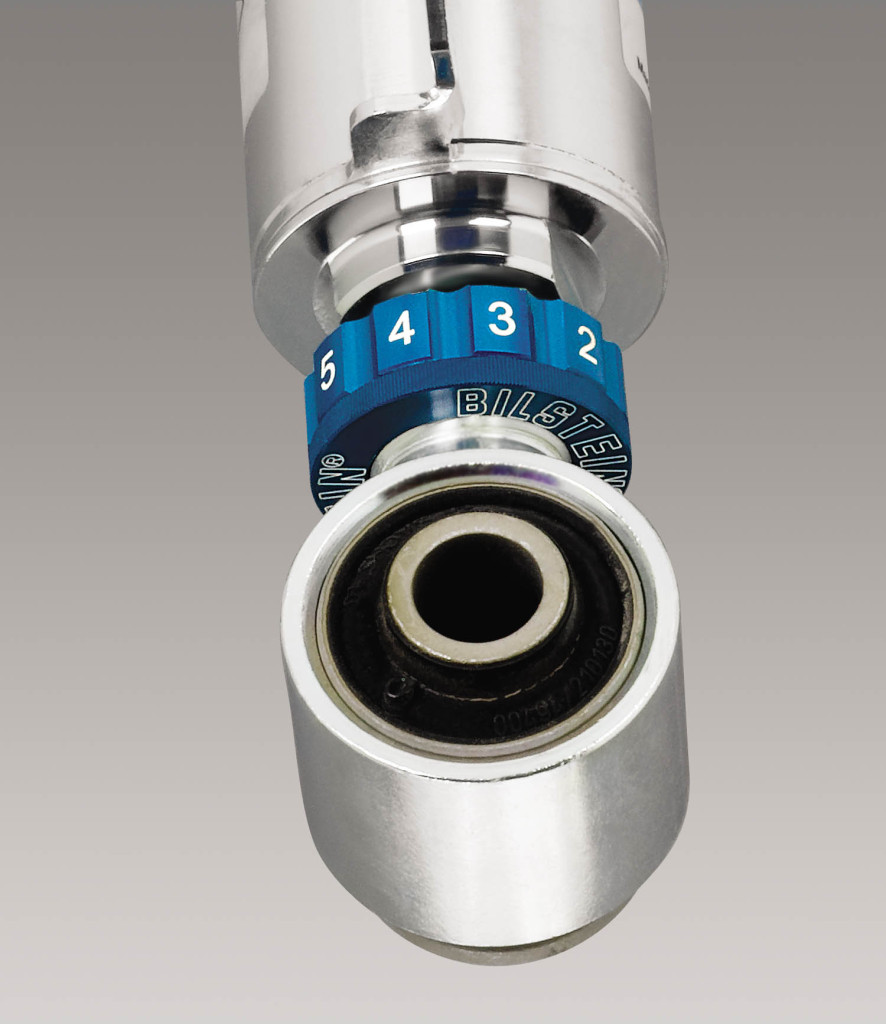 Interestingly, BILSTEIN also offers the cost-option to have any of its coilovers custom re-valved at its UK technical centre, so if you're wanting to achieve something unusual or are running an exceptionally light (or heavy) car, they can perfect the spring and damping package to suit.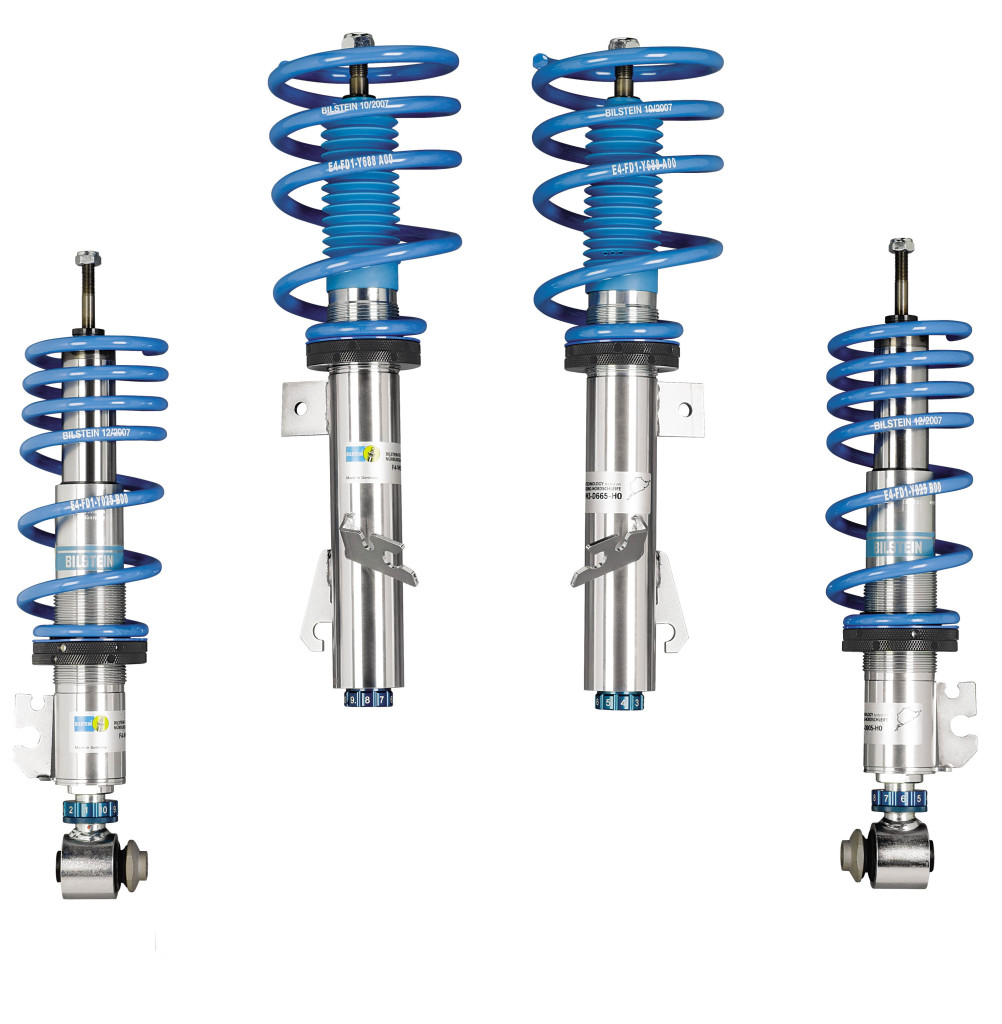 Pros Incredibly adjustable, serviceable dampers, race quality set-up
Cons Cost .. very little else!
CUSTOM COILOVERS
Are you ready to mount a serious Motorsport campaign? Is Time Attack stardom on the horizon? Then custom coilovers are the way forward. BILSTEIN's solution here is known as their Modular Damping System (MDS). As the name suggests, the units consist of modular components which can be built in a wide array of configurations to suit your individual requirements.  Each unit can be sized and configured to each team or builder's precise request.

Using BILSTEIN's proven monotube gas pressure construction, the MDS range uses aluminium body construction to reduces weight and improve cooling. Independent 10-way rebound and compression adjustment is made through positive-detent thumbwheels. In other words, they click into each position, making replicable set-up and testing an easy task. Other highlights to keep chassis engineers and spanner twirlers happy include extra-low base friction and low hysteresis to give consistent, measurable results and feedback, lap after lap. These dampers are compatible with all quality race springs and can be quickly rebuilt and optimised by BILSTEIN UK's R&D centre whenever required. Brace yourself for the cost, but at this level you won't believe what your car is now capable of!
Pros The best you can get! Adjustable everything.
Cons Pricey – but you do get what you pay for!
SOME WORDS OF WISDOM
Once you have selected your weapon of choice, there are a couple of important points to consider. The first of which is fitment; although actually removing the OEM suspension units and re-fitting the new ones is definitely a job that can be done by any moderately talented mechanic at home, the dark art of geometry settings isn't something you want to be messing about with as a novice. It's well worth splashing out a couple of hundred quid getting the whole thing aligned by a pro – doubly so if you have gone down the coilover route.
Getting those all important toe, camber and caster setting just right will not only elevate the car's handling status further still, but will also optimise tyre wear. If you are trying to set the car up for circuit work, a race specialist with corner scales is a must. Maximising the car's grip levels to gain a few tenths on every corner is always money well spent. This also gives you a base set of figures to work with, so as you work through any handling issues you may have, you can track the car's evolution and even go backwards on setup if you have to. You'll be surprised how common that is.
Our final note is perhaps the most important of all for a road car. With your smart new set-up fitted, don't forget to tell your insurers! As a non-power affecting mod, most are happy to make a note and move along without an additional charge. The worse thing you can expect is a small increase in premium. However, if you find your insurer isn't fond of vehicle modifications, you might want to give a more performance-orientated insurer like Pace Ward a call. You might even find your premium goes down slightly as a bonus. Be warned, if you fit uprated suspension and don't tell your insurer, you'll be in big trouble if you have an accident and your car gets inspected. Always better to play it safe here…
So there you go. You now officially have no excuse not for getting your car looking and cornering perfectly. It's time for you to get down!