Quickest Club Times Of The Day – Round 4
Huge Congratulations to the following drivers and their teams, for setting new Time Attack Lap Records at Round 4 on Saturday:
PRO Extreme – Olly Clark, RCM GSII Impreza 1:26.512
Club PRO – Andrew Barbour, NR Autosport Evo 1:32.991
Club RWD – Kevin Jones, Noble M12 GTO3 1:38.358
Club NA – Mark Burnett, Honda Civic 1:39.353
Club 4WD
Dave Coe – Subaru Impreza
Is there no stopping this man? Dave Coe collects his second consecutive haul of maximum points, despite claiming he doesn't know Cadwell Park that well, and has struggled with Charlies in particular on previous visits. However, a spot of advice and an early morning track walk evidently did the trick. Dave was consistent throughout the day. He qualified in first place with a 1:37.372, before winning the final with a scorching 1:37.016.
However, Dave's build-up to the event was anything but perfect, as he was forced to fit a new clutch at the last minute. With just hours to go, Dave's facebook page was filled with photos of the Subaru with the entire front-end removed!
The hard work paid off though and those 150 points puts Dave in a very strong position in the Championship, heading into the final two rounds of the season.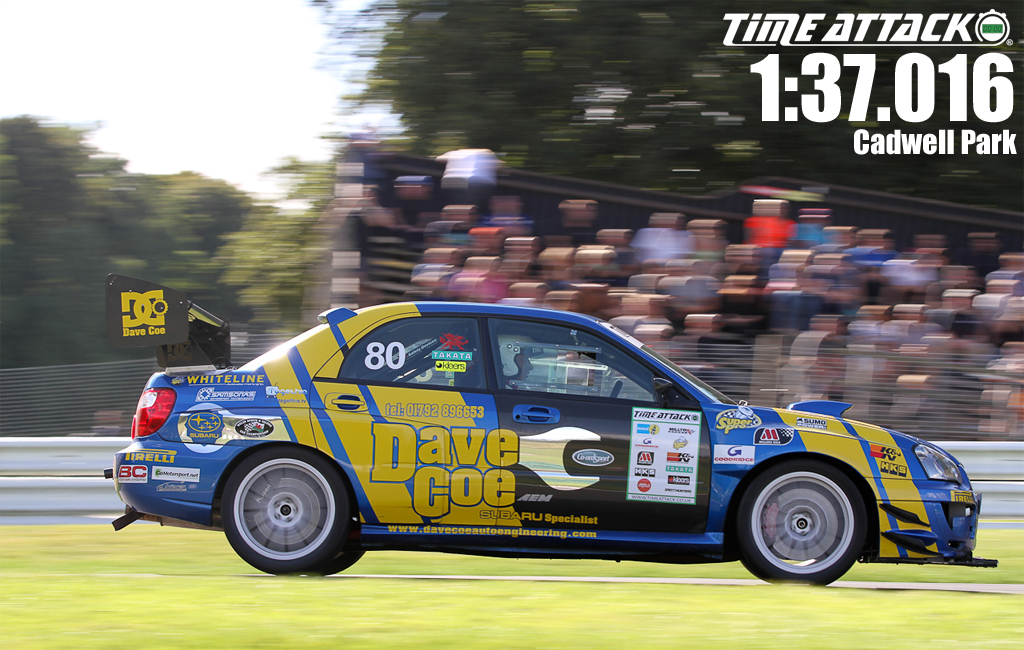 Simon Griffiths – Mitsubishi Evo 3 [One Hit Wonder]
A new name for UK Time Attack, Simon entered this weekend in his rapid Mitsubishi Evo 3. Some recent work by NR Autosport and Simon's committed driving were behind a fantastic OHW performance, ending the day just 0.302 seconds behind our Club 4WD winner and Championship leader Dave Coe.
Under the bonnet is a 'road-spec' forged 2.0-litre engine and a GT35 turbo running 1.9 bar boost on regular pump fuel. It was great to witness one of the older Lancer models in action and Simon clearly enjoys Cadwell Park. He was immediately bang-on the Club 4WD pace. Hopefully we'll see Simon at another Time Attack event very soon.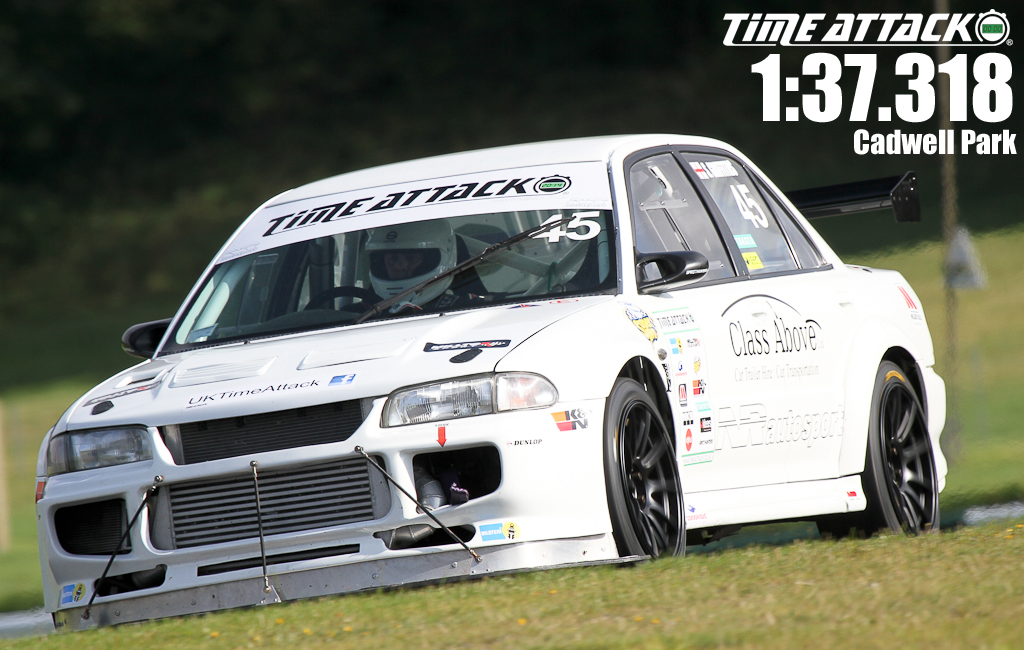 Jason Bird – Mitsubishi Evo
Stand up and take a bow Mark Flook. Jason't Eurospec team-mate told us early in the day that he would be surprised if Jason didn't make it onto the podium at Cadwell Park, and he was right.
Jason clearly knows his way around Cadwell Park, and his Eurospec Evo was on fire. Not literally of course, but his fastest lap time was just fractions behind first place. Jason also went out in the Modified Live public track sessions, surprising everyone in his session with the true pace of a well-sorted Time Attack car.
This is the second consecutive podium for Jason too. It was third at Snetterton, second at Cadwell Park… top spot at Silverstone?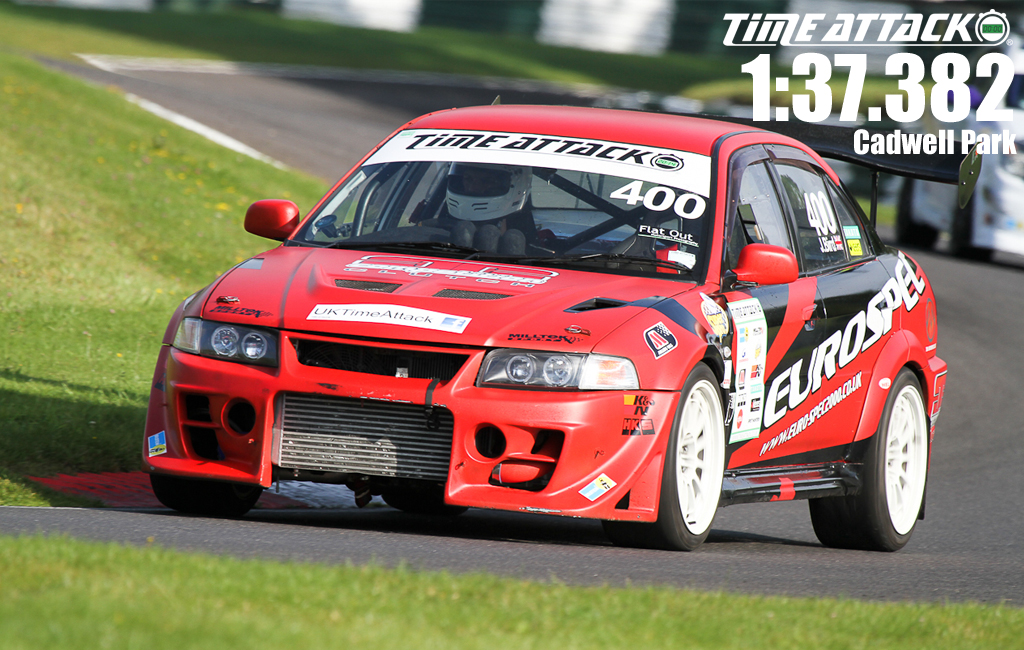 Damien Bradley – Subaru Legacy
There was a completely new front-end on Damien's Subaru Legacy, thanks to the tyre barriers at Snetterton and consequently Darren Bezant at ABW Motorsport. As a result, Damien started out slowly and increased his pace gradually during the warm up and practice sessions.
When qualifying arrived, the boost went up as Damien's position in the Championship standings meant he couldn't baby the car any more. He took to the track behind Eric Holmes, and after a near-miss when overtaking Eric and a brief return to the pits to ensure some space on the circuit, Damien went out and qualified third (1:39.061). However, it wasn't a perfect lap and with Damien's ECU mapper Simon Roe of Jolly Green Monster driving his own car at the event, it was down to Steven Darely of SD Motorsport to dish out a stern talking to.
With renewed focus, Damien queued up first for the final session. He had One Hit Wonder Simon Griffiths in the Evo 3 behind him. Damien knew Simon had been setting fast lap times and would want to get past to secure that all-important space on track. The pair tore around their outlap, with Simon desperate to get past but Damien was determined and proved fast enough to stay ahead. He kept pushing and recorded his fastest time of the day (1:38.842), giving him third place and another well-earned podium.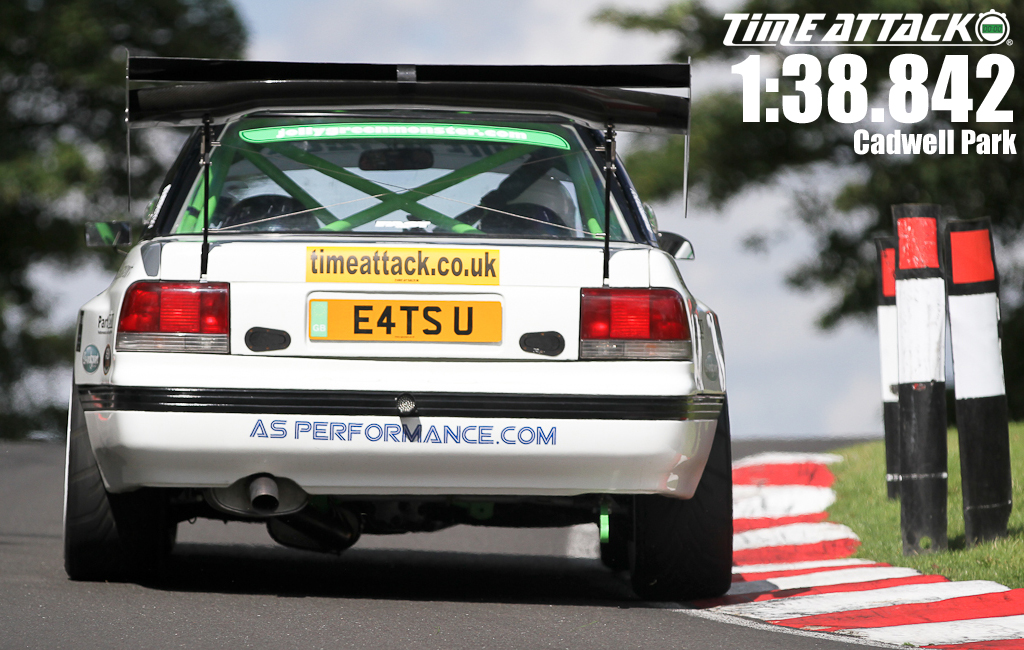 Eric Holmes – Mitsubishi Evo
Electrical issues plagued Eric's day from the off at Cadwell Park. Like most competitors, Eric had driven through torrential rain to get to the track on Friday, and it hadn't done the car's electrics any good at all. Crank sensor problems and a knackered start motor meant Eric only completed 7 laps all day.
An event to forget for the Scot, who's been on the pace this year. Next up is a return to Silverstone, where Eric qualified second finished third in the final, during Round 1. So fingers crossed he gets more seat time. Considering the lack of laps, Eric's haul of 90 points may yet prove to be very important in deciding the final Championship positions.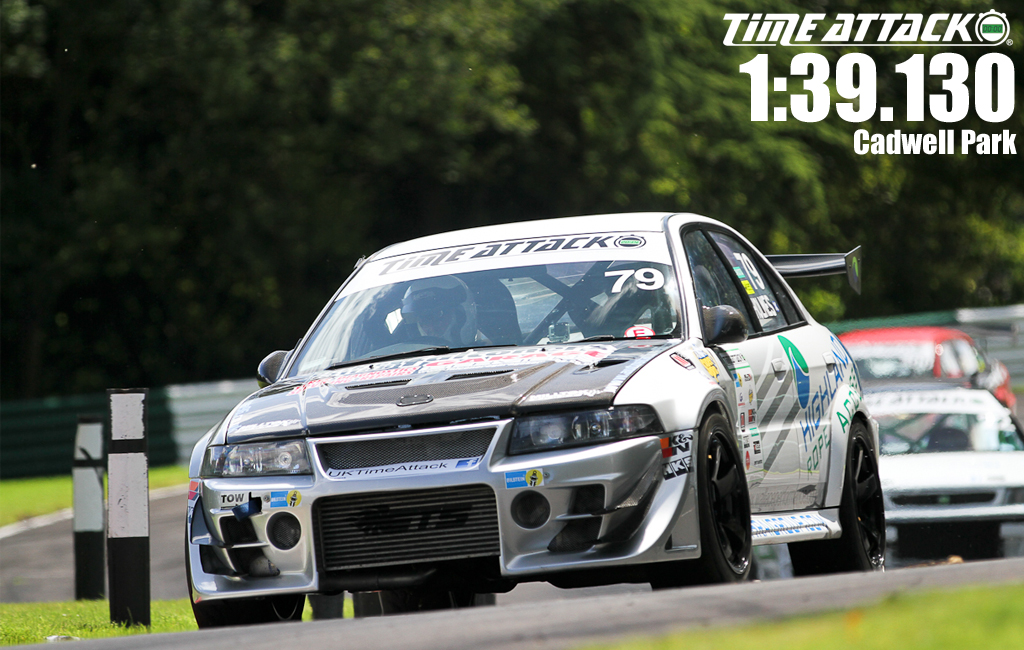 Walter Morris – Nissan Skyline R33 GT-R
Still recovering from his leg injury sustained in the off-season, Walter Morris continues to drive this battle-scar'd R33 GT-R, rather than his familiar white R32 GT-R. One of the "more experienced" cars in the Time Attack field, every imperfection in the bodywork (and that silver front bumper), carries with it a story of track-based shenanigans.
Unfortunately Walter wasn't going to add to that list at Cadwell Park. Perhaps it was the pain killers that drove him on, but Walter went hard from the outset. Before we'd even got to qualifying, he'd managed to snap a suspension arm and the clutch was on it's way out. Impressive abuse from a man who is supposed to be recovering still. Let's hope both Walter and his GT-R are in better shape for Silverstone.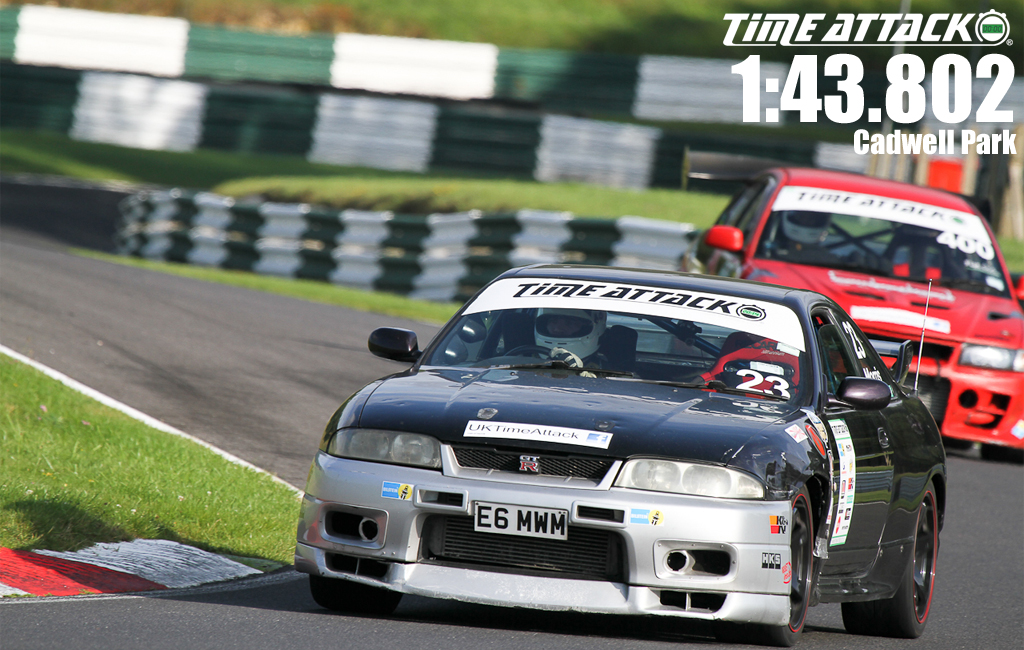 Mark Flook – Mitsubishi GTO
Ranking right up there in the list of Time Attack's unluckiest competitors is Mark Flook. Having got his GTO running just as he wanted, with an immense 950bhp at his disposal, the fun couldn't last. In the lead up to the event Mark had a fuel pump failure. A story unfolds that includes a fake fuel pump purchased over the internet, and a borrowed pump that didn't quite have the flow rate he needed, ends with the power needing to be turned down to around 600bhp. Ok, not great but at least Mark could set some lap times.
Then the transfer box went. At least that's what we believed happened. The truth is the Eurospec team swarmed over the car so we couldn't get a decent look in. They temporarily fixed the issue and got Mark out for qualifying, where he set his best time of the day. However, he was noticeably absent from the final. Mark, we'll tell you what we told Pro Extreme competitor Granville Taylor: stop walking under ladders!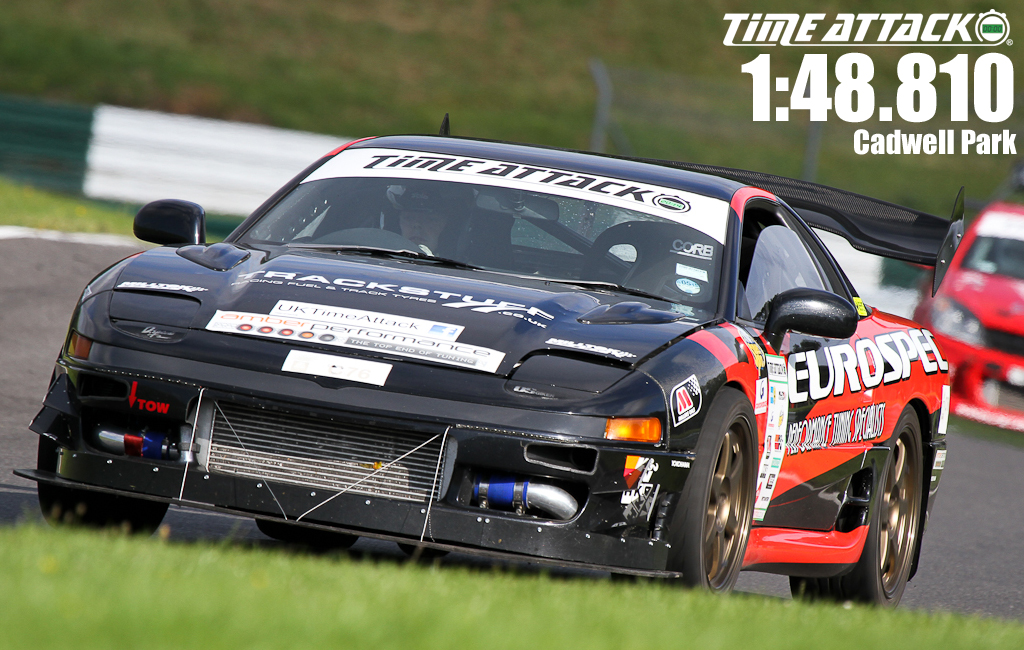 Club RWD
NEW LAP RECORD: Kevin Jones – Noble M12 GTO3
We're running out of ways to praise Noble driver Kevin Jones. It's his debut season in Time Attack and yet it seems there isn't a track Kevin can't master.
He arrived at Cadwell Park with maximum points from every round, but there was something even more valuable up for grabs this time around. The Club RWD lap record of 1:40.201 held by his closest rival, Mazda FD3S RX-7 driver Umar Masood. That remained unbeaten during the warm-up session, but only the warm-up session.
In practice, Kevin set a new lap record of 1:38.790. He then broke it again in qualifying with a 1:38.720. Before completing the hat-track in the final with the new Club RWD lap record of 1:38.358. To give you an idea of how fast that is, it was the fourth fastest lap across all Club Challenge classes. Another stunning performance from Kevin and his ballistic Noble.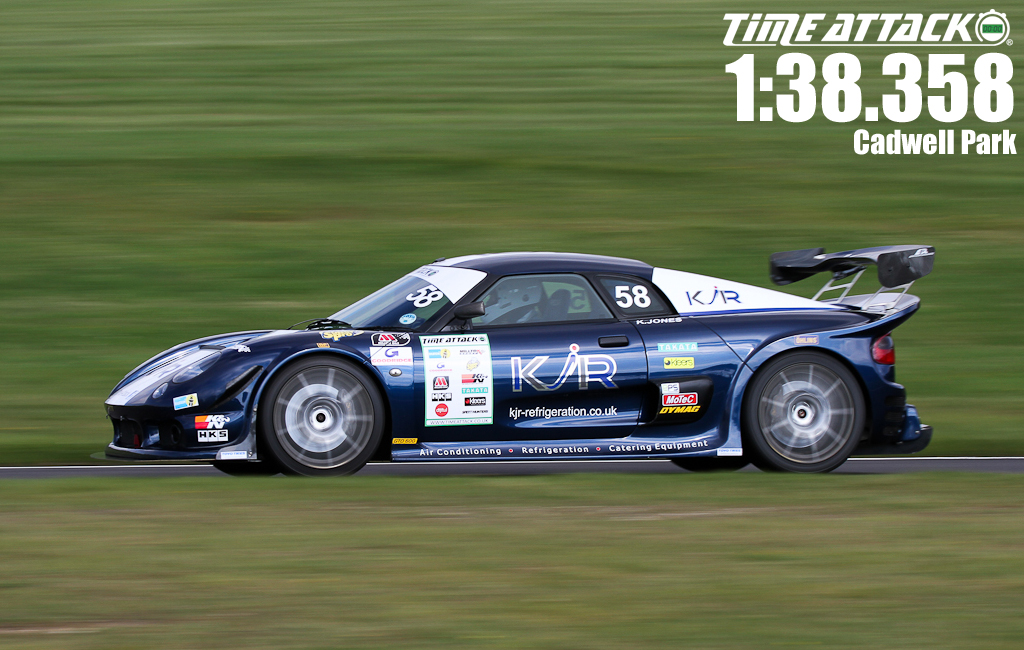 Neil Clark – Mazda RX-7
We told you to watch out for Neil Clark this weekend and we were right! Neil's new Borg Warner turbo fitted by WGT Autos provided the short bursts of acceleration he needed to set a fast time on the twisty second part of the lap. Neil was grinning from ear to ear all day, as things finally came together for him and the car behaved how it should have done all year. He pointed out the sun was out too, so it couldn't get any better!
Neil finished second in both qualifying and the final. He was behind OHW Simon Roberts in his Noble, in qualifying but managed to beat the Noble driver in the final with his fastest lap of the day. The only niggle is that during his last lap of the final, Neil was on for a 1:39 according to his in-car lap timer but pushed too hard up the mountain, losing the rear-end and all the time he had gained.
Still, with a total of 130 points and the car finally responding to Neil's liking, it was a very satisfying day at the office for Neil and his FC3S RX-7.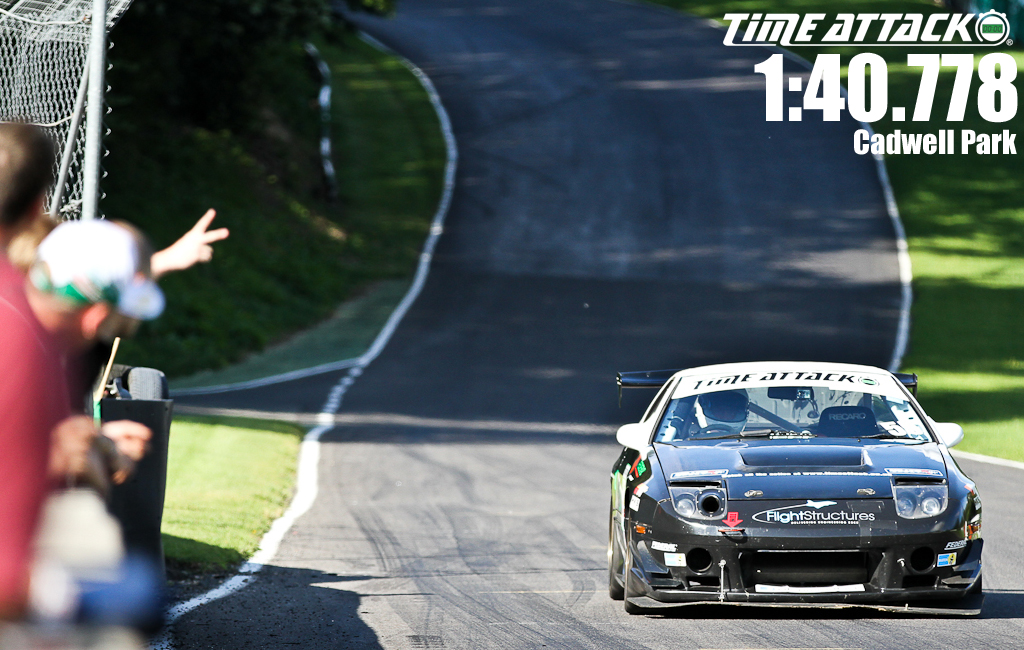 Simon Roberts – Noble M12 GTO3 [One Hit Wonder]
We're not sure if Kevin was getting lonely in the only Noble in UK Time Attack, but Simon Roberts provided some company for him anyway. The 3-litre V6 twin-turbo engine in the back of Simon's car was built by Martin Cheetham (as was Kevin's), and they're believed to be the most powerful Noble engines in the UK. So the fact Simon has done three years hard driving without fault says a lot.
Simon took to Time Attack like a duck to water, instantly lighting up the timing screens. In the build-up to the event Jetstream Motorsport helped Simon sort the technical bits, brakes, etc. While Center Gravity worked on the chassis setup, adjusting the Protech dampers to suit Cadwell's undulations and extreme camber. They must have been doing something right as Simon was right on the pace, especially for his debut event.
Simon enjoyed himself so much he's already signed up for another OHW at Silverstone on September 7th. He's ordered a load of new parts and is even threatening to take the stereo out! We reckon Kevin will have a real fight on his hands next time out.

Umar Masood – Mazda RX-7
Poor old Umar Masood. As if having your lap record beaten was bad enough, he was physically ruined by the time Round 4 came to an end.
Umar had been burning the midnight oil in the run-up to the event, trying to replace the engine in his RX-7 after using a product designed to protect his engine that had the opposite effect. Umar claims he had five hours sleep in three days, which explains why he wasn't up to his usual pace at Cadwell Park. It was a great effort to just get there however, and Umar was extremely grateful to everyone who helped out including Chris Vidler at Rotarymotion and ECU mapping royalty Paul Blamire.
By the way, when we say Umar wasn't on the pace we mean in the car. Anyone who witnessed Umar run away from Andy Barnes' "special award" during the podium presentations (an attack with a bottle of fizz), will testify Umar may be better taking up athletics. We've never seen him move so fast!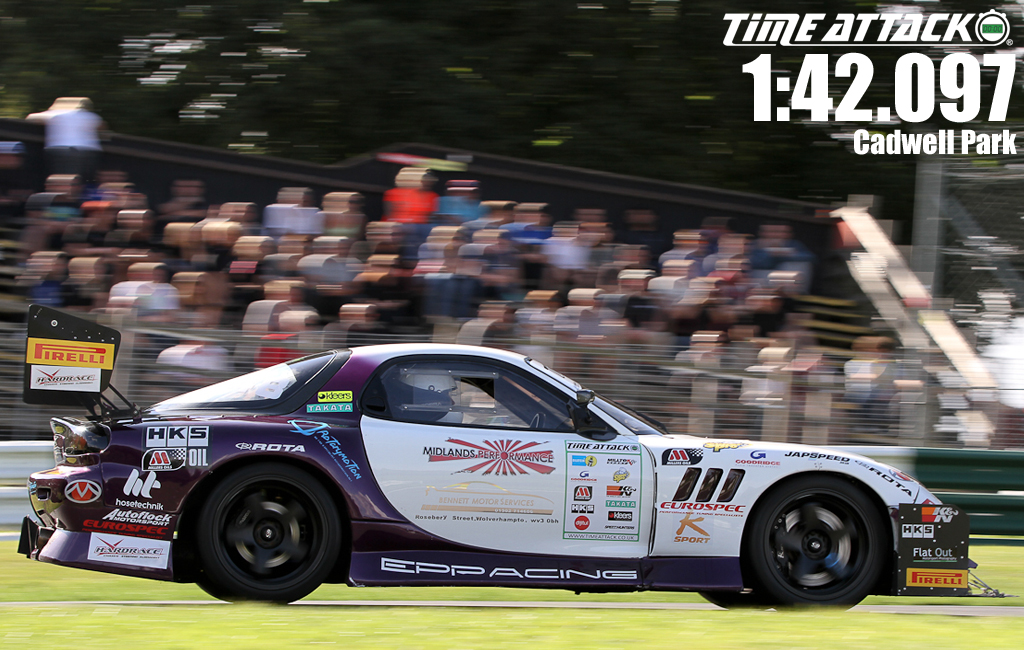 Club FWD
Adam Jones – Honda Civic Type-R
We had a new name on the top step of the podium at Cadwell Park. Adam Jones and his turbocharged EP3 Honda Civic Type-R fulfilled the potential they've hinted at all season to top Club FWD. With a sixth place finish followed by fifth and then second last time out, it's fair to say Adam is getting faster at every round, in one of Time Attack's most fiercely competitive classes.
Surprisingly, the K20 engine under the bonnet is in factory spec, with a bolt-on turbo conversion by TDi North. Adam can obviously pedal too, and he was on top form at Cadwell Park. He qualified in first place in Club FWD (1:40.608), exactly 0.020 seconds ahead of Will Watson. We told you times in this class are close!
Ultimately, Adam set his fastest lap time of the day in the final, rising to the occasion to fend off his competition. It's a great time to score maximum points and has brought Adam right back into the title fight.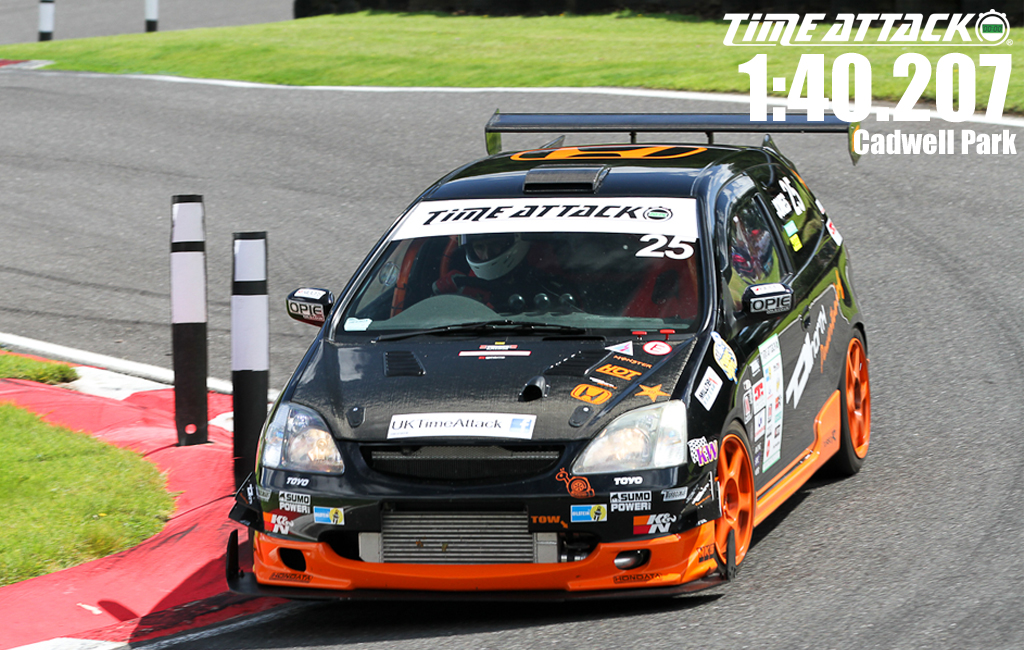 Will Watson – Vauxhall Astra
Another strong event for Vauxhall Astra driver Will Watson. After securing his debut win last time out, Will went very close to topping the timing sheets in qualifying, having to settle for second place in the end by the smallest of margins.
We're not sure what Will has been doing lately but whatever it is, it's working! From the outside looking in it appears he's really getting the Astra dialled-in now. His final flying lap of the day was also his fastest, earning Will second step on the podium and a vital 130 points towards the Championship too. An excellent result.
Marc Donnelly – Ford Escort
Marc told us he really enjoyed driving Cadwell Park, but he struggled to get enough heat into the tyres on his Focus RS-powered Mk3 Escort. He tried a few tweaks to get them gripping but suffered a lack of cornering speed in many places, particularly the Mountain.
Still, Marc finished 3rd in both qualifying and the final (where he set his fastest lap), and also shaved 0.4 seconds off his personal best, so he wasn't doing that badly! Perhaps it's also a reflection of how the competition in Club FWD is pushing the teams and drivers harder, and on to faster lap times?
Marc now sits in provisional first place in the Championship, but without the dropped score being taken into account. He admits he's got a real fight on his hands if he wants to retain his Club FWD title this year.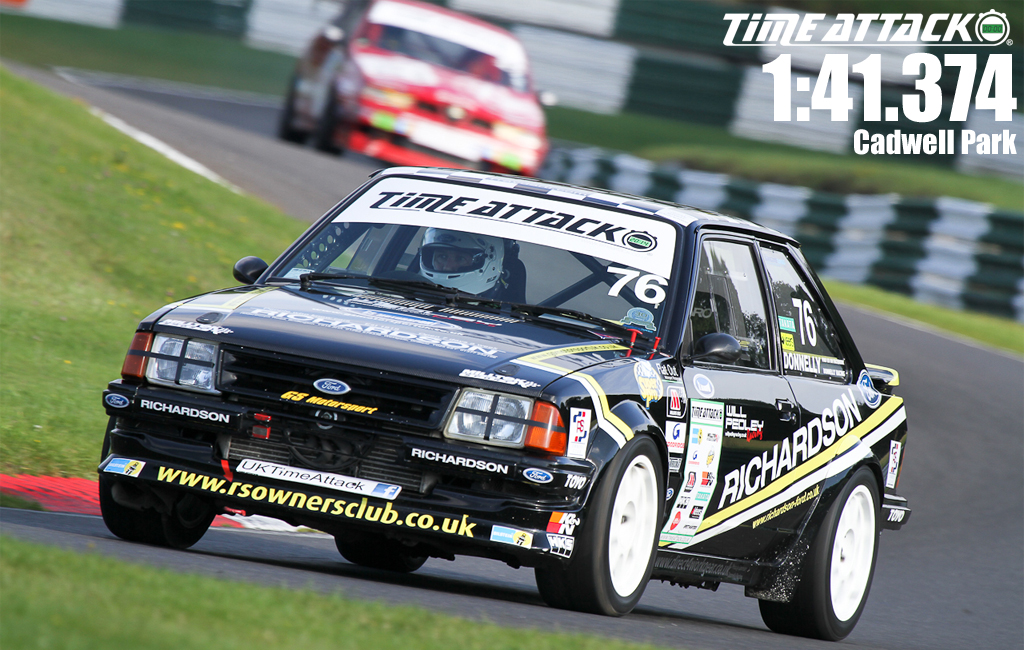 Daniel Clark – Vauxhall Astra
An entirely new front-end on Daniel Clark's Astra following his grass-tracking excursions in earlier rounds, and the feedback was the new setup was driving better than ever.
And so it proved, as Daniel missed out on the podium by the smallest of margins. At least he kept it on the black stuff this time around!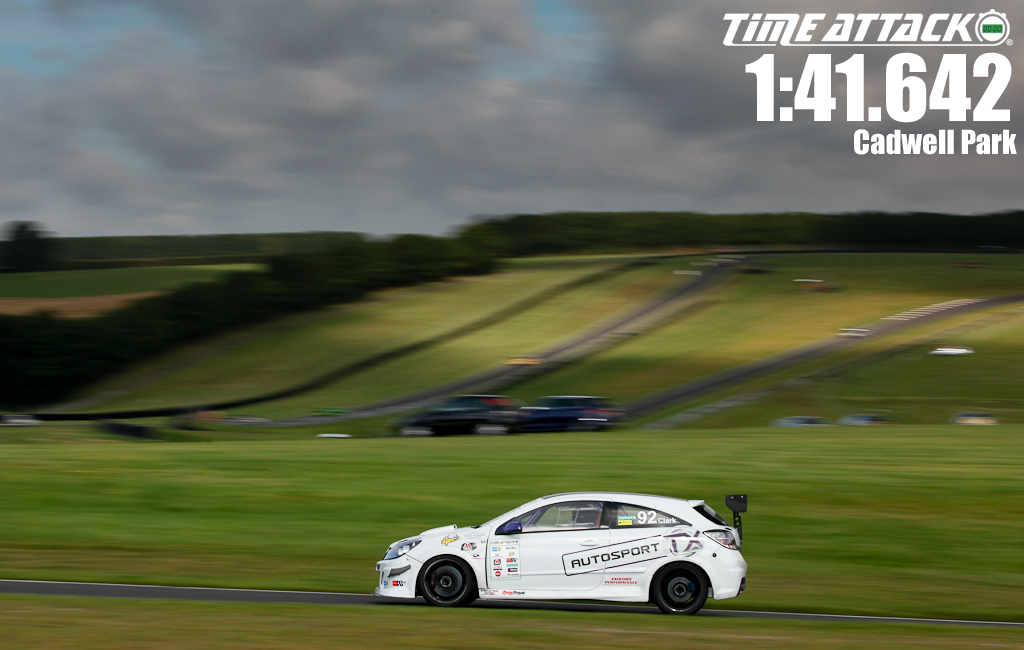 Jonny Fletcher – Vauxhall Astra
You could write a pretty interesting book about Jonny Fletcher's 2014 Time Attack season. He came out of the blocks firing on all cylinders, backing up his win in the last round of 2013 with a win at Round 1 of the 2014 season at Silverstone.
Since then he's scored highly in the final but qualifying has been Jonny's downfall, often due to mechnical niggles. True to his current luck, Jonny struggled at Cadwell with suspected fuel supply issues – the effect being a lack of power, so he was losing out on the straights. Despite this, Jonny was quite happy to only finish two seconds off the pace considering the issue, suggesting he would have been there or thereabouts with a healthy car.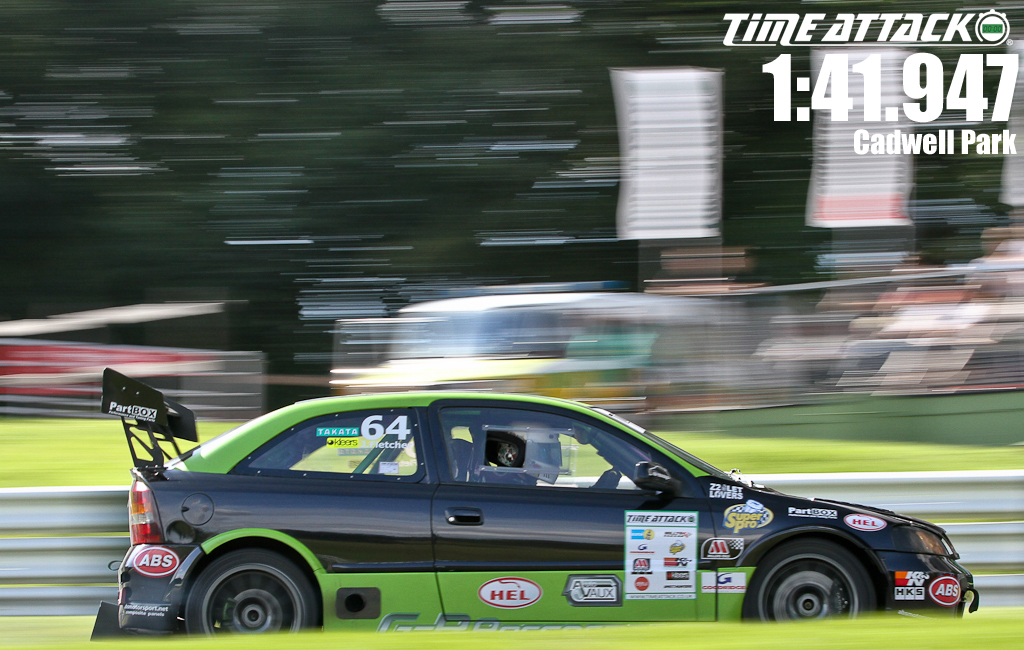 Neil Wrenn – Honda Civic
Fastest in the warm-up and practice sessions, things were looking up for Neil. On the way up he'd experienced a scary blow-out on his trailer, so it was nice to get some good news.
Neil was one of a group of drivers who kindly offered to take Marshall's around the track at lunchtime. It was during this that Neil noticed a loss of power – the car was making only half the boost it was previously. Sadly, that summed Neil's day up. He went out for qualifying to try and score some points, but was actually slower than he was in the warm-up and at least 20mph slower through the speed traps.
Unable to pin-point the issue, but suspecting the boost solenoid was playing up (intermittently making the turbo run on wastegate pressure, meaning less boost and therefore power), Neil decided to play it safe and retire the car before the final. A disappointing event for Neil, but at least his engine lives to fight another day.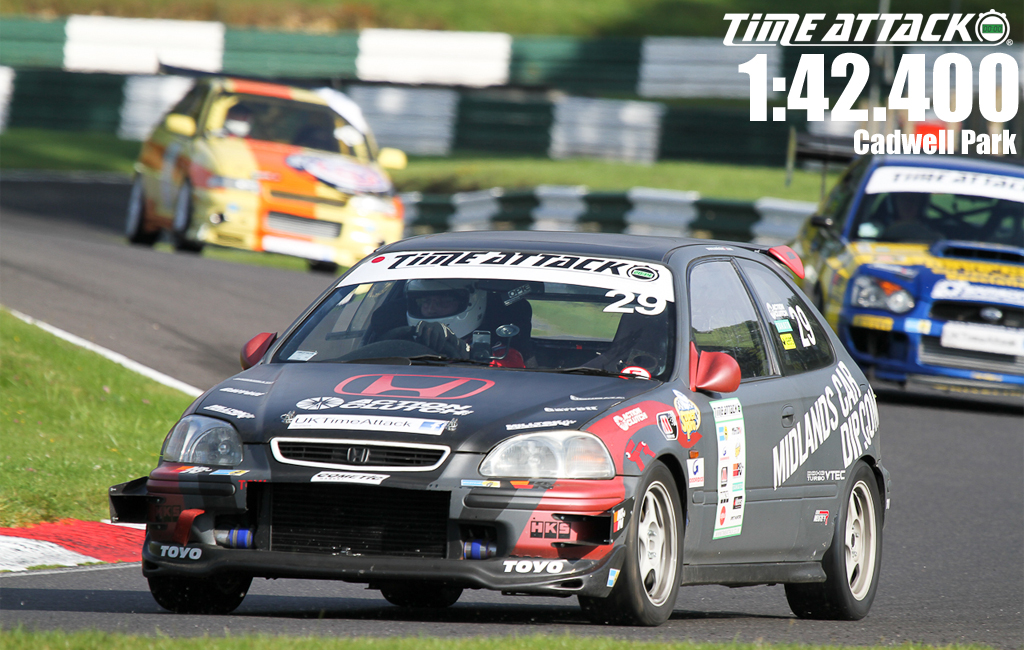 Darren Spooner – Peugeot 205
Darren's little 205 was proving to be a real crowd-pleaser at Cadwell, as he flicked the back-end round with skill lap after lap. The only naturally-aspirated car in Club FWD, Darren was always going to be up against it. Even so, Darren told us that he couldn't quite get the balance right, and that the back-end was probably moving around too much. It didn't help that Darren's fastest lap of the day was disqualified by the officials for exceeding track limits.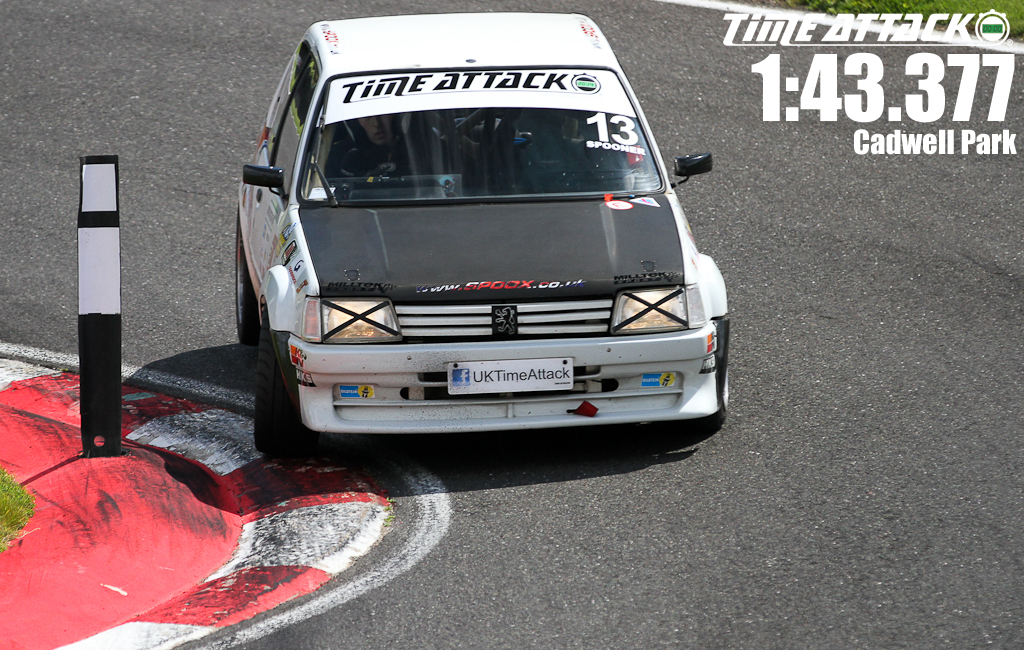 Stewart Summers – Citroen Saxo
New car, new colour for Stewart Summers and his PlanetSaxx Citroen Saxo. The Rotrex supercharged Saxo has been completely rebuilt form a new bodyshell, since the infamous roll-over moment at Snetterton. The engine was making all kinds of whooshing and chirping noises throughout the day, which thoroughly entertained the spectators.  Ultimately, Stewart would have wanted to go faster but it's great that he got through the day without any major incident.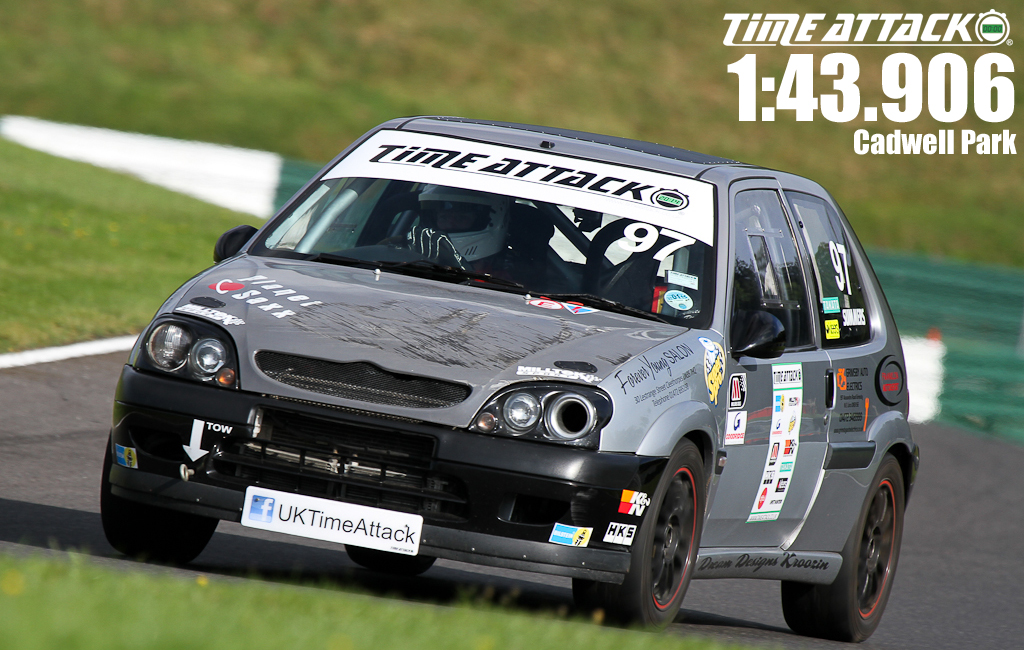 Jeff Alden – Vauxhall Astra
Built to a tight budget, Jeff Alden's Astra proves you don't need to be loaded to compete in Time Attack. With a turbocharged Saab engine under the bonnet, Jeff's car is built on thinking outside the box. The Astra has sprouted the large wing, rear diffuser and front splitter as the season has progressed. Jeff is another driver getting quicker at every round.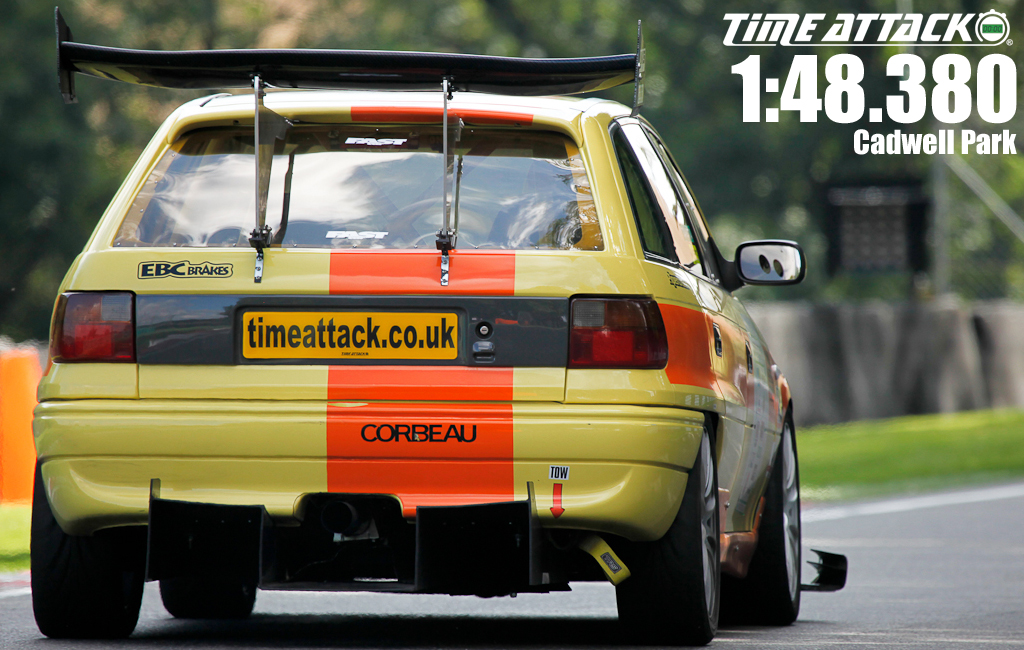 Adrian Daniel – Vauxhall Astra
Pleased with the day, not satisfied by his lap time. That pretty much sums up Vauxhall Astra driver Adrian Daniel's event.
Adrian continues to develop his car, and at Cadwell Park his engine was pushing out an extra 120bhp and 120lb/ft more that it was at Snetterton. With no time to test the car, Adrian had to get used to the new power on the day and confesses he didn't think it would make such a difference to the way the car drove. He didn't feel full comfortable in the car until the final, by which time he was having boost control issues.
Hopefully Adrian can get on top of the boost problem for Silverstone. There's little doubt Adrian could have gone faster than his 1min 50 fastest lap. With the boost sorted and some more seat time, we wouldn't be surprised to see Adrian moving up in the class rankings during the final couple of events.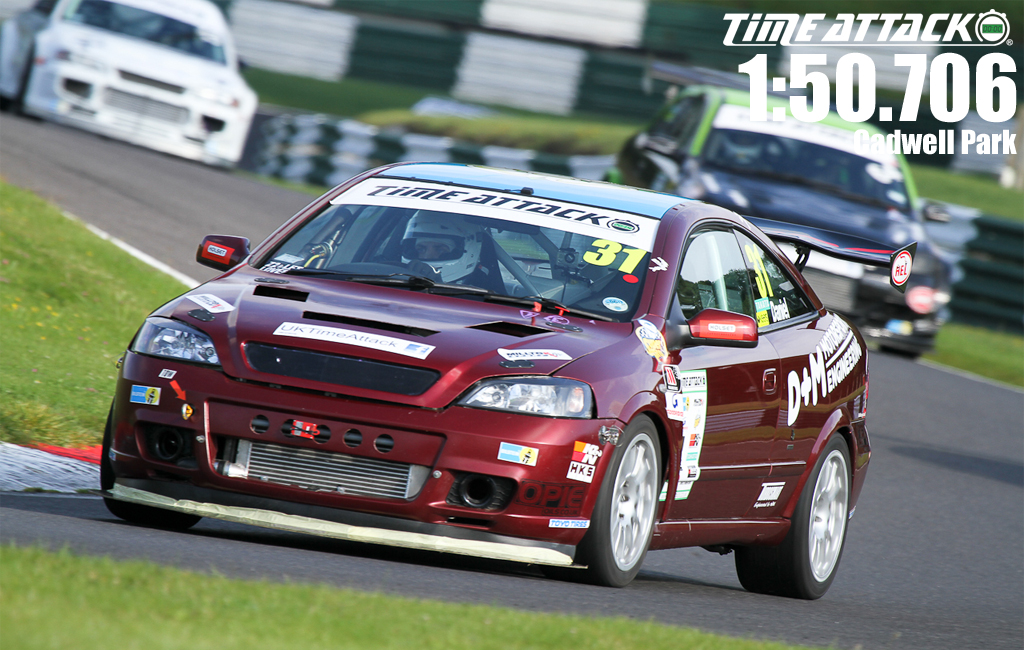 Antonio Giovinazzo – Alfa Romeo 155
As always the Giovinazzo brothers were full of smiles at Cadwell Park. Their homebuilt Alfa 155 has been through several variations, most recently a conversion from a twin-turbo setup to a single turbo, both custom fabrications by the brothers themselves.
Contrary to popular belief it's not a V6 under the bonnet, but an inline 4-cylinder twin spark. Antonio was getting into his stride at Cadwell Park when the exhaust manifold starting blowing. With every session the car sounded more like a tractor, robbing the turbo of exhaust gas and increasing turbo lag whilst reducing power. No doubt Time Attack's most famous siblings will have it fixed in time for Silverstone.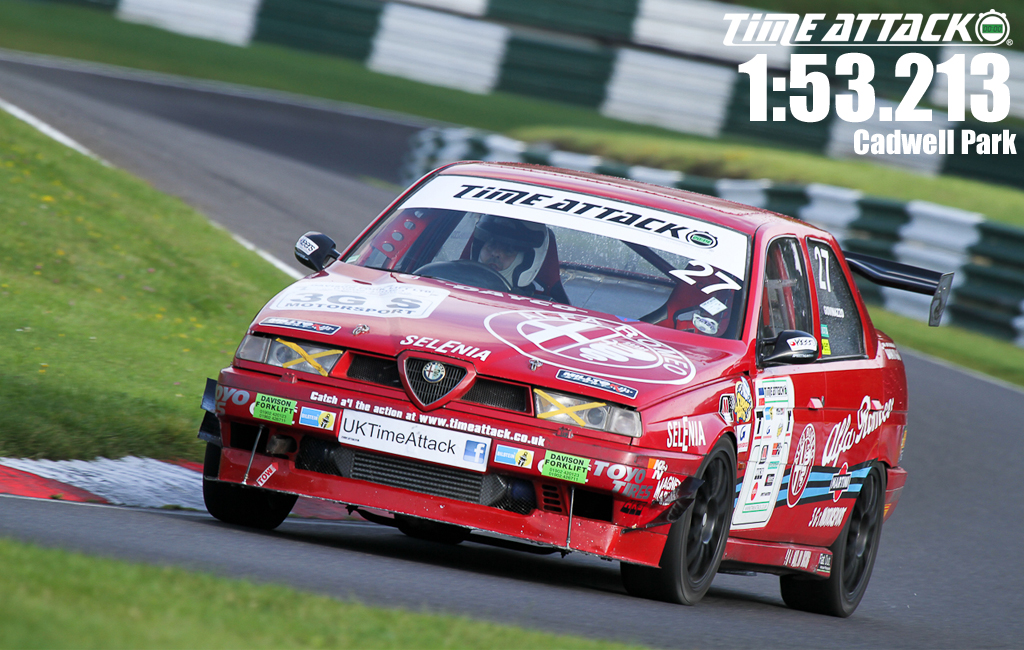 Club NA
NEW LAP RECORD: Mark Burnett – Honda Civic
Our unofficial driver of the day award has to go to Honda Civic driver Mark Burnett. His H22-powered Honda Civic is proving to be a real weapon in Mark's capable hands. And feet.
In our event preview, we asked if any of our Club NA drivers could threaten the lap record that's stood since 2010, set by Daniel Gannon in a BMW E36 M3 (1:39.720). Mark rose to the challenge, beating the record by almost half a second!
Not only that, Mark's time was also faster than the Club FWD record (1:39.654) and every Club FWD competitor on the day – although you can only enter one class at a time, so Mark only officially broke the Club NA record. However, it still meant Mark and his NA Civic were faster than every turbocharged and supercharged Club FWD car too!
A stunning display by Mark, who put his speed down to the hard work of BYC Backyard Civics, H-Tune and TDi North. We think he's being modest, as he's forgotten to mention what a talented driver he is too. A stunning display of how effective lightweight "handling cars" can be.

James Procter – Honda Civic
With Mark on such a roll at the moment, few drivers would like to be in James Procter's position.
After showing genuine speed at Snetterton, James found himself a few seconds off the pace at Cadwell Park. Having been on second spot of the podium at every round, it's too early to write James out of the Championship fight with two rounds remaining, but you'd have to say James needs to stay reliable, and hope his rivals don't.
Kai Barker – Ford Fiesta [One Hit Wonder]
After 8 years of trackdays, Kai Barker joined us for his first bit of competitive driving at Silverstone in Round 1. Kai was the fastest One Hit Wonder in Club NA, took home a trophy and found himself completely hooked!
His lightweight Fiesta ST features a Quaife LSD, Cosworth engine bits, Milltek Sport exhaust and Toyo R888s. Kai's driving was good enough to earn him fastest Club NA OHW again. We know Kai has booked himself in for our final round of the season at Brands Hatch on November 8th. Can he make it a hat-trick of OHW wins?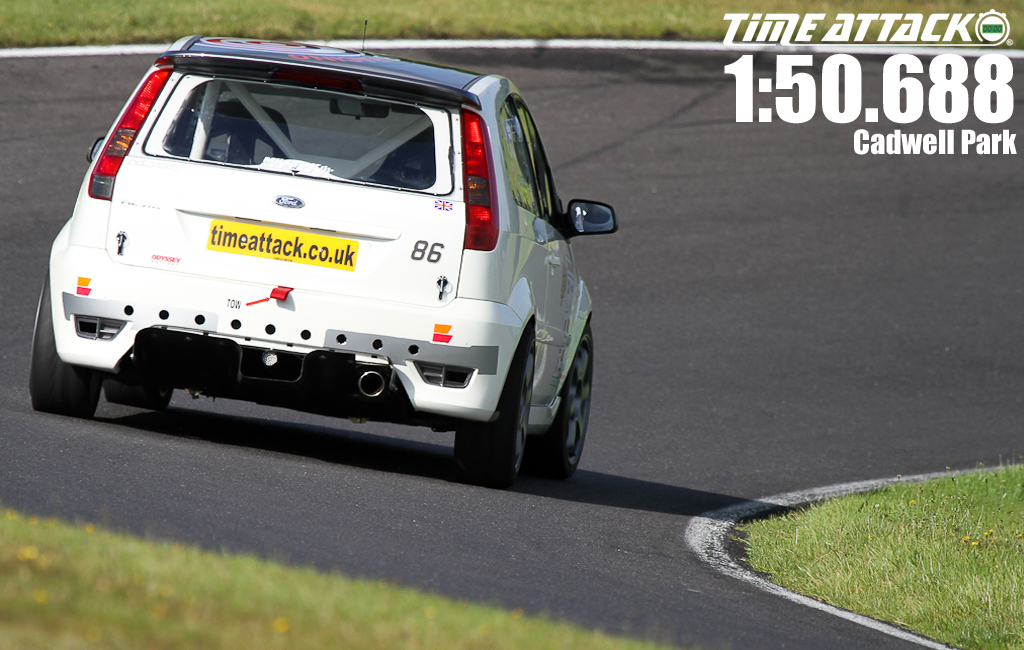 Simon Roe – Peugeot 205 [One Hit Wonder]
If you aren't familiar with the name Jolly Green Monster then shame on you! Simon Roe is the man behind the beastly brand and a 9-second drag Impreza, offering ECU expertise and knowledge on how to go faster.
He entered as a OHW for a bit of fun, in a Peugeot 205 he bought off Ebay. With a few tweaks including an LSD and some lightweight panels, we enjoyed watching Simon throw his Pug around. However, Simon was disappointed that his Pug had been so reliable at various trackdays, but chose his first round at Time Attack to start playing up! He borrowed some coil-packs from Spoox Motorsport after the car started running on three cylinders early on. Then his lap time in the final was hindered by a temperamental gear linkage, which kept leaving the car stuck in 5th gear. By the time Simon had fixed it in the pits, the chequered flag came out!
Still, Simon proved Time Attack is the most accessible form of Motorsport, especially if you already own a trackday car. It's only as expensive as you want it to be.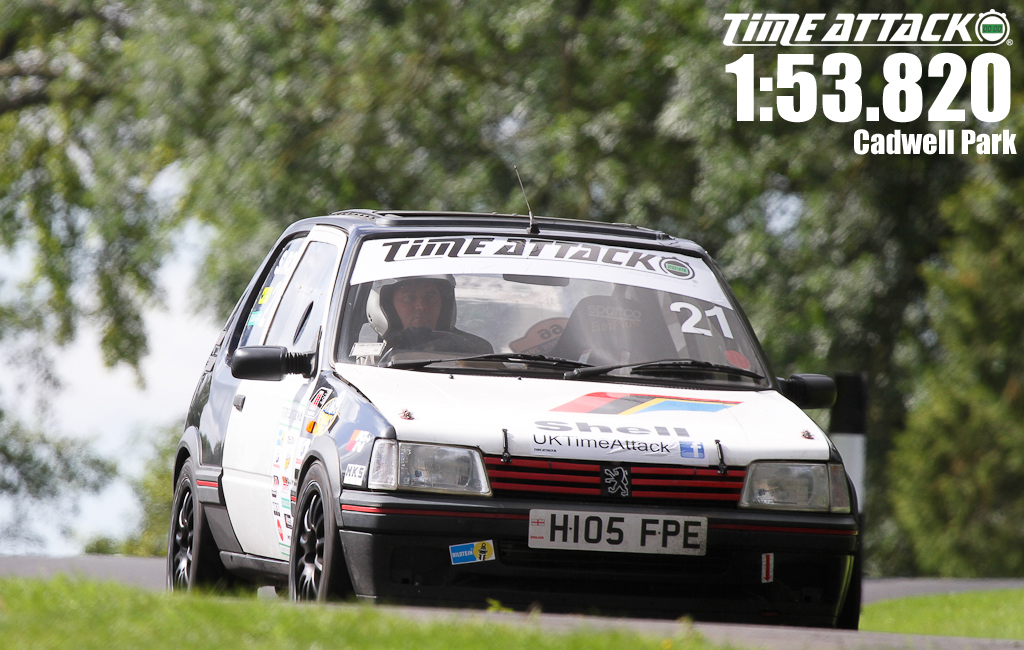 Club Classic
The sight of two old-school Fords barking their way around Cadwell went down a treat. This is a new experimental class in Time Attack, and our pair of Ford drivers certainly put a smile on the faces of the crowd.
Ultimately, it was Paul Finney and his Mk2 Fiesta XR2 that came out on top, just over two seconds quicker than Ronnie Haines in his Mk1 Ford Escort. Hopefully this Classic class will grow as these cars still have a huge cult following. Plus they sound great!
If you've got a Classic you would like to enter at future Time Attack events, please let us know here
Paul Finney – Ford Fiesta [One Hit Wonder]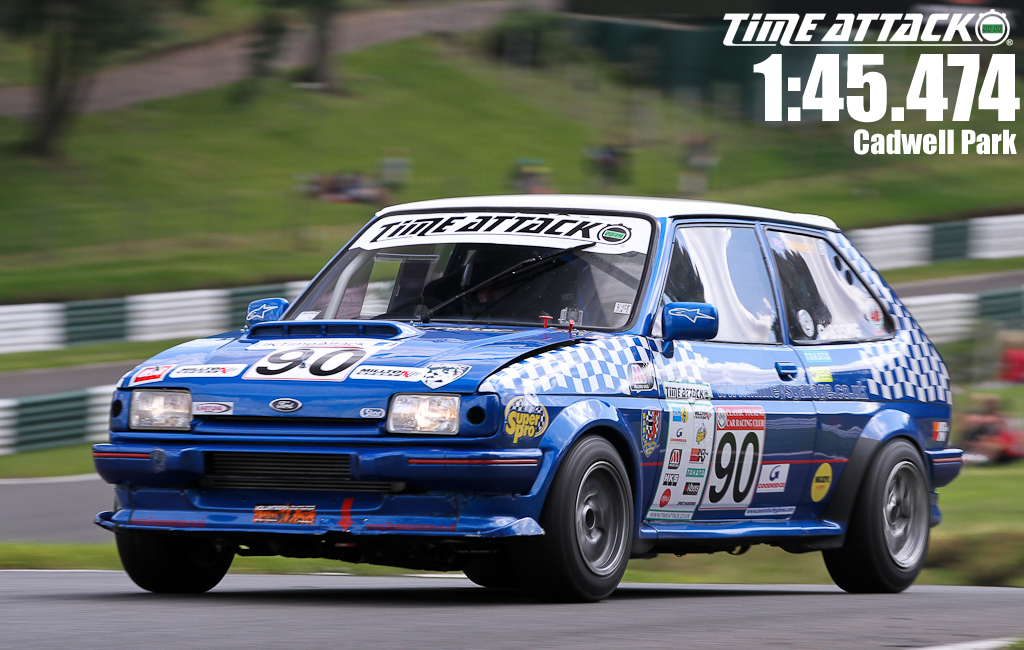 Ronnie Haines – Ford Escort [One Hit Wonder]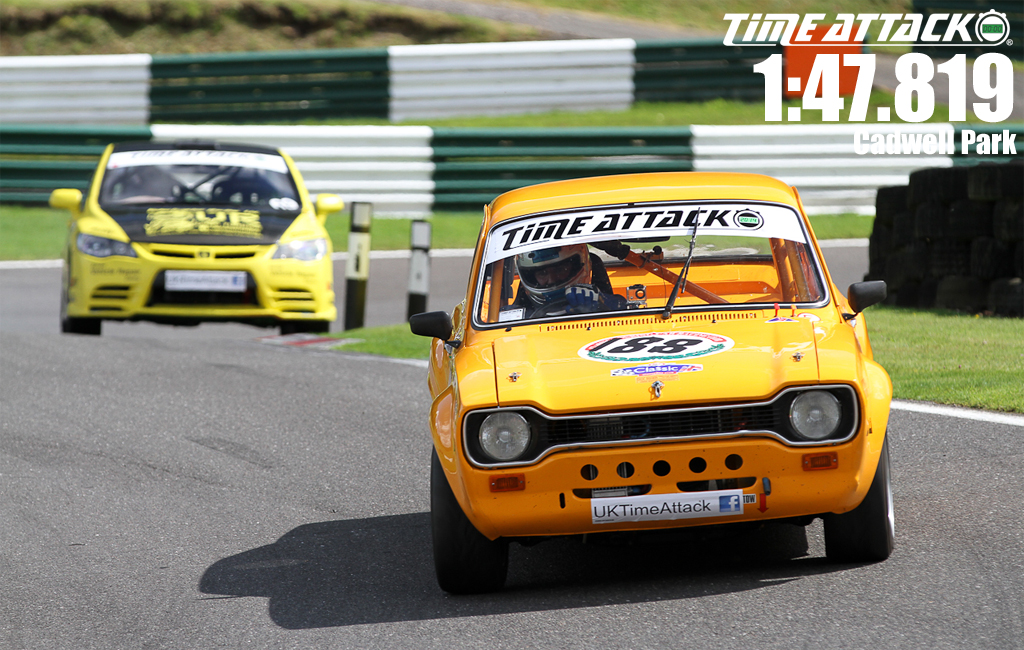 The next round of the 2014 Time Attack Championship takes place at Trax show, Silverstone on Sunday 7th September. You can buy tickets here
Catch up on the current Championship points table here