Club Classes Round 2 – Knockhill Circuit Scotland
Time Attack Club Challenge is packed with tuned road cars on road tyres. These cars are very similar to the modified car you might drive on the road every day.
Early morning fog lifted and was eventually replaced with rain. Club Challenge drivers had to battle a wet circuit during Qualifying, which then dried up in time for the Final. As a result, all Club Challenge drivers set their fastest time of the day during the Final.
Here's a run-down of their fastest times of the day
Club Challenge 4WD
Dave Coe: Subaru Impreza
Dave Coe is getting used to the top step of the podium. That's two successive fastest laps in Club 4WD for the Impreza driver. He qualified in fourth place but when the track dried Dave wound the car up and blasted his way to the top of the timing sheets. Sounded awesome too.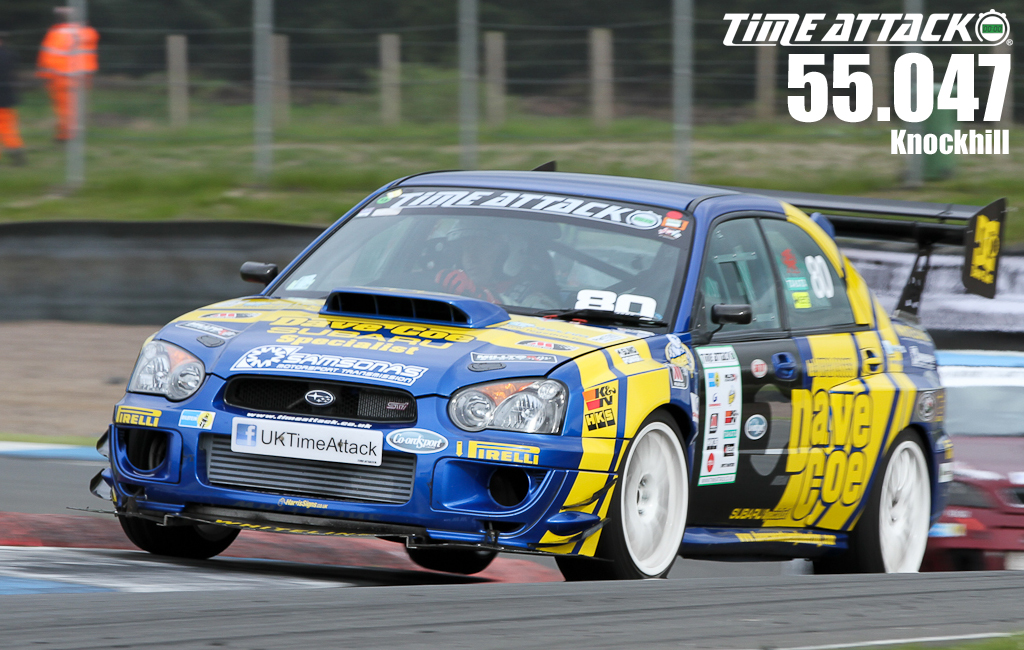 Eric Holmes:Mitsubishi Evo
What can you say about Eric Holmes performance? Impressive to say the least, Eric proved he and his Evo have some real pace once the track had dried for the final. One of only three Club 4WD drivers to break into the 56 second barrier all day, Eric deserved his spot on the second tier of the podium.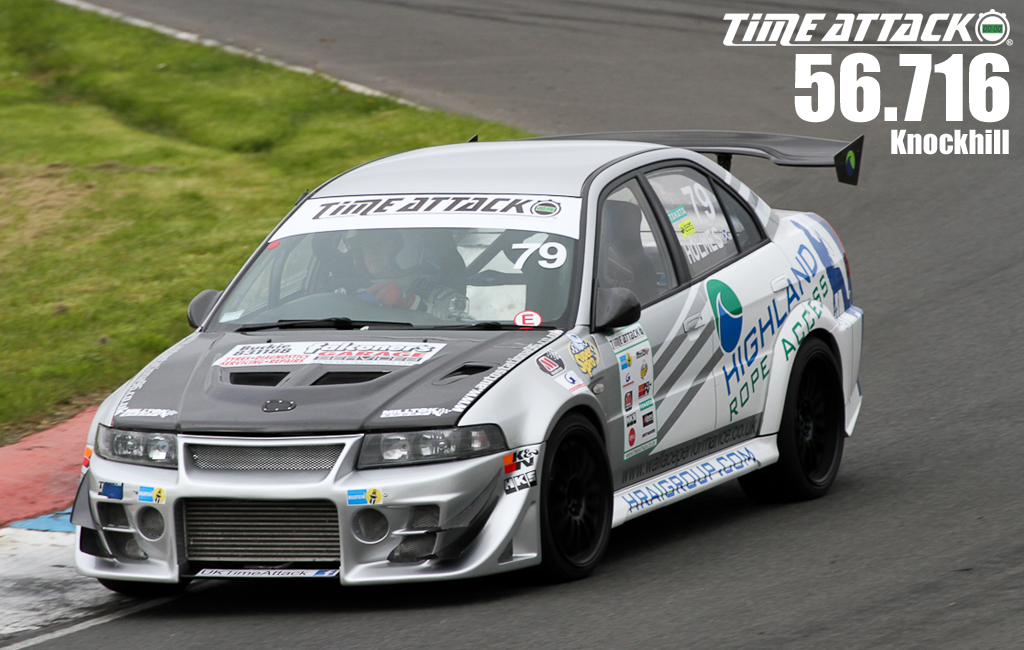 Damien Bradley:Subaru Legacy
Damien had the benefit of 6 hours of suspension tweaks on the Whiteline rig in Dunfermline, in the build-up to Round 2. He has also continued to receive support from Steve Darley of SD Motorsport, the mastermind behind the car's climb up the Club 4WD rankings, while reigning Club Pro 4WD Champion Marc Kemp made it a hat-trick of helping hands, giving Damien a set of Continental Conti Sport tyres, which turned out to be excellent in the wet qualifying (fastest of all Club 4WD Championship contenders, 1:02.783). In the dry final Damien returned to Yokohama A048s, putting in a sold time to earn third place on the podium.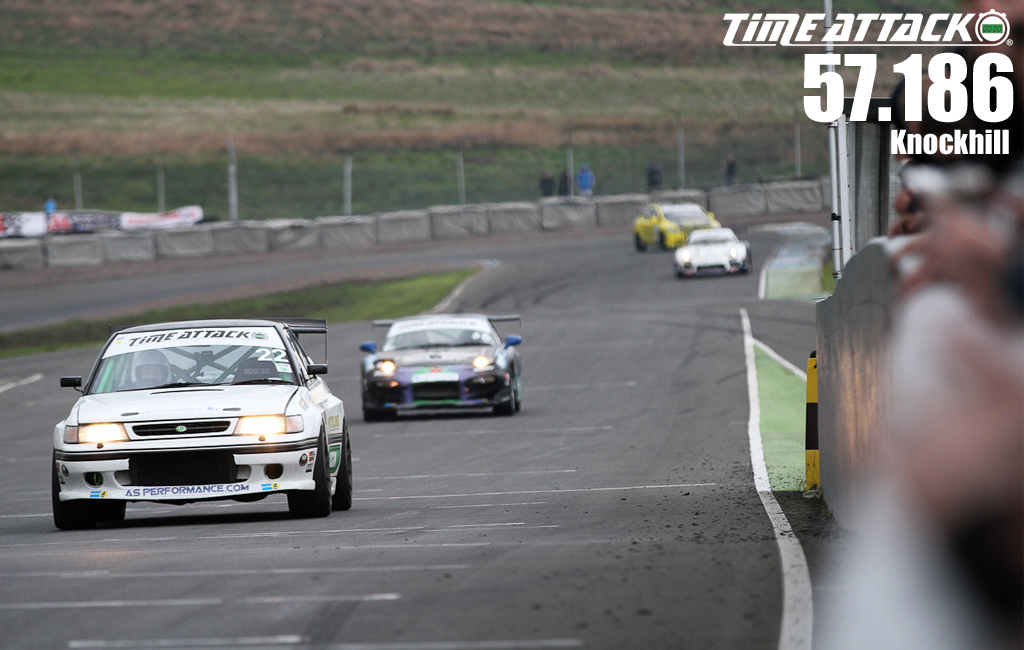 Matt Lawson:Mitsubishi Evo
[One-Hit Wonder]
Matt overcame an oil leak in practice, after the bung at the end of the dipstick on his dry-sump system escaped, to record the fastest Club 4WD time of the day in the Final. He also qualified first (1:01.770, wet session), but it was in the dry Final where Matt and his bright orange and black machine really impressed. His fastest time was set on lap 5 of the 11 laps he completed in the final and on low boost. Unfortunately, when Matt turned the boost up for an even faster lap his twin-plate clutch failed. So there's no doubt Matt could go even faster next time we're at Knockhill.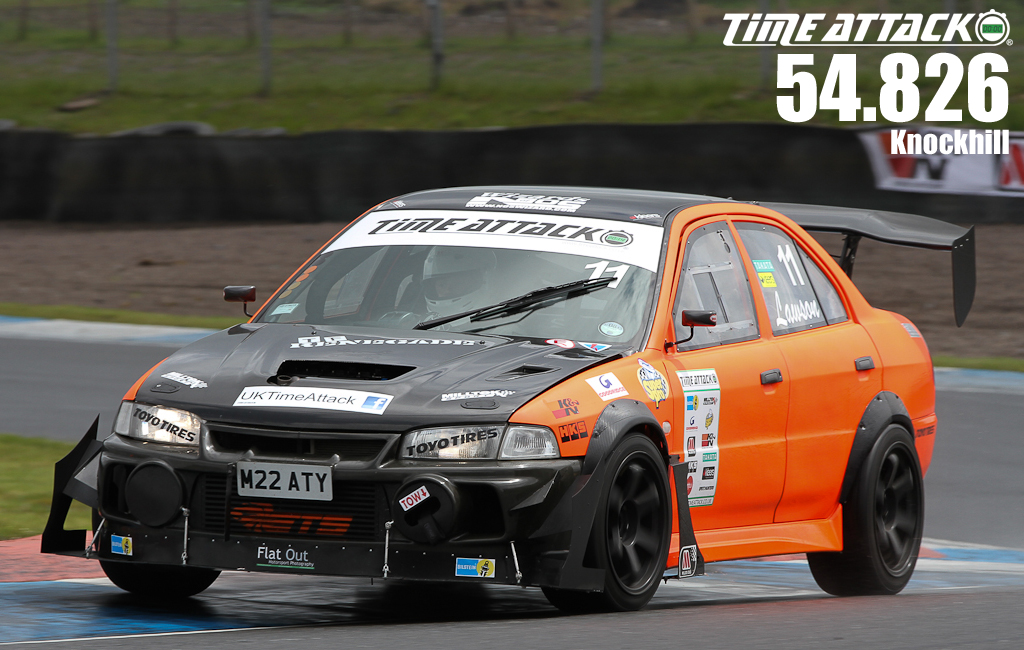 Andy Grady:Subaru Impreza
This was a big weekend for Andy. The Geordie had only ever driven Knockhill in reverse before, so he was approaching a new circuit, driving an untested car with a tonne of new parts. Amongst the upgrades on his RA Motorsport-supported Impreza is a rotated Garret GTX35 turbo and a 6-speed dog 'box. After missing both Warm-Up and Practice, Andy went out and qualified in third place! In the final, Andy had a boost pipe blow off. He lost valuable time returning to the pits to have it fixed, meaning he completed fewer laps than his immediate rivals; 8 laps vs 13 laps for Damien Bradley, with just 0.010 seconds between their times! An impressive performance in the end from a driver to watch in future rounds, in this fiercely-competitive Club Challenge 4WD class.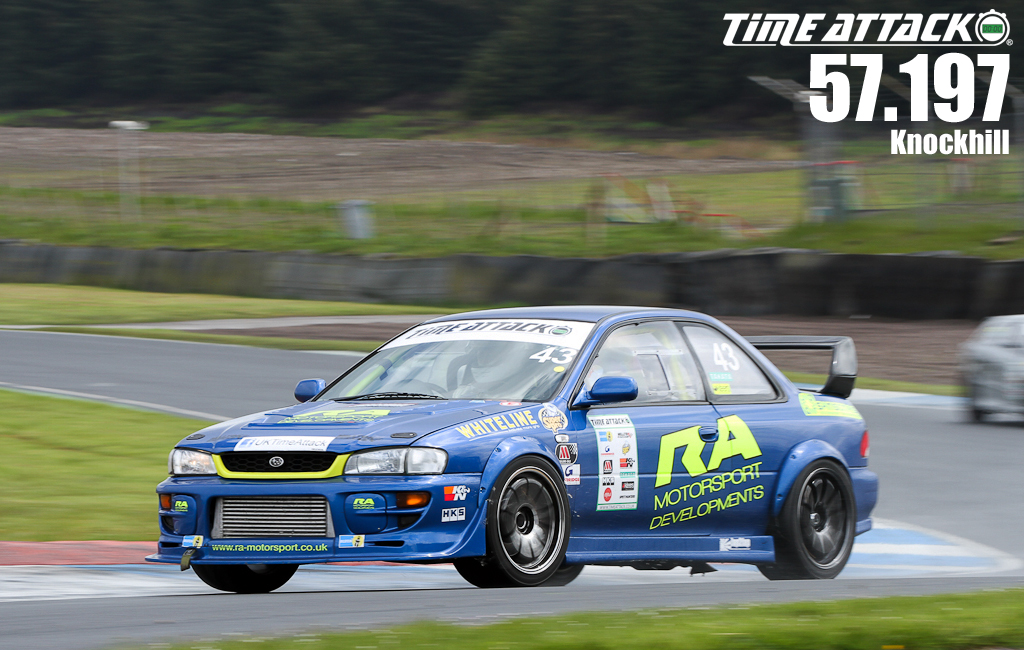 Matthew Webster:Subaru Impreza
A weekend to forget for Impreza driver Matthew Webster. After a fantastic test on Friday, pedal box failure meant Matthew didn't get any practice in on Saturday. His team worked until the early hours of Sunday morning to get the car ready, only for him to miss the Warm-Up and Practice session after issues with the wheels and then the digital dash, causing the car to lose power and emit smoke from the exhaust. He'll be back.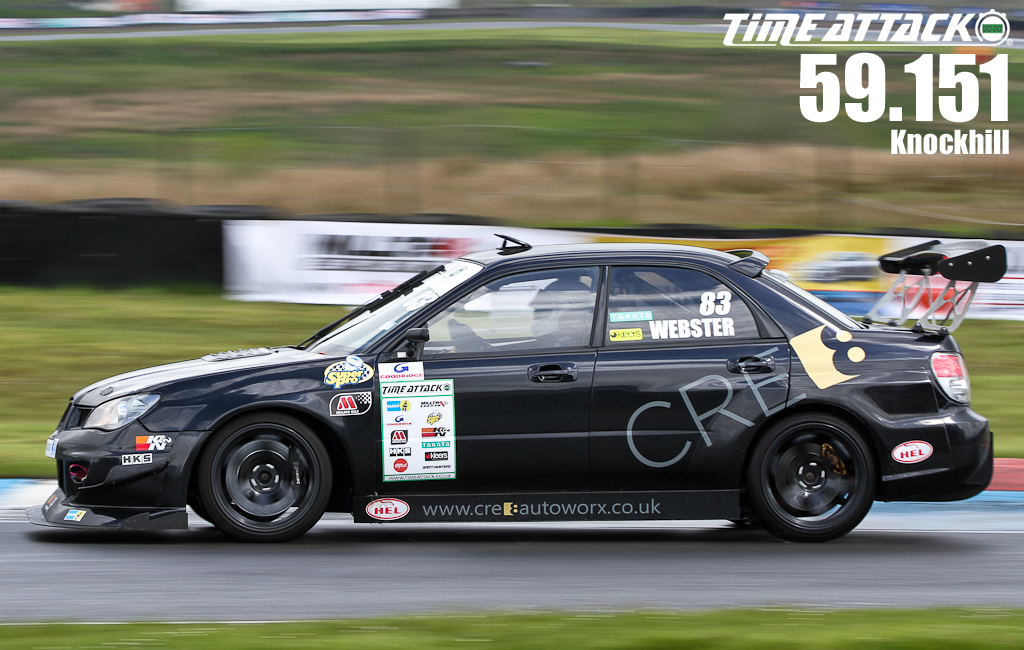 Mark Flook:Mitsubishi GTO
Due to work commitments, Mark hadn't had time to set the car up after some new parts were fitted in the lead-up to the event, including a new pair of tubular exhaust manifolds. As a result, his only aim was to finish all four sessions! As it turned out, that required a 6hr drive by the Eurospec team to collect injectors, a car park remap and only 0.5bar boost. Mark is now looking ahead to Snetterton, where we should finally see what he and his car are capable of.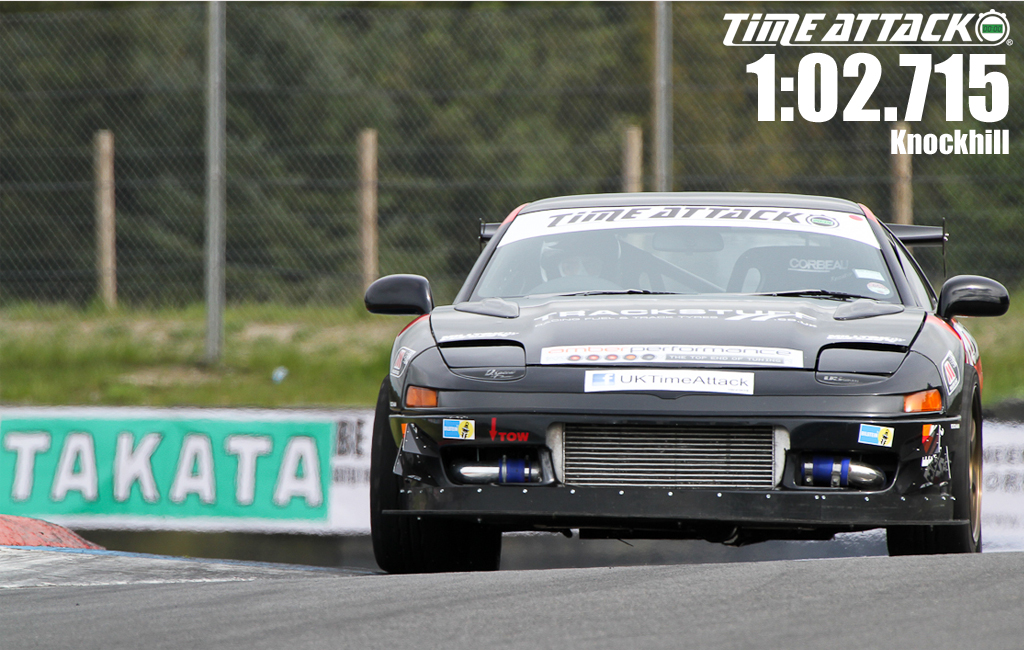 Club Challenge RWD
Kevin Jones:Noble M12 GTO3
Once again Kevin Jones and his Noble M12 were the class of the Club rear-wheel drive field. Chased down by a trio of RX-7s and a Lotus, Kevin put in consistently quick laps all day, topping the charts in the final after 14 laps, the most of any Club competitor across all drivetrains. This not only shows Kevin is fast, but that his Noble is strong enough to be driven hard. In a year-long Championship, reliability is an important asset.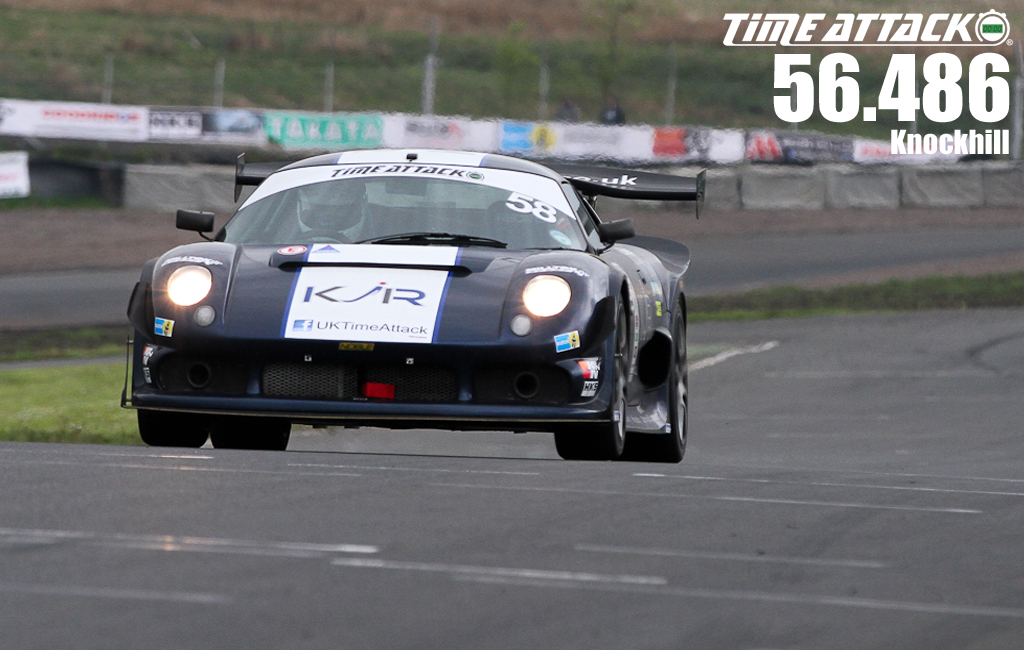 Umar Masood:Mazda RX-7
It's a new era for Mazda RX-7 drive Umar Masood. A new engine from new sponsor RotaryMotion, with new porting and a 100mm throttle body amongst the upgrades. The engine was mapped by Time Attack legend Paul Blamire, with Umar claiming the new engine puts out around 500bhp with a significant increase in torque over the old one. On the day, Umar had several "offs" as he got to know his new setup in the slippery conditions. He certainly wasn't lacking for bravery and rear traction was definitely the issue. Umar put up a great fight in the final considering he didn't complete that many laps throughout the day.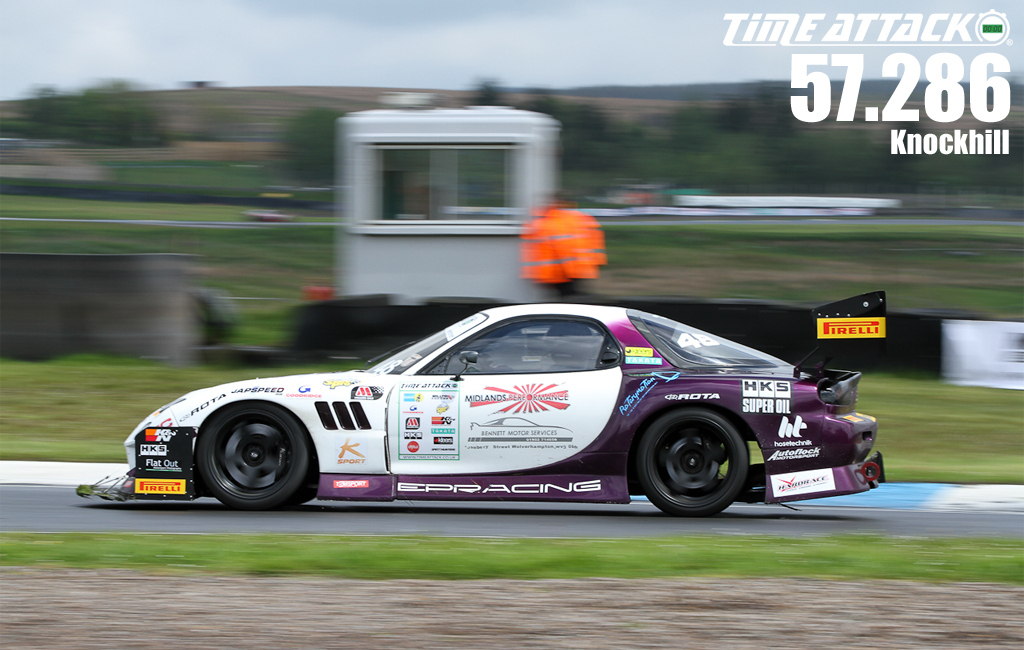 Neil Clark:Mazda RX-7
A story of bravery and luck in equal measure, Neil had an entertaining day at Knockhill. Aware that his gearbox was on it's way out and having difficulty selecting gears, Neil turned down the boost and drove as hard as he dared. During the wet qualifying session, Neil was the filling in an RX-7 sandwich (1:09.327), where Charter, Clark and Masood were all covered by just 0.227sec! In the final, Neil went out an completed a slow lap to bag some points, before moving on to a hard lap on low boost. When the gearbox survived he selected high boost and went for it. The 'box held together and Neil took third spot on the podium for his bravery. He who dares..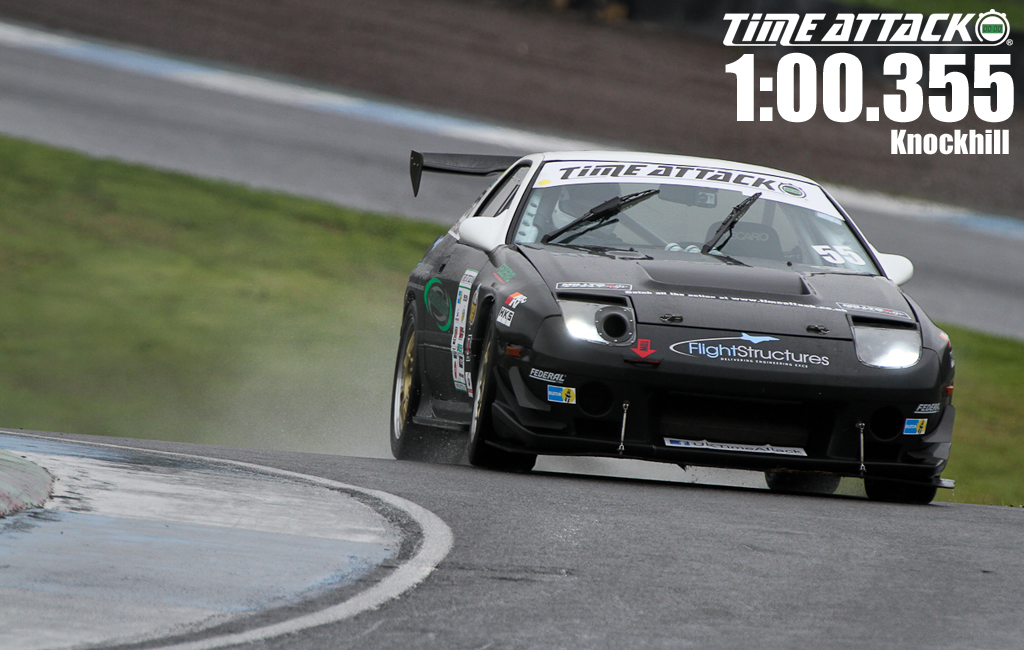 Lorence Charter:Mazda RX-7
Adjustable suspension is wonderful stuff and Lorence played with his all day at Knockhill. When the morning fog was replaced by rain, Lorence had disastrous understeer. He tried to soften the front of his FC3S Mazda RX-7 with limited success. Then he wound every damper out to find they were somehow all mis-matched. He estimated the damping required, went out and did a great job.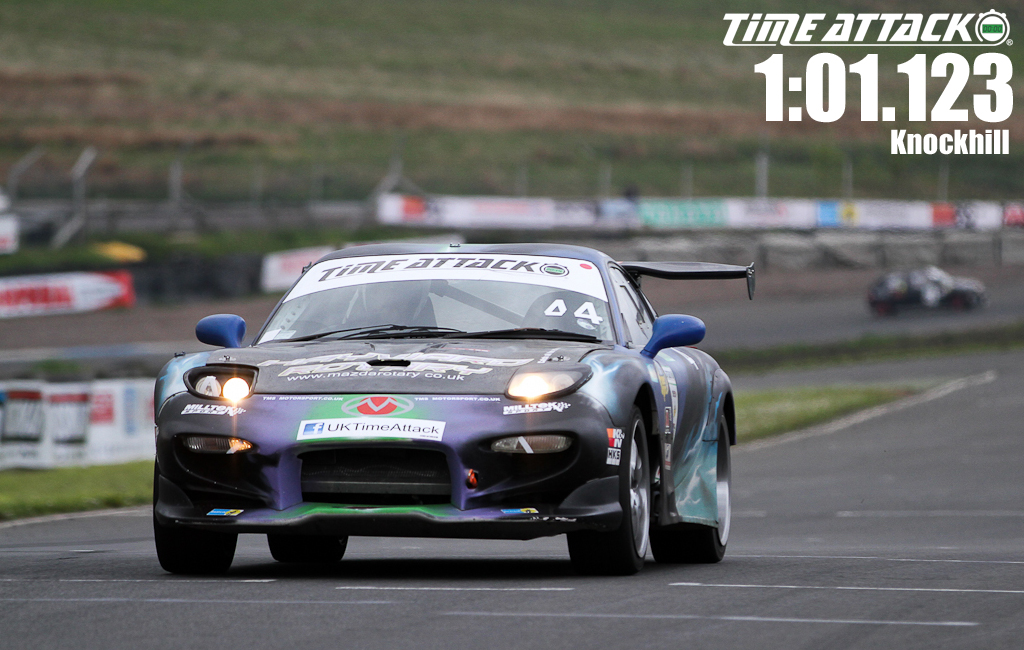 Andrew Baird:Lotus Elise [OHW]
A Lotus Elise with Exige bodywork, a Honda K20 head sitting on a K24 bottom-end, topped with a Rotrex C38-81 supercharger, Andrew's Lotus is quite the little box of tricks! A relatively new build, it has the potential to be very quick indeed and Andrew is reputed to be pretty handy behind the wheel. It's early days for this pairing, in fact this was the first time Andrew had driven the car! So his fastest lap time (set on the lowest possible boost setting) isn't representative of his true performance potential. Hopefully we'll see Andrew back in Time Attack soon to show us what he and his car can really do.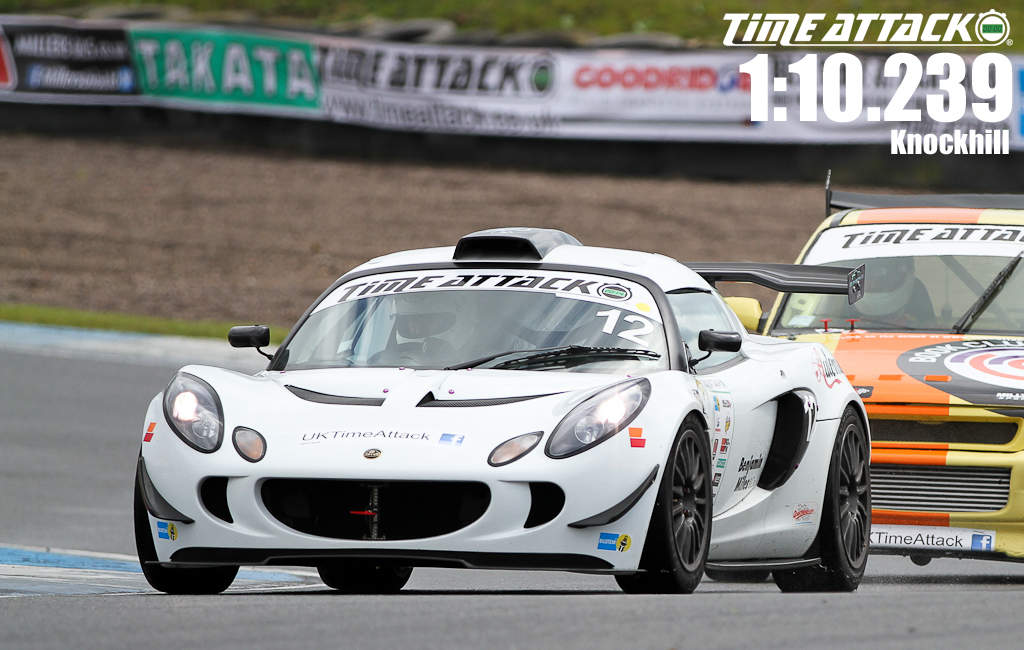 Club Challenge FWD
Marc Donnelly:Ford Escort
"I'm finding it fine in the rain, maybe I'm not going fast enough?" Marc told us during a brief chat before qualifying. He was amongst the most relaxed drivers all day, seemingly unfazed by the slippery conditions that were causing havoc elsewhere in the field. Marc arrived with no upgrades from Round 1 but still managed to set the fastest time in both the wet qualifying session (1:05.601) and the final, where he set his fastest time of the day. Both times edging out his closest rival by the smallest of margins (0.132 seconds in Qualifying, 0.207 seconds in the final). The reigning champion fully deserved his return to the top step of the podium.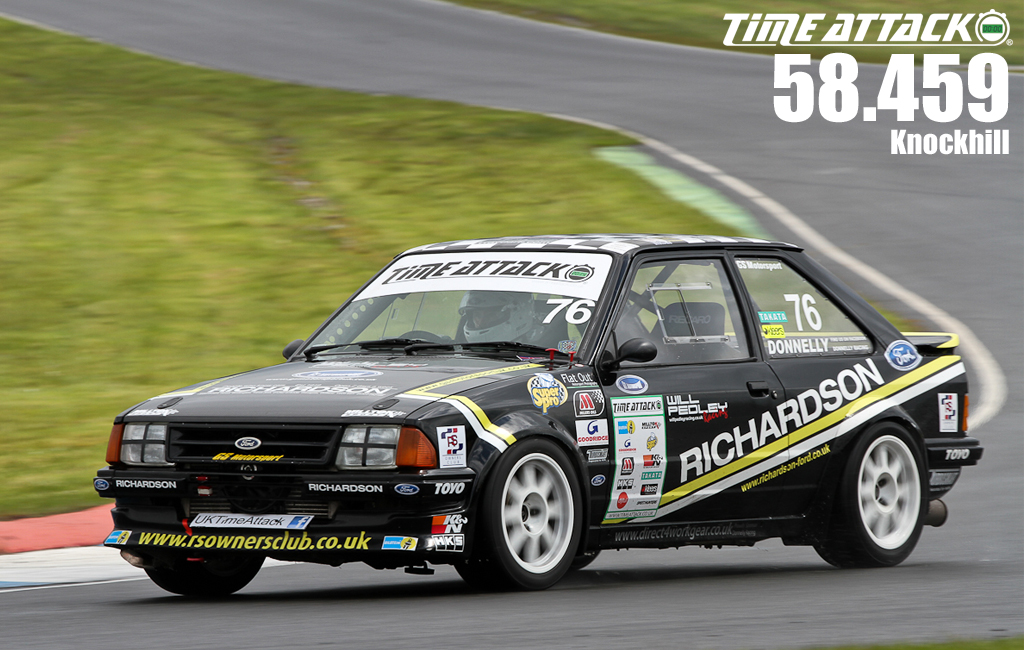 Daniel Clark:Vauxhall Astra
We're sure Daniel won't mind us saying it was a bit of a shock to see him put in the second-fastest time of the day in Club FWD, leap-frogging some experienced Time Attack drivers including the fastest man from Round 1. It was also a surprise because Daniel wasn't completely new to the circuit and had a fairly high-speed meeting with a barrier during Practice! Having cable-tied the car back together, Daniel proved he's a brave man by going out with no fear and maximum attack to grab second place in the final.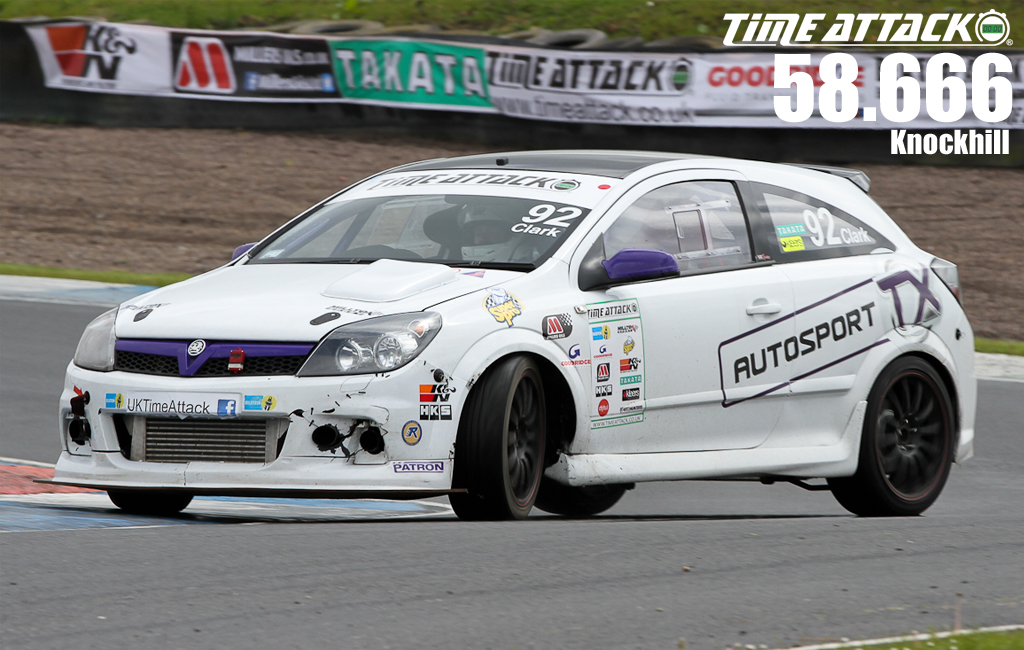 Jonny Fletcher:Vauxhall Astra
Our Round 1 winner with two consecutive wins on the spin, much was expected of Jonny at Knockhill. His weekend didn't start well as during testing on Saturday Jonny's Mk4 Astra, supported by GR Performance, suffered a CV joint driveshaft failure. That was soon replaced and with Warm-Up and Practice completed without issues, Jonny admits he was thrown off his game during Qualifying by an oil pressure sensor failure, sending him tumbling down the timing sheets. He had more success in the final, finishing with the third fastest time in Club FWD, despite struggling to find a clear lap amongst the 27 cars on the circuit.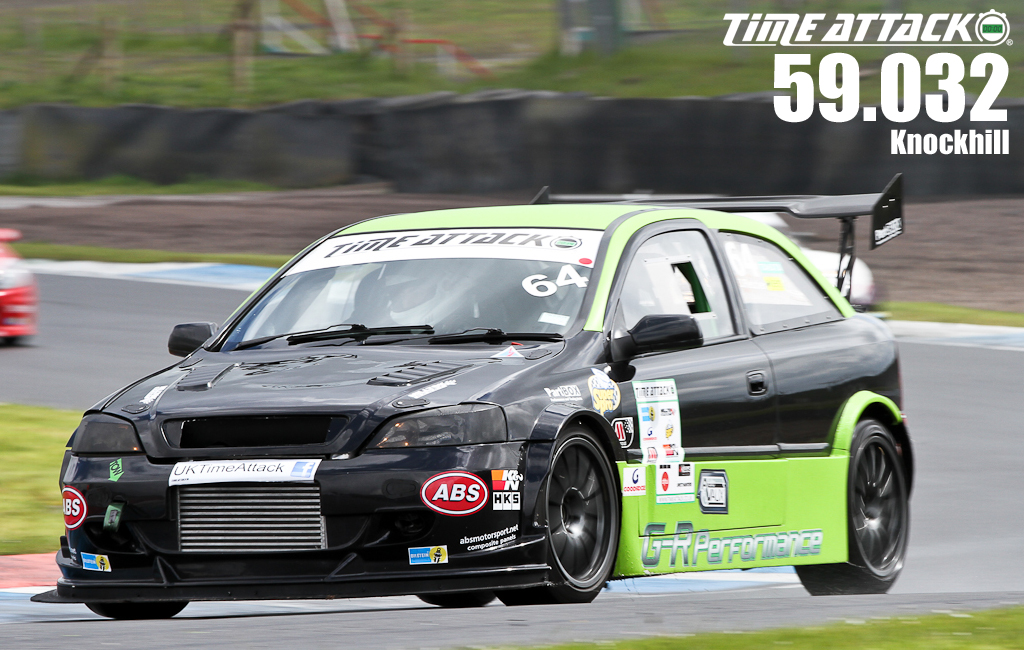 Neil Wrenn:Honda Civic
Neil hadn't driven his car since it was fitted with a new engine in the week before Knockhill. Despite this he was quickest in Warm-Up and nailed Qualifying, finishing second and only missing out on the top spot by an incredible 0.132 seconds. It seems Neil is something of a wet-weather driver as when the track dried for qualifying he slipped down the order slightly to fourth, just missing out on a podium. Although he did say he struggled to get a clear run. The fact Neil was quick in the wet indicates Neil has genuine potential. It'll be interesting to see how he gets on at Snetterton.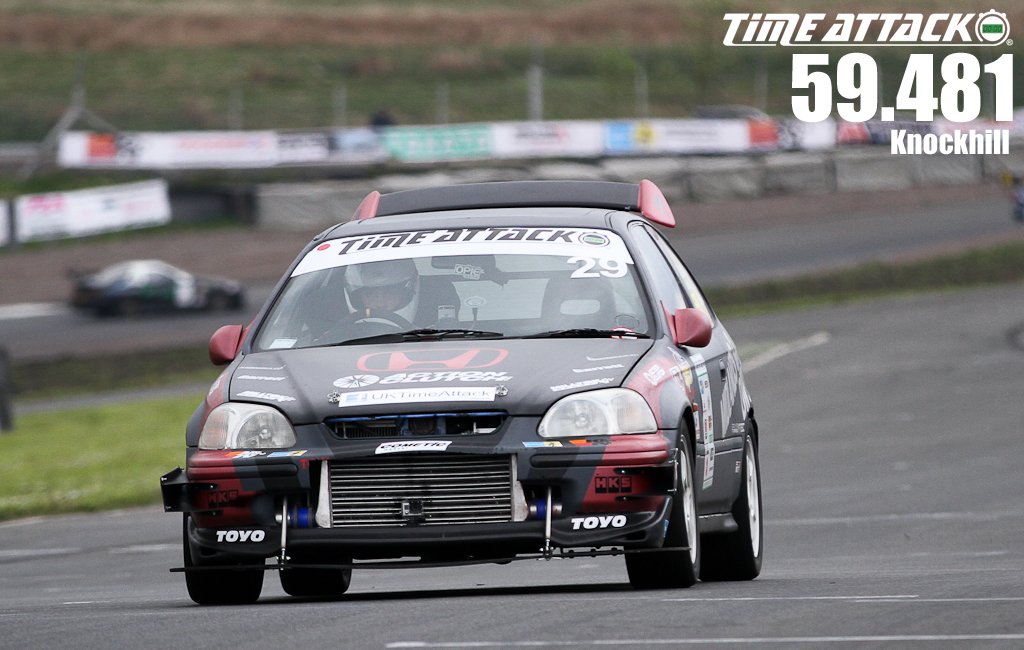 Adam Jones:Honda Civic
On paper, being fifth fastest in Club FWD may not sound that impressive but it doesn't tell the full story. Adam completed more laps than any other competitor across both of the important sessions, 14 in Qualifying and 12 in the Final. So he wasn't afraid of the conditions and had faith in the reliability of his car. Ultimately, Adam finished the Final session amongst four cars in the 59 second bracket and one second off first place. Indicating the FWD class is very competitive and that Adam wasn't far off the pace at all.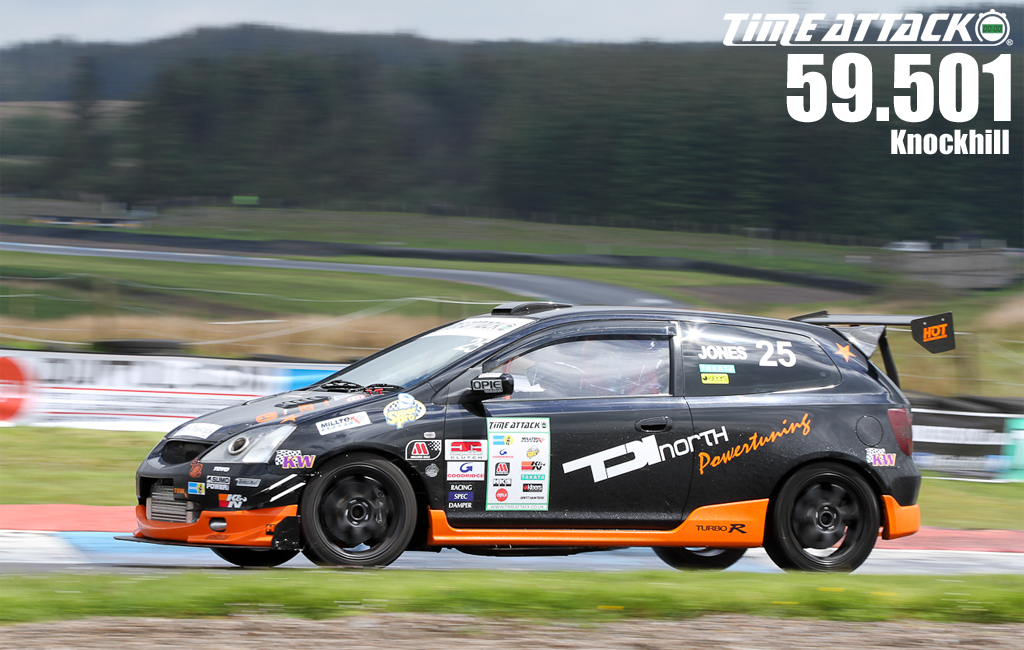 Will Watson:Vauxhall Astra
It was a mixed weekend for Astra driver Will Watson. When questioned, Will told us the only change he'd made for Round 2 was "an extremely positive mental attitude". That must have helped him in the wet Qualifying session, where the treaded tyres used in Club kicked up huge plumes of spray, making it hard to see where you were going. Still, Will's "PMA" resulted in him qualifying in third position (1:06.137) but when it dried for the Final, Will only completed 5 laps and was still the last of the 59 second bracket finishers, sixth fastest overall.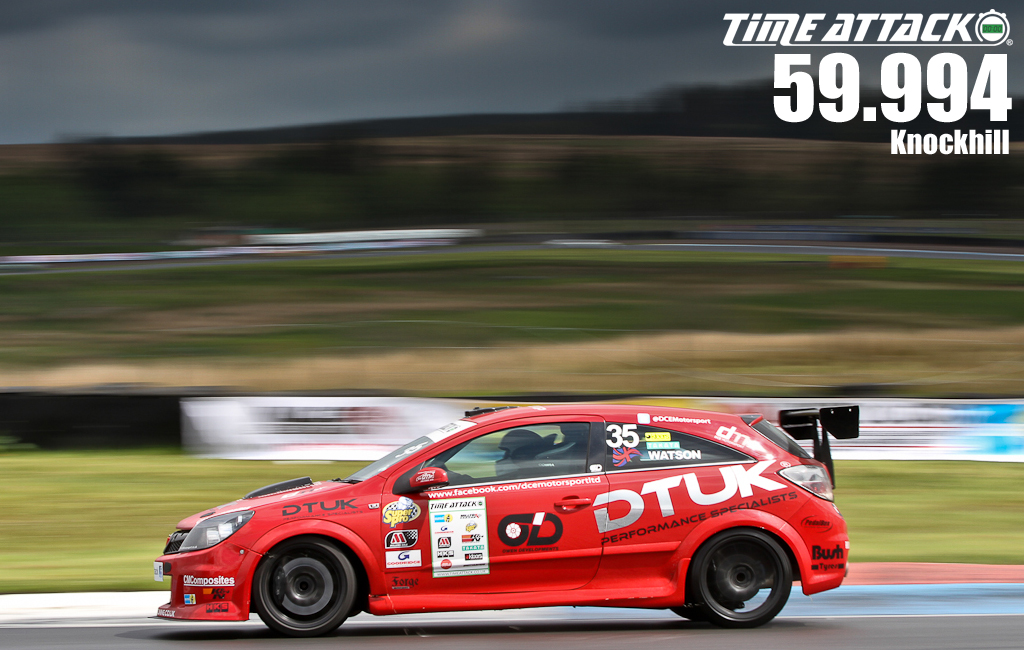 Darren Spooner:Peugeot 205
Darren continues to fight the turbo drivers in Club FWD in his NA Peugeot 205. You have to give him respect for that. He also finished the day as the fastest driver of a french car, just edging Stewart Summers for the honour.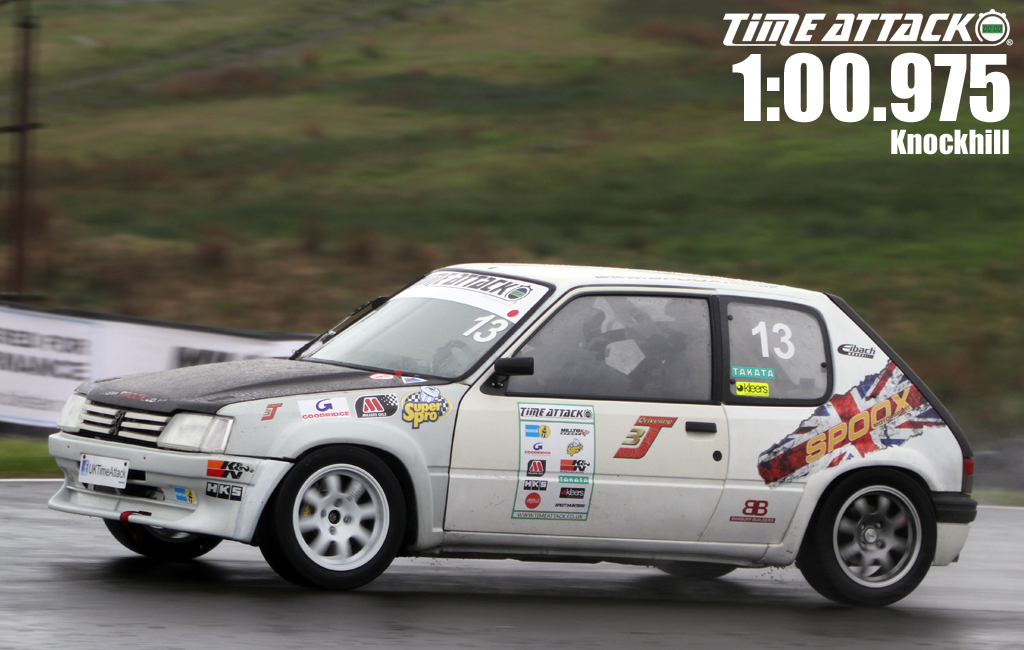 Stewart Summers:Citroen Saxo
A homebuilt low-budget car fighting against the bigger boys, Stewart's supercharged Planet Saxx Citroën Saxo is a welcome addition to the Club FWD competition. A consistent driver who completed lots of laps and finished 8th in both Qualifying and the Final.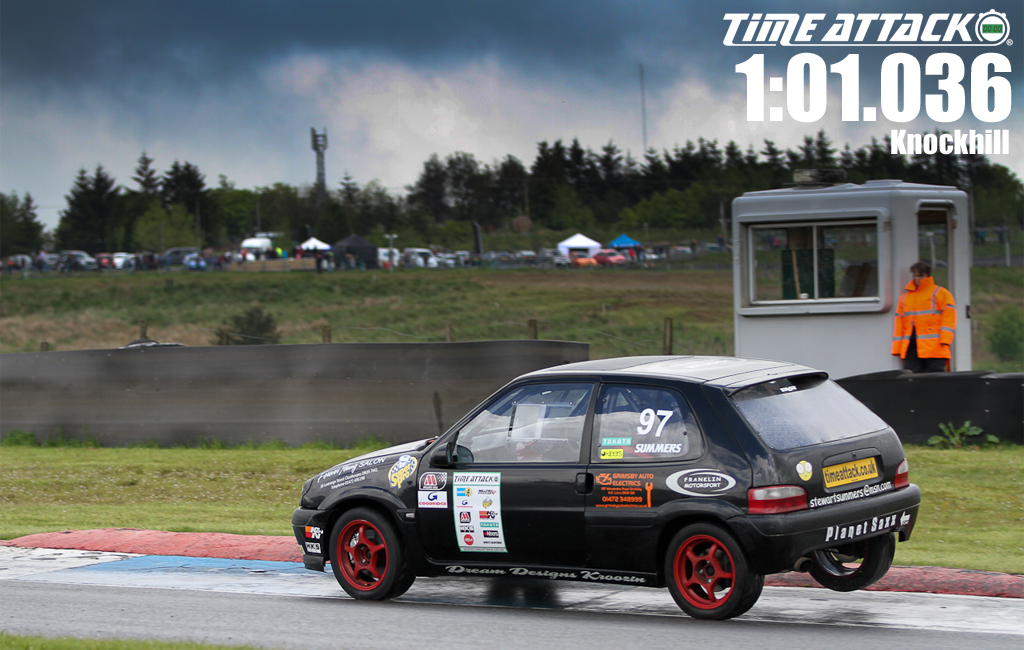 Simon Small:Ford Fiesta
[One Hit Wonder]
Who knew Ford's little Fiesta could be so quick and look so good in the process too? Simon was right up at the sharp-end in wet Qualifying (1:06.226), but when others upped the pace in the dry Final he got left behind slightly, finishing 9th out of the 13 finalists. A good showing none the less, especially in those wet conditions.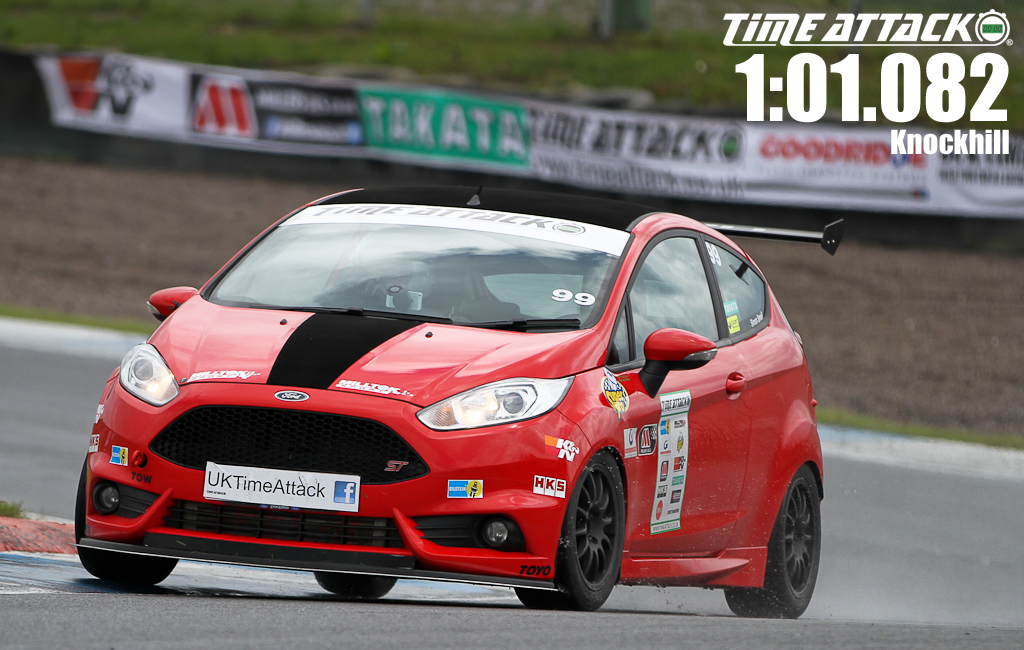 Russell Brand:Ford Focus [OHW]
The second of the Ford One-Hit Wonders on the day. Russell also qualified marginally better than he finished in the Final, qualifying 9th and finishing 10th fastest overall in Club FWD.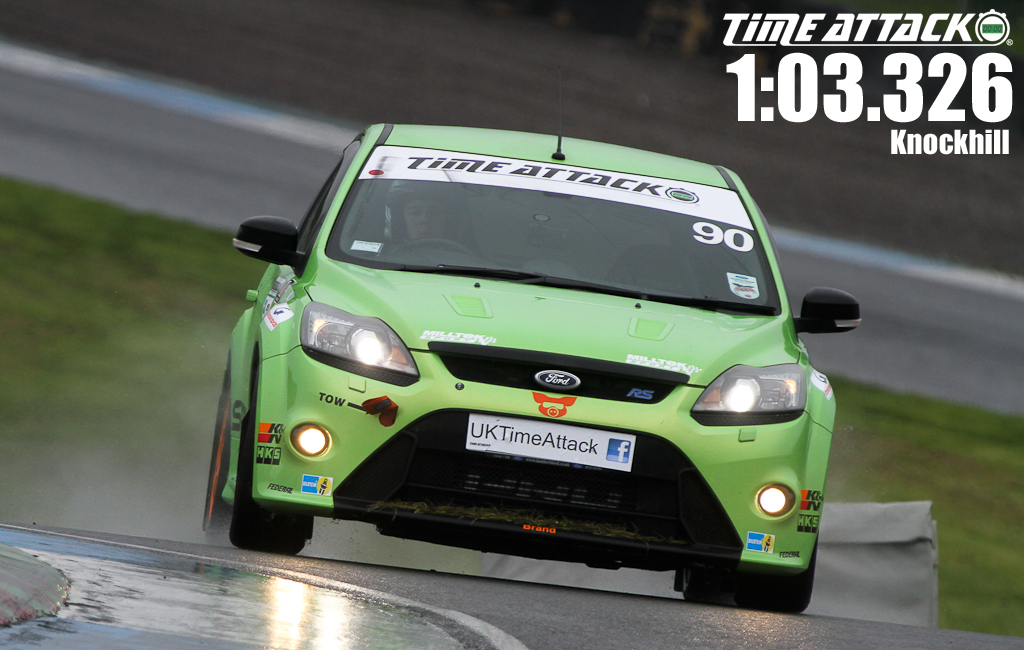 Jeff Alden:Vauxhall Astra
The project that started with a caged rolling-shell, bought off Ebay for £250 has been treated to a few goodies since Round 1. Jeff admits they just weren't fast enough, so a new Quaife ATB LSD, adjustable Spax suspension and a new swirl pot to counter their fuel pick-up issues are amongst the upgrades. It still didn't fully happen for Jeff at Knockhill, but you have to bare in mind the Saab B204 engine under the bonnet of his Astra is bog-standard, running the original T25 turbo. A true homebuilt car that will continue to improve as we go through the year, Jeff admits he's already thoroughly enjoying his Time Attack season.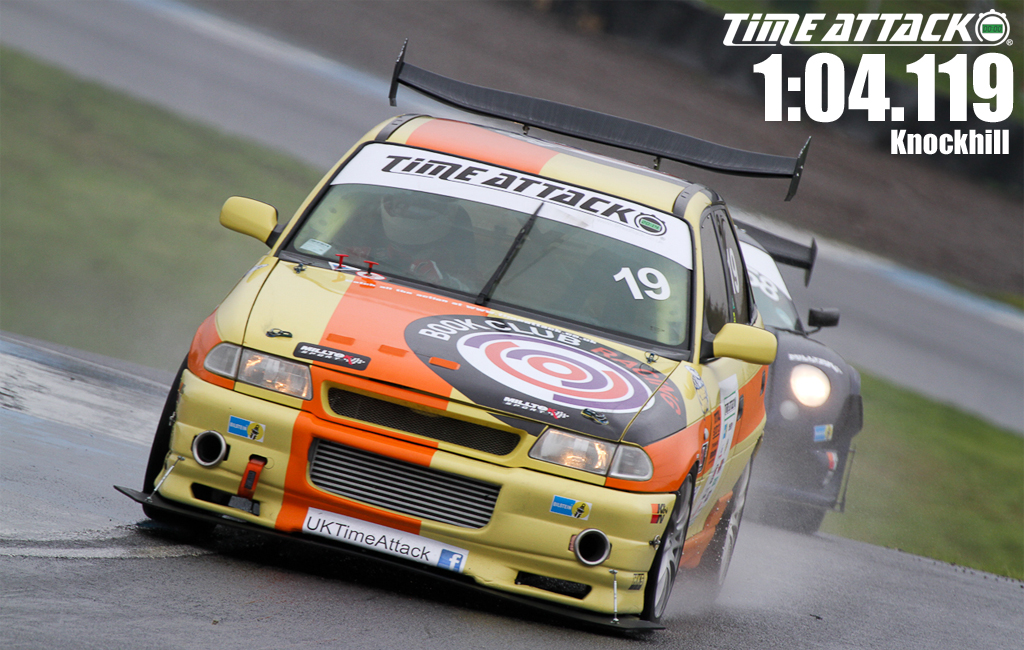 Adrian Daniel:Vauxhall Astra
After a failed coolant temperature sensor caused his Astra to lose power at Round 1, Adrian was looking forward to a better weekend at Knockhill. Unfortunately his lap times weren't where he would like them to be, despite completing plenty of laps in both Qualifying and the Final. It's Snetterton next time out and hopefully third time lucky for Adrian.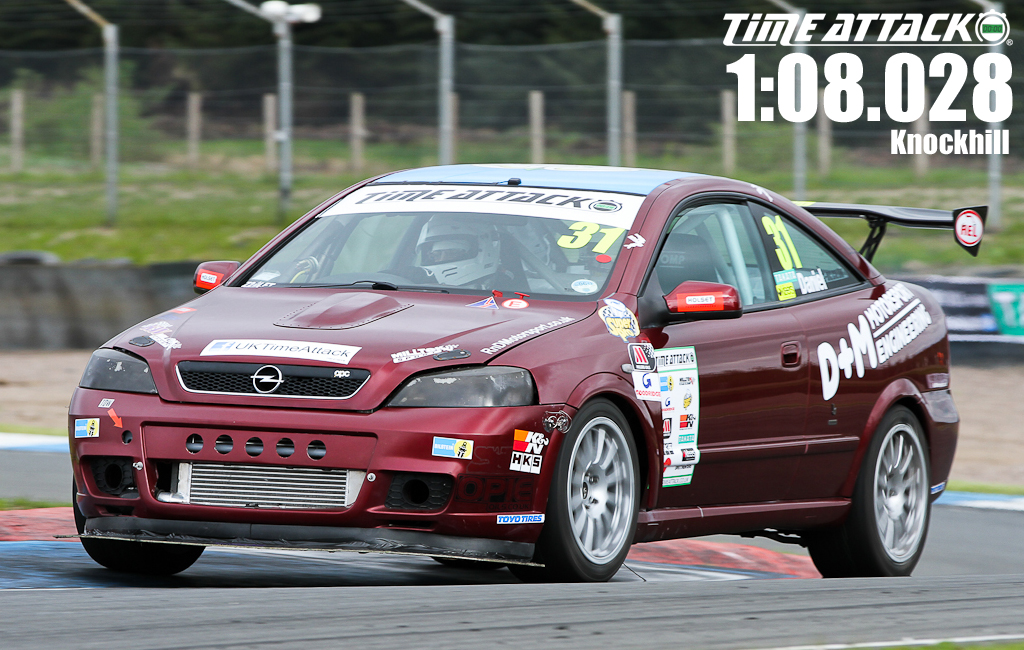 Antonio Giovinazzo:Alfa Romeo 155
A regular in the Time Attack paddock, Antonio seemed to struggle this weekend. He was way off the pace during the wet qualifying session, but closed the gap right up to the rest of the field in the dry final.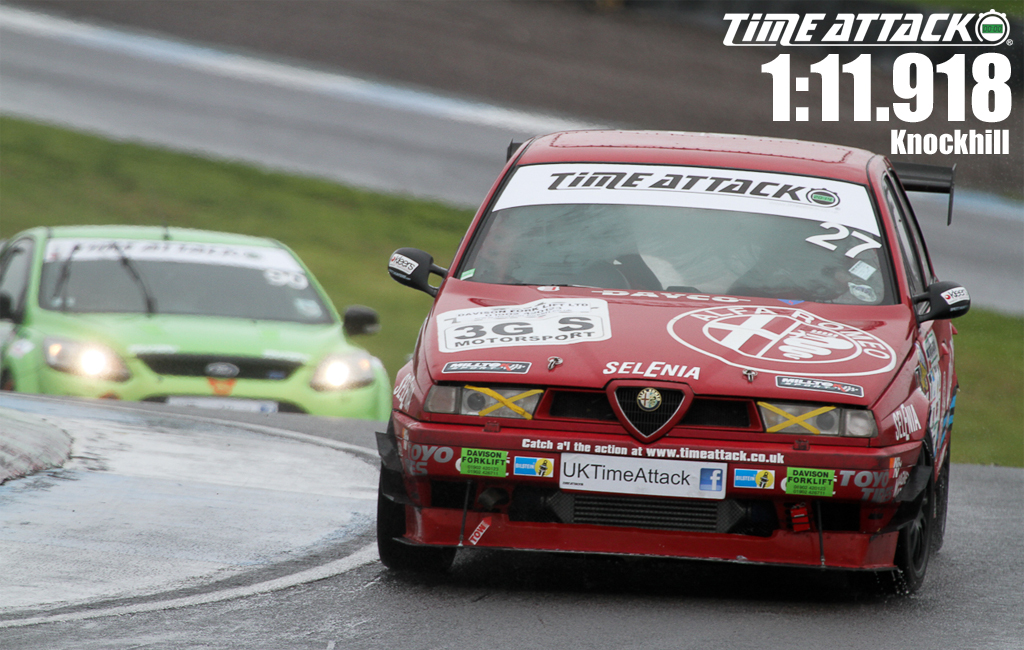 Matt Straker:Vauxhall Astra
This photo tells you everything you need to know about Matt's absence from the Final. He managed to keep his car on the black stuff all day, but the result of his kerb-hopping aggression was a cracked brake disc! He was loving the wet conditions, and his Astra has just been lightened even further with the removal of the spare wheel well, cut-out rear inner panels and was handling great thanks to a new prototype rear anti-roll bar.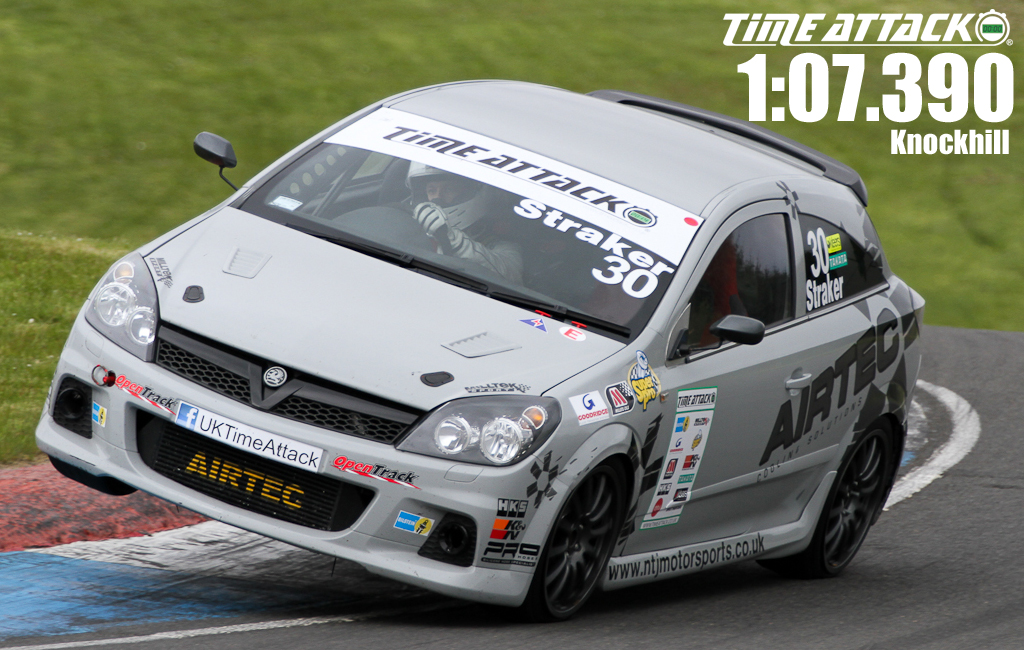 Club Challenge Naturally Aspirated
Mark Burnett:Honda Civic
Once again Mark Burnett and his H-series engined Honda Civic EG came up trumps. A new radiator was his only upgrade for this round, and without a set of wet tyres, Mark has to borrow a set of wheels and tyres from the understanding owner of a nearby VW Lupo! It worked. Mark qualified in first place, before swapping back to his own wheels and tyres to win the Final too. A second consecutive victory for Marc and his H2B Honda.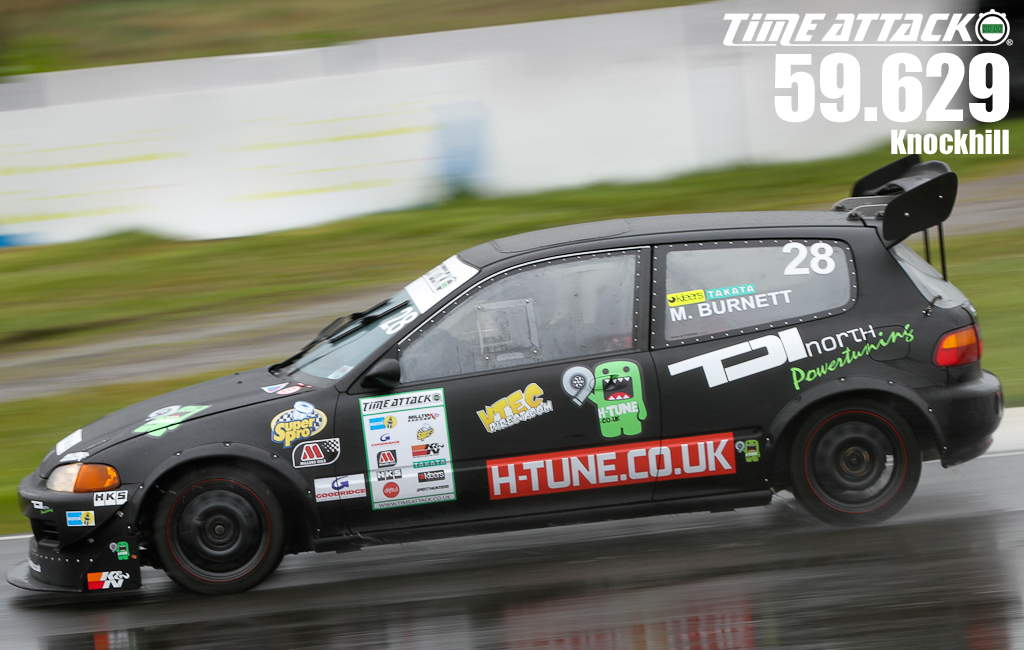 James Proctor:Honda Civic
Once again James had to play second fiddle to Mark, but the margin was close this time. Will he have anything up his sleeve for Silverstone in a few weeks? We'll have to wait to find out.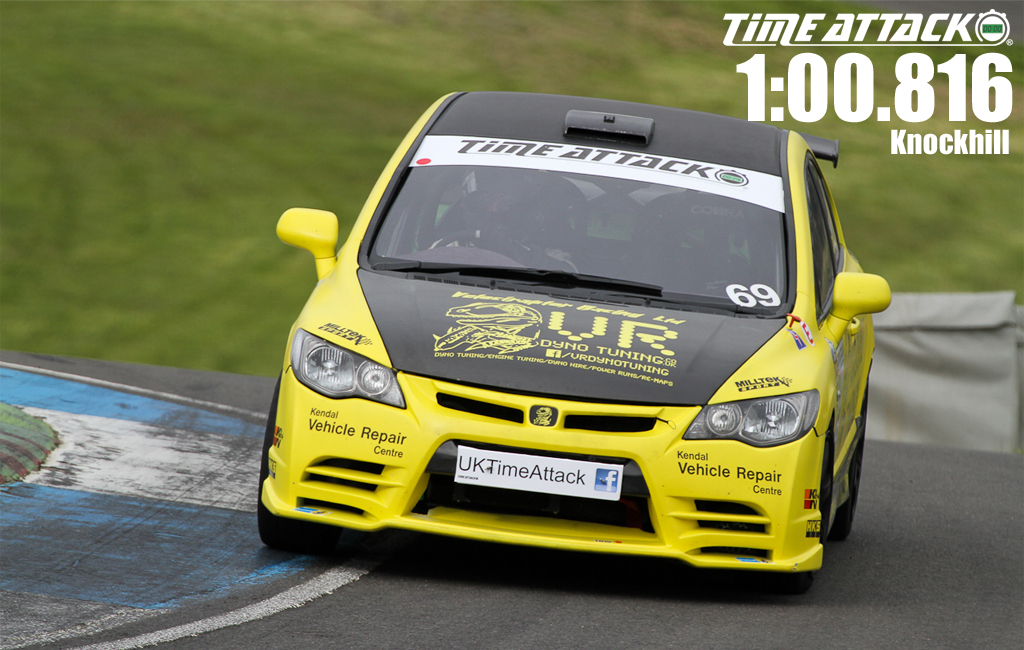 Round 3 takes place on Saturday 5th July at Snetterton Circuit in Norfolk find more information here
Time Attack official merchandise is available in our online store here