We arrived at Brands Hatch hopefully of a dry day and some fast times. When the outright Time Attack lap record was broken during the Warm Up, we knew were in for a very special day. So many questions needed to be answered. In the battle of the heavily aero-equipped Pro Extreme cars, who would come out on top between Gareth Lloyd in the SVA Imports Lancer Evo VI and Andy Demetriou in Black Mamba, the Drenth Motorsport/IPVDX Lancer Evo VIII? Could the chasing pack close the gap on the smaller track? Which of the three rear-wheel drive Pro cars would come out on top in their battle? How close could they get to the 2WD Pro lap record? How would RSR Escort driver Lloyd Wright compare? Would Ronnie Amis continue his run of good results at his local circuit? Will it stay dry? As the day progressed we were treated to lots of spectacular action and several new lap records.
PRO Extreme
New PRO Extreme & outright Time Attack Lap Record!
Gareth Lloyd : SVA Imports Mitsubishi Lancer Evo VI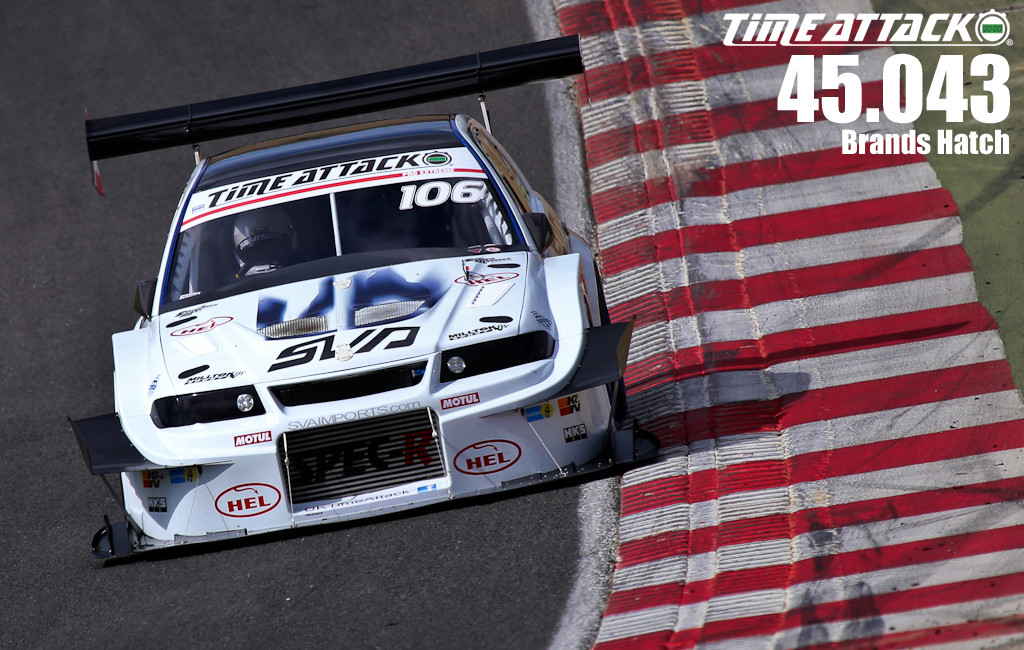 What a day for Gareth Lloyd and SVA Imports. The SVA team are based in Kent, so it was a relatively short journey to the track for them. They arrived just days after announcing they would be representing UK Time Attack at the World Time Attack Challenge in Australia later in the year! "Aero" is still the buzzword out there, so SVA are developing a whole new aero package for the event and the front-end made it's first appearance at Brands Hatch. It seemed to work.
After having his lap record beaten in the Warm Up session, Gareth and SVA played their usual long-game, gradually adding the technical goodies and increasing the pace as the day continued. Even so, Gareth went out in the very next session and snatched back his lap records in Practice – by a full second!
This proved to be Gareth's fastest time of the day, a 45.043. To put that into perspective it is 1.646 seconds faster than the outright Time Attack lap record, and a massive 3.63 seconds faster than the Pro Extreme lap record at the start of the day! Both of which were Gareth and SVA Imports lap records from the past couple of years. It's also 0.417 seconds faster than the British Superbike lap record!
Gareth went on to qualify in first position with a 45.078. However, the team were still confident of going even faster. When the final arrived, Gareth went out and set a banker lap, a 45.050. So you can see how consistent Gareth was, which is amazing considering the car was completely un-tested in this spec. Then SVA turned on all the toys – nitrous-oxide injection, full turbo boost, etc. – Gareth went out to smash his own record. He was significantly quicker in the first half of the lap but then disaster struck. A differential failure forced Gareth to pull the car over to the side of the road at Surtees. Their day was done. Gareth could only watch from the side of the track and hope no-one beat his time in the remaining minutes of the final. They didn't, and both Gareth Lloyd and SVA Imports left Brands Hatch with maximum points and a new Pro Extreme and outright Time Attack lap record. Not a bad day's work.
Andy Demetriou : Black Mamba Mitsubishi Lancer Evo VI
After a perfect start it was a day of mixed emotions for Andy Demetriou and Black Mamba. Andy fired out of the blocks and immediately destroyed the previous Pro Extreme and outright Time Attack lap record by setting a 46.038 in the first session of the day! It was only supposed to be a Warm-Up, but it signaled the intentions of Andy and the Black Mamba team. We were going to witness a real battle between Andy and Gareth, with the winner taking home the lap records. Then disaster struck.
Still in the Warm-up session, Andy kept his foot in after setting his 46.038 and on the next lap was 0.7 seconds up when he and Club Pro Astra driver Jonny Fletcher made contact. It's a rare occurrence in Time Attack and the impact took a chunk out of the side of Black Mamba's carbonfibre bodywork. The damage was more than skin deep unfortunately, bending suspension arms, subframe and transfer box! The Black Mamba team rallied to fix the car , and Andy did manage to set a 45.801 in qualifying to take second place. However, Andy claims their pace was way off what it could have been. He ended up sixth in the Pro Extreme final with a 52.893, clearly nursing the injured car. It was a frustrating end to an event that had begun so spectacularly.
Philip Reed : Ross Sport / AP-Tuning Mitsubishi Lancer Evo VI
Philip Reed finished second on the podium at Brands Hatch with a stunning 48.355 in the final session. He was very consistent in his Ross Sport and AP Tuning supported Lancer Evo VI – setting a 48.588 to finish third in qualifying. Both of these times are quicker than the old Pro Extreme lap record! If there is a gap between the more extreme aero-equipped Lancer Evos of SVA and Black Mamba and the rest of Pro Extreme, then Philip is starting to emerge as the front-runner in the chasing pack. His car features a 2.3-litre engine with a GT37 turbo and is clearly very fast in a straight line. He was fastest car of the day in both speed traps during the final, and fastest car of the entire day over the start-finish line; an incredible 154.9mph!
Andrew Barbour : AKB Racing / NR Autosport Mitsubishi Lancer Evo IX
The Flyin' Scotsman Andrew Barbour is clearly becoming more comfortable in his new car. It's a baptism of fire for Andrew this year, a new car and a step up to slick tyres too, and it's the latter that is proving the biggest challenge. There's a lot more involved in getting slicks 'switched on' at exactly the right time to achieve that perfect lap, but with the help of NR Autosport and the car's former owner Phil White, he's getting there. Andrew admitted his target for the day was a 48-second lap and taking the car home in one piece. He managed both. Even better, Andrew grabbed the third step on the podium with a 48.459 in the final session of the day. That's just 0.104 behind Philip Reed. So as the two heavily aero-equipped cars are involved in a battle at the front of the class, there is another equally close battle developing between Andrew and Philip. A single point separates the pair in the Championship Points Table. Watch this space at Oulton Park.
[SRE] Paul Knapp : AP-Tuning Mitsubishi Lancer Evo VII
After being forced to pull out of Cadwell Park at the last moment, this was Paul Knapp's first taste of Time Attack in 2015. His day started with a bang. Literally. Carrying speed up towards Paddock Hill bend, Paul braked and the wheels locked up, sending the car into a spin straight through the gravel, hitting the barrier side-on. The rear quarter took much of the force but Paul and his AP Tuning support team worked hard to get the car back up and running. They were rewarded with the fifth fastest time of the day when Paul got back out and set a 48.814 to finish fourth in the final session. A great effort from Paul, who has previously raced in the Clio Cup. It seems a last-minute decision to stiffen the suspension was the cause of the accident. It's a credit to Paul that he was able to regroup mentally and go out and be right on the pace.
Brad Sheehan – NR Autosport Mitsubishi Lancer Evo IX
It was a frustrating day for Brad. Frustrating because he's a very capable driver and usually goes well at Brands Hatch. It started promisingly enough, with Brad coming close to his personal best despite being on low boost and a set of old road tyres! That 50.767 lap proved to be his fastest for a while however. First a tyre de-laminated, causing some minor damage to the arch but also ruining his Practice session. Then in qualifying he had issues with a leaking exhaust manifold, robbing the car of power. Throw in some traffic during the laps when the temporary fix was holding, and you can understand why Brad left Brands dissatisfied with his day. His still managed to pull a lap together in final, his fastest time of the day that was good enough for fourth place in the Pro Extreme final amongst the Championship contenders.
PRO
Kevin Jones : Jetsream Motorsport / KJR Noble M12 RSR
Kevin Jones was in the same Noble M12 RSR that he was last year but had a lot of new toys this year, not least the wider track and slick tyres. He also had a set of new, bespoke driveshafts following his issues at Snetterton last time out. The Jetstream Motorsport-supported car is still extremely quick with Kevin behind the wheel, and it was Kevin who climbed the top step of the podium after a battle with Lee Broadhurst in the KTM X-Bow. Kevin set his fastest time of the day during qualifying, a 49.828, before winning the final with a 51.674. Every driver has to drop their lowest points score at the end of the year, but Kevin's maximum points haul of 5 for qualifying and 10 for the final at Brands means he now leads the Pro Championship by 3 points, as we head towards Oulton Park.
Lee Broadhurst : KTM X-Bow
Lee Broadhurst peaked early at Brands Hatch. Kicking off with a 51.818 in practice (slightly slower than Kevin Jones) and  then a 50.697 in the warm-up (slightly faster than Kevin Jones), it seemed we were in for a real battle between the pair of Pro class drivers. Unfortunately Lee's times went backwards from there. He had a difficult qualifying session, posting a best of 52.156, before setting a 52.225 in the final. Lee's times from Practice suggest there is more time in the car. Whether it was traffic or mechanical gremlins, Lee will be hoping to beat Kevin at Oulton Park, in the race for the 2015 Pro Championship title.
Dalibor Kvasai : Kermit II Mazda RX-7
We still haven't seen the best of Kermit II and Dalibor Kvasai. In the morning, car owner Dave Thompson shared his concerns at an apparent loss of compression on the triple-rotor 20B turbo engine. With the decision made to carry on regardless, the rear differential let go. Dalibor missed out on both qualifying and the final, setting his best time in the morning practice session. It's another day to forget for the team in their difficult debut year in UK Time Attack. We can't wait to see what Dalibor and Kermit II can really do. The car has so much potential, we just want to see it realized.
Classic & Retro PRO
New C&R Pro Lap Record!
Lloyd Wright : RSR Ford Escort
If there was an award for the most popular car in Time Attack this year, Lloyd Wright's RSR Escort would be a contender. The Escort was swamped during the lunchtime pit-lane walk and their garage was full of interested faces all day. Powered by a Radical engine, two four-cylinder Suzuki Hayabusa motorbike engines sharing a common crankshaft to make a high-revving V8, this car had weight and balance on it's side. Even with the twin bike engines it's down on power compared to most cars in Pro and Pro Extreme. So Lloyd has to make time up in the corners. He definitely did that at Brands Hatch as he chased down the lap times. After a strong start in warm up (49.910, third overall in the session) and practice (49.634, second overall in the session), Lloyd slipped down the order. He posted a 50.188 in qualifying and a 50.427 in the final. When asked about the dip in performance towards the end of the day, Lloyd first pointed out he doesn't have boost to turn up like the turbo cars – but he also felt the grip levels of the circuit change throughout the day. Is it possible the rubber left on the track during the drift demos had made the track slower? It's certainly a possibility. Oulton next and another chance for Lloyd to push his stunning Escort to the limit once again.
Club PRO
New Club PRO 2WD Lap Record!
Ronnie Amis : Airtec VW Golf
Local driver Ronnie Amis proved we were right to mark him out as one to watch at Brands Hatch after he set a rapid new Club Pro 2WD lap record. Ronnie came speeding out of the blocks, smashing the record for the first time during the first session of the day with a 51.859 in the warm up! He quickly followed that up with an even faster lap in practice, a 51.676. An incredible time considering Club Pro cars wear road-legal treaded tyres. No slicks allowed. The only disappointment in Ronnie's day is that he didn't go faster. Another victim of the deterioration in the grip levels at Brands Hatch, Ronnie couldn't go faster in the final two sessions (51.759 and 52.244 respectively). However, he did top Club Pro in both, giving the Airtec Golf driver the maximum 15 points – and the provisional Championship lead heading into the next round. Oulton Park is going to be tasty!
Russ Paton – HQ Garage Mitsubishi Lancer Evo VI
Another driver making the epic journey down from Scotland, Russ Paton's Evo is looking great these days. Immaculately prepared and featuring wide bodywork with the rear cut bumper cut short for a huge diffuser, the HQ Garage Lancer Evo VI goes as good as it looks. Russ started in the 54s in warm up, then 53s during practice before hitting the low 52s in both qualifying and the final. His fastest time of the day came in qualifying (52.163), and he followed that up with a 52.373 in the final, showing a lot of consistency. In the process he bagged second place in both points-scoring sessions, and currently sits in second place in the Championship standings. Russ and Ronnie are just starting to pull away at the top. The points will be hard-fought and well-deserved for the victor at Oulton Park on July 11th.
Jonny Fletcher : Vauxhall Astra

It was a case of survival for Jonny Fletcher in the JDF Racing Vauxhall Astra. An early clash with Andy Demetriou in the Pro Extreme Black Mamba meant Jonny spent the rest of the day straightening what he could and replacing what he could not. That's despite his Astra looking fine. The ABS Motorsport BTCC bodykit (adapted from a hatchback to fit the Coupe, believed to be the only one like it) appeared untouched! Jonny's time is impressive considering the issues he had but aren't a fair reflection of what his pace would have been. We wish Jonny the best in getting the car ready for Oulton Park, as he continues his debut year in Club Pro after stepping up from the Club Challenge.
Lee Mabbett : Se7en Motorsport Toyota Corolla
We haven't had many Corollas in UK Time Attack over the years and Lee Mabbett is pushing boundaries with his. It's 2ZZ-GE VVT-Li engine is equipped with a Rotrex supercharger but it is effectively an interim powerplant. The original heavily-modified engine was ruined when the expensive cylinder liners shifted, instantly condemning the extensively-machined block to the bin. So don't pay too much attention to Lee's times in his Se7en Motorsport Corolla. This is definitely a work-in-progress and we fully expect Lee to be running at the front of the class in time to come.
To catch up on the current 2015 UK Time Attack Championship standings, click here
Our next event is at Oulton Park on Saturday July 11th. You can buy discounted tickets here
It's not Racing.. it's TIME ATTACK!