A round-up of what happened with each of our drivers in the Club classes, listed in order of their fastest times of the day
Time Attack rolled into Croft for the first time since 2013, with lots of new faces keen to attack the circuit they had heard so much about. Croft is a challenging and flowing circuit. There are technical corners that link onto several long straights, rewarding drivers that can carry speed through them.
We arrived to rain showers and gloomy skies. Far from ideal. Thankfully, by the time the Warm-Up sessions arrived the rain had eased and the track continued to dry throughout the day. As everyone got used to the track and grip levels increased, the lap times dropped.
Being the penultimate round of the 2015 Time Attack Championship, and with every driver required to drop their one lowest round score from their overall Championship points, we could now start to calculate Championship standings. By the end of the day we had a new Club FWD lap record, a new Club NA record, several inaugural lap records for the new classes plus a total of five new 2015 Time Attack Champions to celebrate!
Club 4WD
Simon Griffiths : Mitsubishi Lancer Evo III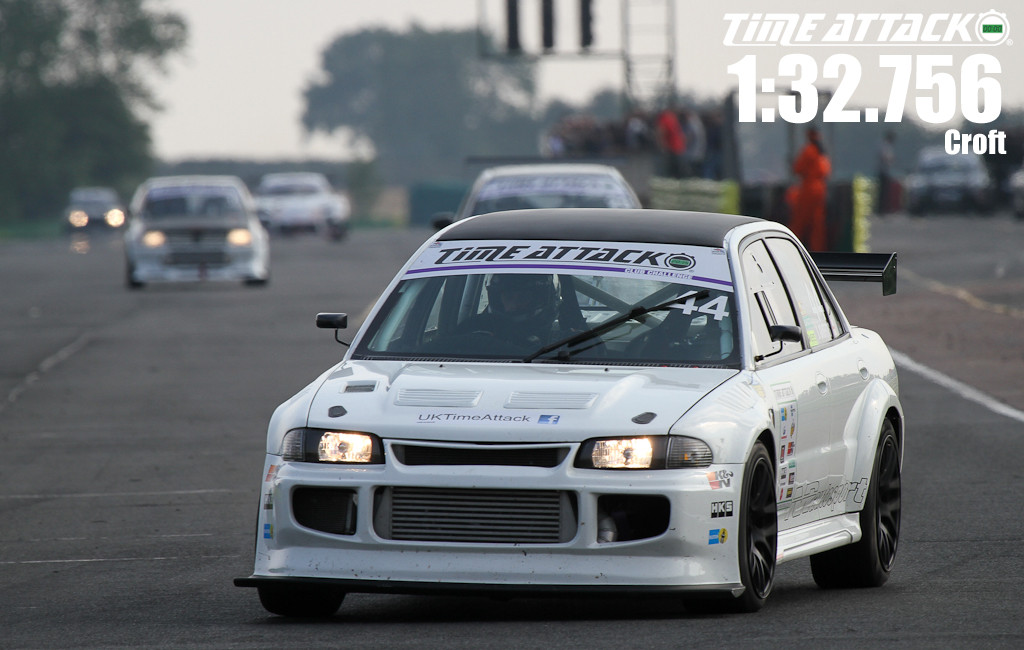 Simon Griffiths blasted his way to the top of both qualifying and the final, to take the maximum 15 points away from Croft. The Lancer Evo III driver had sorted the gear-selection issues that plagued him at Oulton Park and he was quick! With some aggressive yet controlled driving, Simon qualified in first place with a 1:34.042, over a second faster than his closest rival. When the final arrived, Simon put in his fastest time of the day on his last flying lap, an impressive 1:32.756. That is just 0.1.61s outside the Club 4WD lap record set by Lee Bullen in 2013! Another impressive drive from Simon, who continues to get faster at every round.
Josef Calleja : Subaru Impreza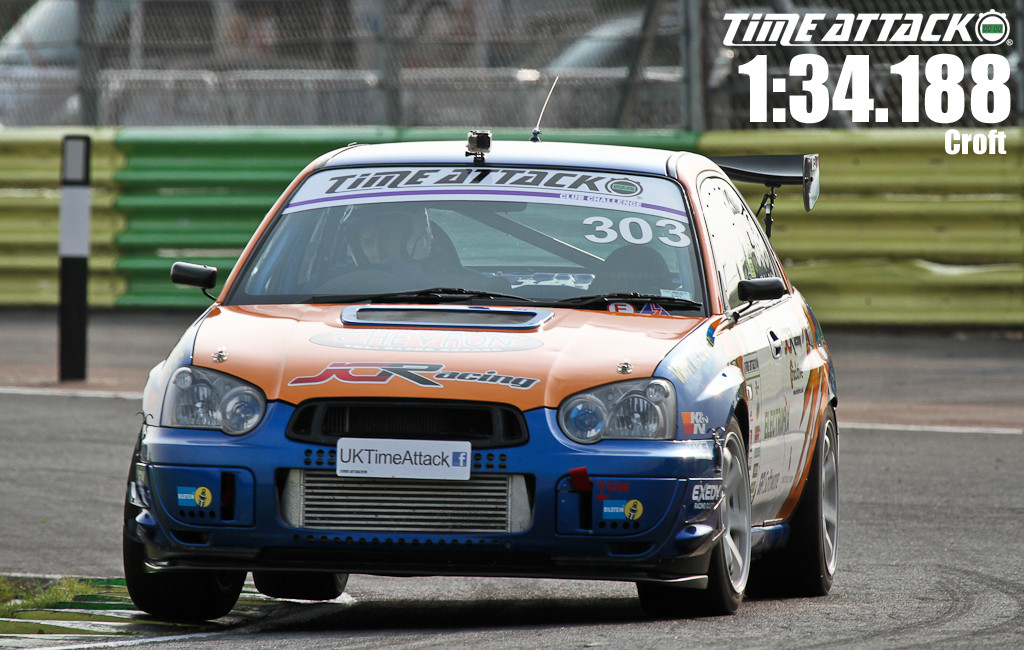 Maltese driver Josef Calleja had an eventful weekend. Testing on the Friday went despite some issues with the front suspension. With that sorted he headed into Saturday's Warm-Up and Practice sessions at a steady pace before winding it up the power and going for a hot lap in qualifying. Suddenly, the car felt under-powered. Josef pitted, swapped to the low power map and went back out, but it still didn't feel right. Josef parked the car to save the engine. When the final came around, Josef put in a slow banker lap off boost to secure some points. His team had discovered the fuel pump was on it's way out, causing low fuel pressure. With just minutes remaining Josef drove the car onto the circuit on low boost (actuator pressure) and drove flat-out. He only just managed to start his final lap before the chequered flag came out, the result was his fastest time of the day, a 1:34.188. Miraculously, also the second-fastest lap time overall in the Club final.
Club RWD
2015 Time Attack Club Rear Wheel Drive Champion!
Umar Masood : Mazda RX-7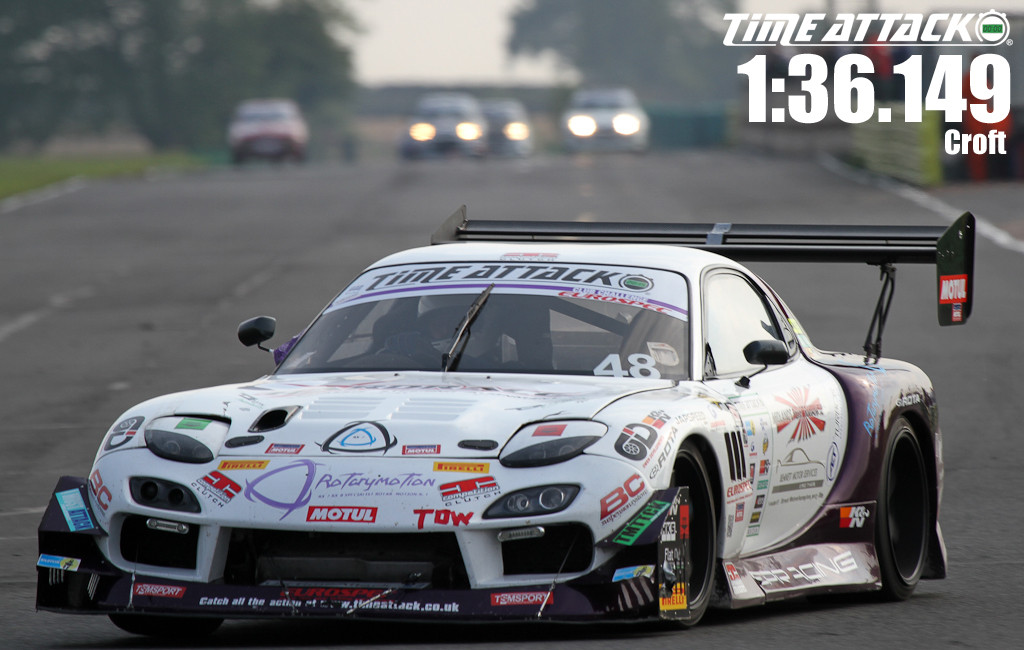 Umar Masood is the 2015 Time Attack Club RWD Champion! He scored maximum points at Croft and can no longer be caught, regardless of what happens at Rockingham in the final round. However, his day didn't start well. An faulty fuse box set fire to some the car's wiring! With that quickly sorted, Umar took to the track and never looked back. He was several seconds faster than his nearest rival all day. After years of trying, Umar can finally say he is a Time Attack Champion.
Anthony Woo : Nissan 200SX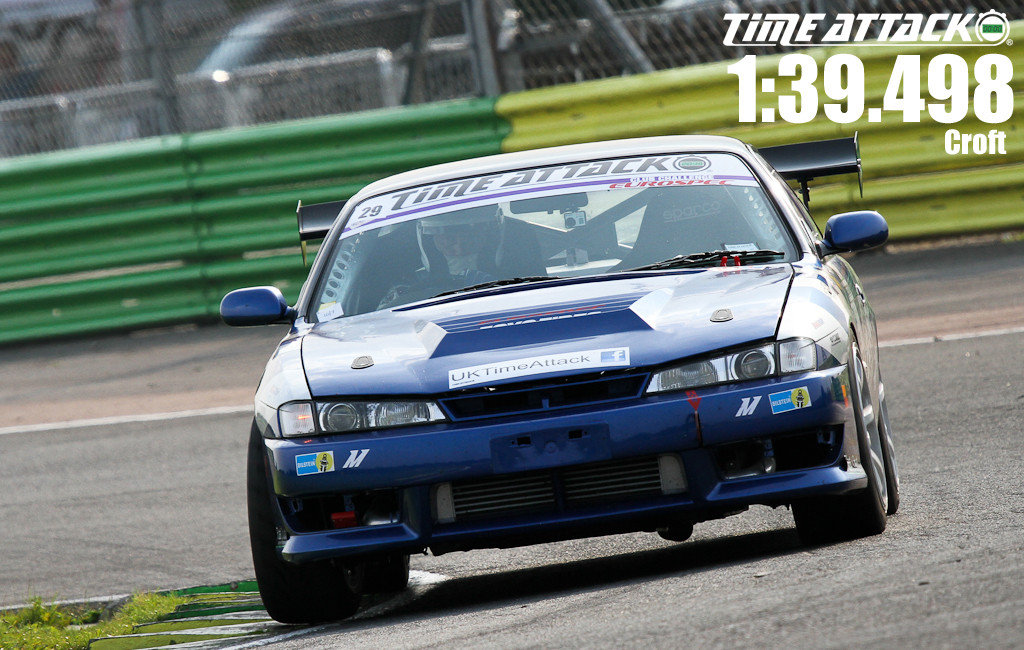 Anthony Woo had to compete with a standard engine under the bonnet of his Nissan 200SX at Croft, after problems with his competition engine. He still had all the bolt-on parts but couldn't wind everything up to eleven, so he was down on power. That didn't stop him pushing hard all day however, and he was rewarded with the runner-up spot in both qualifying (1:40.534) and the final (1:39.498). Those could prove to be important points too, as Anthony is now up to second place in the provisional Championship standings. A good performance at Rockingham will secure him the runner-up spot in his debut year.
James Pinkerton : Mazda RX-7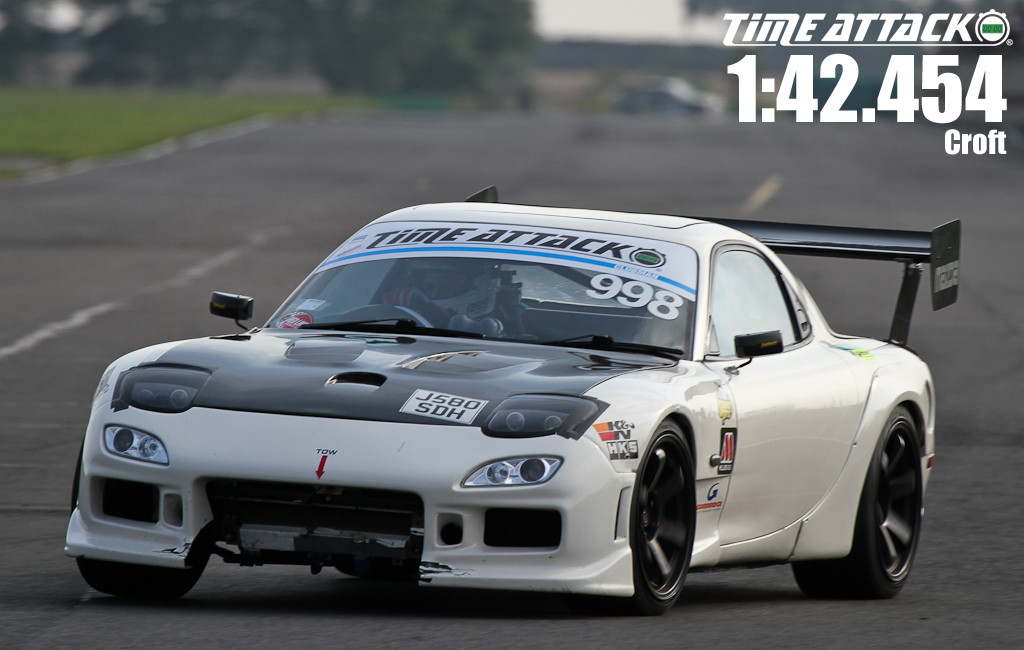 As you can see from the front bumper on James' FD3S Mazda RX-7, he had an interesting day at Croft. Despite things not quite going his way, James did manage to secure third place in both qualifying (1:42.454) and the final (1:42.496), so his times were consistent. Those 11 points really are crucial too. James is still bottom of the provisional standings after two zero scores in the opening rounds, but has caught up to the rest of the field. A strong finish at Rockingham could still see James on the Championship podium.
James Procter : Nissan 350Z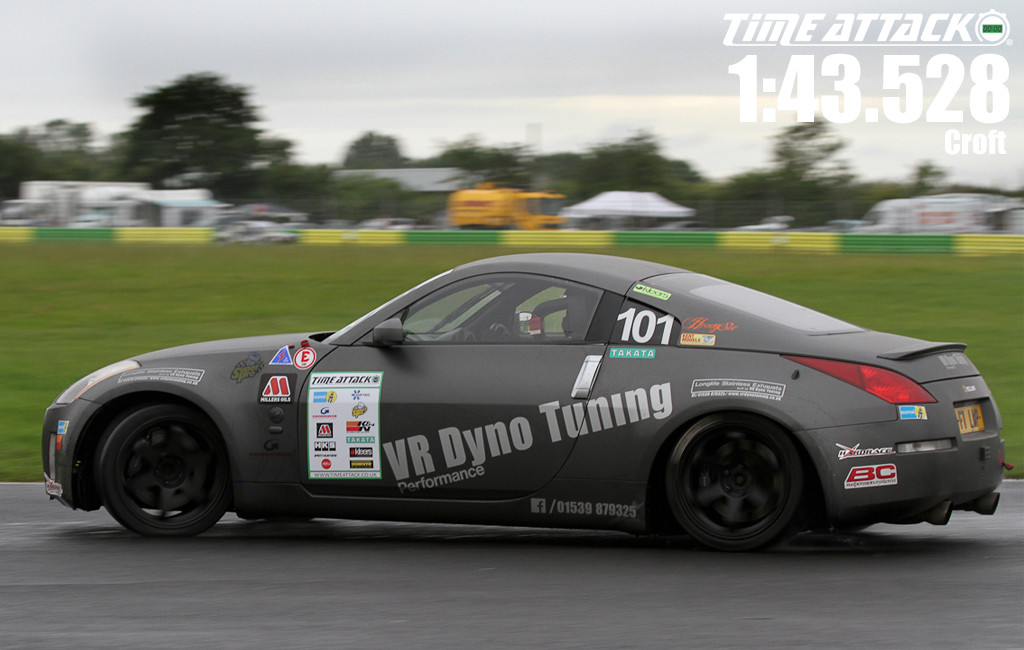 The VR Dyno Tuning 350Z is one of the best-sounding cars in Time Attack thanks to that throaty 3.5-litre V6 VQ engine. James P nearly caught James P at Croft, indicating that Mr Procter's pace is increasing in the big Nissan. His biggest problem on the day was forgetting to turn the traction control off on his last run in the final. Without the ECU stepping in and cutting the power on his fastest run, James would have gone even faster.
Simon Roberts : Noble M12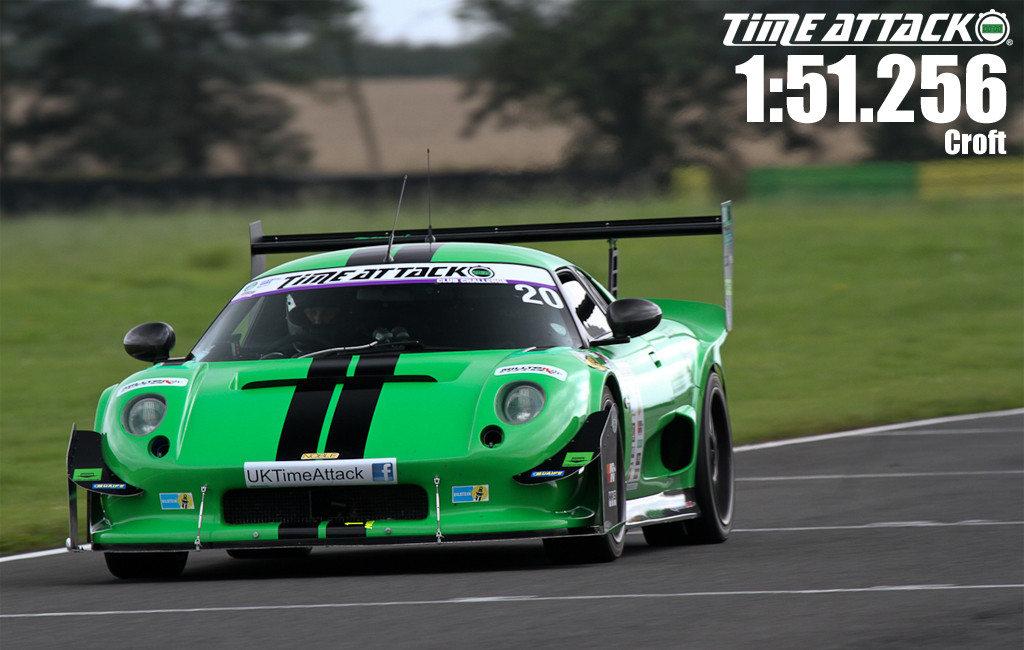 Where do we start with Simon Roberts? At the last round his engine and both turbos were damaged, and he moved heaven and earth to get everything rebuilt and ready on time for Croft. This isn't as straightforward as it sounds because some of the engine internals Simon uses are discontinued parts. So sourcing them is hard enough. Getting everything built up was a race against time and a battering on the bank balance. Having made it to Croft, Simon then had a brown race-suit moment when the throttle stuck open, before a total electronic failure brought his day to an end, just one lap into qualifying.
Club FWD
New Club FWD Lap Record!
Neil Wrenn : Honda Civic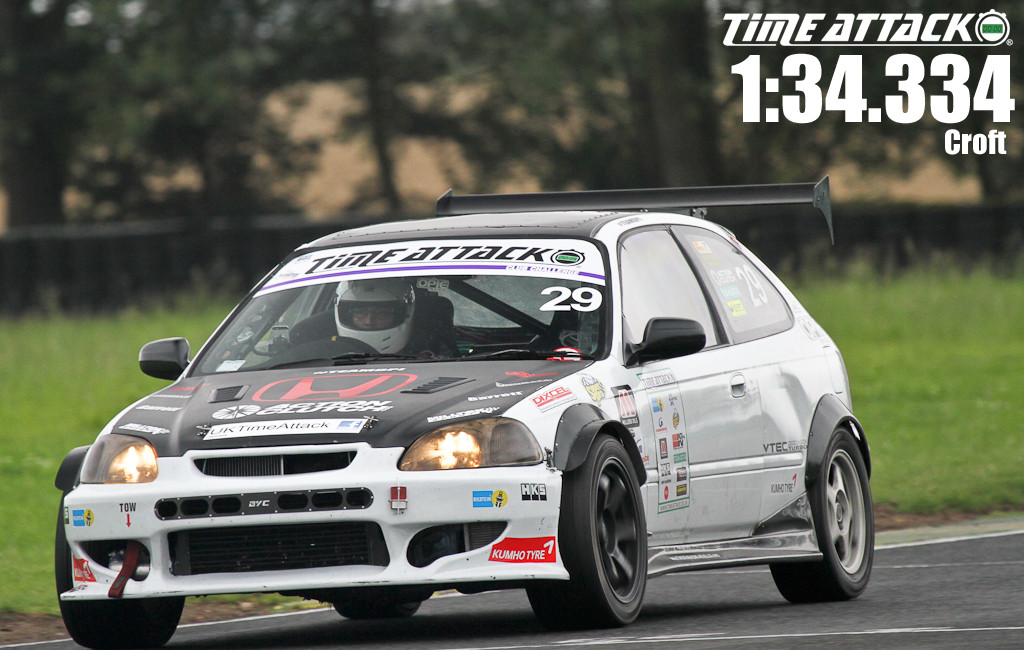 Neil Wrenn started the day by finishing third quickest in the wet warm-up session, then improved to second fastest in practice, after which the scrutineers pointed out his front tyres were now below their tread limit. A quick trip to a local garage for a fresh pair of boots proved to be a very good thing. Neil went out in qualifying and after a couple of steady laps he gave it everything. The result was a stunning 1:34.340, enough to qualify in first place with a new Club front-wheel drive lap record! There could have been an even faster lap from Neil too. In the final he recorded a 1:35.631 early on, then he was on a hot one. He was 0.5s up on his best in the first sector alone, he went for fourth gear and it wasn't there. Disaster. Still, his earlier lap was good enough for third step on the podium. He'd also scored 13 important points too. The Championship will come down to the final round. It's too close to call!
Martyn Henry : Vauxhall Astra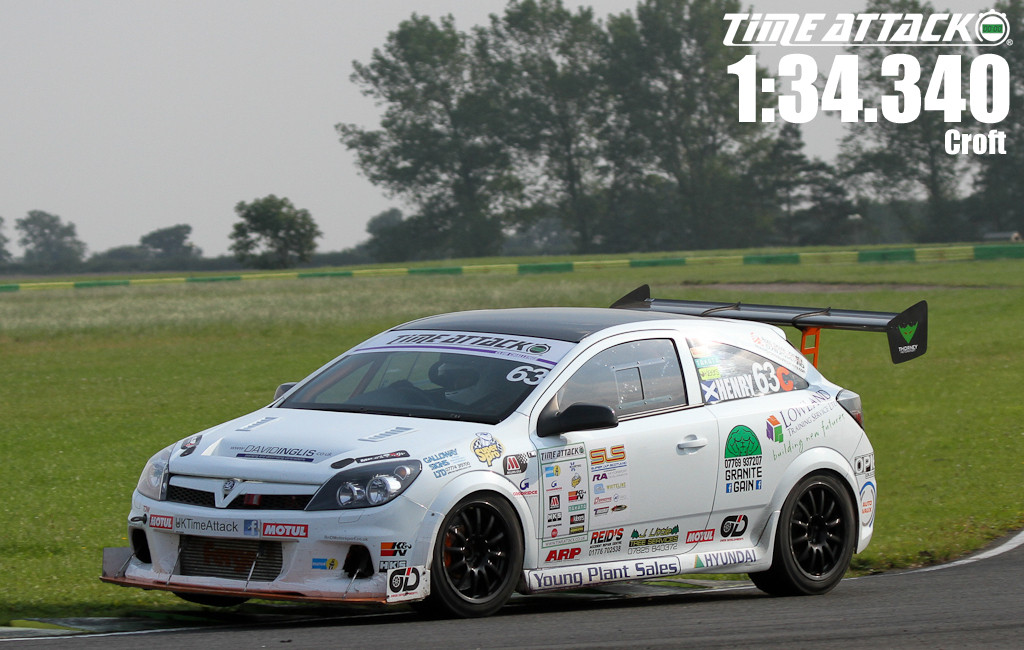 Incredibly, Martyn won his first Time Attack event at Croft, having never driven the track before! It's Martyn's debut year in Time Attack and this time last year his car was still being built. He moved up the timing sheet during the morning sessions and qualified in second place, despite missing a large chunk of the session because his car was overheating. His qualified just behind Neil Wrenn with an impressive 1:34.340 – just 0.006 seconds behind Neil's new lap record! Cooling the car down required the interior heaters to be left on max, so when the final came around shortly after qualifying, Martyn got into a red hot cabin. He was quick from his first lap in the final, and went on to trim tenths of a second every lap until setting a 1:34.493 to take an exciting win in an extremely competitive class. A driveshaft problem brought an early end to Martyn's final but he won't care about that. He has his first win on the board and is now right in the middle of the fight for the Championship that will unfold at Rockingham.
Marc Donnelly : Ford Escort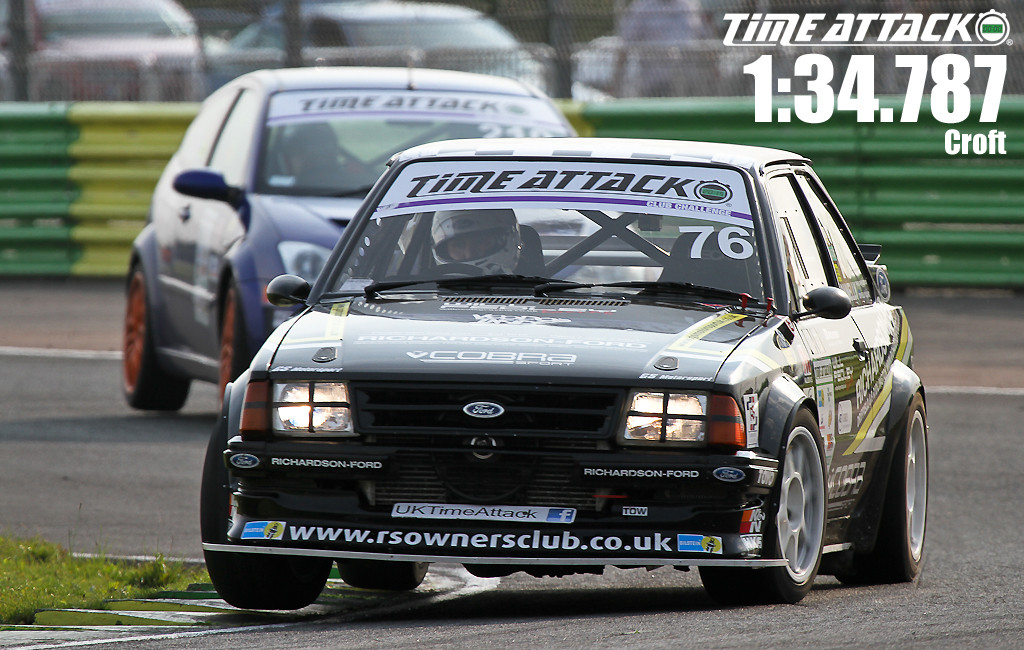 Arriving at Croft as a double-reigning Club FWD Champion and the lap record holder, Marc Donnelly was tipped to do well. He didn't disappoint. The third in a trio of Club FWD drivers to dip into the 1:34s, Marc started well by placing first in the warm-up and then first in practice. He went on to qualify in second place with his fastest time of the day, a 1:34.787! 0.453s behind the new lap record set by Neil in the turbo Civic. In the final session everyone appeared to go slower, perhaps because of the changing temperature and grip levels on track? So although Marc could only manage a best of 1:35.448, it was good enough to secure him the runner-up spot, beating Neil Wrenn by just 0.183s and getting revenge on him for taking his lap record earlier in the day. Interestingly, Marc had a last-minute gearbox swap before Croft and a subsequent dyno session showed the Focus RS engine is getting tired and is now down on power. Marc also swapped to a Quaife ATB from the plate-type KAAZ diff, as his tyres were going off too quickly. This leaves Marc with some important decisions to make before Croft. What does he change? Which diff to go for at Rockingham? He's in the mix for the title once again, one of several drivers on virtually the same points. It could be a case of 'winner takes all' in the final round!
Darren Spooner : Peugeot 205
You'll notice there's a new front splitter on Darren Spooner's awesome Peugeot 205 GTi turbo. You can also see the large down-turned side-exit exhaust in this pic, an attempt at keeping the noise meters happy and the raucous 106 GTi turbocharged engine under control. As ever, Darren was absolutely on the edge all the day, pushing hard. He clipped a tyre stack whilst flat-out in fourth gear which he later discovered had done lots of damage to the suspension and gearbox of his rapid Pug. Thankfully, he still managed to record fourth place finishes in both qualifying and the final, with a best of 1:35.484 and 1:36.013 respectively.
Daniel Clark : Vauxhall Astra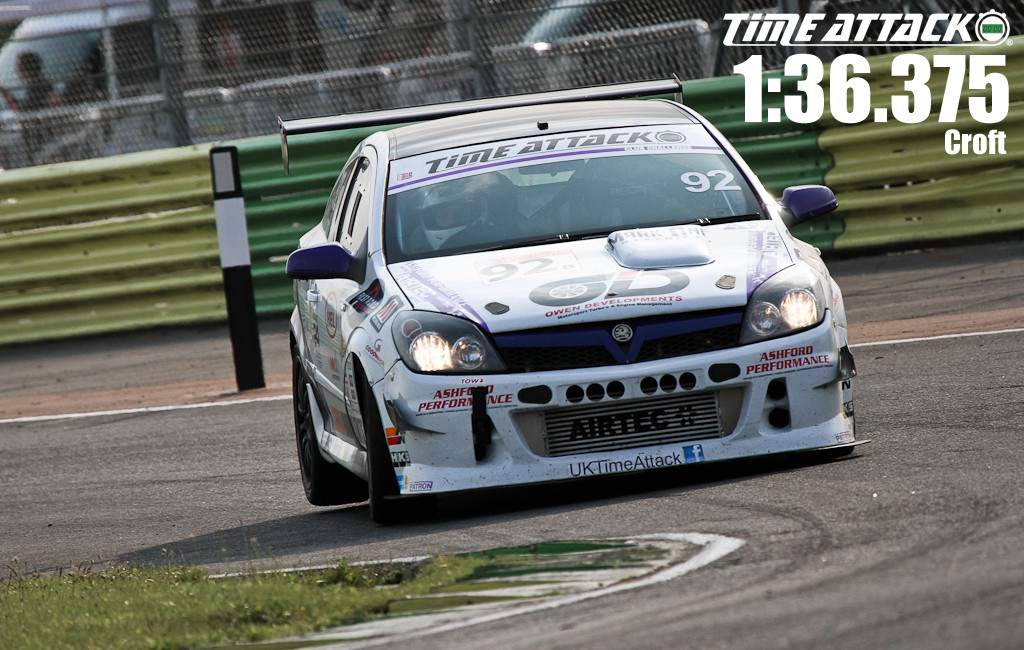 Dan Clark has two wins under his belt this year, and qualified in first place during the monsoon that wrecked round 1 at Cadwell Park. So he should have been among the Championship contenders. Unfortunately, car reliability has pushed him out of the fight but he hoped to put in a good performance at Croft. However, before he had even arrived he had been involved in a light road accident in his car transporter and things went downhill from there. We're not sure what ladders Daniel has been walking under but he needs to stop. During the day his brakes caught fire before a wishbone snapped at over 100mph! Daniel admits he wasn't 100% focused at Croft which is a shame, as he started the year with such impressive performances. His best time of the day was the 1:36.375, good enough to finish fifth in qualifying. He finished in the same position in the final, with a best of 1:36.961
Adrian Daniel : Vauxhall Astra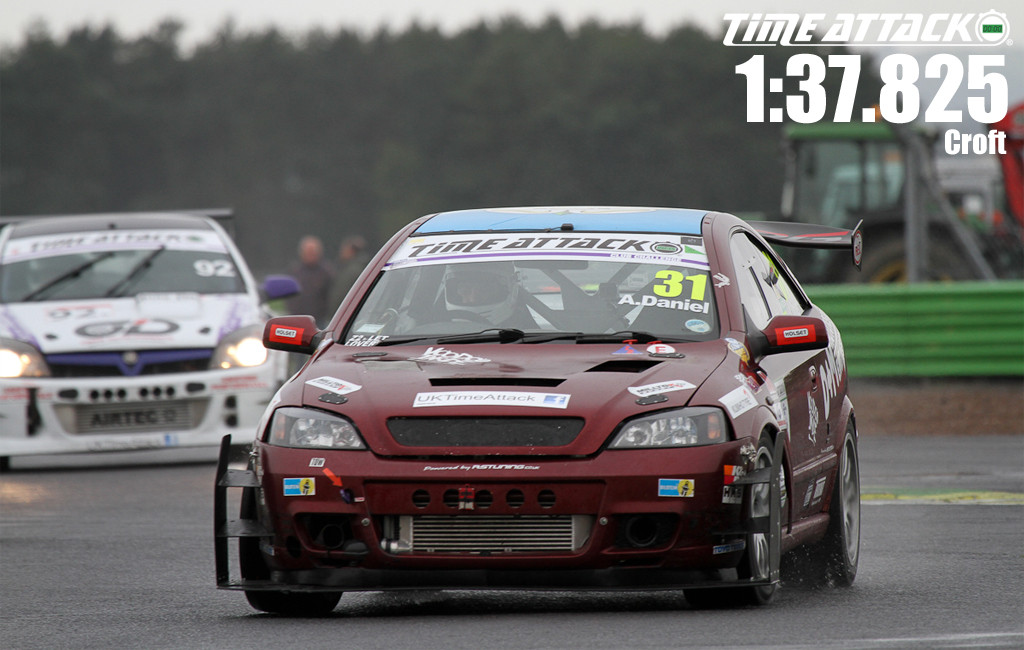 Turbo expert Adrian Daniel had fun at Croft in his Holset-equipped Astra Coupe. The DM Motorsport Engineering driver had a fairly spectacular "off" during the final, nearly ending up in the wall. Luckily the session was then red-flagged and he could check the car over and go again. In qualifying he had set a best of 1:39.140 (7th), but when the final got underway again, Adrian started banging in personal bests. He wound up for "a do-or-die lap" when he came across a car exiting the pit lane at the wrong time. Forced to back off, he went around again and managed just 1/3rd of the next lap before running out of fuel! Still, his best time from the final was a 1:37.825, good enough for sixth place and his best finish yet. It's steady progress but Adrian continues to head in the right direction in arguably the most competitive class in UK Time Attack this year.
New Club NA Lap Record!
Paul Waddington : Honda Civic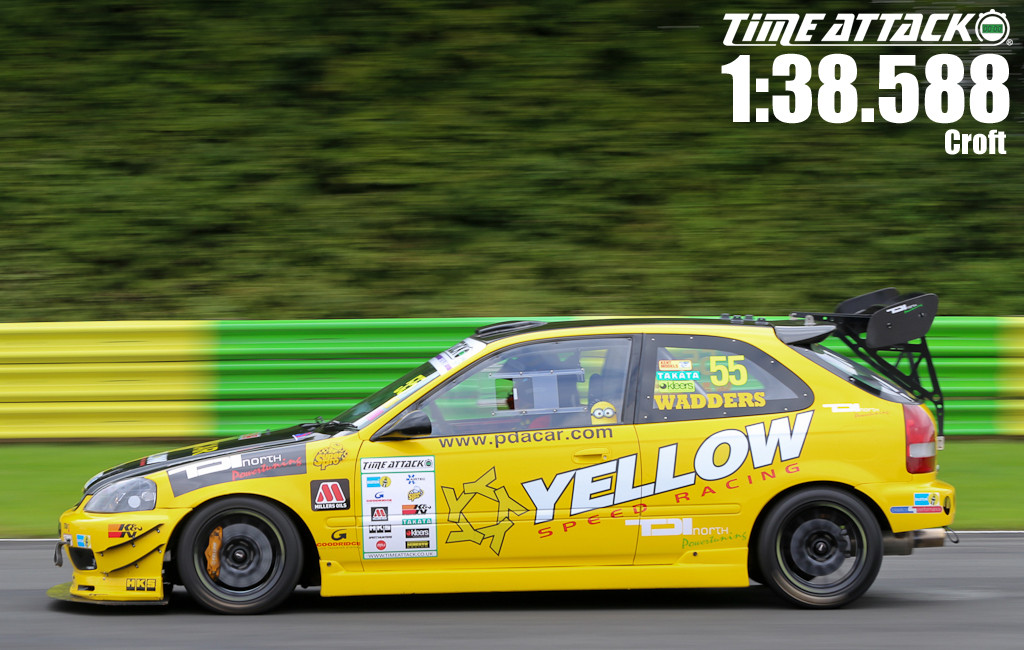 Paul Waddington competes against the turbo cars in his naturally-aspirated K20-powered Honda EK9 Civic Type-R. This means he uses weight and handling to compete with the boosted competition. It also means that he qualifies to compete with the existing Club NA lap record, a class that doesn't exist this year. So without making things too complicated, let's celebrate the fact Paul went out hard from the outset, going fastest of anyone across all Club classes in the wet qualifying session (1:46.431)! When the track dried the power difference became more obvious thanks to Croft's long straights but Paul wasn't trying any less. Quite the opposite in fact. He set his record-breaking 1:38.588 during qualifying, earning him sixth place. He then showed how consistently he was hammering round the track, with a 1:38.899 in the final, for seventh place. Very well driven and it was great to see Paul's commitment rewarded with a lap record.
Jeff Alden : Vauxhall Astra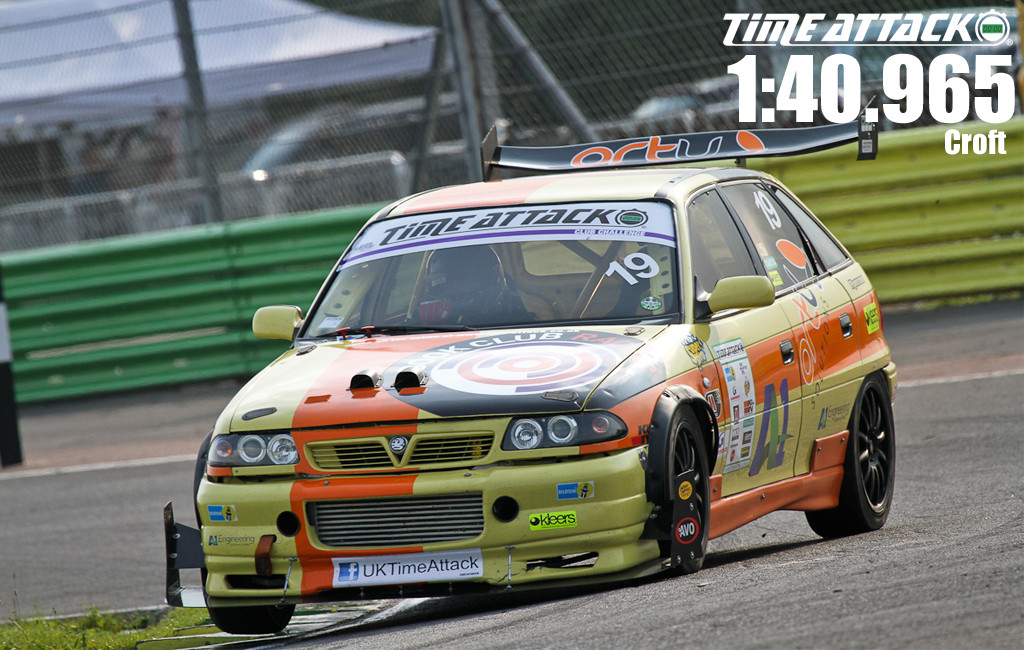 Some subtle aero pieces have found their way onto the front of the Book Club Racing Astra during the year, and there was a new F18 gearbox under the skin too. Andy Alden of ANSA Motors had stayed up through the night to make sure the car was ready on time, with additional help from Mark, Gary and Dominic. The Saab B204 turbo engine is still under the bonnet and Jeff is still driving with a big grin on his face. The car had a boost leak in the later stages of the final, but the key thing is it finished the day. Jeff clocked up a creditable eight place in both points-scoring sessions, recording a 1:41.852 in qualifying followed by a 1:40.965 on his last lap of the day with boost. Meaning Jeff was going faster as the day drew on, which is a promising sign.
Adam Cleland (Single Round Entry) : Ford Focus RS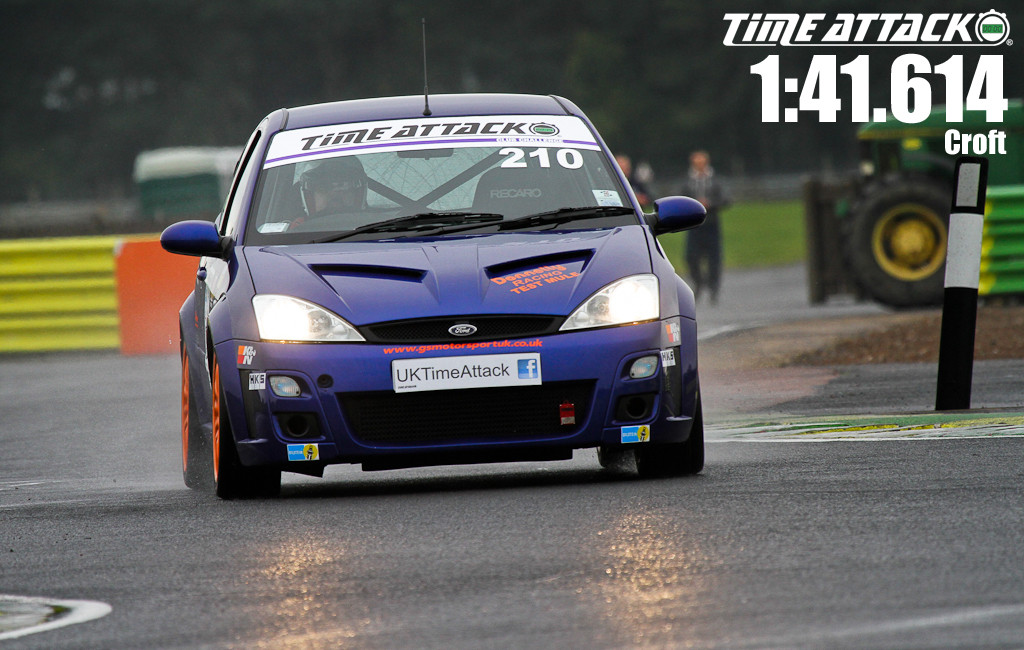 There's something very pure about a stripped-down car with no unnecessary bits on it, and that's definitely the vibe given off by Single Round Entry Adam Cleland's Mk1 Ford Focus RS. This was Adam's Time Attack debut and considering the changing track conditions, quite a tricky one. He didn't hold back however, finishing seventh fastest in the wet warm-up and tenth in the damp practice session. Adam recorded a best of 1:41.977 in qualifying (10th quickest), and saved his best time of the day for the final, a 1:41.614 that was ninth fastest of all the Club FWD drivers. All things considered, a very respectable debut.
Jonathan Morris : Ford Focus
The letterbox air-scoop on the bonnet of Jonathan Morris' Ford Focus highlights this is the other naturally-aspirated car in Club FWD. That scoop feeds cold air into a set of individual throttle bodies, that are attached to a full Burton Power build on the 2.0-litre ST170 engine. In other words it's a screamer, and several videos have been bouncing around social media of Jonathan in the early stages of the day, roaring up the main straight. He recorded a 1:41.872 right at the start of qualifying but the Focus went silent shortly after. A driveshaft failure brought an end to his day before he could even record a time in the final. Jonathan will hope to reset and go again for the final round at Rockingham in a few weeks time.
Antonio Giovinazzo : Alfa Romeo 155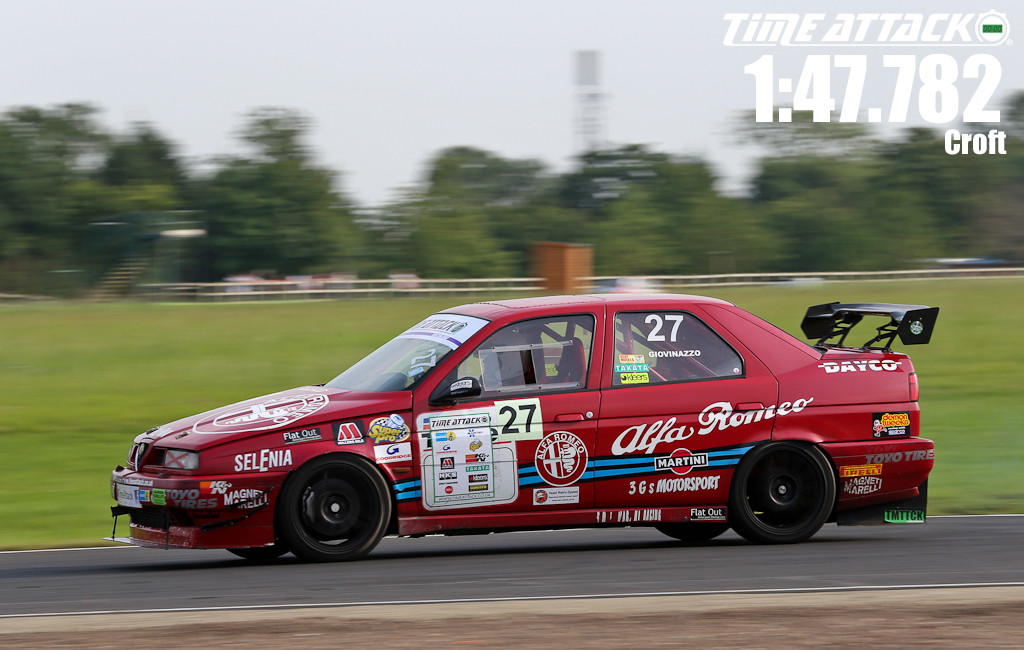 The ever-cheerful, always enthusiastic Giovinazzo brothers with their home-built twin-spark turbo Alfa 155. With their gearbox problems hopefully behind them, Antonio was free to push on at Croft. He did mention he was struggling with a turbo lag issue however, so perhaps the large Holset turbo under the bonnet needs re-thinking? Either way, it's great to see the guys out there again. Their passion is clear to see, and they admit they really care where they finish in the pecking order. For them, Time Attack is about challenging themselves to go faster, so the only lap times that matter are their own. Antonio recorded a 1:51.131 in qualifying and a 1:47.782 in the final.
Domonic Gregory (Single Round Entry) : Vauxhall Astra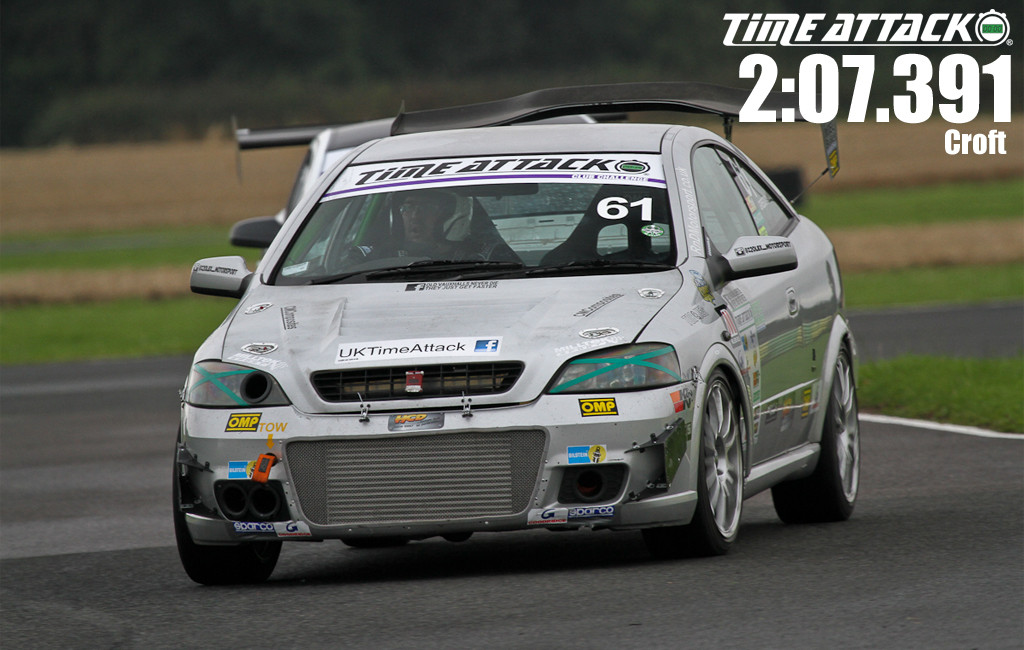 Team Z20-LEx boss Domonic Gregory returned for the first time since his engine failure at Cadwell Park in Round 1. Unfortunately mechanical gremlins plagued his day at Croft too. After starting out steady in the wet warm-up, a disconnected boost pipe brought his session to a premature end. With helps from his team and parts borrowed from the Book Club Racing guys, the pipe was persuaded to stay in place for the rest of the day. Unfortunately, that only meant the practice session. After going out and warming his tyres and brakes, Domonic floored the accelerator for a hot lap. Shortly after, the car nose-dived and there was a loud bang under the bonnet. It turns out the oil pump had failed, causing more damage to the engine and bringing his day to an end. So his 2-minute lap time isn't representative of Domonic's true pace. Hopefully he'll get the issues sorted in time for the final round at Rockingham in just a few weeks time.
To buy tickets for the final round of the 2015 Time Attack Championship at Rockingham, click here – They're only £10 if you buy early!
Click here to view the Championship Points Table
It's not racing… it's TIME ATTACK!