A round-up of what happened with each of our drivers in Pocket Rocket, Clubman, Clubman+ and Classic & Retro Club listed in order of their fastest times of the day
Time Attack rolled into Croft for the first time since 2013, with lots of new faces keen to attack the circuit they had heard so much about. Croft is a challenging and flowing circuit. There are technical corners that link onto several long straights, rewarding drivers that can carry speed through them.
We arrived to rain showers and gloomy skies. Far from ideal. Thankfully, by the time the Warm-Up sessions arrived the rain had eased and the track continued to dry throughout the day. As everyone got used to the track and grip levels increased, the lap times dropped.
Being the penultimate round of the 2015 Time Attack Championship, and with every driver required to drop their one lowest round score from their overall Championship points, we could now start to calculate Championship standings. By the end of the day we had a new Club FWD lap record, a new Club NA record, several inaugural lap records for the new classes plus a total of five new 2015 Time Attack Champions to celebrate!
Clubman+
2015 Clubman+ Champion!
Inaugural Clubman+ Lap Record!
Mark Flook : Nissan GT-R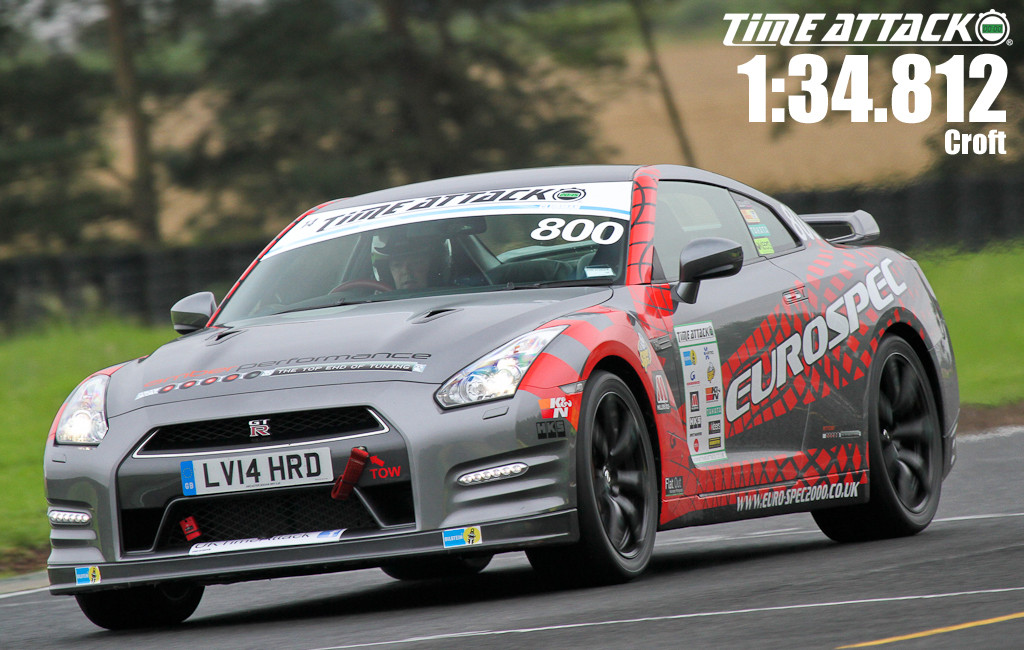 Earlier in the year, Mark Flook realized his Mitsubishi GTO wasn't going to be ready in time for the Time Attack season. He still wanted to be involved, looked around at the classes and wondered if his daily-driven Nissan GT-R would be competitive in the new Clubman+ class – created to invite very lightly-tuned cars into the world of Time Attack. His reward for this commitment is that several rounds later he's been crowned the first Clubman+ Champion! At Croft, Mark was pushed all the way by Jonny Roose in the Evo but always had a few tenths on his closest rival. Mark topped both qualifying (1:35.355) and the final (1:34.812), to secure the maximum 15 points and take the title in style, with one round remaining. Mark is toying with stepping up to Club 4WD at Rockingham for an extra challenge, provided his absence doesn't affect others in the fight for the remaining Championship places. Watch this space.
Jonny Roose : Mitsubishi Lancer Evo VIII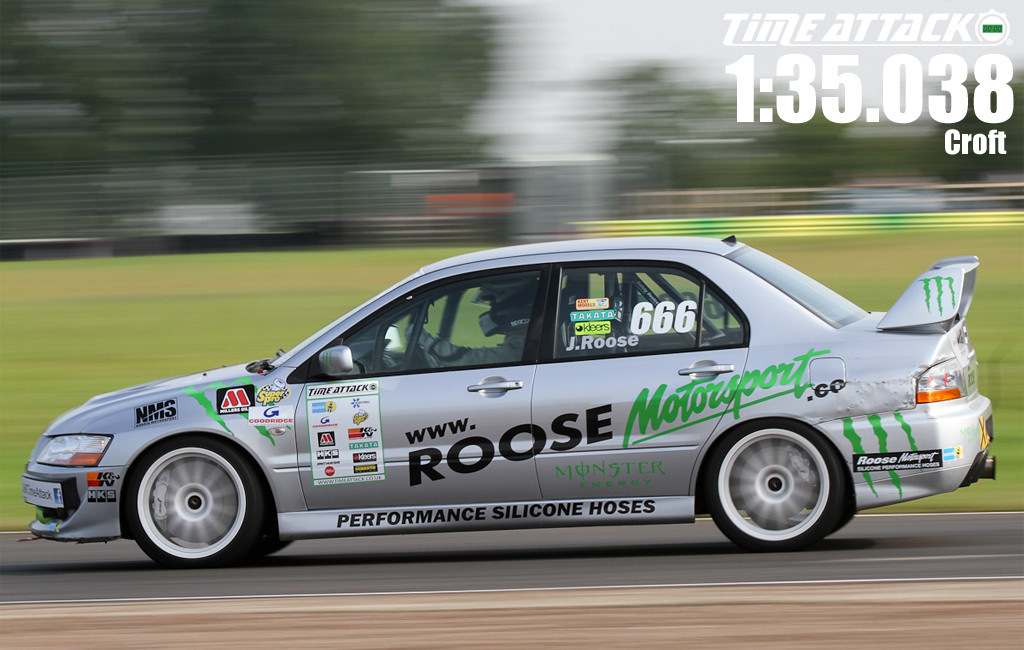 Jonny Roose came so close to winning at Croft but finished a close runner-up in both points-scoring sessions. In qualifying Jonny finished just 0.358s behind Mark Flook, posting a best of 1:35.713 on his final qualifying lap in his Lancer Evo VIII. In the final, Jonny went almost a second faster, setting a 1:35.038 on his last flat-out lap. Sadly, it was still 0.226 behind Flook in the GT-R. Still, it was a great battle to watch and Jonny was well clear of his next fastest rival.
Darren Meddings (Single Round Entry) : Subaru Impreza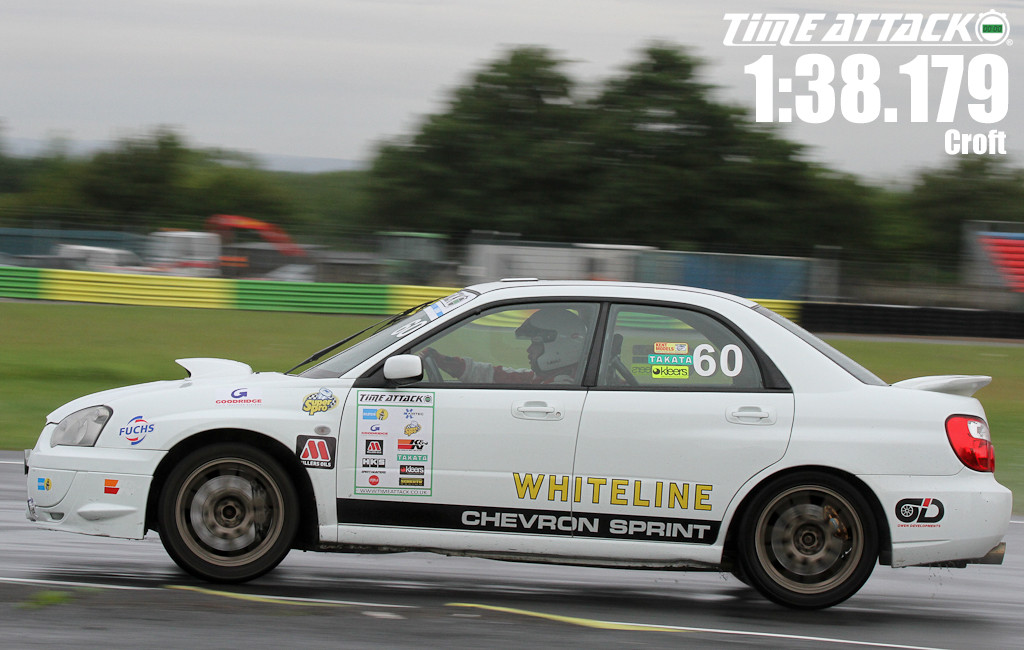 Darren Meddings had a great Time Attack debut, finishing the day as the Fastest Single Round Entry. He set his fastest time of the day in qualifying, during an almighty tussle with Brad Sheehan in the M3. Darren set a best of 1:38.179, an incredible 0.015s faster than Brad! When the final came around, Darren went marginally slower, with a best of 1:38.693. That was good enough for fourth place in Clubman+, 0.229s behind Brad.
Brad Sheehan (Single Round Entry) : BMW M3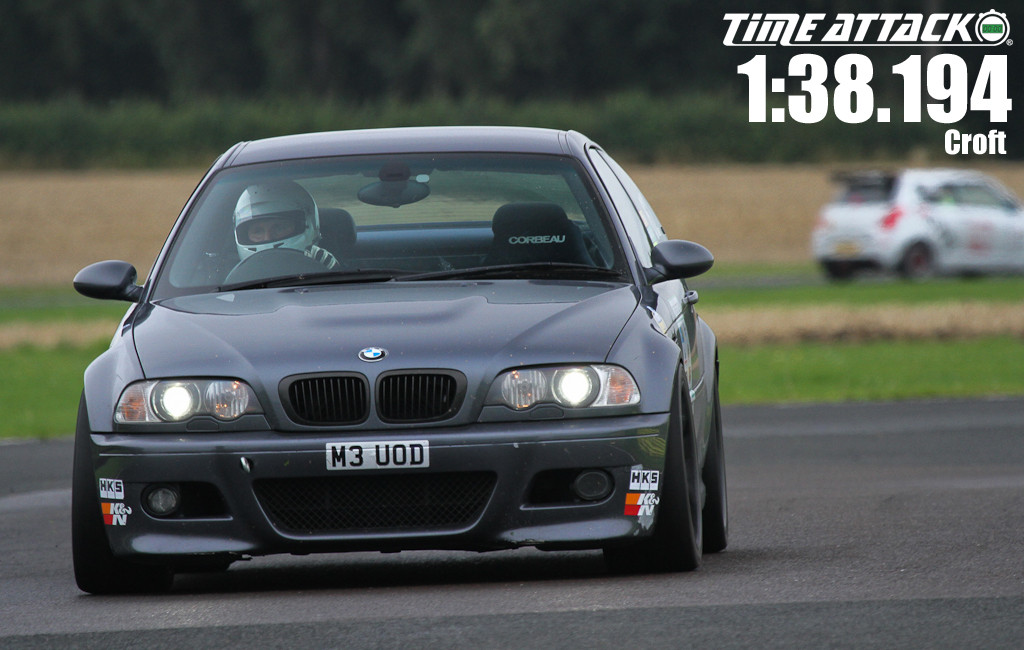 Brad has competed this year in Pro Extreme, behind the wheel of his Mitsubishi Lancer Evo. Sadly his Evo wasn't ready in time for Croft but Brad didn't want to miss out on all the fun, so he decided to thrash his daily-driver around in Clubman+ instead. Essentially a road-spec M3 with a few minor tweaks, Brad had lots of sideways moments on the slippery track, showing us he can handle plenty of oversteer! Brad's times improved as the track dried out during the day. He set a 1:38.194 in qualifying (fourth fastest in Clubman+), before going one better in the final. In a tight battle with Darren Meddings in the 4WD Subaru Impreza, Brad clocked a 1:38.464 to take home a well-deserved trophy for fastest Clubman+ Single Round Entry in the final shootout.
Alan Shepherd : Ford Focus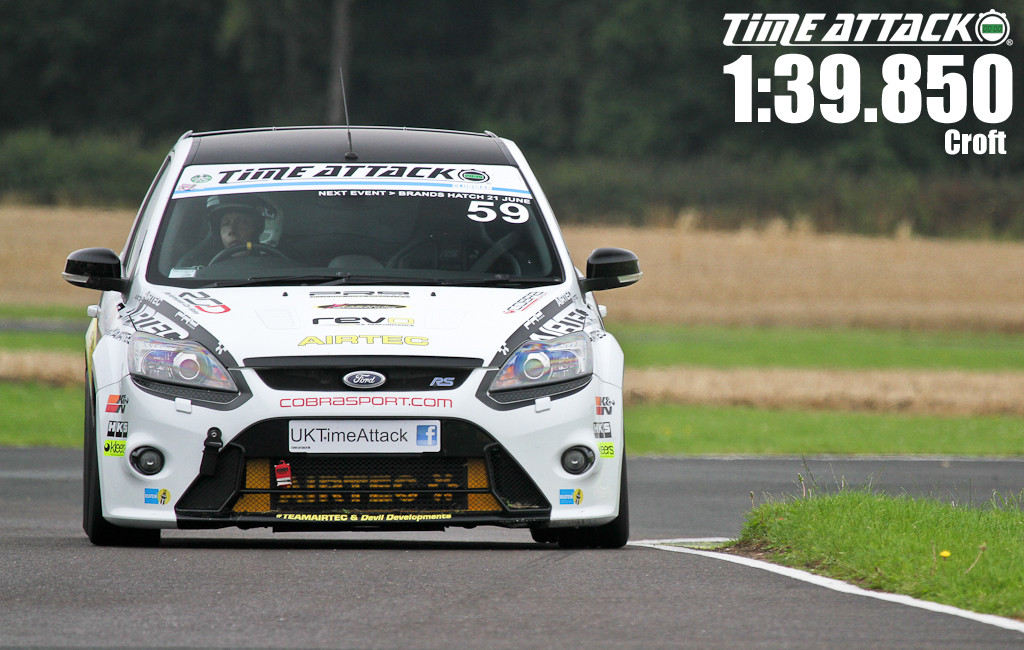 Airtec boss Alan Shepherd was pounding round all day in his Focus RS, the only front-wheel drive car in Clubman+. Alan managed to get one over on at least one 4WD car, beating Leigh Jordan to fifth place in both qualifying (1:39.850) and the final (1:39.283). That's important because there is now just two points separating Alan and Leigh in the Championship points table, with both drivers still required to drop their one lowest round score at the end of the year. It's all going to come down to a shoot-out at Rockingham.
Leigh Jordan : Mitsubishi Lancer Evo V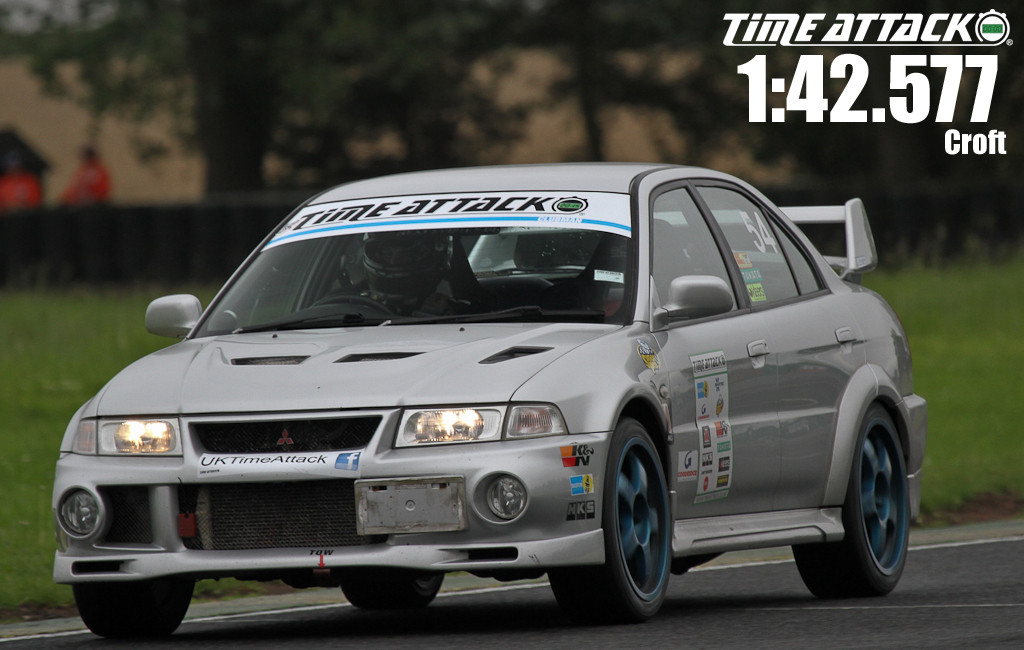 Someone has to bring up the rear in each class and in Clubman+ at Croft, that honour was Leight Jordan's. Leigh was further down the order than we might have expected in qualifying, setting a best of 1:44.893.  He managed to pull some time out of the bag during the final, recording a 1:42.577 right at the end of the day. Leigh will be hoping for a better result in the final round at Rockingham, where a step on the Championship podium is still well within his grasp.
Clubman
Inaugural Clubman Lap Record!
Jon Ellis : Mini Cooper S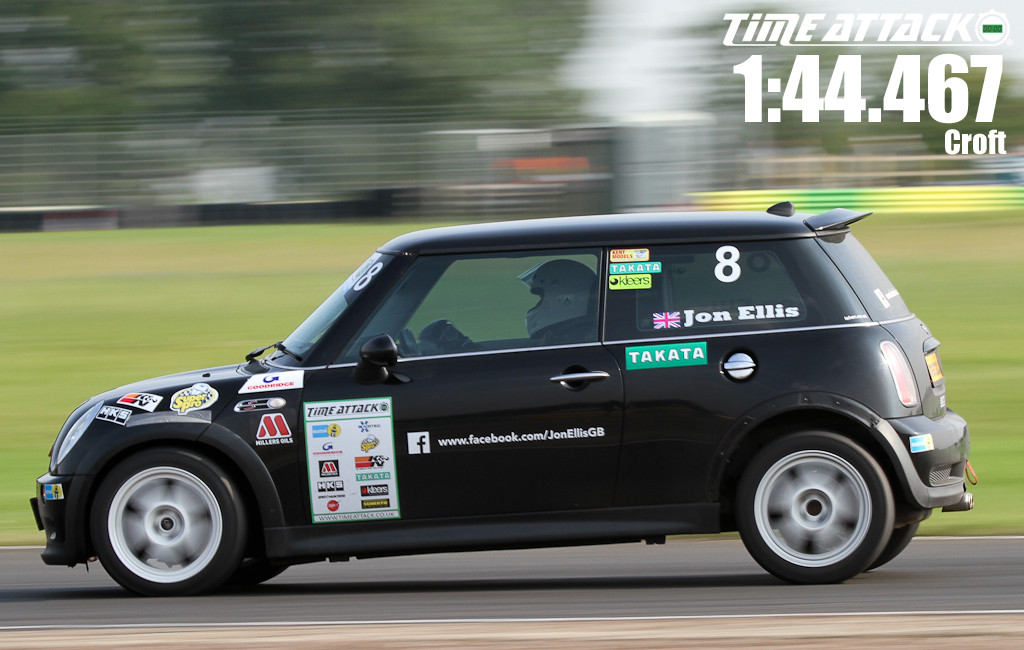 In a close-run battle, it was Jon Ellis who set the fastest time of the day in his Mini Clubman. The wonder lap came during a heated qualifying session, where Jon set a 1:44.467 in his Mini Cooper S to edge out Ollie Novell in the Corolla by an incredible 0.055s! These turned out to be the fastest times of the day for both drivers, although it was just as close in the final, where Jon set a 1:44.664 to finish in the runner-up spot by just 0.035s! It's incredible how these two different cars have been driven to such similar lap-times.
Ollie Novell : Toyota Corolla T-Sport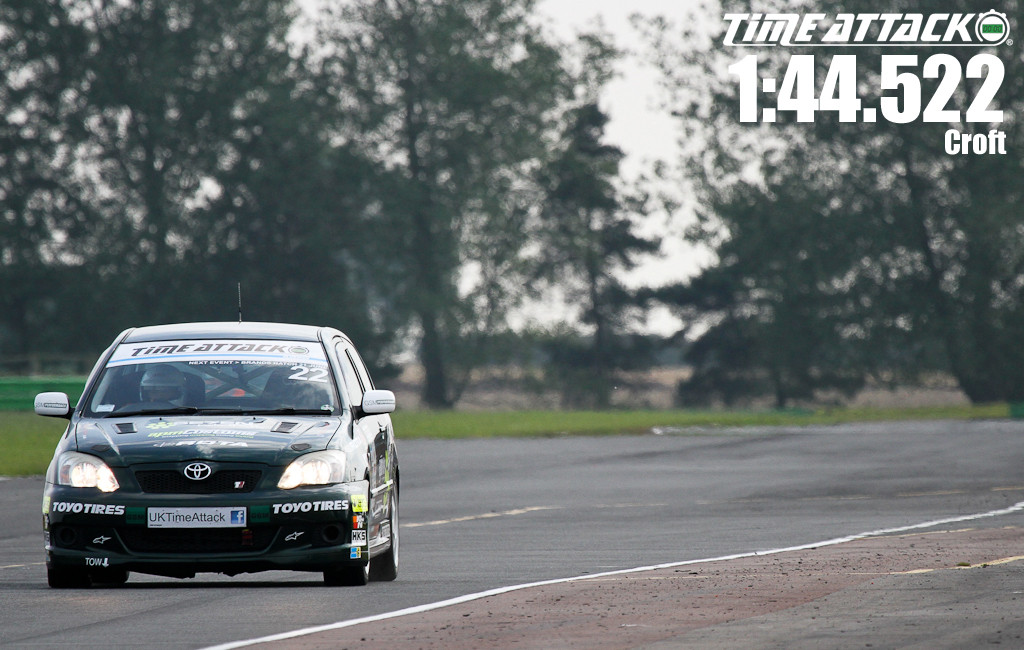 Ollie just missed out on the top spot in qualifying, recording a 1:44.522 to finish just 0.055s behind Mini driver Jon Ellis. However, it was Ollie's moment of madness in the final that stands out. With brake pads that had worn down to the metal and no spares on hand, Ollie went out to drive around at a steady pace to score important points towards the Championship. While he was driving around however, something took over him. He decided to go for it. Somehow he managed to put a hot lap in before going off the circuit shortly after, with completely destroyed discs. His time? 1:44.629, winning the Clubman final by an unbelievable 0.035s!
Pocket Rocket
2015 Pocket Rocket Champion!
Inaugural Pocket Rocket Lap Record!
Stewart Summers : Citroen Saxo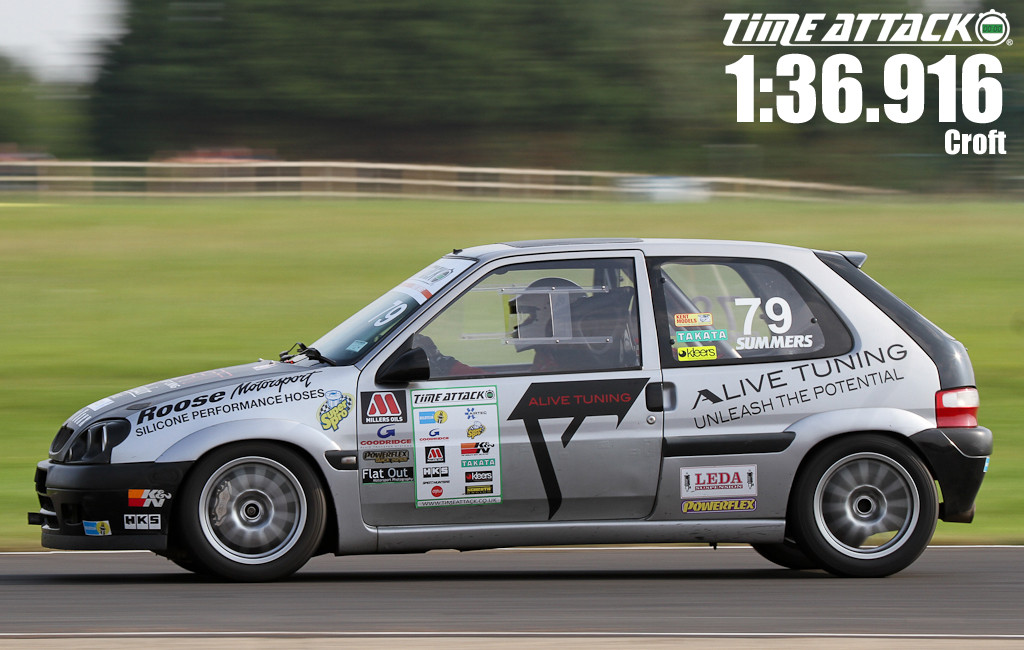 What a year it's been for Stewart Summers and his supercharged Saxo. Just over a year ago Stewart rolled his old Saxo in spectacular fashion at Snetterton. These days his team reckon he's pushing the re-shelled version far harder, mainly because it didn't begin as his 'pride and joy' road car, which the other one did. He's going much quicker as a result. Or it may simply be that Stewart has more track time under his belt and more confidence? Either way, he once again rose to the top of the Pocket Rocket class, qualifying in first place (1:37.095)  before winning a dramatic final (1:36.916). Those 15 points helped Stewart become the first Pocket Rocket Time Attack Champion with one round remaining.
Richard O'Dwyer : Mini Cooper S
Richard O'Dwyer has been quick all year in his turbocharged Mini and at Croft he pushed Stewart all the way. He was just 0.532s slower in qualifying, grabbing second place. In the final, it seemed like he might pull off a dramatic victory to take the Championship fight into the final round. That's despite suffering clutch issues towards the end of the session. However, when the final results were confirmed it became clear that Richard had finished in second place, recording a best lap time of 1:37.438. Just 0.343s behind Stewart. A tiny margin, but one that confirms our 2015 Pocket Rocket Championship winner. Richard now has the change to fight it out for the second spot on the Championship podium at Rockingham, which would still be a great result.
Robert Oldman : Ford Fiesta ST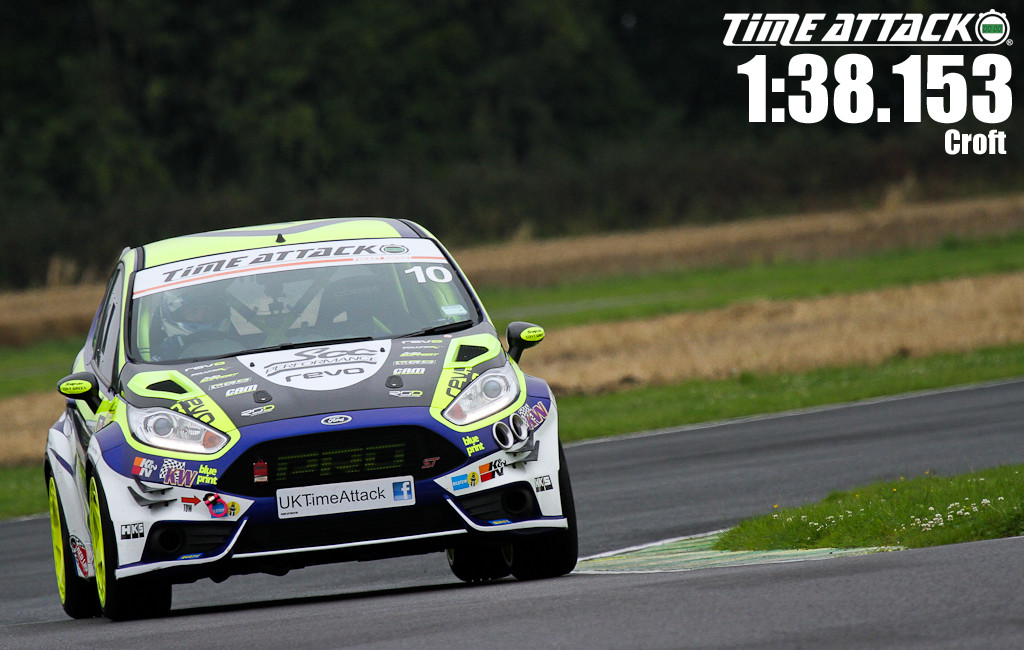 The eye-catching SCC Performance Fiesta was clearly being pushed to it's very limits at Croft, bouncing around the tight Complex lap after lap. The SCC Performance boss Robert Oldman knew what was at stake, with this being the penultimate round in the Championship. He secured third place finished in both qualifying (1:38.461) and the final (1:38.153), so you can see how consistent Robert was. In the final he also pushed himself to within 0.715s of Richard O'Dwyer in second place, and it's Richard and fellow Mini driver Tim Kite that Robert will have to beat at Rockingham to secure the runner-up spot in the Championship.
Tim Kite : Mini Cooper S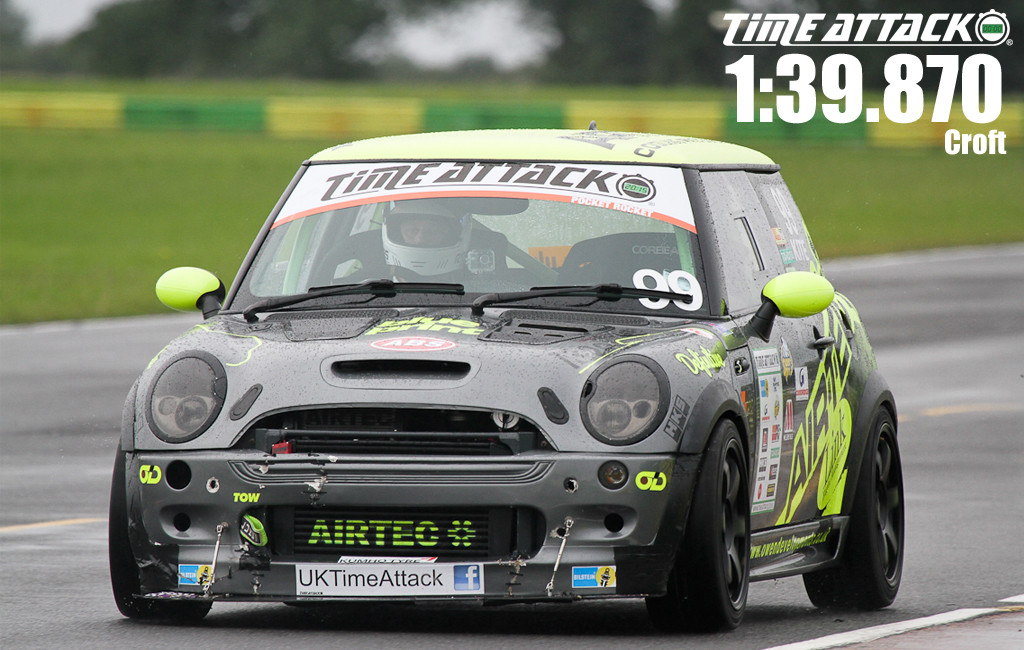 Another car with hi-vis highlights, and another turbocharged Mini. Tim Kite has backed up his impressive performance at last year's Night Attack at Brands Hatch with a solid debut year in Time Attack. He was at Croft the previous day for a spot of testing and had an 'off', hence the stealthily repaired front bumper. Having never driven the track before Friday, Tim ended the day at Time Attack having knocked 10 seconds off his best lap time from the day before. That's some very rapid progress! Tim finished in fourth place in both points-scoring sessions, recording a best of 1:40.239 in qualifying, followed by a 1:39.870 in the final. He's now in a three-way fight the runner-up spot at Rockingham. Bring it on!
Mike Cantelo (Single Round Entry) : Time Attack Championship / Airtec Ford Fiesta ST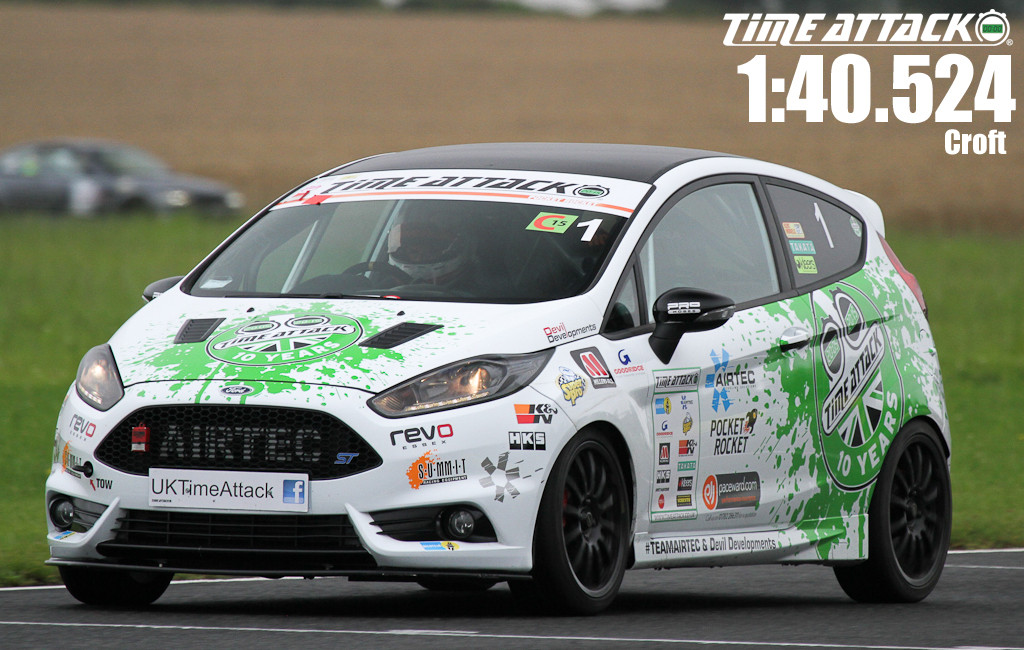 "Missile Mike" isn't his official nickname but it should be. Circuit Manager Mike Cantello is a Time Attack lap record holder at Croft, so there was no-one better to drive the 10th Anniversary Time Attack Championship Fiesta ST prepared by Airtec. After a minor "off" in the morning warm-up thanks to some very brave but ultimately too late braking, Mike recovered to put in a fine display. He set a 1:41.539 in qualifying followed by a 1:40.524 in the final, earning himself a trophy for being the fastest Single Round Entry in the final, in the process. Mike even had time to end his session early too, as he kept one eye on the circuit. You see, some men can multi-task!
Andrew Kime (Single Round Entry) : Citroen Saxo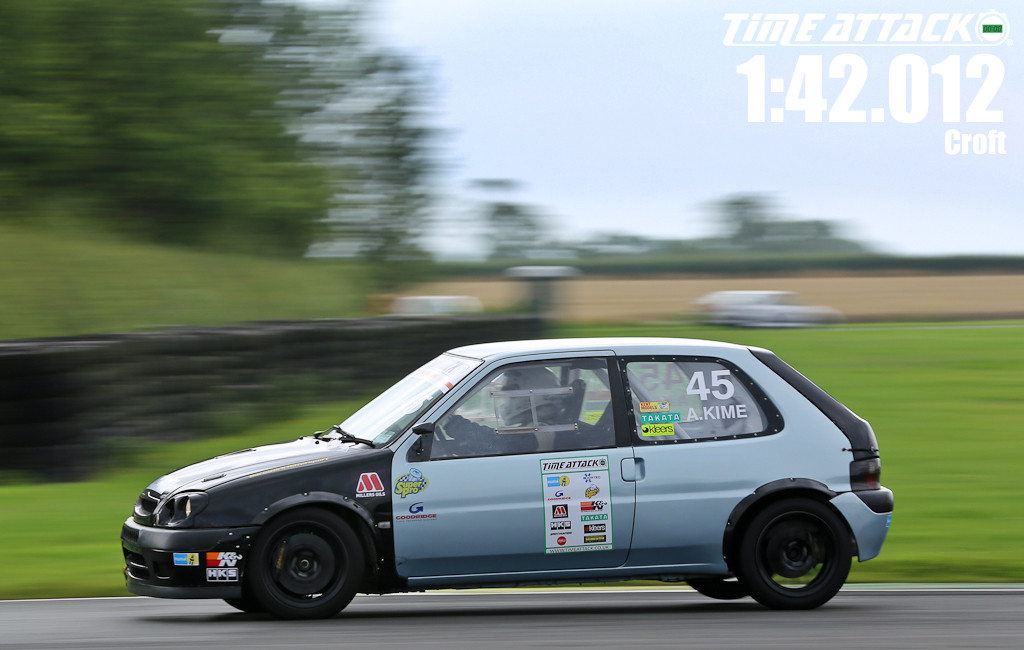 Andrew Kime was a Single Round Entry at Croft, and ended up as the fastest naturally-aspirated competitor in Pocket Rockets. Under the bonnet of this lightweight french hatchback is a 1.6-litre engine using high-compression, cams and individual throttle bodies to fight off the turbo and supercharged opposition. What he's done with the rest of the car clearly works too, as Andrew was on the pace despite being outgunned in the power department. Although he only qualified in eighth place (1:44.500), Andrew's lap times continued to drop as the day continued and eventually set the sixth fastest Pocket Rocket time in the final (1:42.012).
Adam Barnett : Mazda MX-5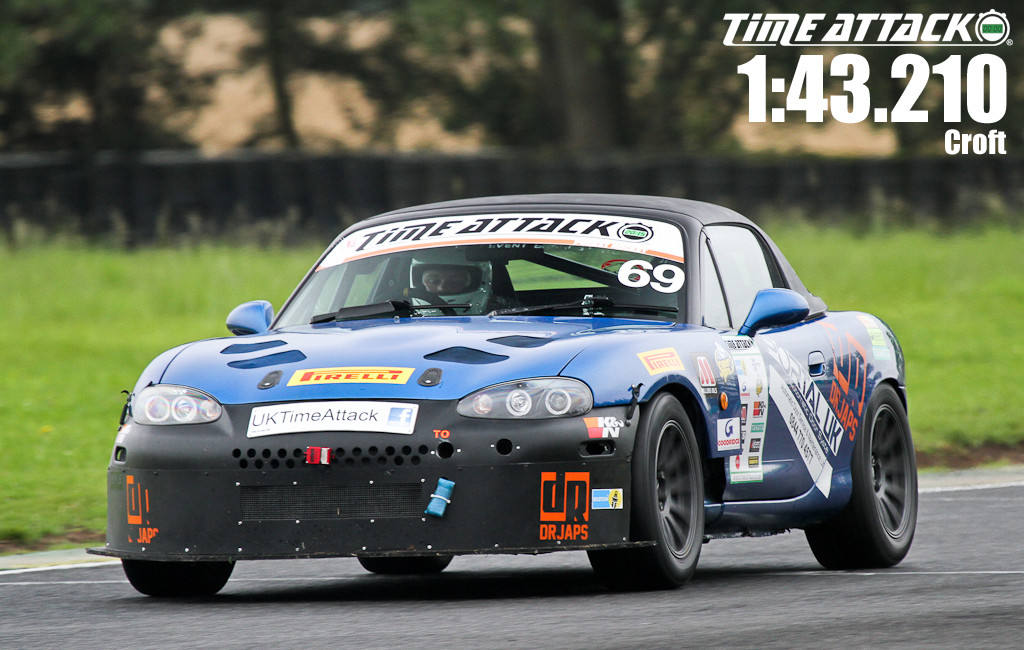 Adam Barnett had fun and games in the morning, trying to find traction in his supercharged Mazda MX-5. It didn't help that he was trying to bed in a brand new set of Pirelli Trofeo R tyres at the time. A minor "off" followed when he got too brave but he was fine to continue. Adam qualified with a best of 1:43.210, good enough for sixth place. However his day got really interesting in the final, when the belt attached to his supercharger snapped. Adam managed to crawl back to the pits with no boost, and with help from his team and Club Pro competitor Jonny Fletcher, got one fitted with just three minutes to go! He raced around the circuit and managed just one flying lap before the chequered flag dropped; a 1:43.393, seventh overall and fifith quickest of the Championship hopefuls. Adam admits it wasn't a perfect lap and left marginally frustrated at leaving time on the track, but grateful for the help that saw him record a time at all.
Sam Weller : Peugeot 106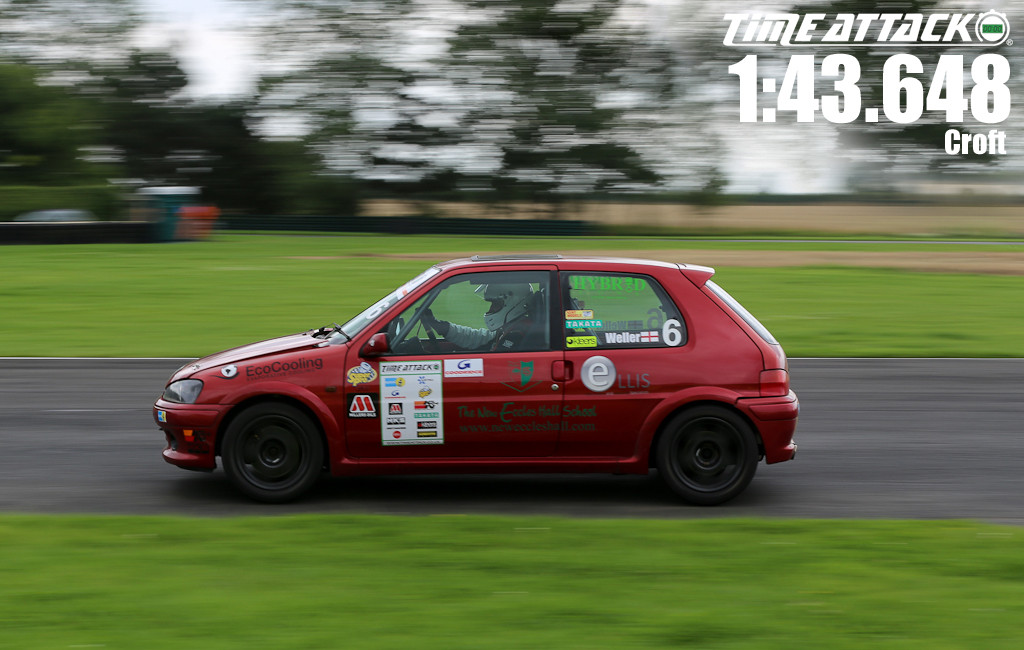 It was a manic week leading up to the event for Sam Weller. With help from his friends Lee Hunt and Matthew Willgoss, there was a new engine under the Peugeot's bonnet and new front suspension too. Unfortunately, Sam didn't get on with the new suspension and with clutch issues towards the end of the day, it's fair to say Sam didn't put in a lap time he was truly happy with. Still, he set a 1:44.211 in qualifying that was good enough for seventh quickest in Pocket Rockets overall, and sixth fastest of the Championship contenders. Before recording a best of 1:43.648 in the final, sixth fastest of the Championship contenders.
Ali Arshid : Suzuki Swift Sport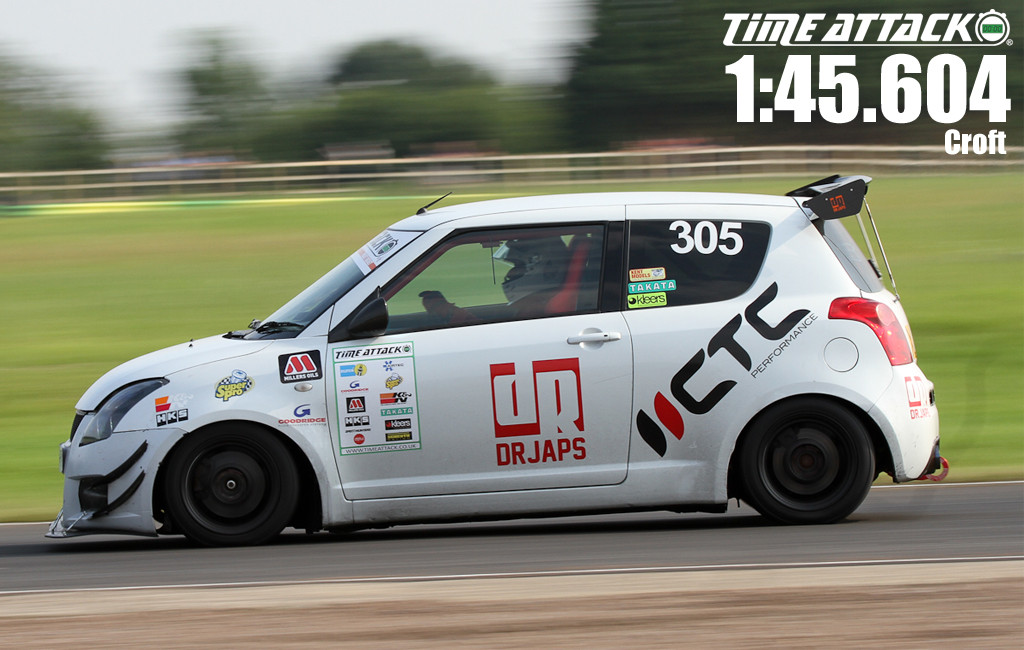 Ali Arshid has never done any competitive driving before but he has big plans for the future in Time Attack, so watch this space. For now, he's getting used to being out on track in his supercharged Suzuki Swift backed by CTC Performance. Ali set his fastest time of the day during the final, where his 1:45.604 was over a second faster than his qualifying time of 1:46.897. So he's heading in the right direction.
Karl Chard (Single Round Entry) : Mazda MX-5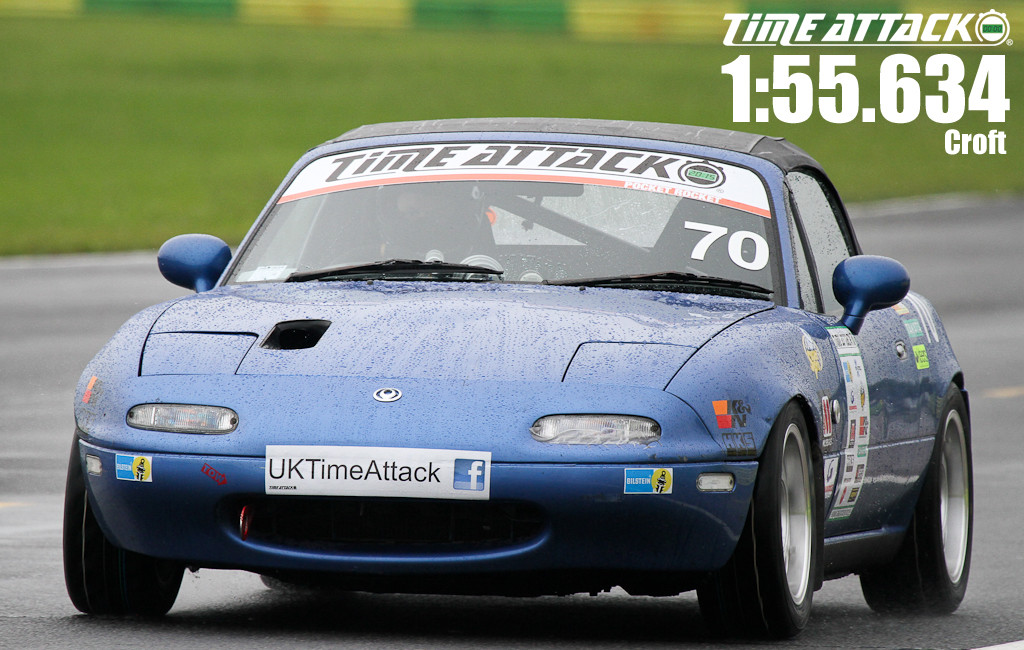 Time Attack at Croft came shortly after Karl Chard's birthday, so a day spent out on track was a pretty good present to himself. Karl's Mk1 Mazda MX-5 looked great out there in the morning session. He finished fourth fastest in the wet warm-up with a 1:55.622. Unfortunately, that was the last session Karl completed. Hopefully he'll back in the future to show us what he can really do, as he looked quick.
Classic & Retro Club
Inaugural Classic & Retro Club Lap Record!
Alan Tolley : Ford Sierra XR4x4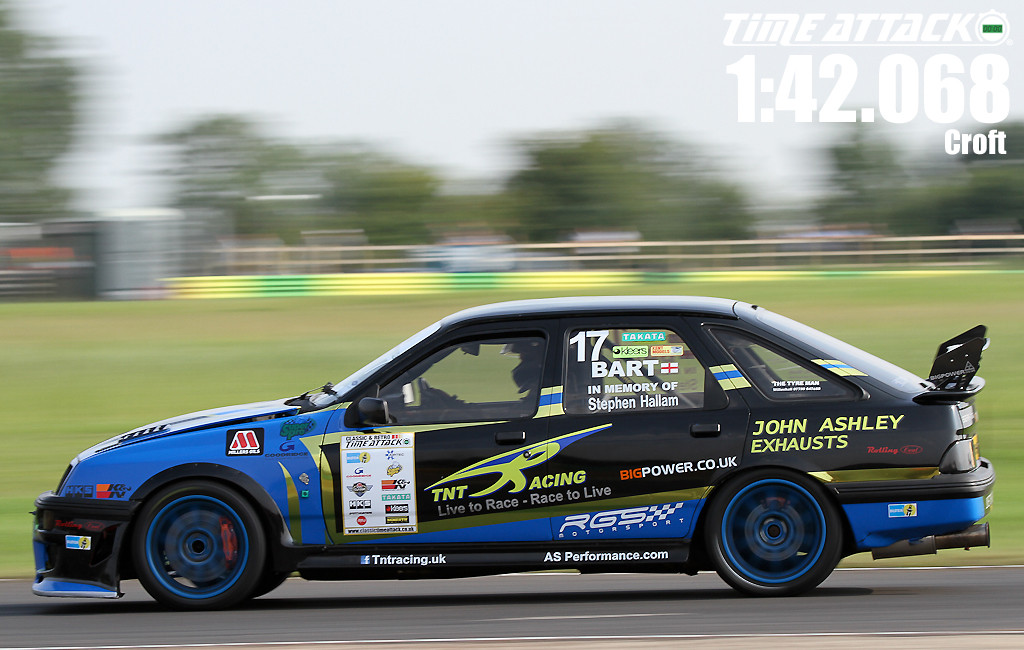 Alan managed to shave an incredible 17 seconds off his fastest lap time during the day, thanks to a drying track and a change of tyres. After completing the warm-up and practice sessions, Alan made the switch to a set of semi-slicks for qualifying. They obviously helped, as Alan qualified in first place with a best of 1:42.068 in his 2.0-litre turbo Cosworth-powered Sierra XR4x4. That was over two seconds faster than his nearest rival. In the final the gap closed up but not by much. By the end, Alan had secured a win and the maximum 15 points, with a best of 1:42.092. Alan is now tied on 57 points overall with Jeff Whitbrook, with both drivers having scored no points at one round already. So with each driver required to drop their one lowest score at the end of the year, it will be a heads-up shootout for the title and neither driver can afford any kind of accident or mechanical failure. What a climax to the debut Classic & Retro Club Championship!
Jeff Whitbrook : Daihatsu Charade GTTI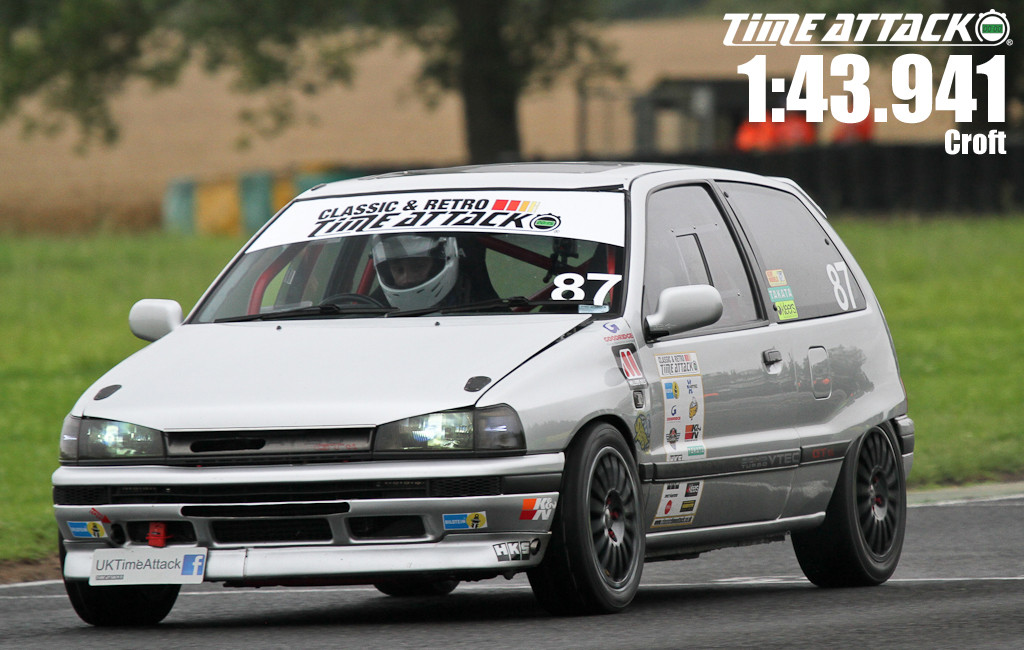 Jeff had to concede he was second best at Croft in his Honda turbo-powered Daihatsu Charade GTTI. Last time out the positions were reversed, with Jeff taking maximum points but this weekend it was Sierra driver Alan Tolley's turn. Jeff recorded a 1:44.275 in qualifying, then a 1:43.941 in the final, so he was getting faster. It sets up an incredible final round with both Jeff and Alan on identical points, having both already scored zero at one round. So it's winner takes all at Rockingham on Saturday 19th September.
Max Wakefield (Single Round Entry) : Lada Lotus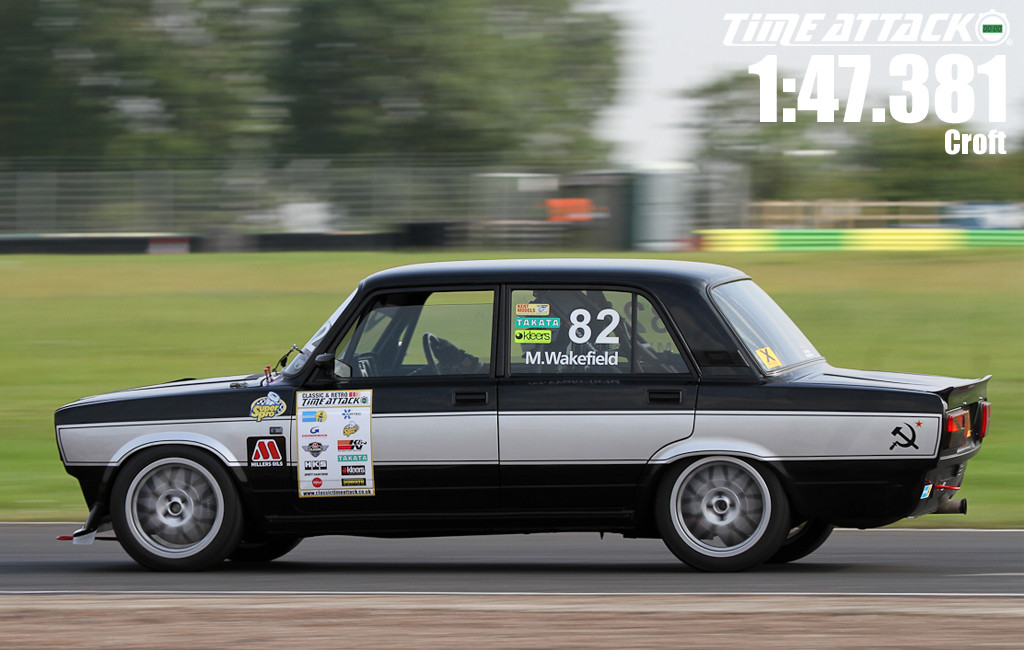 An old Lada based on an even older Fiat, with an 8-valve engine and carburetors. On paper Max Wakefield had no change but this is Time Attack and there's more to this combo than meets the eye. A well-developed car with an experienced driver, Max turned plenty of heads with both his pace and his sideways driving at Croft! Under the bonnet is a naturally-aspirated 2.0-lite Fiat twin-cam putting out 220bhp, and the car was built to replicate the Lotus Lada that featured on the Top Gear TV programme. Max may have finished bottom of the time sheets in both qualifying and the final, but there's no shame in that, especially as a Time Attack newcomer up against modern machinery. Considering the track was relatively damp all day, Max's times were impressive. He recorded a 1:47.381 in qualifying followed by a 1:47.692.
To buy tickets for the final round of the 2015 Time Attack Championship at Rockingham, click here – They're only £10 if you buy early!
Click here to view the Championship Points Table
It's not racing… it's TIME ATTACK!