A round-up of what happened with each of our drivers in the Pro classes, listed in order of their fastest times of the day
Time Attack rolled into Croft for the first time since 2013, with lots of new faces keen to attack the circuit they had heard so much about. Croft is a challenging and flowing circuit. There are technical corners that link onto several long straights, rewarding drivers that can carry speed through them.
We arrived to rain showers and gloomy skies. Far from ideal. Thankfully, by the time the Warm-Up sessions arrived the rain had eased and the track continued to dry throughout the day. As everyone got used to the track and grip levels increased, the lap times dropped.
Being the penultimate round of the 2015 Time Attack Championship, and with every driver required to drop their one lowest round score from their overall Championship points, we could now start to calculate Championship standings. By the end of the day we had a new Club FWD lap record, a new Club NA lap record, plus a total of five new 2015 Time Attack Champions to celebrate!
PRO Extreme
Inaugural Pro Extreme Lap Record!
Phil Reed : AP Tuning/Ross Sport Mitsubishi Lancer Evo VI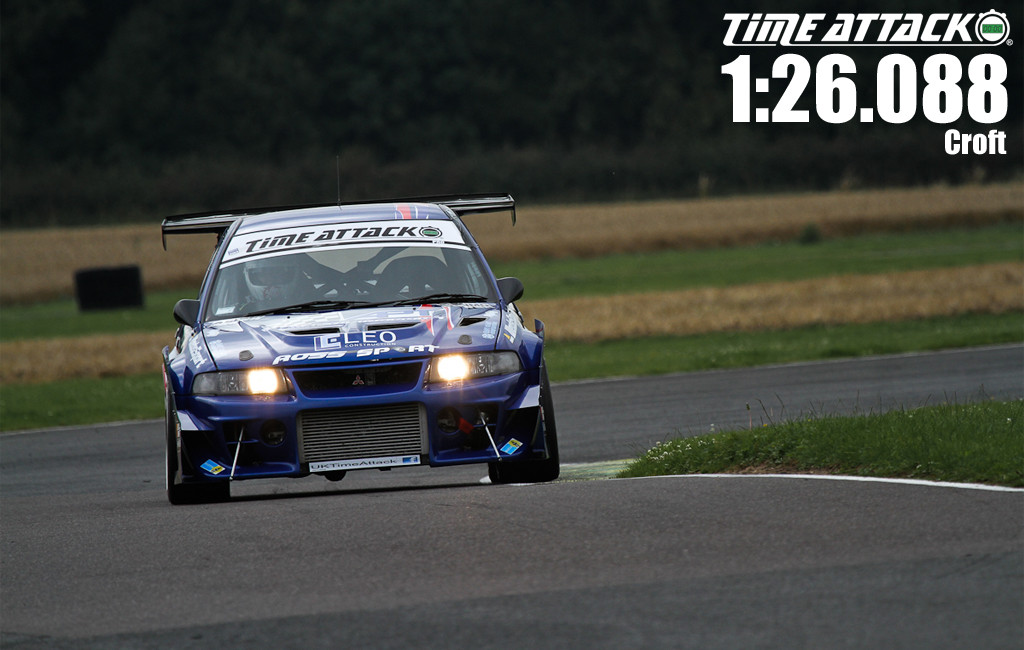 Mitsubishi Lancer Evo driver Phil Reed showed blistering pace in the damp conditions! He set the fastest time of the whole event when qualifying in first place in Pro Extreme, set the first Pro Extreme lap record at Croft in the process. The crazy thing is, Phil reckons there was even more pace left in the car, as just after setting his new lap record, the gearbox expired! Gary Hayward and the rest of the AP Tuning team leapt into action, somehow managing to replace the gearbox in the short time we had between the end of qualifying and the start of the final! Heading out into the final, Phil entered a monumental struggle with Andrew Barbour, eventually finishing in second place. However, his time from qualifying says everything about his pace on the day. A great performance that puts Phil top of the Championship standings, and sets up an exciting final round at Rockingham on Saturday 19th September.
Andrew Barbour : AKB Racing/NR Autosport Mitsubishi Lancer Evo IX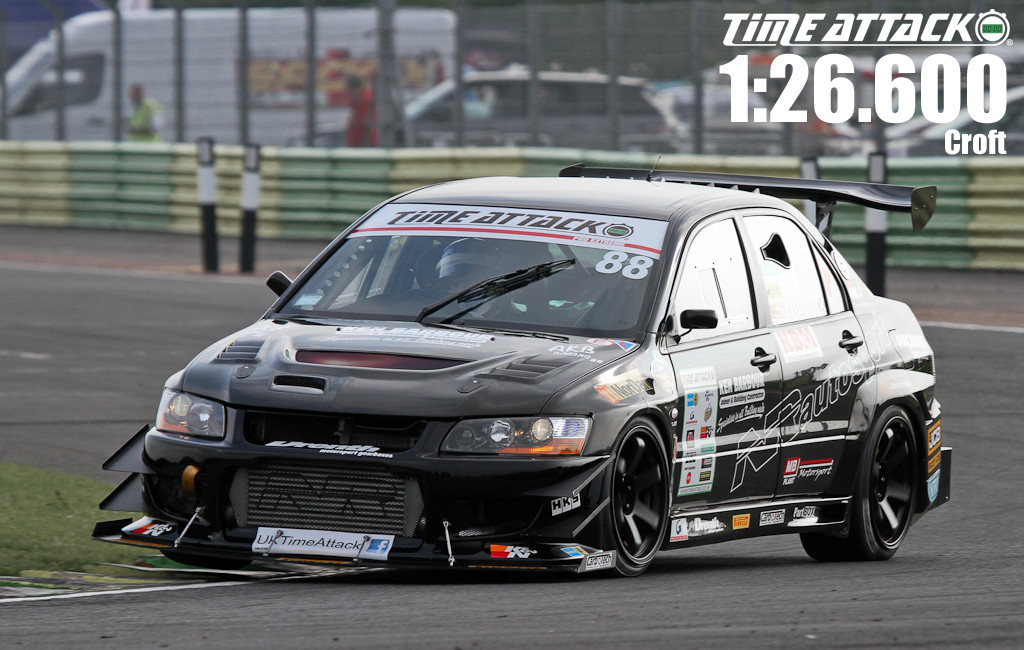 All year Andrew Barbour has been fighting it out with Phil Reed to be 'best of the rest' behind the two extreme aero cars. With neither Black Mamba or SVA at Croft, the door was left open for one of these guys to take the win. And so it proved. The final became a heads-up war between the drivers of two of the fastest track-going Evos in existence, both desperate for the win. Andrew put it in a hot one to top the timing screens, Phil somehow managed to top it and with the clock counting down, it was Andrew Barbour who forced himself to the front of the epic battle – putting everything on the line and blasting in a lap over half-a-second faster to grab the victory and all 10 points. In the end, Andrew's final-winning 1:26.783 was 0.689 seconds faster than Phil's best. Although Andrew's fastest lap was actually the 1:26.600 that earned him second place in qualifying. We've been saying Andrew has been getting used to his new car (and slick tyres) all year, but now it's safe to say we're seeing him getting comfortable in the car and really pushing on.  That victory in the final will give Andrew a lot of confidence heading into the title decider at Rockingham.
Gavin Renshaw [Single Round Entry] : Lateral Performance/SD Motorsport Subaru Impreza
A triple Time Attack Pro Champion driving a car that has won Championships and set hillclimb records; this should have been a deadly combination. However, it didn't really click for everyone at Croft. Gavin was up for it and the car looked immensely fast, but it was the tyres that appeared to let the team down. Loading up the trailer at the end of the day, they looked like a wild cat had tried ripping them apart, with huge gashes along the tread of each one. Whether it was a setup issue or the tyres themselves, something was amiss. That said, Gavin wasn't far off the pace of the front-runners. It was great to have Gavin back on track, and we always enjoy seeing the Impreza known as "The Banana", in action.
Richard Marshall : HEL Performance / Rich Marshall Racing Mitsubishi Lancer Evo IX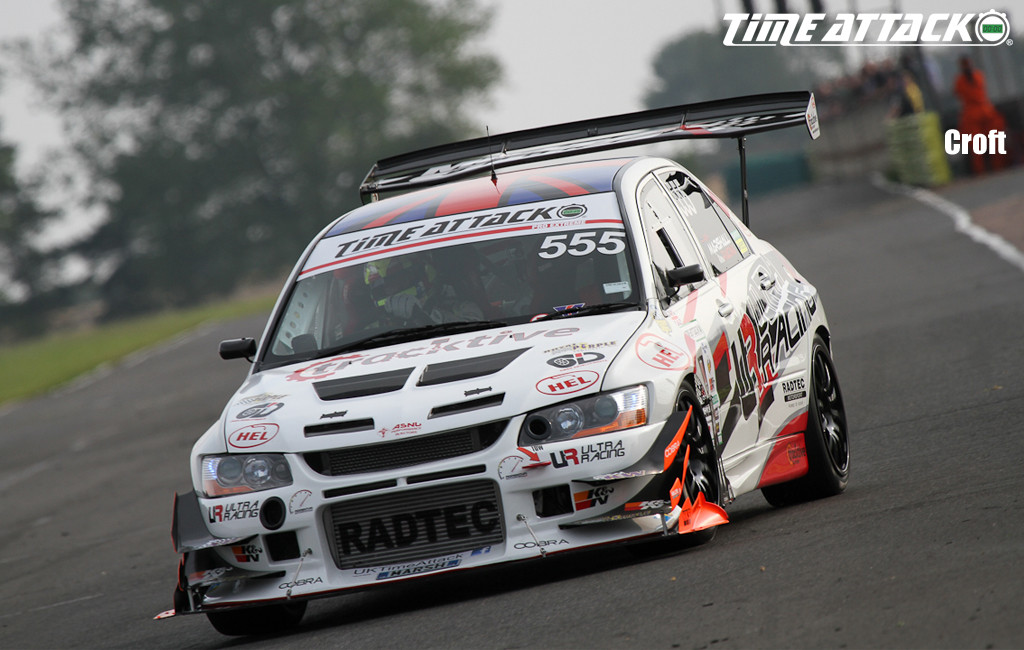 Where to start with Richard's awful day? Firstly, we were pleased to see Richard back in the pit lane. Our 2014 Pro Champion moved up to Pro Extreme this year, and after a bright start has missed the last few rounds. A technical issue ruined his day, preventing him from setting a single lap time. However, Rich did win the award for Best Presented Car at Rockingham, and if you've every looked around it closely, you'll know why. It is immaculate. We know the car is fast and Rich is a Champion driver. So hopefully we'll see him put in a performance to be proud of at Rockingham, the 10th anniversary event of Time Attack in the UK.
PRO
Kevin Jones : Jetstream Motorsport/KJR Noble M12 RSR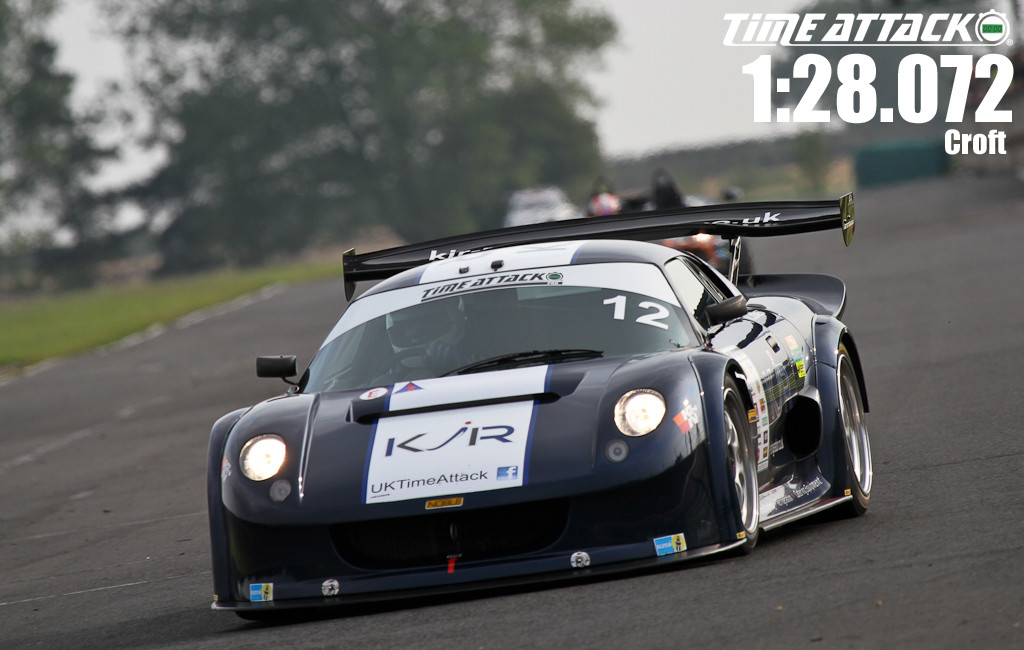 After getting to the bottom of his driveshaft issues recently, Kevin Jones has unstoppable. Since the last round, Kevin has been on the other end of a phone offering support to Club RWD driver Simon Roberts, as he attempted to rebuild his car in time. However, Kevin needed no help in delivering scorching lap times at Croft. He qualified in first place with a 1:29.641, before winning the final with his best of the day, a 1:28.072.
Lee Broadhurst : ABG Motorsport KTM X-Bow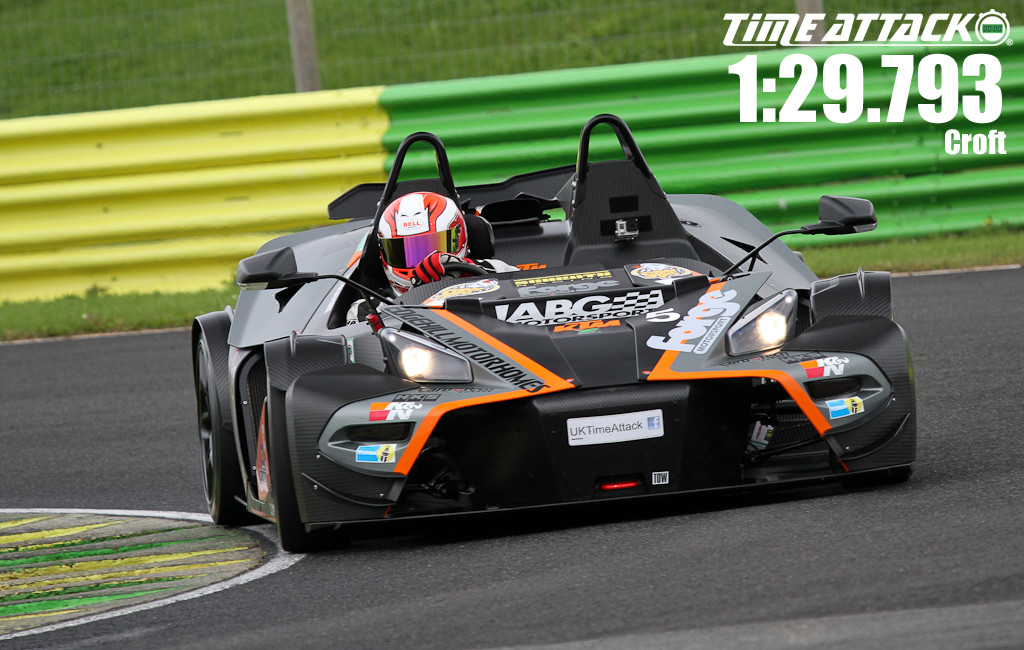 Lee was all smiles at the end of an exciting final session, not least because he decided to keep his foot in when his X-Bow went sideways onto the main straight. A smokey spin followed and Lee was clearly having fun exploring the limits. Lee couldn't quite match Kevin's pace at Croft but appeared to be getting everything out of his car. He qualified second with a 1:30.642, and finished in the runner-up spot with a best of 1:29.793 in the final. The track continued to dry all day and if there was another session directly after the final, we're sure Lee would have gone quicker again.
Classic & Retro PRO
Inaugural Classic & Retro Pro Lap Record!
Lloyd Wright : RSR8 Escort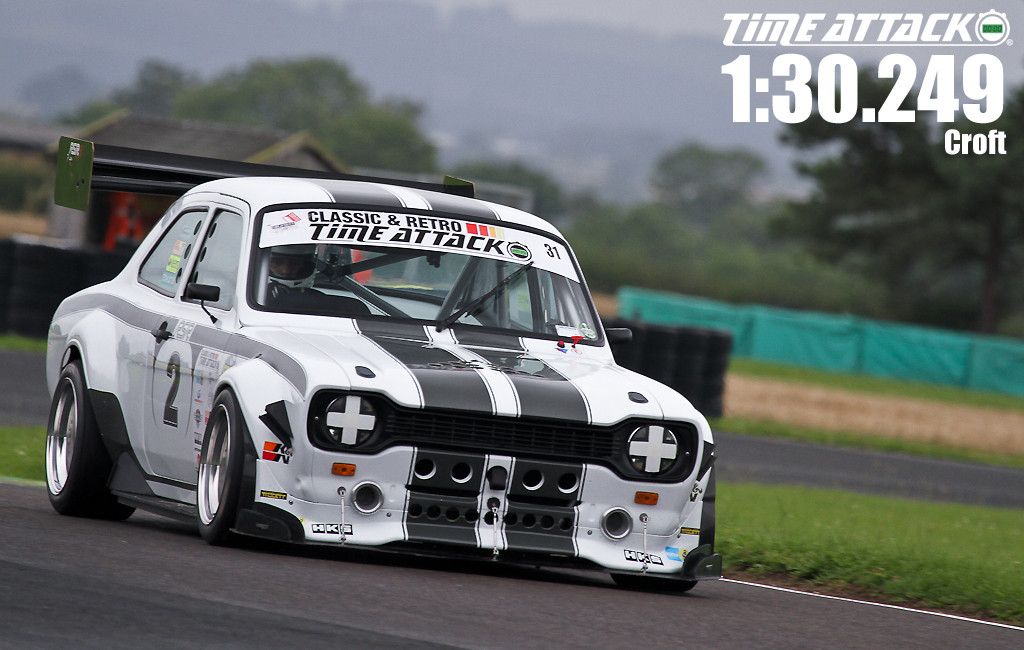 We were very impressed with Lloyd Wright's performance in his Escort RSR8. Under the bonnet is a high-revving V8 made from two Hayabusa motorbike-engines, transplanted from a Radical. So while it's awesome to watch in action, it doesn't have the torque that many of the turbo cars have. It's also very light, and it is the weight of the car that might have raised an issue at Croft, as Lloyd was surprisingly disappointed with his performance, despite getting close to the other Pro drivers. He had been testing the day before and completed similar lap times to his best at Time Attack, despite using old tyres and not driving 100%. Had the rain changed the grip levels? Does the fact Lloyd's car is so light, make it sensitive to track conditions with regard to getting heat into the tyres? Possibly. All we know is Lloyd is really getting stuck in to Time Attack now. He was quick and still left disappointed. Let's see what Rockingham brings, a track where light cars seem to do well.
Club PRO
2015 Club PRO Champion! – Russ Paton : HQ Garage Mitsubishi Lancer Evo VI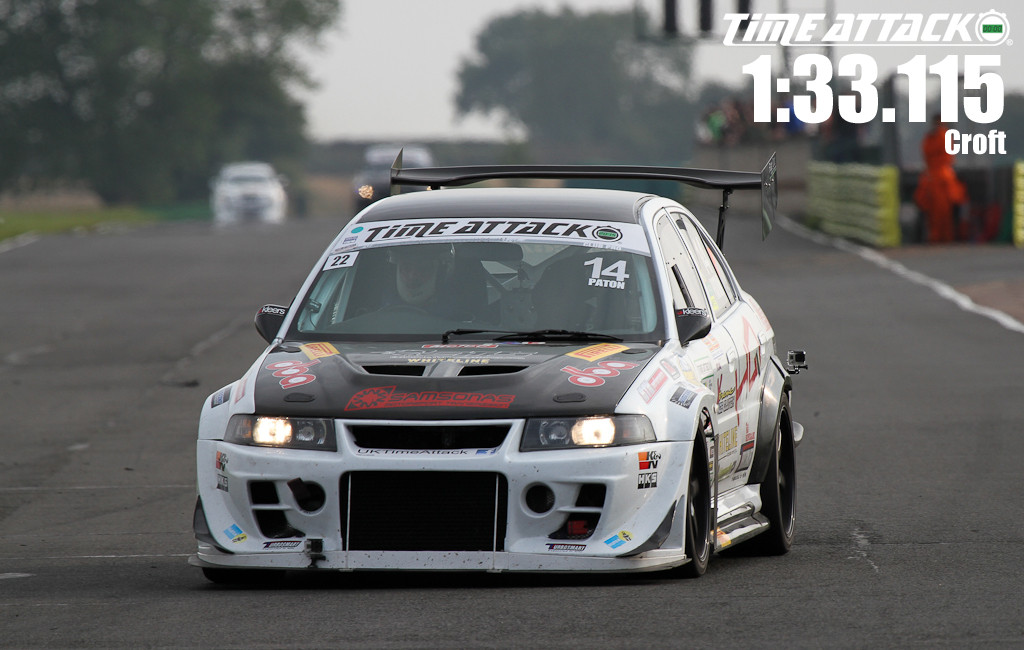 Huge Congratulations to Russ Paton in the HQ Garage Mitsubishi Lancer Evo VI. The Scotsman is the new 2015 Time Attack Club Pro Champion, after qualifying in second place and winning the final at Croft. That 14 point haul means Russ cannot now be beaten. If you do the calculations, Jonny Fletcher can theoretically equal Russ' points if he has a perfect weekend at Rockingham and Russ has the opposite, however Russ has won more Finals (3 vs 0) – crowning him Champion with one round to go. A well-deserved victory for the chap who has helped out behind the scenes at Time Attack rounds, and managed to rebuild his car and his Time Attack dreams following a nasty accident at Brands Hatch a couple of years ago. On the day, Russ was Mr.Consistent again, despite an imploding power steering pulley that was quickly fixed in time for the final session with parts kindly supplied by AP Tuning. Russ set a best of 1:33.898 on his last qualifying lap, before a 1:33.115 on his last lap in the final. Well done Russ and everyone at HQ Garage.
Ronnie Amis : Airtec VW Golf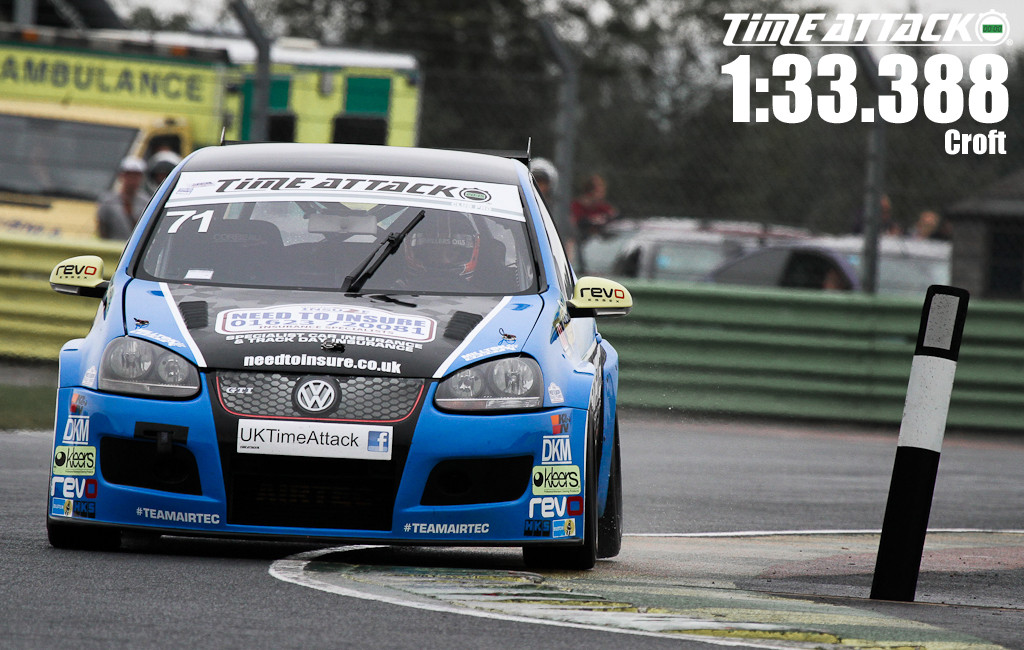 It was a frustrating day for Ronnie Amis. After battling illness to even be at Croft, initial checks revealed the car had somehow been injured on the way to the circuit. A leaking radiator and cracked alternator bracket got the team into action, and they fitted spares in time for Ronnie to make the early sessions. He was flying, topping the timing sheets in both Warm-Up and Practice. He then won a hard-fought battle in qualifying against Russ (1:33.388 vs 1:33.898) to grab the full 5 points, before disaster struck. Power Steering rack failure was found after qualifying. The team tried to fix it before the Final, but with a short turnaround between sessions, they simply run out of time. Disappointing for Ronnie on the day because he appeared to have the pace, and in terms of the Championship standings.
Jonny Fletcher : GR Performance Vauxhall Astra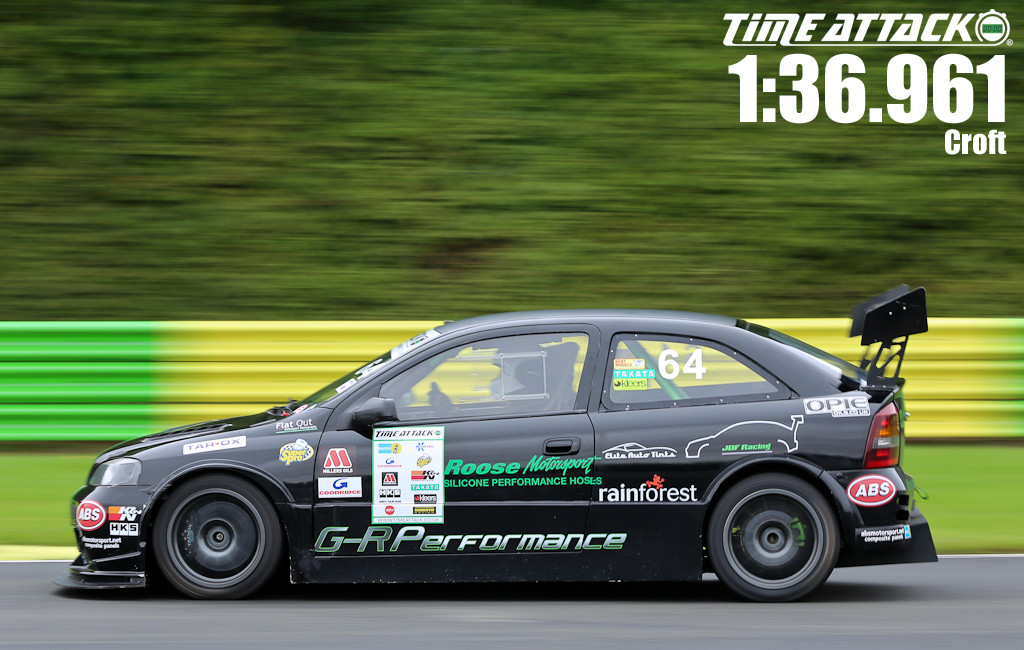 Some top work by both GR Performance and CR Turbos got Jonny Fletcher's Astra ready for action in time for Croft. It's been a mixed bag for Jonny since moving up from Club FWD to Club Pro, but he's enjoying the challenge. After settling himself in during the Warm-Up and Practice sessions, Jonny went straight into qualifying and set a banker lap (1:42.148). This proved to be extremely valuable, as he suffered an inner CV joint failure just as he was winding up for a hot one. His banker was good enough for third place and 3 important points. Jonny's team quickly swapped the whole driveshaft over, with help from Pocket Rocket competitor Adam Barnett and his team, just in time for the final. Sadly, as soon as he started his first flying lap he lost fourth gear. Jonny completed the rest of the session by shifting from 3rd to 5th and vice-versa. He somehow still managed a 1:36.961, good enough for the runner-up spot on the podium and an extra 9 points. Jonny is now in with a real shout of second place in the Championship. Who will end the season with the unofficial title of fastest 2WD in Club Pro? Be at Rockingham to watch the fireworks.
Lee Mabbett : Se7en Motorsport Toyota Corolla T-Sport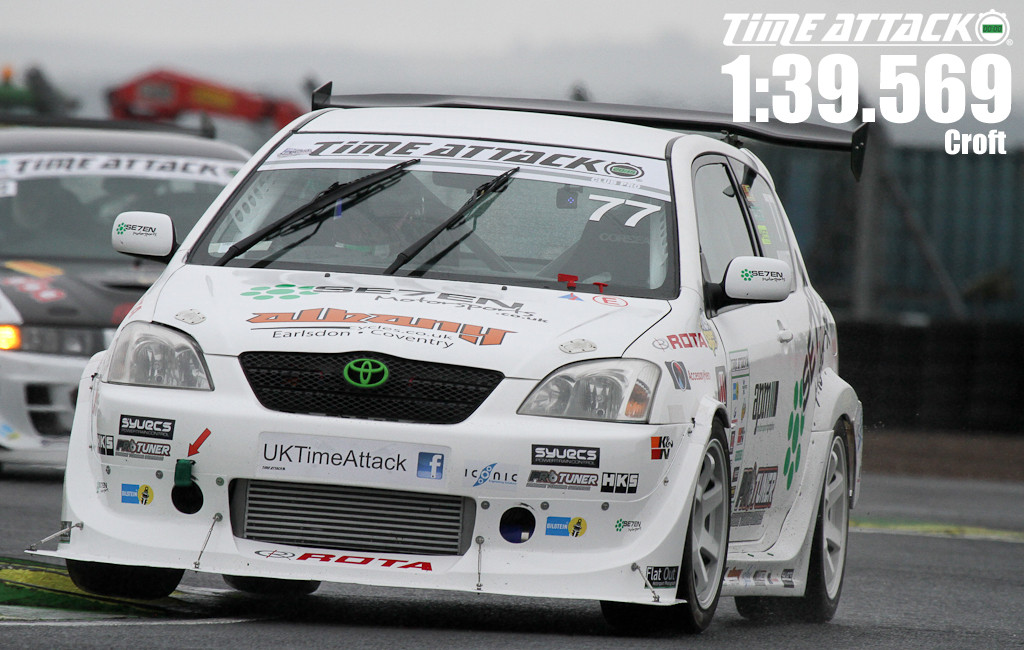 There was definitely a sweeter exhaust note coming out of the back of Lee Mabbett's Toyota Corolla at Croft. Or perhaps we should say angrier? There was indeed a new tune on the car, but it's still down on power as the back-up engine remains in place of the sleeved block the car should be running with. The Rotrex-supercharged 1.8-litre 2ZZ engine is still at least 100bhp down on it's competitors at the moment, according to estimates from the Se7en Motorsport team. This isn't the full spec they intended to compete with at the start of the year and Lee has driven the wheels off it to remain competitive. After some mechanical gremlins early in the day, Lee really got into the swing of things and for a long time he was second in the final, until Jonny Fletcher pulled a bit more time out of the bag. A strong performance that can't be judged on lap time alone.
Click here to view the Championship Points Table
To buy tickets for the final round of the 2015 Time Attack Championship at Rockingham, click here – They're only £10 if you buy early!
It's not racing.. it's TIME ATTACK!