Club 4WD
[S.R.E] Martin James : Nissan GT-R

A new face in the Time Attack pit lane, Martin James was immediately on the pace in his Litchfield-tuned Nissan GT-R. He stunned everyone by pumping in a 1:33.752 on his first lap in the WarmUp, over 7 seconds faster than he closest Club 4WD rival in that session! Was it a case of too much too soon? Perhaps. Martin was double-driving his Ariel Atom in Club Pro, but despite switching between the cars, he was fast in both. He took his GT-R to fastest time of 1:32.282, the fastest Club 4WD car in qualifying. However, Martin didn't go out in the Final. The oil pressure gauge was showing some strang readings, so rather than gamble it was a faulty gauge or sensor, Martin decided to retire the car. His GT-R was running 1bar of boost on the day for 810bhp, and the car weighs 1,710kg wet. A very interesting car and driver to watch, hopefully we'll see Martin out again before the end of the season.
Josef Calleja : Subaru Impreza

Josef flies into the country for each Time Attack round, so it's great to see his commitment being rewarded with maximum points at Oulton Park. He was fastest of the Championship contenders in both qualifying and the final. Josef has John Felstead and Simon Stanley from his Chevron Motorsport support team to thank for some important tweaks, not least the brakes. Josef admits it's taken the car to another level. He saved full boost for qualifying, where he set his fastest time of the day before the rain came in the final. With the absence of Damien Bradley, it was the perfect time for Josef to take home all 15 points. He is now co-leader of the provisional Championship standings with two rounds left (and one round score to be dropped).
Simon Griffiths : Mitsubishi Lancer Evo III

It was a tough day for Simon all round. He had never driven Oulton Park before, plus he was nursing a poorly gearbox and clutch. In qualifying that meant that even on his hot lap, his fastest time of the day, Simon couldn't select 4th and struggled to get it into 5th. Not ideal when you're pushing hard on a new track! Simon admits he set a banker lap in the final to score some important points but there was no point trying to chase Josef with a poorly car. Still, he managed 13 valuable points and is looking forward to fighting it out with Josef at Croft on Saturday 22nd August. The Club 4WD Championship is perfectly poised with both Josef and Simon co-leaders, with one round score to be dropped at the end of the season.
Club RWD
Umar Masood : Mazda RX-7

Umar Masood made it a hat-trick of wins in the final, with a stunning lap that was only bettered by Club 4WD winner Josef Calleja. His 1:35.103 in a session where the rain started to come down, was over 6 seconds faster than his closest Club RWD rival! Incredibly, that was marginally faster than the 1:35.174 Umar recorded in a dry qualifying session. Umar takes the maximum 15 points away from Oulton Park, and makes it a hat-trick of wins in the final too. This means he's overtaken Simon Roberts at the top of the Club RWD Championship points table, with each competitor still to drop their lowest round score at the end of the year. It's going to be an exciting end to the season with just two events left!
Anthony Woo : Nissan 200SX

Anthony Woo is starting to deliver on the potential we see in his Eurospec-tuned Nissan 200SX. He was second fastest overall in Club RWD thanks to a 1:37.717, which also landed him second place in Club RWD qualifying too. Anthony didn't set a time in the final, which will disappoint him. Let's hope it's nothing serious and he's back out at Croft on Saturday 22nd August.
James Pinkerton : Mazda RX-7

James Pinkerton qualified in third place in Club RWD, with his fastest time of the day (1:38.246). He then improved upon that, taking the runner-up spot in the final (1:41.464). So a total of 12 Championship points for the Mazda RX-7 driver, his best performance in Time Attack so far.
Simon Roberts : Noble M12 GTO3

The distinctive green Noble was sadly missing from the timing screens for most of the day. Just 15 minutes into the 20 minute practice session, the engine expired. Simon was understandably very disappointed about it because he was leading the Championship points table. Now the race is on to get the car ready for Croft. We hope he can make it.
James Procter : Nissan 350Z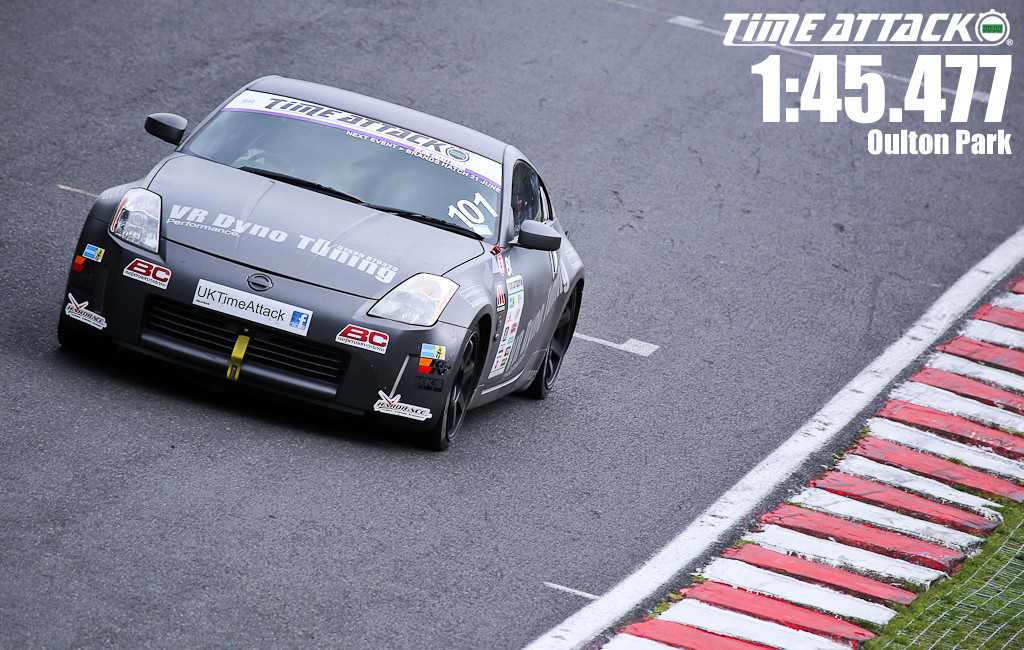 James Procter was missing from the qualifying session but returned to set a 1:45.477 in the final. However, his earlier absence suggests something was not quite right and we suspect this isn't a representative lap time. Hopefully James will be at full strength for the next round at Croft.
Club FWD
New Club FWD Challenge Lap Record!
Neil Wrenn : Honda Civic

We could probably write an entire report just on Neil's day, it was that eventful. It began with a slight "off" that damaged the front splitter and continued with Neil driving to Stockport to grab an engine mount and shifter bush! Returning just in time to get the car fixed, Neil went out and did the unexpected; he set a new Club FWD lap record! This was his fastest time of the day. Neil finished in the runner-up spot in the wet final session, admitting he made a few mistakes on his best lap. Still, a new lap record in arguably the most competitive class in Time Attack this year is something Neil can be very proud of.
Marc Donnelly : Ford Escort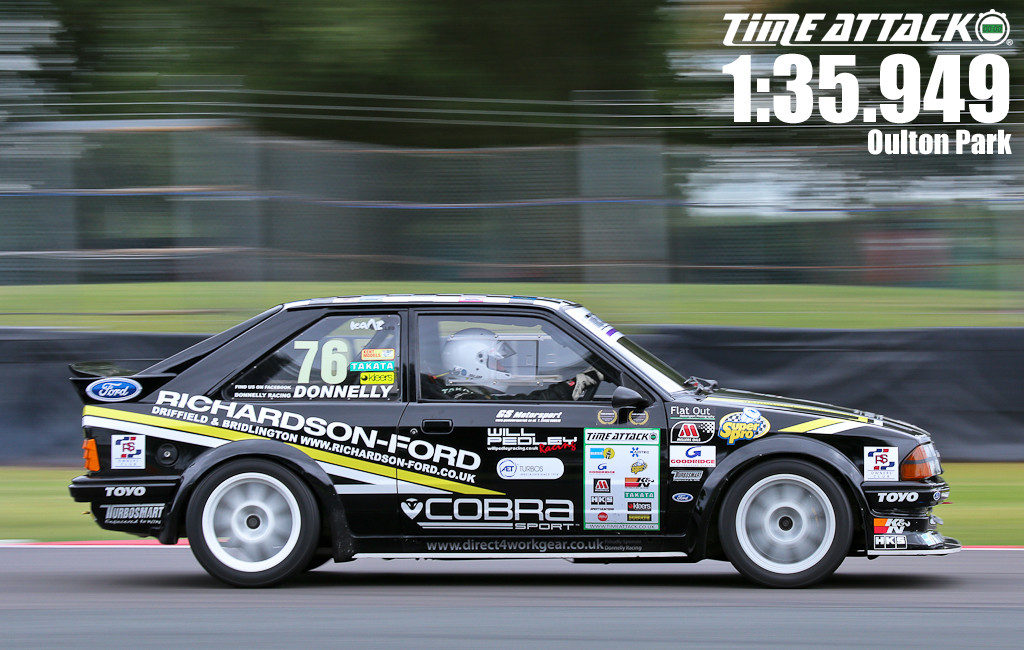 With his gearbox fixed since Brands Hatch, Marc had the confidence to really press on at Oulton Park. He looked on it from the word go, breaking the previous Club FWD lap by 1.5 seconds in the warm up! With the brakes bled, Marc went another half-second faster in Practice (1:36.507). He qualified in second place (1:36.321) before making a smart decision in the final. With the rain starting to come down at the start of the final, Marc decided to go out hard early and was rewarded with his fastest time of the day in the final (1:35.949). A well-deserved win, surprisingly it was Marc's first win since Knockhill last year.
Darren Spooner : Peugeot 205

Darren's Peugeot sounded awesome all day. Perhaps a little too awesome for the noise police, as Darren had to take step to quieten his 1.6-litre turbocharged 106-engined 205 down. Darren set his fastest time of the day 1:37.388 in the final, grabbing third place in both qualifying and the final to take a well-deserved place on the podium.
Martyn Henry : Vauxhall Astra

Martin was happy with 4th place in the final, considering it was his first time at Oulton Park and the strength of the opposition. Brake issues kept him out of the qualifying session, but he still took 7 points away and is looking ahead to Croft.
[S.R.E] Nigel Brown : Mini Cooper S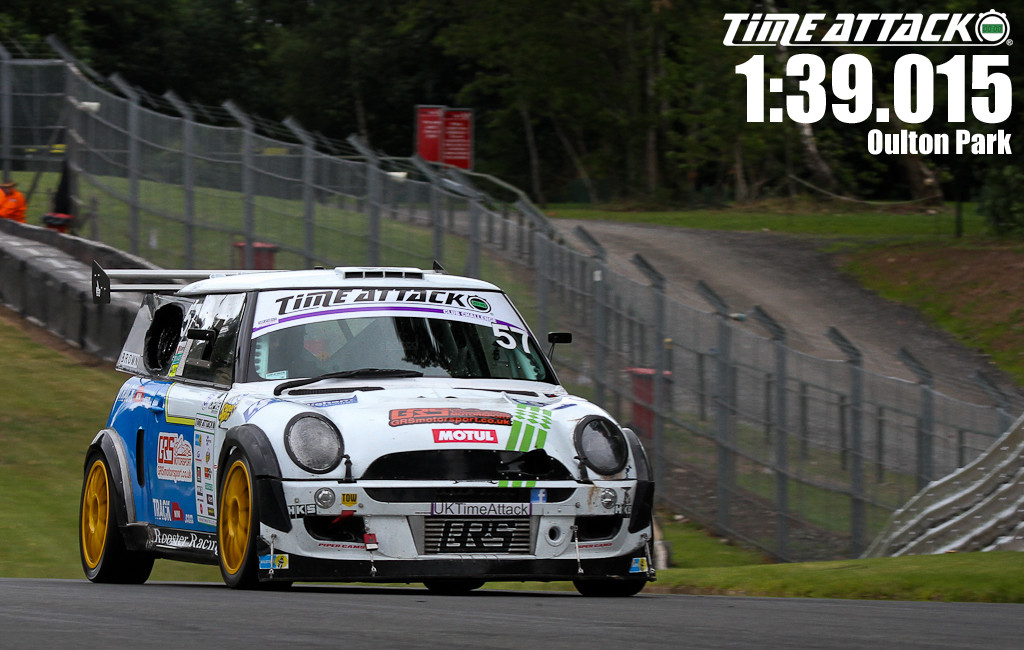 Nigel Brown's Mini is a crazy-looking beast, especially from the rear with it's rear-mounted rad and fans. He recorded a best of 1:39.438 in the final.
Paul Waddington : Honda Civic

Driving a naturally-aspirated K20-powered Honda Civic against the turbo cars, Paul Waddington has his work cut out this year. Even so, he did himself proud. Paul recorded his best time of the day in qualifying, finishing in a credible fifth place. He went on to finish seventh in the final (1:41.212).
Dan Lewis : Renault Megane

Dan and his stealthy matte Megane qualified in sixth place (1:40.395), before grabbing the same position in the final (1:40.513).
Adrian Daniel : Vauxhall Astra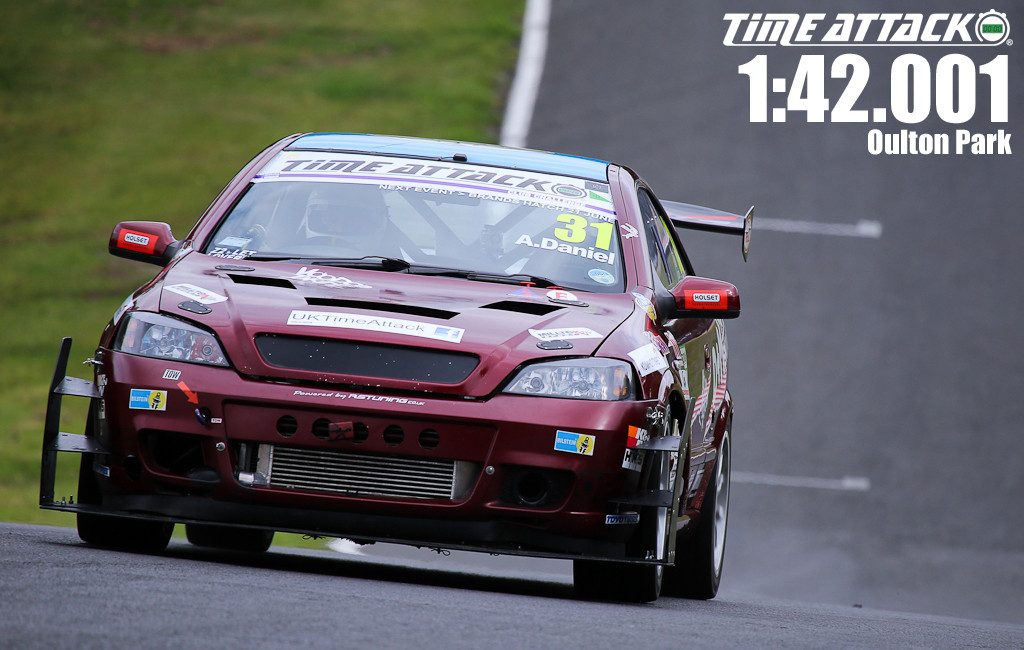 Turbo specialist Adrian Daniel qualified in seventh place (1:42.001) with his first hot lap of the session. He went marginally slower in the wet final (1:42.793).
Jeff Alden : Vauxhall Astra

Jeff's Saab B204-engined Astra continues to evolve and he gets faster with each event. The Book Club Racing team worked all day to cure the oversteer issues that first appeared at Brands Hatch. By the time qualifying came around they had a good setup. Then an engine mount snapped and stopped their fun. Expect Jeff and his Astra to be much more competitive at Croft on the 22nd August.
Antonio Giovinazzo : Alfa Romeo 155

The Giovinazzo brothers were there again, with cheery faces as always! They had replaced the fault "3-speed" gearbox in their D.I.Y turbocharged 4-cylinder twinspark Alfa 155. Antonio was unusual in that he went faster in the light rain than he did in the final, taking a huge six seconds off his qualifying time to record a 1:50.966 on his final lap of the day.
It's not racing.. It's TIME ATTACK!