Clubman+
Inaugural Clubman+ Lap Record!
Jonny Roose : Mitsubishi Lancer Evo VIII

Jonny Roose continued his winning form, taking home maximum points from Oulton Park in Clubman+. After testing on the Friday and a slow build-up in the morning sessions, Jonny fitted new tyres and increased the power for qualifying – where he set a best of 1:36.861 to grab first place. He gave everything the car had in the final, and with a tyre pressure adjustment halfway through the session, went out and blasted in a 1:35.505, taking home all 15 points.
Mark Flook : Nissan GT-R

The daily-driven Nissan GT-R of Mark Flook topped the timing sheets during the morning warm up session. He finished less than a second behind Jonny in both qualifying (1:37.104) and the final (1:36.158). However, with consistent performances all year long in his Eurospec-supported GT-R, Mark only needs to register points in qualifying and the final at just one of the last two remaining rounds, to win the first ever Clubman+ Championship!
[S.R.E] Karl Wilson : Noble M12

The number on Karl Wilson's Noble M12 GTO3 is the same as the build number on his car, 127. He was third fastest in qualifying (1:39.400) in his Silver Fern Performance-supported Noble, and fourth fastest in the final (1:39.807). Karl took home the trophy for fastest Single Round Entry in Clubman+ too, so a good day all round.
Alan Shepherd : Ford Focus RS

Alan set the fastest front-wheel drive time in Clubman+ at Oulton Park while qualifying in fourth place. When the rain came down in the final he jumped up a place to third, perhaps surprisingly so considering the track offered less grip. Alan recorded a 1:39.508 to claim a step on the Clubman+ podium.
[S.R.E] Mark McManus : Seat Ibiza

With a Forge front-mounted intercooler clearly on display and chunky rubber, Single Round Entry Mark McManus and his Seat Ibiza meant business. He was pretty much one second slower than fellow S.R.E Karl Wilson in the Noble, which is pretty impressive when you consider the performance difference between the two cars in standard trim.
Leigh Jordan : Mitsubishi Lancer Evo V

You could imagine pulling up at a set of traffic lights next to Leigh Jordan and his clean Lancer Evo V. It's exactly in keeping with the Clubman+ "lite-tuned" ethos. Leigh set his fastest time of the day in qualifying, going only marginally slower when the rain came in the final (1:43.596).
Clubman
Inaugural Clubman Lap Record!
Ollie Novell : Toyota Corolla T-Sport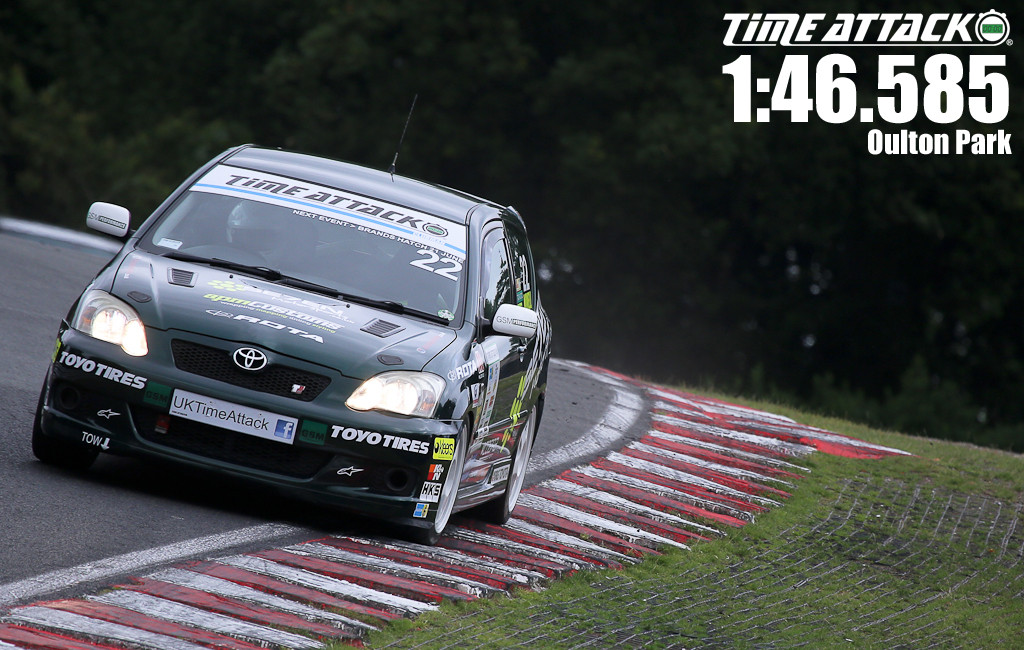 Ollie recorded his third maximum points score of the season, topping qualifying (1:46.749) and winning the final (1:1:46.585). His new clutch and flywheel only arrived on the Wednesday before the event, and he ended up bedding it in during the drive up to Oulton Park. That's what Clubman is all about; these are all genuine road-driven cars, and Ollie was the fastest. With just two rounds left, Ollie is closing in on the inaugural Clubman title.
[S.R.E] Chris Atkins : Renault Clio

Chris had a nightmare week leading up to the event. He had to rebuild the gearbox and cancel the test day he had booked on Friday. His difficulties continued as he payed with tyre pressure all day, without finding the sweet spot – and then a yellow flag ruined his best lap in the final. Chris set the second-fastest times in both qualifying (1:47.250) and the final (1:47.741). So considering his problems, that was a good result.
Jon Ellis : Mini Cooper S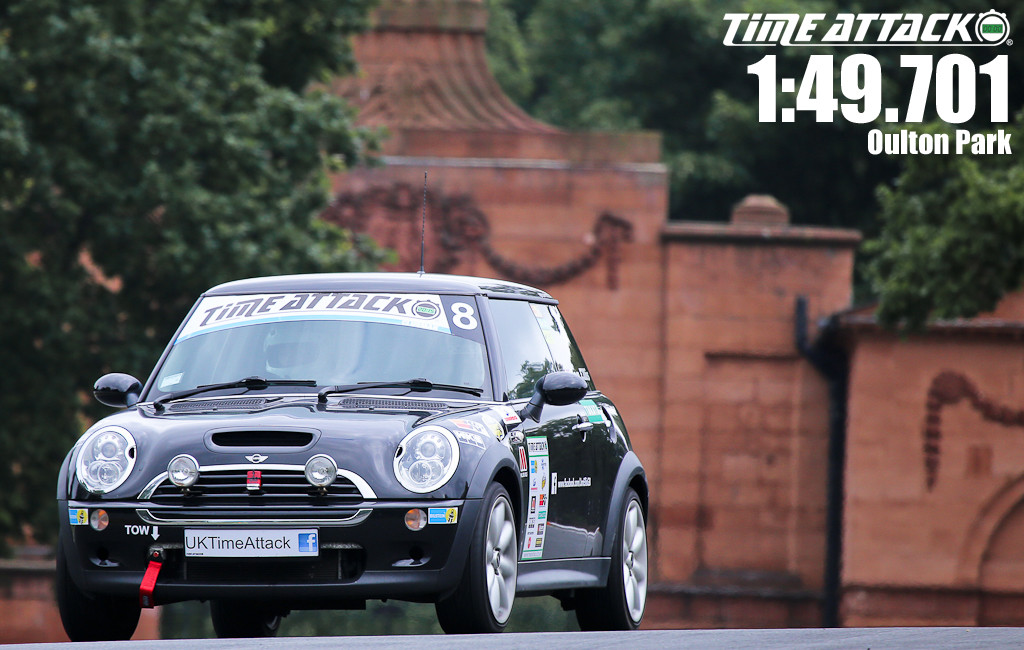 Another Time Attacker that had never driven Oulton Park before, Jon Ellis found himself battling with brake issues all day – sitting out the Practice session while he tried to solve the problem. Jon set a 1:51.926 in qualifying, and his fastest time of the day in the final (1:49.701).
Pocket Rocket
Inaugural Pocket Rocket Lap Record!
Stewart Summers : Citroen Saxo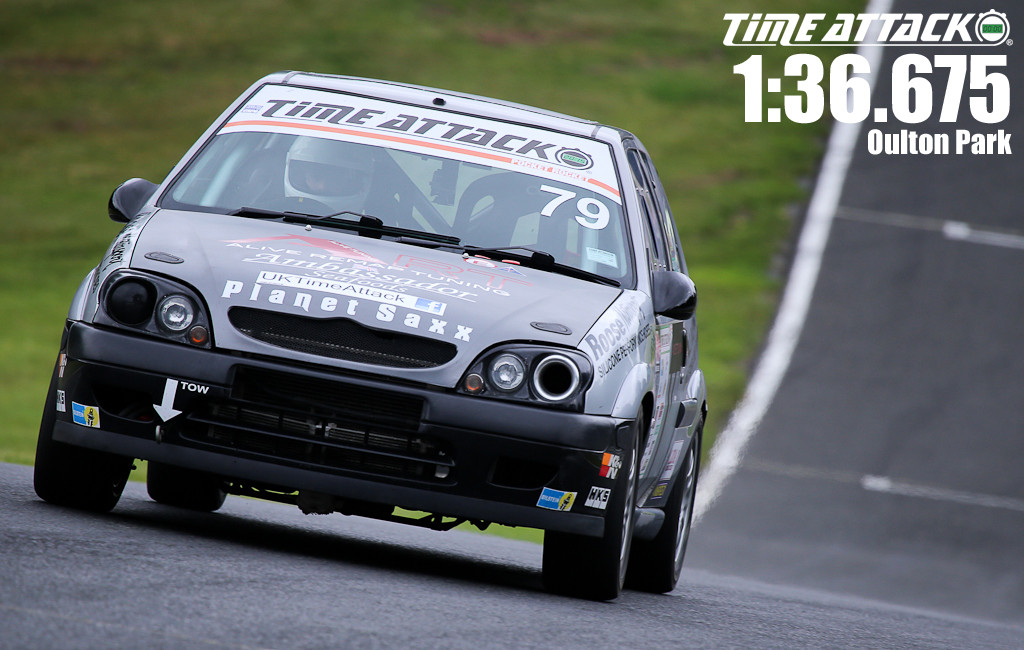 One of the drives of the day. Stewart's supercharged Saxo has 200bhp at the wheels, over 100bhp less than Richard O'Dwyer's Mini for example. It's light, short-geared and Stewart can clearly get the best from it. He wasn't even expecting to be on the podium at Oulton because of the long straight sections. In the end, his times would have been good enough for third place in Club FWD qualifying and final! Stewart qualified in first place with a 1:37.238 before winning the final (1:36.675), to take home the maximum 15 points and retain the provisional Championship lead with two rounds remaining.
Richard O'Dwyer : Mini Cooper S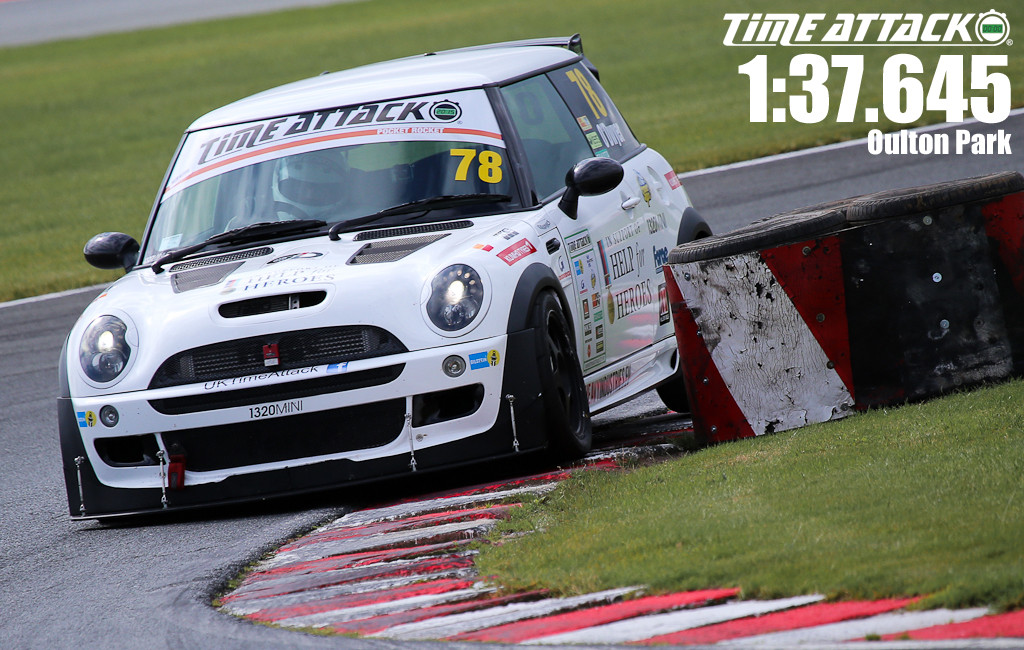 Richard was another driver that struggled with hot brakes at Oulton. With a set of new tyres and some strategic brake bleeding, he wanted to push on. Having to work in burst of a few laps at a time, Richard set a 1:39.348 in qualifying to grab second spot, before ending the session early to save his brakes for the final. When the final arrived, Richard pumped in some 1:38s and 1:39s before some cool down laps and a last throw of the dice. With the brake pedal feeling less than great, Richard gave it all and was rewarded with a 1:37.645 – his fastest time of the day and good enough for second place. It's also a healthy 13 point score, so if Richard can remain reliable and quick, he'll jump up the Championship leaderboard once the dropped rounds are taken into account and he can eliminate his 0 score from Cadwell Park.
Tim Kite : Mini Cooper S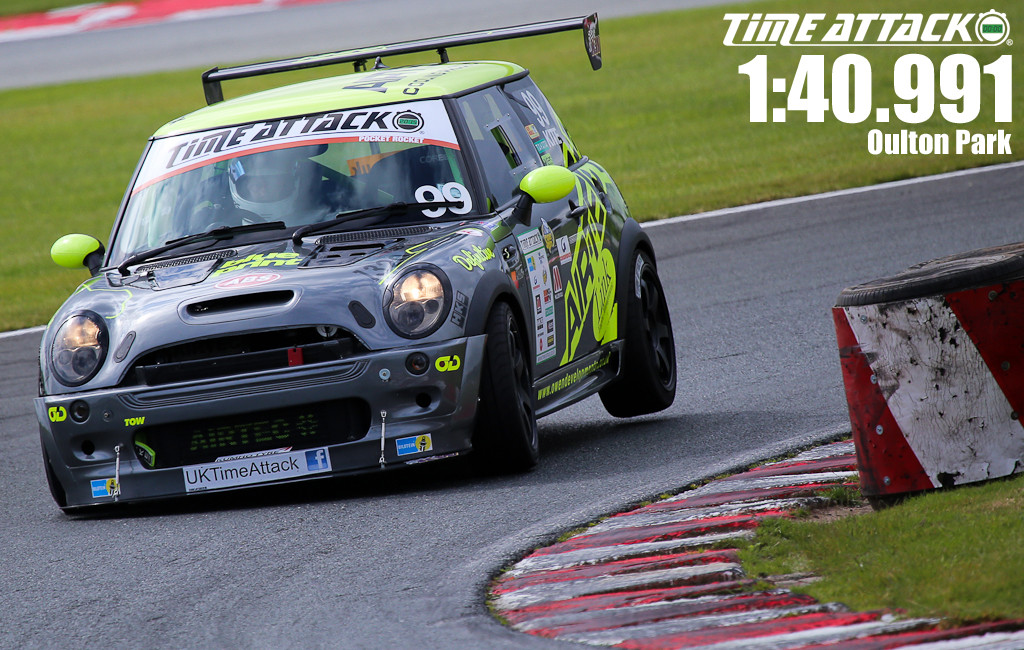 Team Radio came in handy for Airtec/1320Mini turbo driver Tim Kite at Oulton Park. He was on a cool-down lap when his team told him that Robert Oldman had just beaten his time. So Tim went for one more hot one and managed to beat Robert by 0.396 of a second with a 1:41.180, to grab third spot. In the final, Tim hit traffic during the drier early stages, so had to do it the hard way. He fought his way around an increasingly wet track to over-turn the 0.1 second advantage that Robert Oldman had over him. Once more the radio call was all the inspiration he needed, as Tim recorded a 1:40.991 to grab the third spot on the podium.
Robert Oldman : Ford Fiesta ST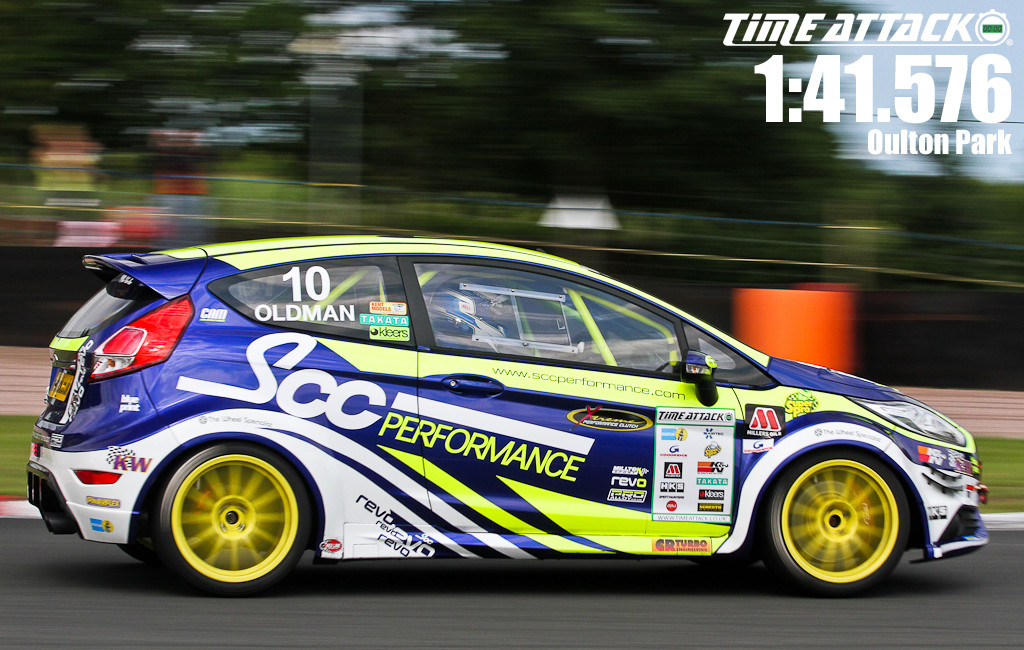 Robert had an epic battle with Tim Kite all day, in his SCC Performance Ford Fiesta. He was pipped to third place both times but still managed 9 important Championship points. REVO had helped to sort out the boosting issues he suffered at Brands Hatch, but Robert reckons he's still down on power and heavier than the front-runners in the class. Even so, he was definitely on the pace. He set a 1:41.576 in qualifying, followed by a 1:42.473 in the final.
[S.R.E] Carl Owen : Ford Fiesta ST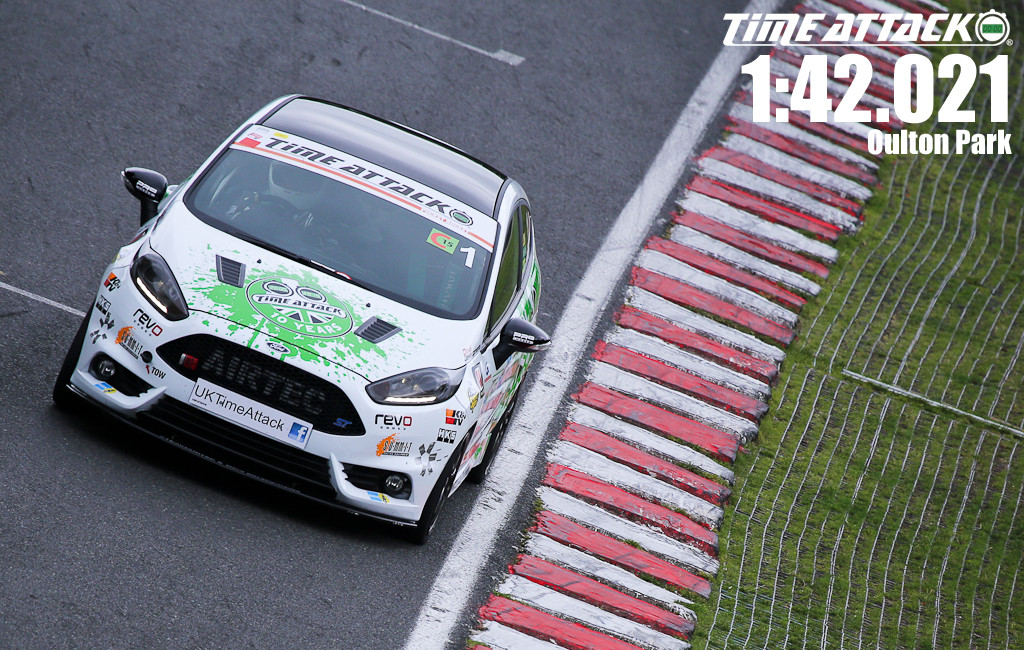 Trackdriver editor Carl Owner joined us at Oulton Park, in the 10th Anniversary Time Attack Fiesta by Airtec. Being new to the car and in a competitive class, it was always going to be tough for Carl, despite his racing experience. Even so, he did himself proud. Carl qualified fifth with a best of 1:43.030. He made up a place in the final, recording a 1:42.021 to grab fourth place in Pocket Rockets with his fastest time of the day.
Adam Barnett : Mazda MX-5

It was a frustrating day for supercharged MX-5 driver Adam Barnett, depsite looking quick in the early warm up session. The engine in Adam's car suffered form high inlet temperatures. The bottom line being he was about 80bhp down, with only a calculated 170-180bhp available.  Adam was therefore restricted to single hot laps, having to let the car cool down inbetween. Throw in some unlucky yellow flags on his best laps, and Adam probably should have stayed in bed! We're glad he didn't though. His car is a great example of the diversity of these daily-driven Pocket Rockets. Adam qualified in sixth place with a 1:44.281, before setting a best of 1:45.260 for seventh place overall. He's bumped up one spot in terms of points in each session however, thanks to the fact Single Round Entry Carl Owen cannot score Championship points.
Sam Weller : Peugeot 106

Sam Weller got to close to Adam Barnett's time in qualifying, and then beat him in the final. A very decent performance considering he's arguably out-gunned by his turbo and supercharged rivals. Sam set a best of 1:44.964 in qualifying, followed by a 1:45.176 in the final.
Ali Arshid : Suzuki Swift

Ali Arshid continues his first steps into Time Attack competition in his supercharged Suzuki Swift. He set a1:51.447 on his last lap in qualifying, and a 1:51.406 in the wet final. So that suggests he was getting quicker as the day went on, regardless of the track becoming slower.
Classic & Retro Club
Inaugural Classic & Retro Club Lap Record!
Jeff Whitbrook : Charade GTI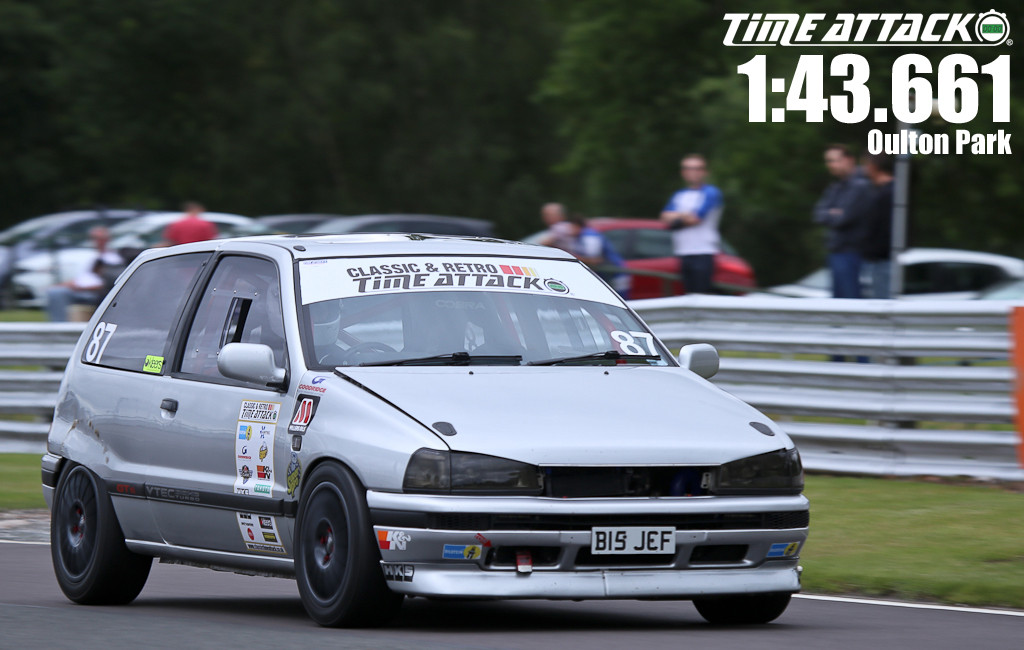 There's something very aggressive about the front-end of Jeff Whitbrook's Honda-engined Daihatsu. Yes, we did say Honda. More specifically, there's a 1.8-litre turbocharged B18C4 engine under the bonnet, which probably explains how he could outrun the Cossie YB-engined Sierra XR4x4 of his rival Alan Tolley! Jeff recorded a 1:45.396 in qualifying, followed by a 1:43.661 in the final. Meaning the Championship fight is nicely poised with Jeff having the smallest of advantages, with two rounds remaining.
Alan Tolley : Ford Sierra XR4x4

The TNT Racing Sierra lost third gear on the first lap of the warm up at Oulton Park. The Championship fight is close, so Alan pushed on and drove the rest of the day shifting straight from second into fourth! Driving this way, he set a best of 1:52.338, which is an impressive time considering the problem. When the final came around, the competitor in Alan came out. He couldn't resist going for third again and with some effort, he could use it momentarily. The result was a lap time six seconds quicker (1:46.708), and a tow back to the pits! Still, Alan and TNT had managed to score 13 important points from a day that could have ruined their Championship there and then. Let's hope they get it repaired in time for the next round at Croft, on Saturday 22nd August.
It's not racing.. It's TIME ATTACK!