It's been a couple of years since Time Attack was last at Oulton Park, and several more since we used the Island circuit. This is the 'middle' length track of three track different layouts at Oulton, replacing a couple of corners at the far end of the circuit with a hairpin bend that links the straights of Lakeside and Hill Top.
We got lucky with the weather, well almost. It was bright and warm for most of the day until rain showers began during the Finals, which made the fight for points very interesting – and meant that those who went out hard early on in the day, were more likely to take home a lap record. Listed below in order of their fastest time of the day, here's how our Pro Extreme, Pro, Classic & Retro Pro and Club Pro drivers got on:
PRO Extreme
New Pro Extreme & outright Time Attack Lap Record!
Gareth Lloyd : SVA Imports Mitsubishi Lancer Evo VI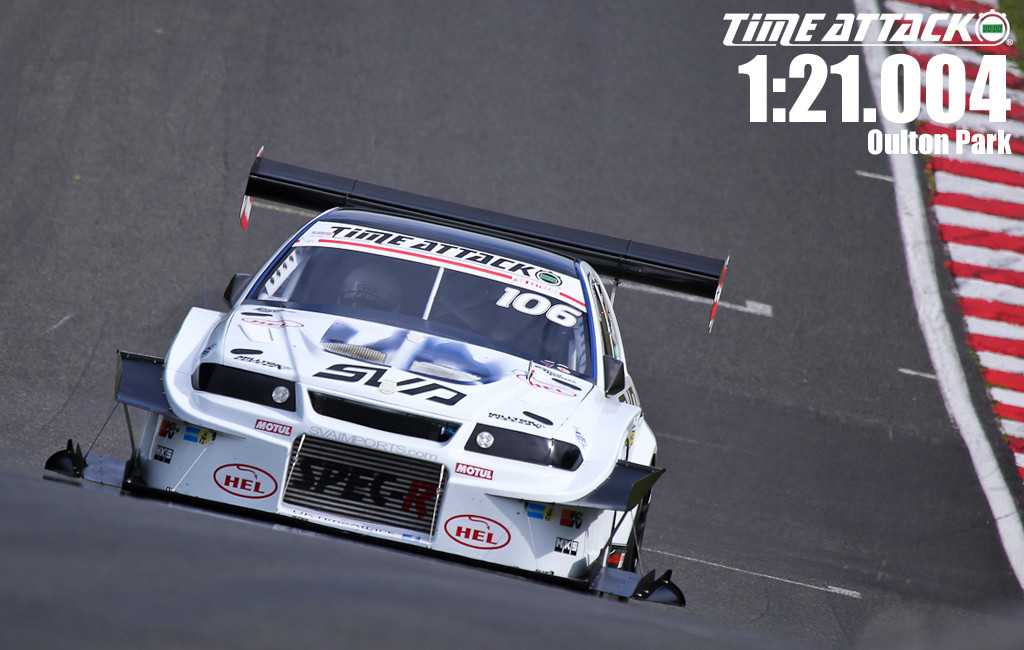 We were expecting big things from Gareth Lloyd and we weren't disappointed. There was another batch of new aero on the SVA Imports Mitsubishi Evo – the most obvious being new wing-end plates on the front splitter – as the car continues it's bodywork transformation in the build-up to the World Time Attack Challenge in Australia, later this year. The team were also continuing the development of their bespoke Nitron Suspension setup, experimenting with different spring rates throughout the day.
Gareth has been an instructor at Oulton Park for many years, so we we knew he would be fast. Bizarrely however, this intimate circuit knowledge started working against him. Gareth admitted the aero is now so effective that he's having to fight his instincts to brake or lift off the accelerator, effectively forcing himself into a situation where he feels he's going to crash. If he doesn't do that, then he's probably leaving time on the track. This is life at the sharp-end behind the wheel of record-breaking Time Attack car.
Starting out in the Warm-Up with a best of 1:25.269, Gareth and SVA were immediately a couple of tenths faster than the outright Time Attack lap record. When Practice came they went even faster. Much, much faster. Without all the toys (anti-lag, nitrous oxide injection, etc) and with the boost still turned down (SVA tend to save full-boost until the points-scoring sessions), Gareth lapped Oulton Park Island in an amazing 1:21.004! The crazy thing is the team believe they can go much faster but thanks to the rain that will have to wait for another day. Gareth set a 1:21.032 to qualify in first place, while taking it easy to ensure the team recorded points without stressing the car. Then the rain came. Interestingly, Gareth seemed most proud of the 1:22.053 lap he set in the Final. On a wet track with slick tyres, Gareth was just one second slower than his earlier record-breaking dry lap! Highlighting the potential the team believe the car had. Very impressive driving from Gareth all day, who delivered the speed on request all day long.
Andy Demetriou : Drenth Motorsport / IPVDX "Black Mamba" Mitsubishi Lancer Evo VIII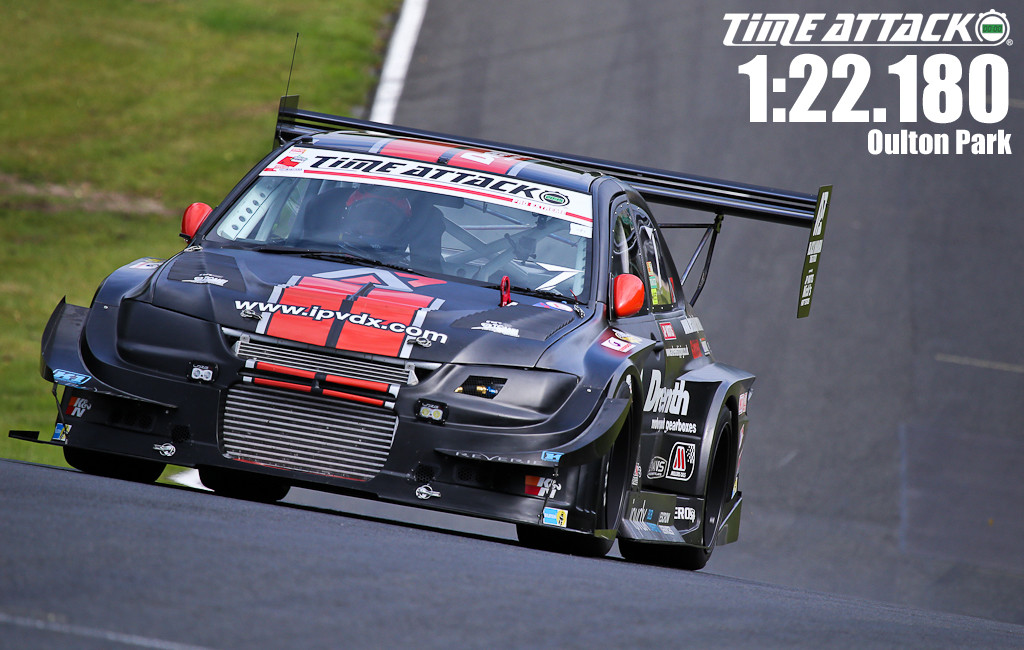 Disaster struck the 'Black Mamba' and Andy Demetriou at Oulton Park, but not before they could twice smash the Time Attack lap record and beat a British Superbike! Andy never wastes any time getting on the pace and immediately took a second and a half off the previous outright Time Attack lap record, with a 1:23.868 on his first hot lap of the day in the warm up. He bettered this in Practice (1:22.180) and for a while held both the Pro Extreme and outright lap records. Later in the day he won a lap-time battle with Australian Jed Metcher on a PR Racing British Superbike, as part of the Tunerfest North show. Sadly the day did not end so well. The Drenth Motorsport/IPVDX team had suffered one engine failure just before the event. After rushing to fit the spare engine in time, the replacement engine then failed shortly after the Time Attack against the bike. We wish Andy and the team well. Let's hope he'll be back at Croft for Round 5, as he was clearly in great form and the team believe there was plenty of lap time still to come.
Phil Reed : Ross Sport / AP-Tuning Mitsubishi Lancer Evo VI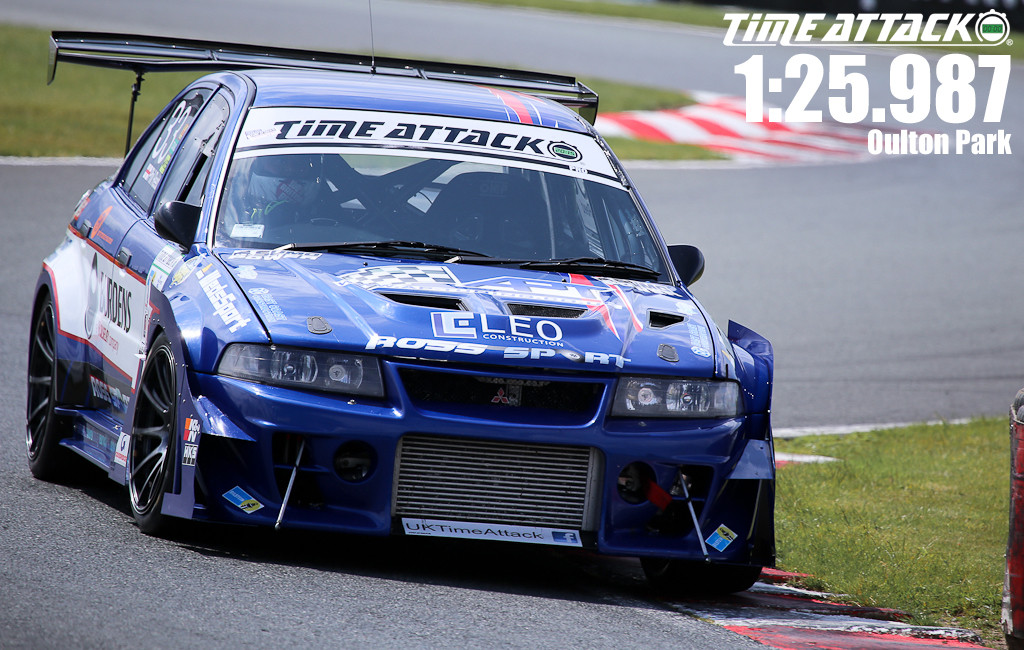 Phil Reed's day nearly went up in flames. Literally. A sensor in the power steering system decided to pop off, spraying fluid onto the hot exhaust manifold. The result was a fairly spectacular engine fire. Thankfully Phil reacted quickly and the marshals did a fantastic job of putting the fire out quickly. Phil's team were able to fix the car in time for qualifying, and Phil went out and grabbed second place in both the qualifying and final sessions, earning him 13 very valuable Championship points too. Phil set his fastest time of the day on his one and only flyer in qualifying, and now sits in a provisional second place in the Championship hunt thanks to the speed and reliability of his Ross Sport / AP-Tuning Lancer Evo VI.
Andrew Barbour : AKB Racing/NR Autosport Mitsubishi Lancer Evo IX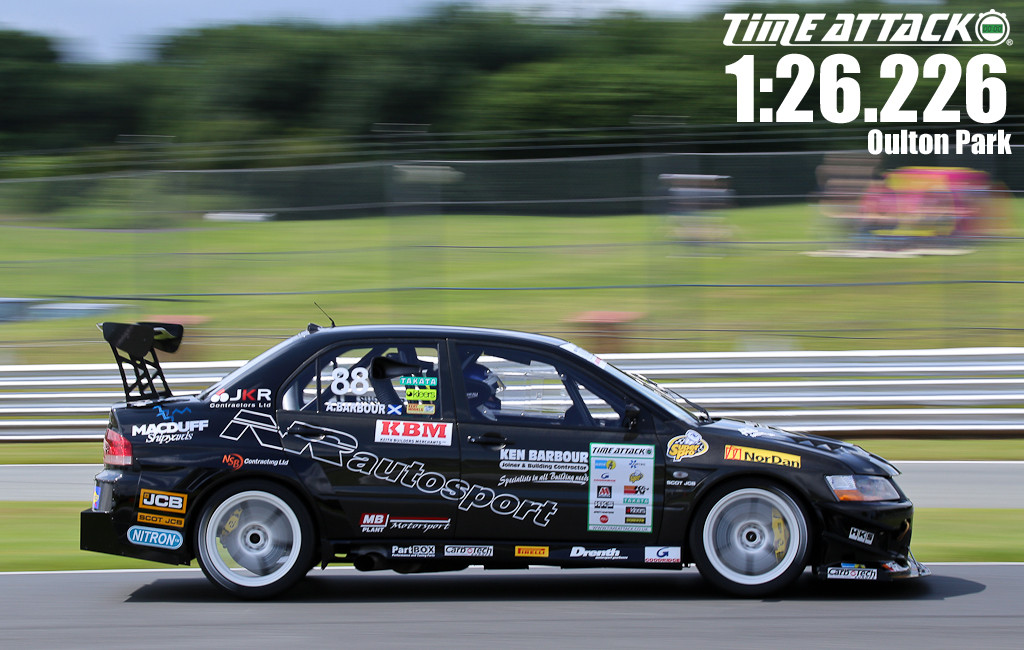 With a new car, more driving experience under his belt and a fresh set of Pirelli slick tyres, The Flyin' Scotsman was a massive 8 seconds faster than the last time he drove here with Time Attack, four long years ago! As Andrew's experience with both the car and slick tyres continues, he's bound to get faster and faster. He set his fastest time of the day during qualifying, and like many drivers the rain robbed him of a chance to find out exactly how fast he could go. Still, third place in both points-scoring sessions left Andrew with 11 very valuable points to take home to Scotland.
Paul Knapp : PK Racing/AP-Tuning Mitsubishi Lancer Evo VII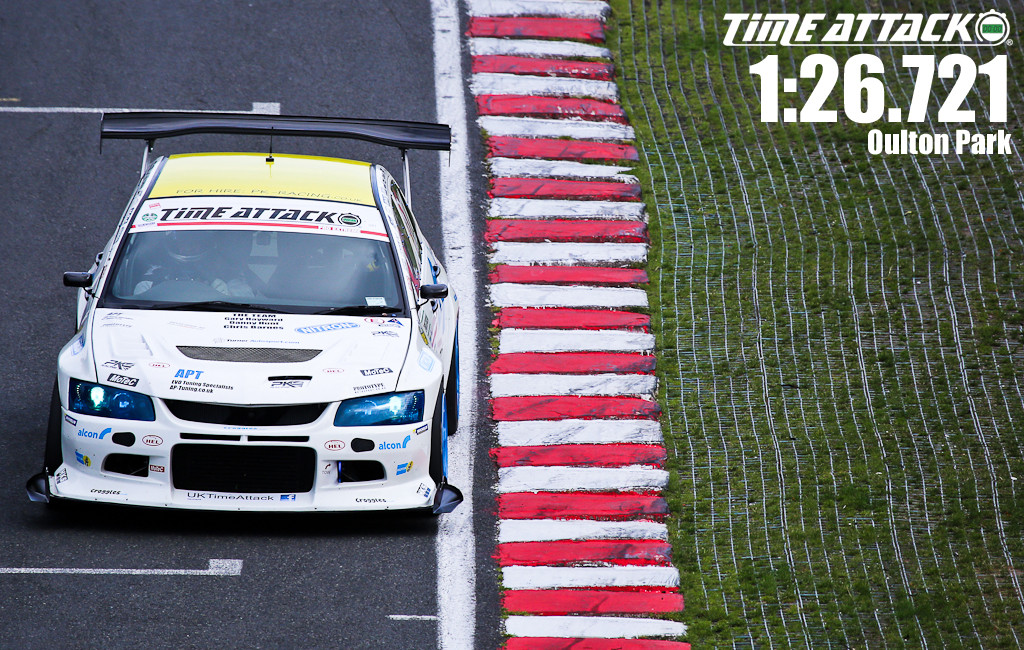 Paul recovered admirably from his 'incident' at Brands Hatch last time out and showed no sign of holding back because of it. Paul qualified in a very admirable fourth place, with a 1:22.721 that proved to be his fastest time of the day.
Brad Sheehan : NR Autosport Mitsubishi Lancer Evo IX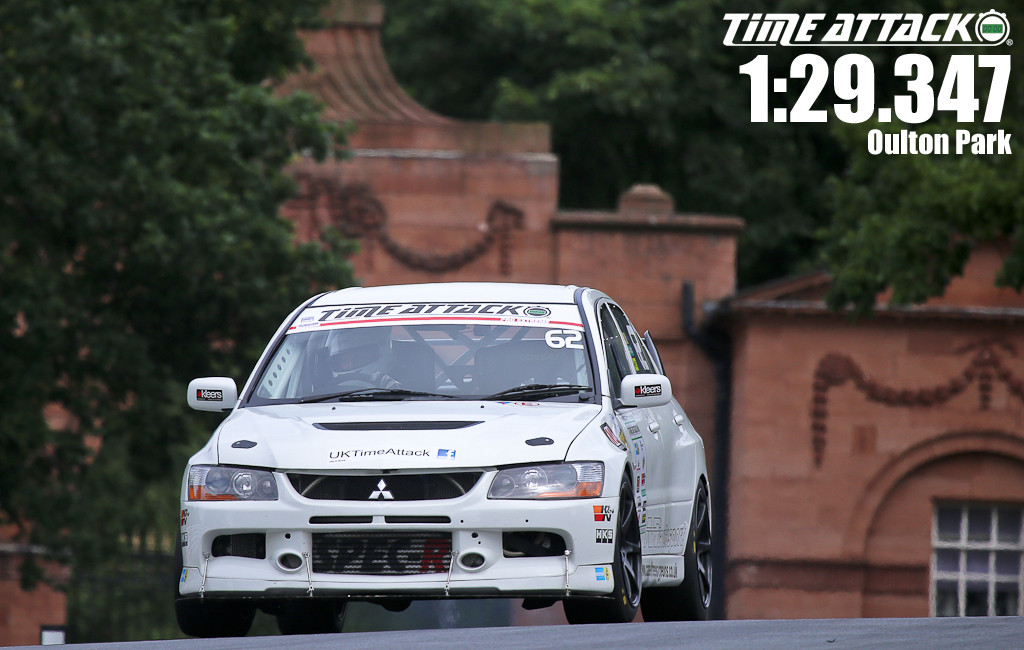 Early in the day, Brad Sheehan was delighted with the handling improvements brought about by NR Autosport. It seems he's getting to the bottom of a long-term balance issue that has been holding him back for way too long. He backed his fastest time of the day up with a 1:29.550 in qualifying, but didn't get out in the wet final. With the experience of Nick and the NR team behind him, let's hope it's the start of better things to come for Brad.
Classic & Retro PRO
Inaugural Classic & Retro Pro Lap Record!
Lloyd Wrght : Mk1 Ford Escort RSR-8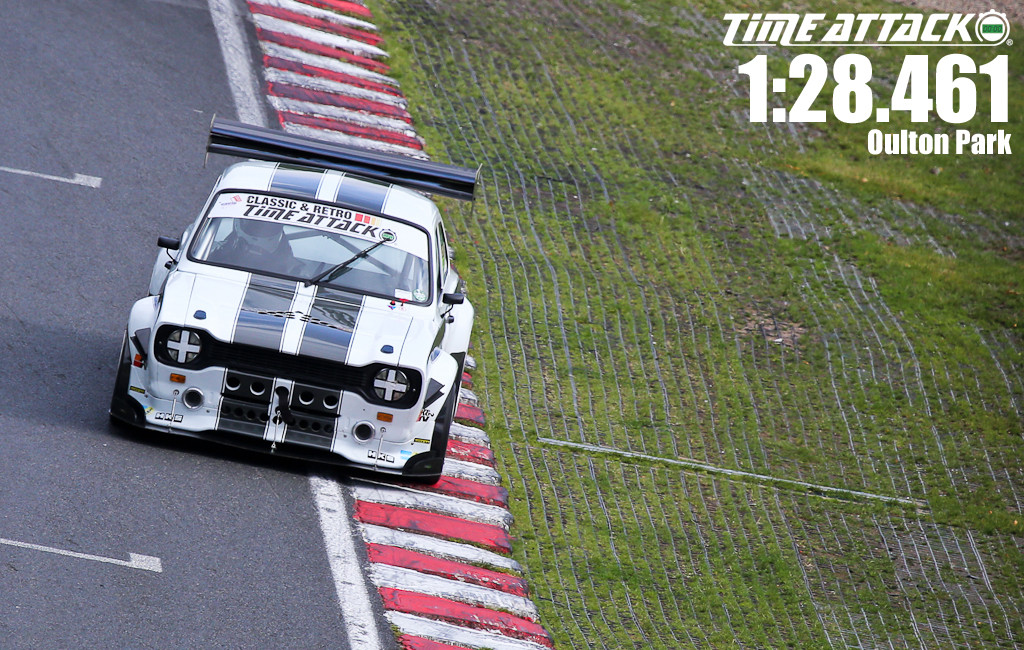 If ever there was a car that summed up the 'unlimited' side of Time Attack, it's Lloyd Wright's Radical-engined Mk1 Escort RSR-8. With two motorbike engines pushed together to make a high-revving V8, and not a lot of weight to carry around, Lloyd was hot on the heels of the Pro Extreme guys and technically the fastest 'Pro' driver of the day. He had an issue with soaring engine oil temperatures, which restricted him to just one hot lap before having to slow and cool the car. Slightly frustrating perhaps, but Lloyd should be very pleased with his lap time.
PRO
Kevin Jones : Jetstream Motorsport / KJR Noble M12 RSR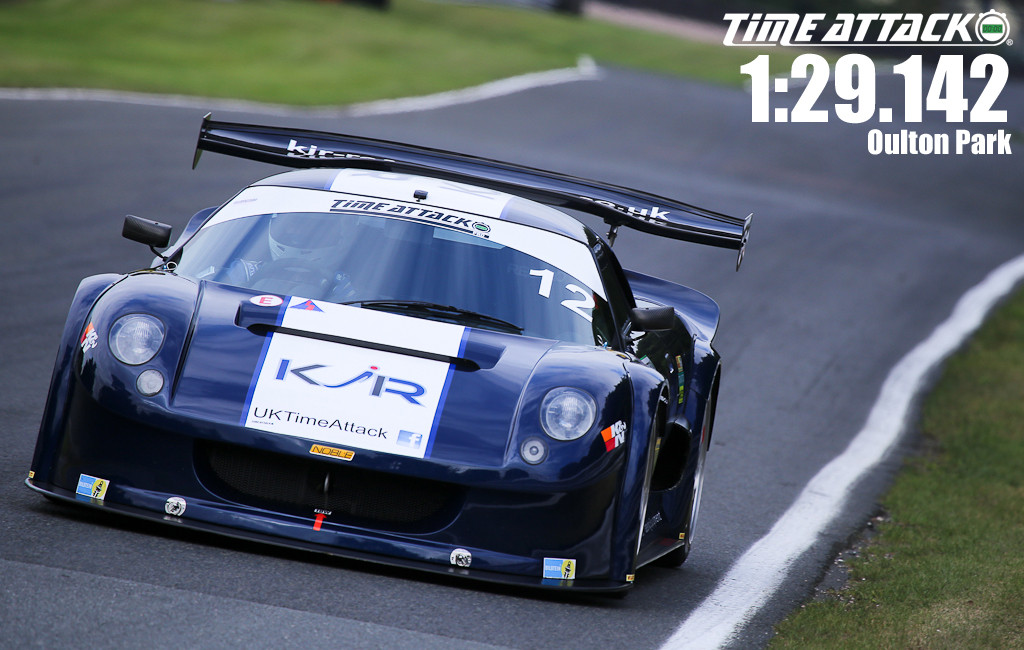 Kevin made it two successive maximum-point hauls at Oulton Park. The Noble driver had an intermittent misfire at Brands Hatch, thankfully that had been solved with some new ignition parts and Kevin was ready for action. The car ran faultlessly, with the only issue being the car occasionally bottomed-out in the braking areas. Despite traffic, Kevin set a blistering 1:29.412 in qualifying. When the final came, Kevin held back slightly, believing the rain would pass. By the time he realised it wasn't going to, it was too late to go again. Even so, Kevin recorded a best of 1:35.374 in that wet final session. A scary experience by all accounts on slick tyres!
Lee Broadhurst : ABG Motorsport KTM X-Bow
KTM X-Bow driver Lee Broadhurst set his fastest time of the day in qualifying, recording second place to earn four points. He went on to finish third in the final, which he admits wasn't what he hoped for. Still, he left Oulton Park with a total of twelve Championship points and a trophy for Best Prepared Car too.
Dalibor Kvasai : Torque Zone "Kermit II" Mazda FD3S RX-7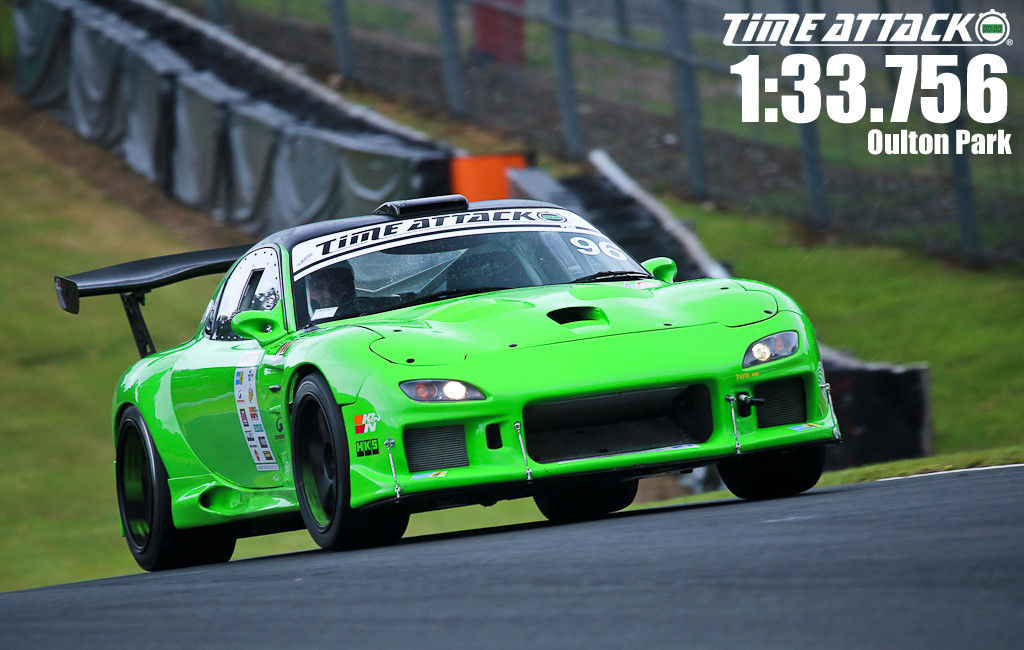 The Torque Zone team admit that Kermit II isn't as healthy as they would like at the moment. The biggest issue being a loss of compression on the rare triple-rotor 20B turbo engine. Hopefully we'll be able to see what this RX-7 is capable of before the season ends, but driver Dalibor Kvasai wasn't willing to wait and siezed his opportunity when the rain came down in the final. Although he set his FTD while qualifying in third place (1:33.756), Dalibor went out and attacked the track in tricky conditions during the final. His fastest time of 1:39.416 might sound slow in comparison, but in the slippery conditions it was enough to  grab second place. A well-earned second step of the podium.
Club PRO
Martin James (S.R.E) : Ariel Atom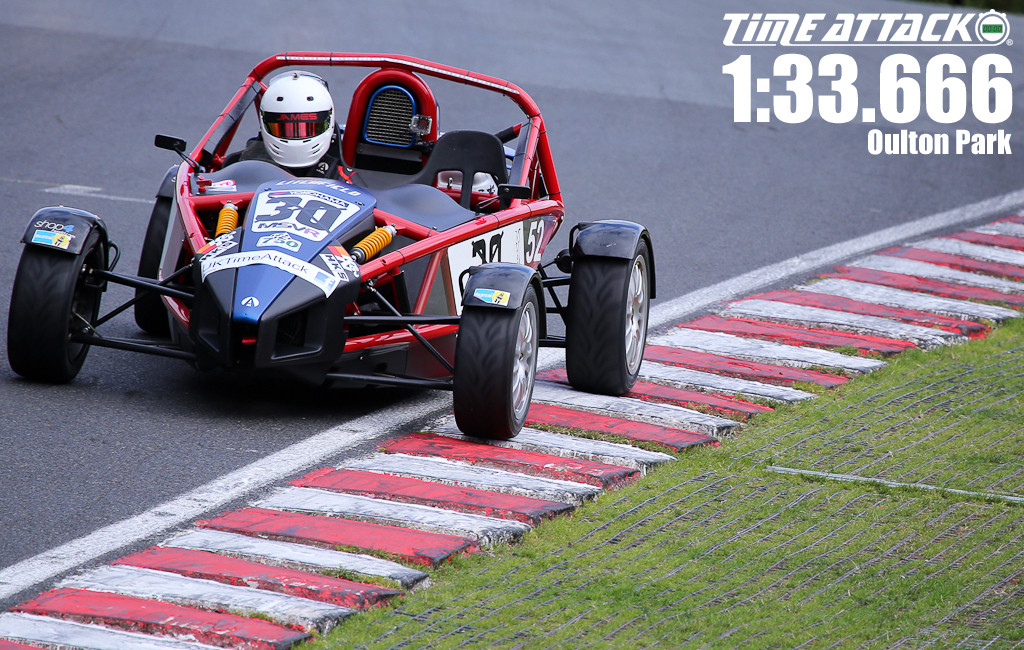 We had two Ariel Atoms with us for the first time at Oulton Park, as an experiment with one eye on the future. The Atoms race here so both drivers arrived with car setups in their pocket, a handy advantage over the rest of the field. When the lap times were accumulated, it was Martin James who came out on top. Martin set his fastest time in qualifying but as a Single Round Entry, was not eligible for Championship points. It's worth noting Martin was double-driving his Nissan GT-R in Club 4WD too, which made his pace even more impressive and his day much busier!
Nick Whitehead (S.R.E) : Ariel Atom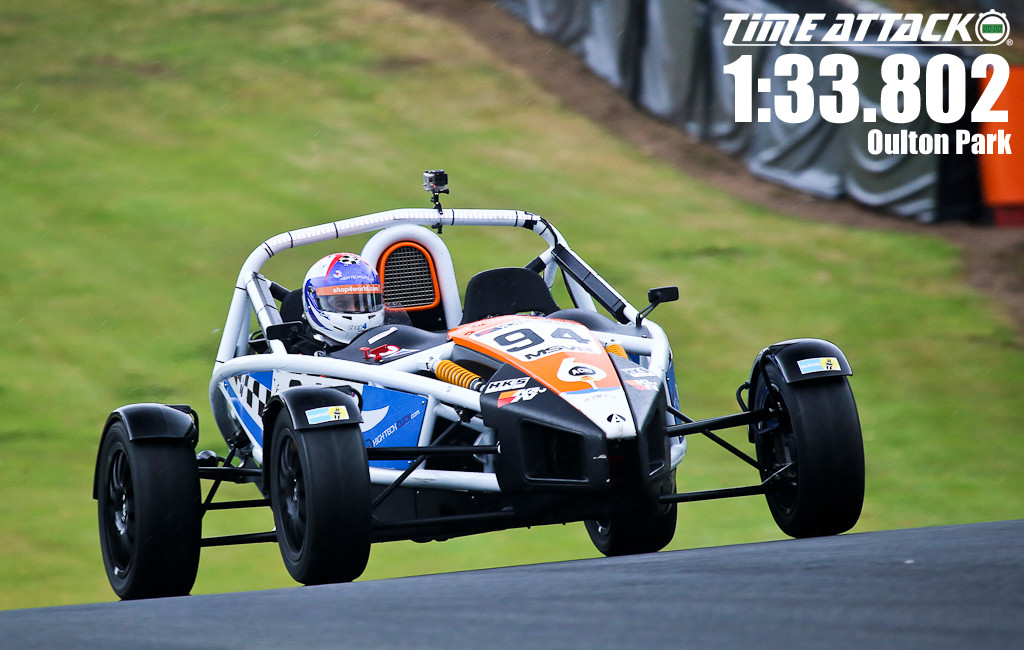 Slower than Martin by just over a tenth of a second, Nick was no less exposed to the elements in the other Atom. Nick went out and blasted in his FTD on his first flying lap during qualifying. Although he did get his own back on Martin later, beating him in the Final to earn the trophy for fastest Single Round Entry in Club Pro.
Ronnie Amis : Airtec VW Golf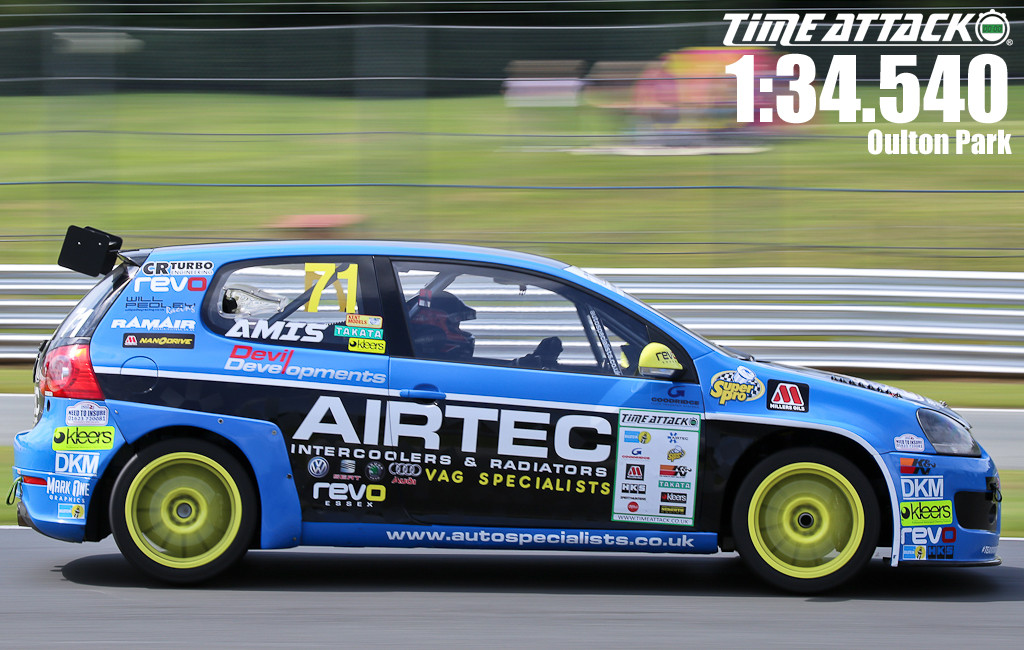 The Best Presented Team wasn't a boast by Airtec at Oulton Park, it was a fact. They picked up the award during a champagne-soaked podium ceremony at the end of the day. They worked hard for it too. In the WarmUp, Ronnie felt a lot of understeer. The team managed to dial that out for Practice, which gave Ronnie a lot of his confidence back. Before qualifying the Airtec team fitted new tyres and pads, but when Ronnie went to pull out of his pit garage the power steering pipe split. With the session passing before they could repair it to their liking, Ronnie went out in the final with a plan to bed the brakes in and get temperature in the new rubber. Then it rained. Ronnie had no choice but to go for it immediately, eventually glazing the front pads and driving pretty much with only rear brakes! So his 1:37.055, only 0.179 seconds behind Russ Paton's 4WD Evo in the wet, was very impressive. Ultimately, Ronnie feels a bit frustrated as he could have gone much faster than his 1:34.540 if the final had been dry.
Russ Paton : HQ Garage Mitsubishi Lancer Evo VI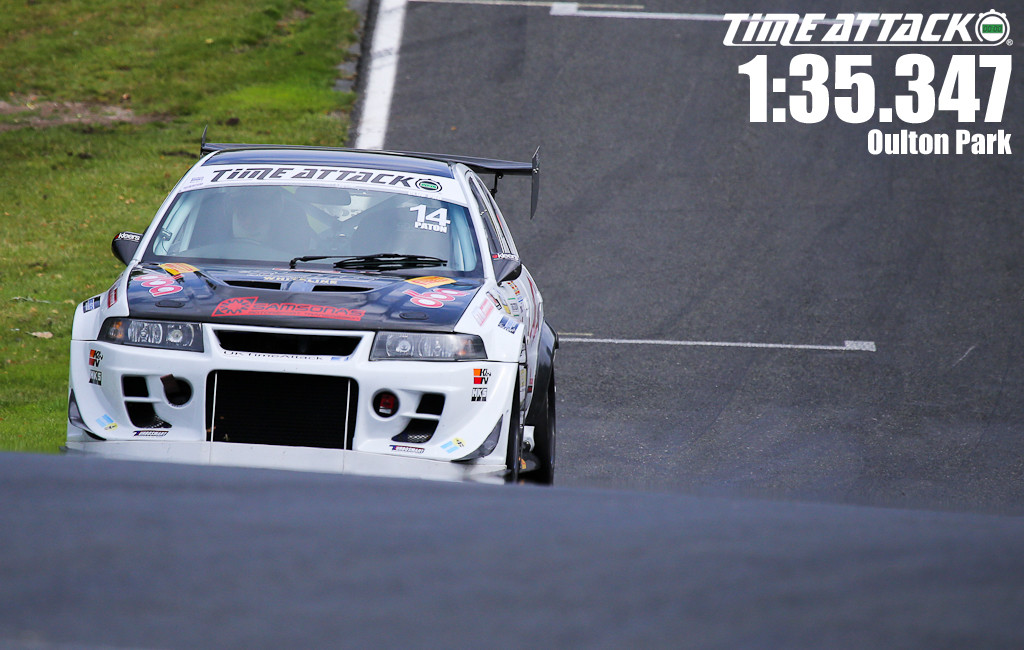 Interestingly, Russ Paton wasn't much slower in the rain than he was in the wet (1:35.347 in the dry qualifying session vs 1:36.876 in the wet final). How you analyze that is up for debate; he likes the wet? He's brave? His car is very capable? Take your pick. The bottom line is Russ traveled back to Scotland and HQ Garage.. err HQ, with the maximum 15 points. With Ronnie's failure to score points in qualifying, this was a key time for Russ to score big in the fight for the 2015 Club Pro title, putting him top of the provisional standings heading into Croft on Saturday 22nd August.
Jonny Fletcher : JDF Racing / G-R Performance Vauxhall Astra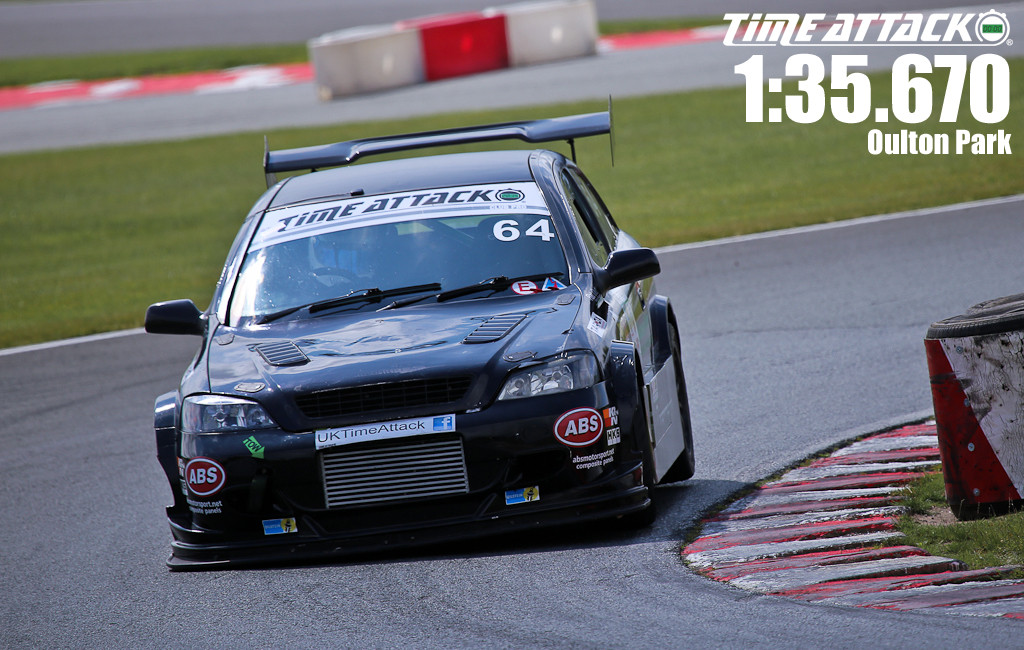 The man who entered Club Pro to push himself is doing exactly that. He's fighting the odd issue here and there, but there is definitely light (and pace) at the end of the tunnel. His two morning sessions were ruined by brake failure and then a failing CV joint. So he ended up carrying out his usual warm-up and bedding-in routine during qualifying. Despite this, Jonny admits it was his best session of the season so far, and the pace of the car started to show itself, especially considering he was playing catch-up in terms of laps driven on the day – missing out on the maximum 5 points by just 0.323 of a second. When the rain came it was a case of damage limitation, with Jonny doing what he could to grab third place and some more valuable points. Let's see what Croft brings, but don't be surprised to see a big improvement from Jonny there.
Lee Mabbett : Se7en Motorsport Toyota Corolla T-Sport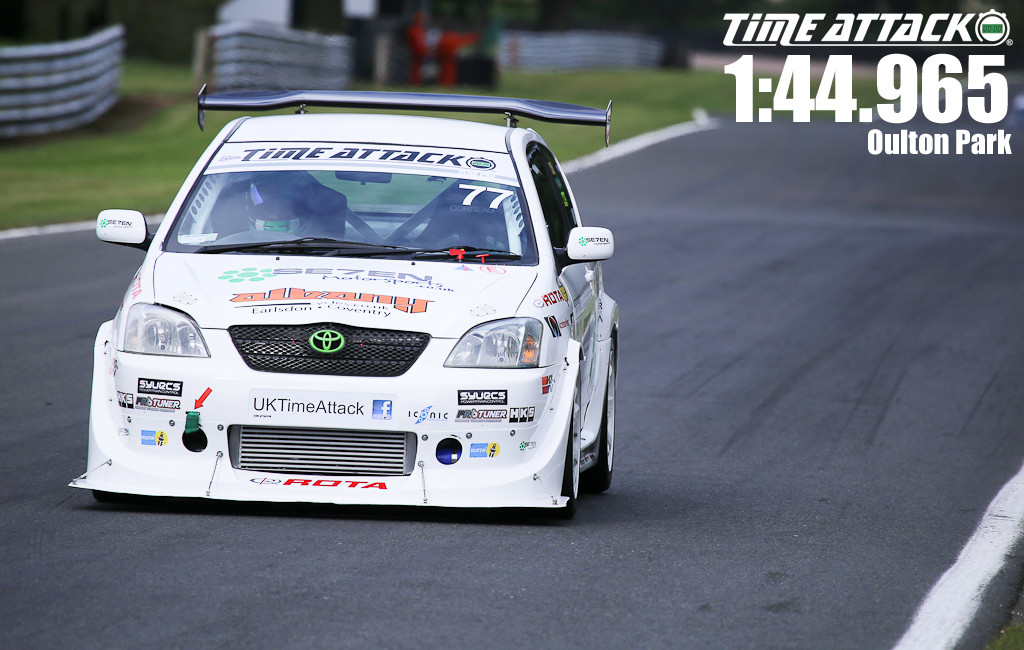 The white Se7en Motorsport Corolla is extremely eye-catching with it's bespoke aero package and bright white paint. Lee is still developing the car after issues with his proposed big-power engine build earlier in the year. After Brands Hatch last time out, Lee got to the bottom of some engine gremlins including a camshaft issue caused by a third-party. Bottom line being his Rotrex-supercharged 1.8-litre 16v 2ZZ-GE engine was up about 150bhp from where it was at Brands, making around 400bhp. Sadly, more teething problems meant the 1:44 best isn't representative of his true pace. Onwards to Croft, and hopefully we'll see Lee show us what he and the Corolla can really do!
It's not racing.. It's TIME ATTACK!