ROUND 1 – SILVERSTONE NATIONAL CIRCUIT
Time Attack Club Pro, Pro and Pro Extreme class cars represent the gradually increasing level of tuning of some of the quickest cars in the UK. As the cars get more developed, engineered and modified they get quicker and quicker and as a result these classes define the level of those improvements.
Here's a run-down of the quickest times recorded by the cars in all Pro classes throughout the day and proving what each car is capable of during the changing weather conditions with the quickest overall time recorded in the wet at Silverstone. These times represent the quickest lap times achieved on the day however the Championship final results may differ from those shown Championship points are awarded to times achieved only during the final session.
Quick spec definition:
Club Pro – Highly tuned cars on semi slick tyres
Pro – Heavily tuned cars on slick tyres
Pro Extreme – Extensive heavy tune and body modification on slick tyres
PRO EXTREME
Roger Clark Motorsport "Gobstopper II" (Subaru Impreza) : Olly Clark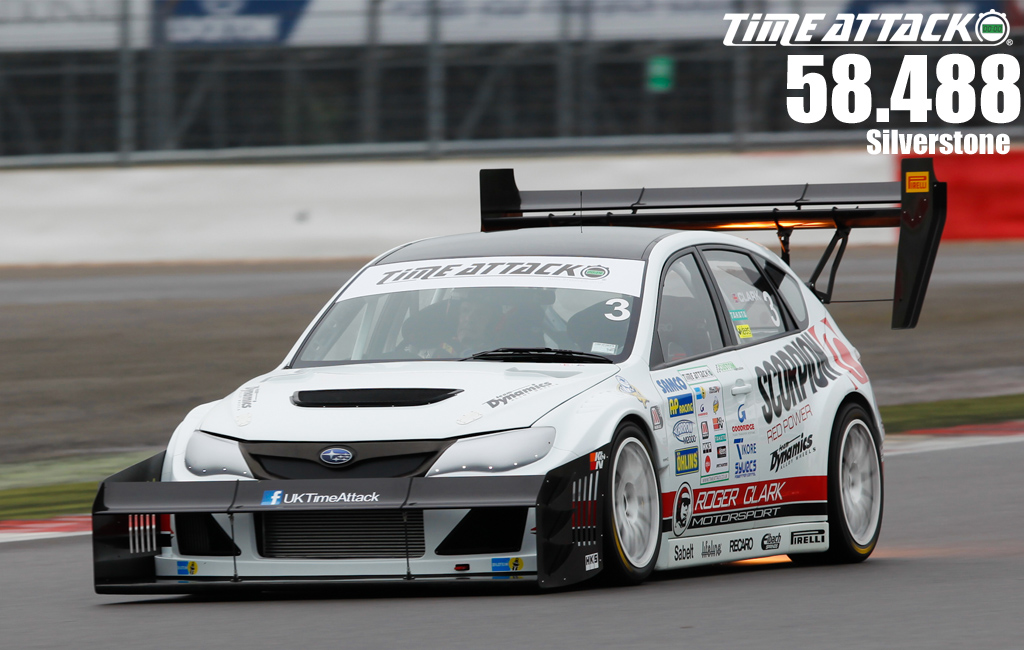 After several years in the making, Gobstopper II finally made it's competitive Time Attack debut! The winged beast was fascinating to watch, and the perfect example of the 'no-limits' nature of the new Pro Extreme Class. Perhaps the biggest shock of the day was that Olly Clark pumped in the fastest outright lap-time of the day without showing us the Gobstopper II's true potential. In fact, he set his fastest lap time in Practice (58.488) before backing that up on a wetter track in Qualifying after just one flying lap (58.777).
Both laps hit the magic double around Silverstone National: 'Lap-time under a minute' and 'Average speed over 100mph' (100.97mph and 100.47mph respectively.) However, when GSII crossed the line for that Qualifying lap, it was followed by a huge plume of white smoke erupting out from behind the Subaru. The diagnosis was a suspected turbo issue and before you could say "that was impressive", the RCM team had packed up and were on their way to conduct a full strip-down analysis.
On the day, Gobstopper II left plenty of spectators opened-mouthed, but it's the future we're just as excited about. Where Olly and GSII will be joined by very special prototypes that couldn't make the deadline. Who will have the last word?
Midlands Performance Nissan Skyline R32 GT-R : Marcus Webster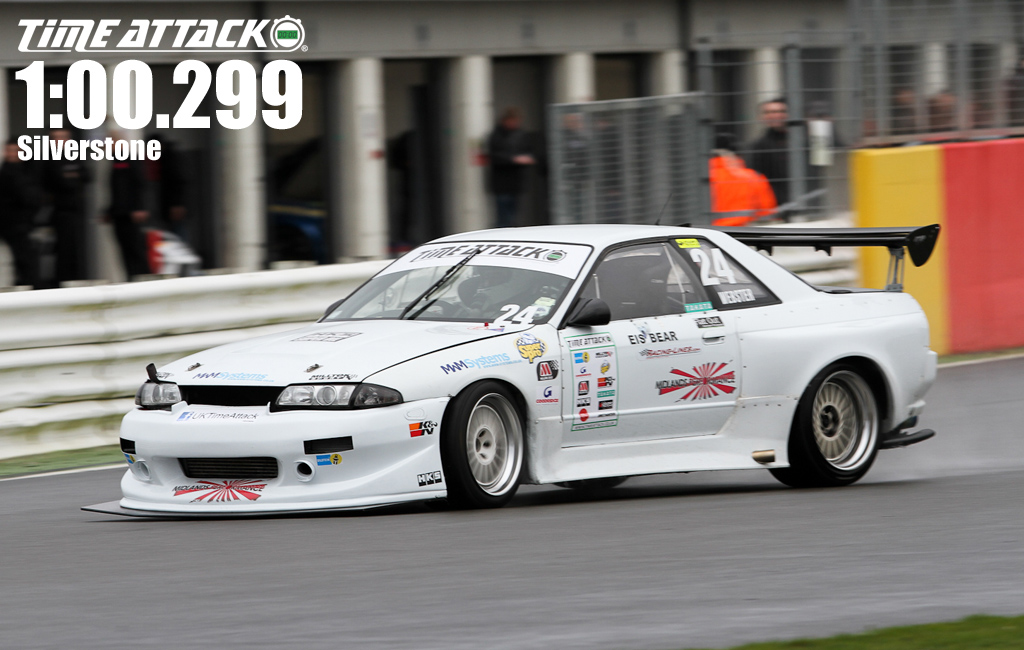 Driving a car that produces over 1,000bhp can't be easy, so in the wet it's pretty darn difficult. That didn't stop Marcus from pushing the limits from the off, resulting in a high-speed 360-degree spin in the Warm-Up session! When the track dried a touch, Marcus was able to use more of that immense horsepower, blasting his way over the start-finish line at over 140mph – the fastest speed of the day – on the way to his Personal Best in Qualifying.
Thanks to retirements from his competitors, Marcus knew he only needed to go out and complete a lap in the Final to take the Extreme Pro victory. It's a good job too, as in the Final the gear-lever bizarrely snapped off in his hand leaving him stuck in fifth gear. He still managed a 1:02 lap! Bonkers.
VW Beetle Prototype : Granville Taylor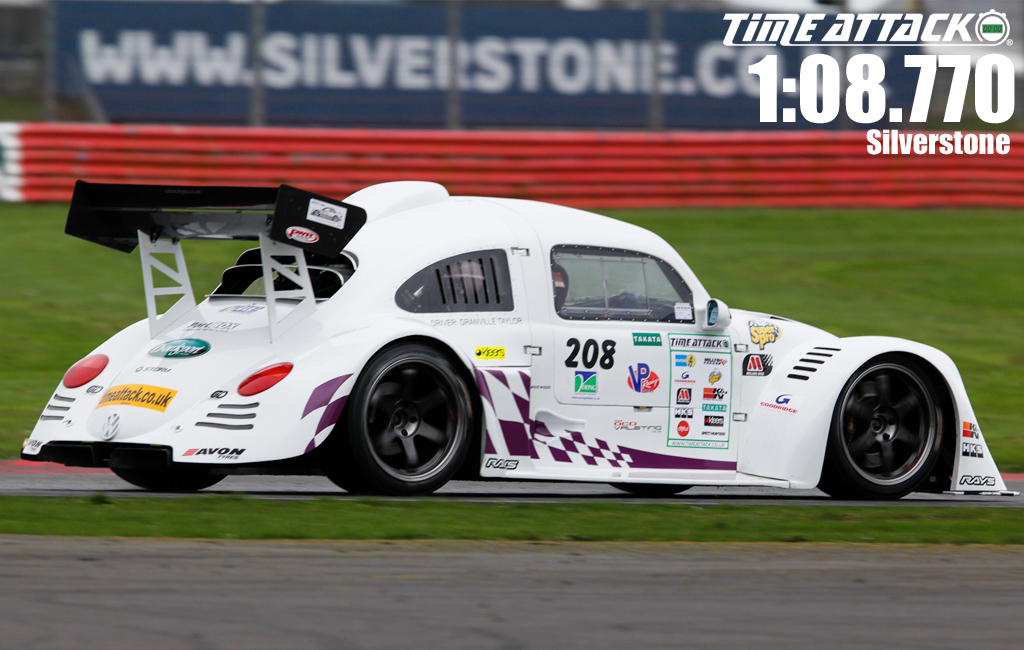 A lightweight kevlar body, 2.1-litre Subaru boxer engine, GT35/86 Turbo and rear-wheel-drive. Granville's homebuilt special is exactly that: special. He admits to be up against it this year, in the most extreme class, packed with 4WD entrants. The engineering side of Granville's car is impressive but sadly his lap-times weren't at Silverstone. Quite possibly the unluckiest man in Motorsport, Granville suffered a huge loss of power when a piece of the air filtering system was sucked into the turbocharger, leaving him with virtually no boost pressure. As ever, he'll be back to fight another day. We hope Granville picks up some luck soon. We'd love to see what this bespoke creation can really do!
PRO
HEL Performance Mitsubishi Evo : Richard Marshall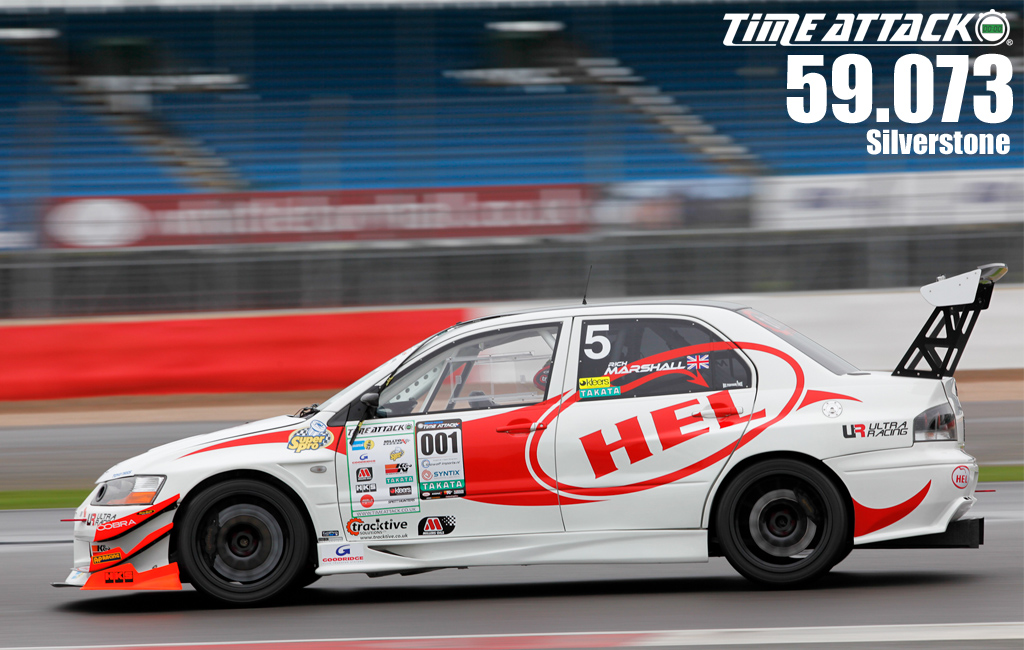 Last year Richard bought what he believed would be a competitive Time Attack car. If the Richard Marshall Racing facebook page is to be believed, he and Tracktive Solutions have spent every single minute since then fixing things that have gone wrong, or were wrong to start with. So it was great to see him get through the day without any major incident, let alone watching him set fire to the timing sheets!
Richard deserves credit for pushing himself up into Pro when he might have squeezed into Club Pro. His reward was the fastest Pro time of the day, fastest car down the back straight in the Pro class (144mph) and the only other driver other than Olly Clark (Pro Extreme), to sneak under the 1-minute barrier.
He wasn't just fast either, he was consistent – posting consecutive 59-second laps in both Qualifying and The Final. Very impressive. It suggests Richard and his reborn Evo have an enjoyable season ahead.
Pollard Boxes Metro 6R4 : Mark Pollard
Mark's beautiful Metro 6R4 is a reminder of Rallying's glory days. It's fast too. These days, Mark's 6R4 spends all of it's time glued to smooth tarmac, as he pushes a car designed in the 1980s into unchartered tuning and performance territory. By comparison, just a couple of tenths of a second was all that separated Mark from Simon Deaton's modern Porsche Cup 997 all day. With Mark finally getting the upper hand in the Final to win the closest duel of the day.
HEL Performance Porsche 997 : Simon Deaton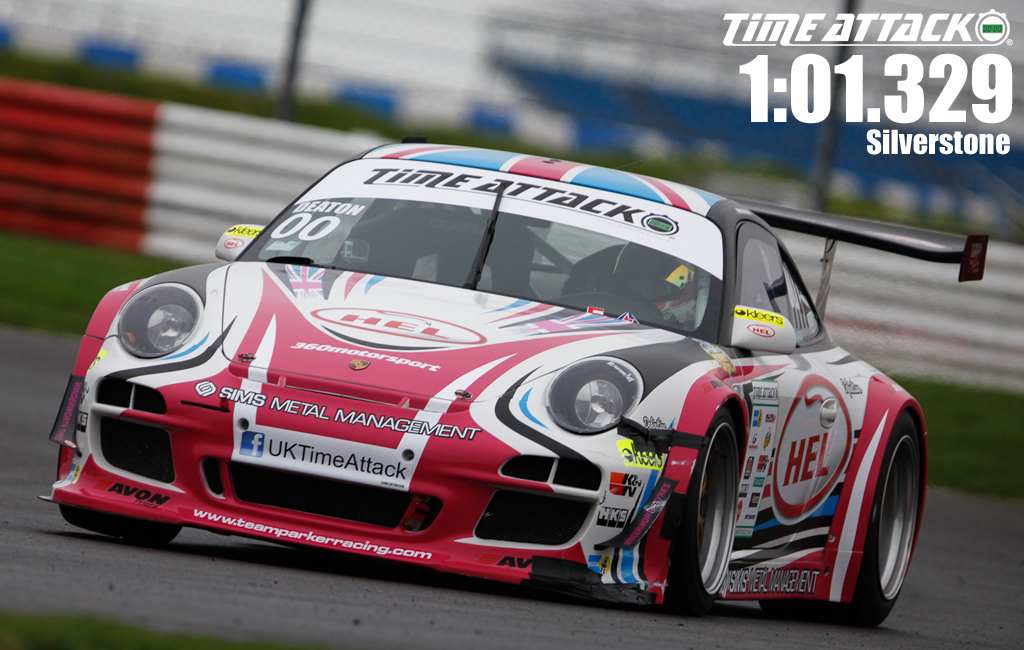 Simon Deaton and his pink Porsche made lots of new fans over the weekend. The dynamic duo were on the go from the first moment of Warm-Up to the final Chequered Flag of the day. Simon chose to compete in a racing series alongside Time Attack, so while his competitors were resting or adjusting things, Simon was still flying around the track! He was especially impressive in the wet against his four-wheel-drive rivals, which might be the opposite of what you'd expect from someone driving a rear-engined, rear-wheel-drive car? Ultimately, Simon posted his best lap-time on his last lap of the Final – although it was virtually identical to his best from Qualifying and every other lap. Consistent and getting faster as the day went on. We won't mention his brief rub of the pit-exit wall that bent his expensive wheel though. No, we definitely don't want to do that.
RA Motorsport Developments Subaru Impreza : Scott Robson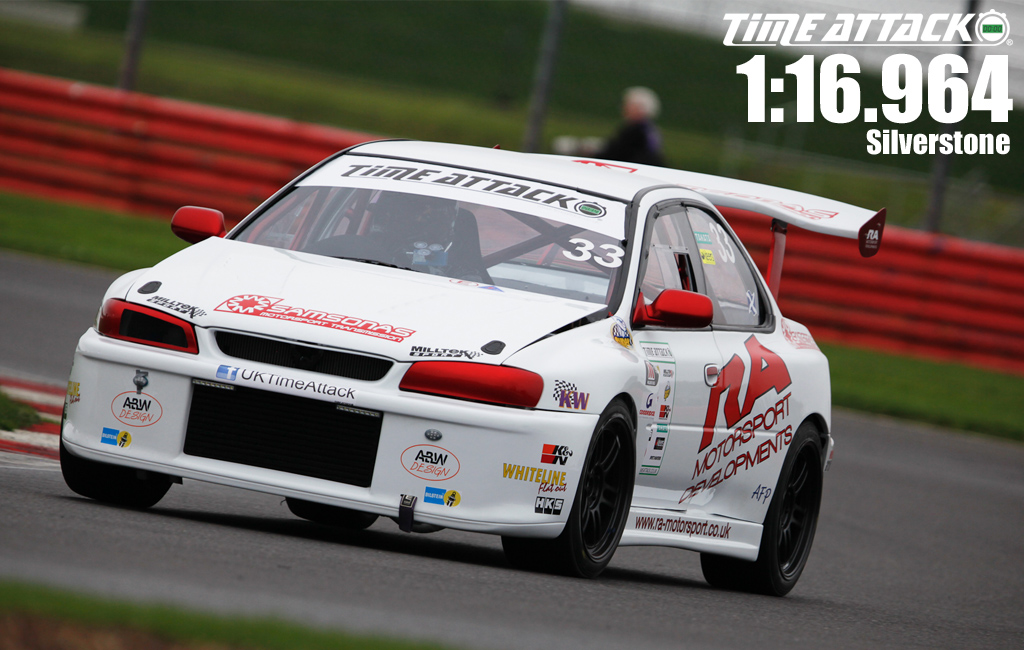 Scott was a victim of losing against the clock even before he had a chance to race against it. With various commitments Round 1 just came around too soon for Scott. Thankfully, the whole RA Motorsports team were there to help turn the day into a test session, which explains why Scott's time is not representative of his true pace. The engine hadn't even been mapped, so Scott had very little power and spent most sessions experimenting and testing. We'll get a much better idea of Scott's pace at Knockhill in Round 2.
CLUB PRO
Mitsubishi Evo : Philip Reed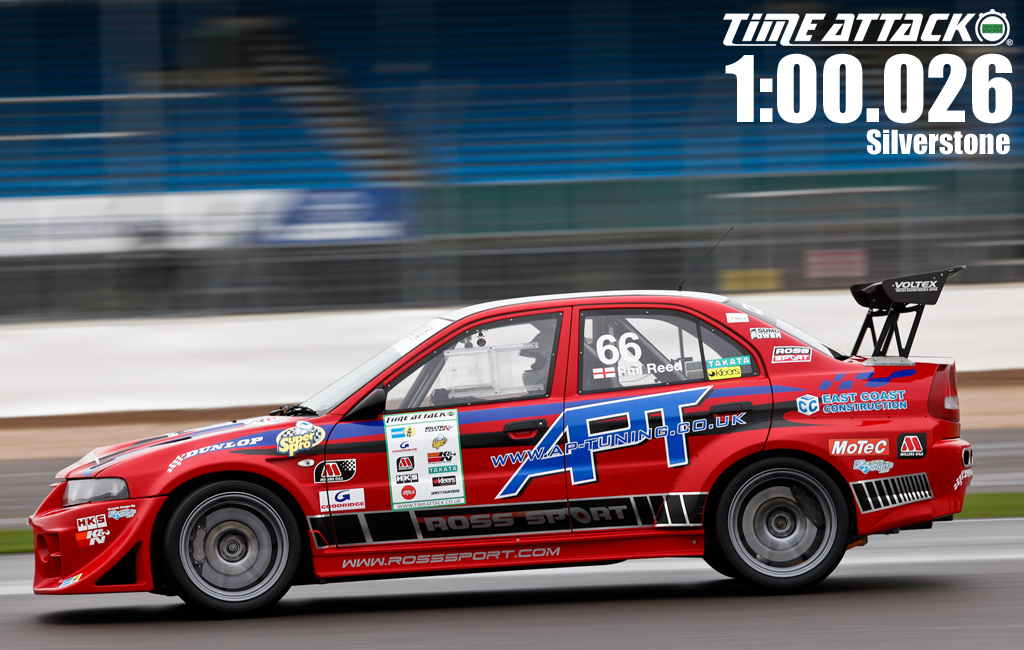 A familiar face with an unfamiliar car. Phi returned to Time Attack in style, replacing the Evo 3 he used to compete in with a former record-breaking drag car. Of course Phil and Ross Sport have made lots of changes to the car since it blew eveything else into last week in a straight line. Going around corners is tricky too, but it seems Phil is helping very well in that respect. Phil topped the Club Pro charts in both Qualifying and the Final. Maximum Championship points and a shiny new trophy. A perfect start to the season.
NR Autosport Mitsubishi Evo : Andrew Barbour
Andrew hadn't driven his car since the find round of last year's Time Attack Championship! The car has been modified significantly during that time by NR Autosport, who are focusing all their attention on Andrew's efforts this year. The biggest change this year is the wider track, plus no doubt some secret bits that Nick and Andrew won't want everyone to know about. Second in Qualifying and second in the Final, it was a solid start for Andrew in terms of the Championship. In terms of lap-time, there was roughly half a second between Andrew and Phil. We've got a feeling this is one battle to keep your eye on.
RA Motorsport Developments : Jason Ogg
The Hulk is back! It's got a fresh new colour-scheme and a Samsonas sequential gearbox. At least it should have. Another victim of circumstance, Jason wasn't able to get the 'box fitted in time for Silverstone. He was still using an uprated dog 'box but overall the car wasn't quite in full 2014-spec. All things considered, Jason wasn't that far off the pace. Another one to watch as the season progresses.
M.A.Developments Mitsubishi Evo : Brad Sheehan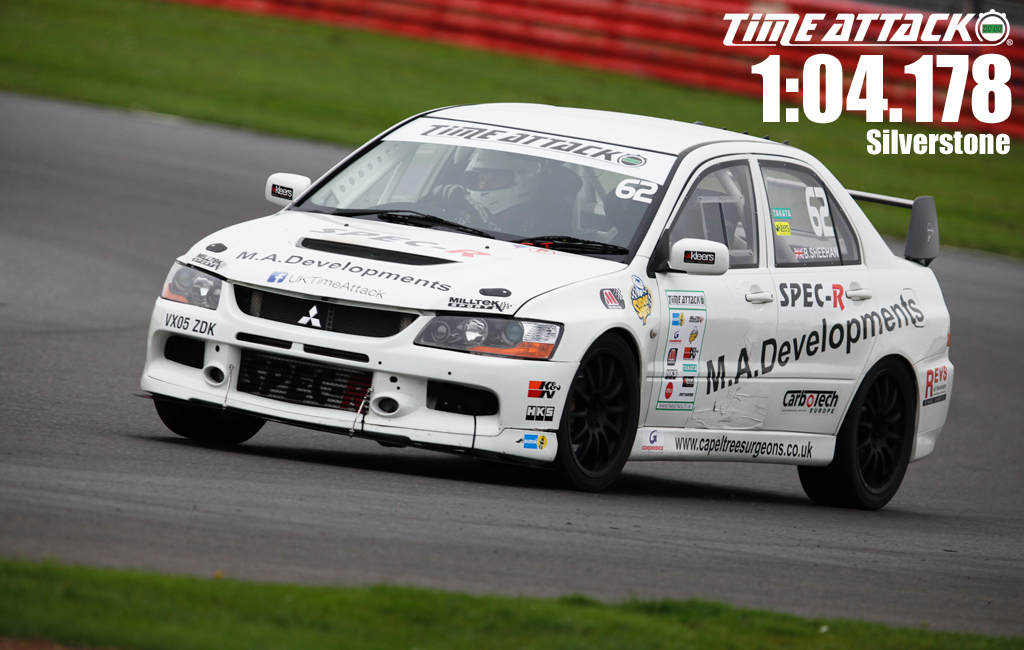 A frustrating first round for Brad in his M.A.D-supported Evo. His car was fitted with a sparkling new set of Reiger Racing suspension components. That's good, right? Of course it is but Brad didn't have time to test any settings. The bottom line is he was very quick in the early wet sessions but the car was perhaps a touch too soft when it dried. Just as the team were dialing the car in to the conditions, an oil feed leaked causing a minor engine fire. Thankfully nothing was seriously damaged but it stopped Brad setting a time in either Qualifying or the Final.
Airtec VW Golf : Ronnie Amis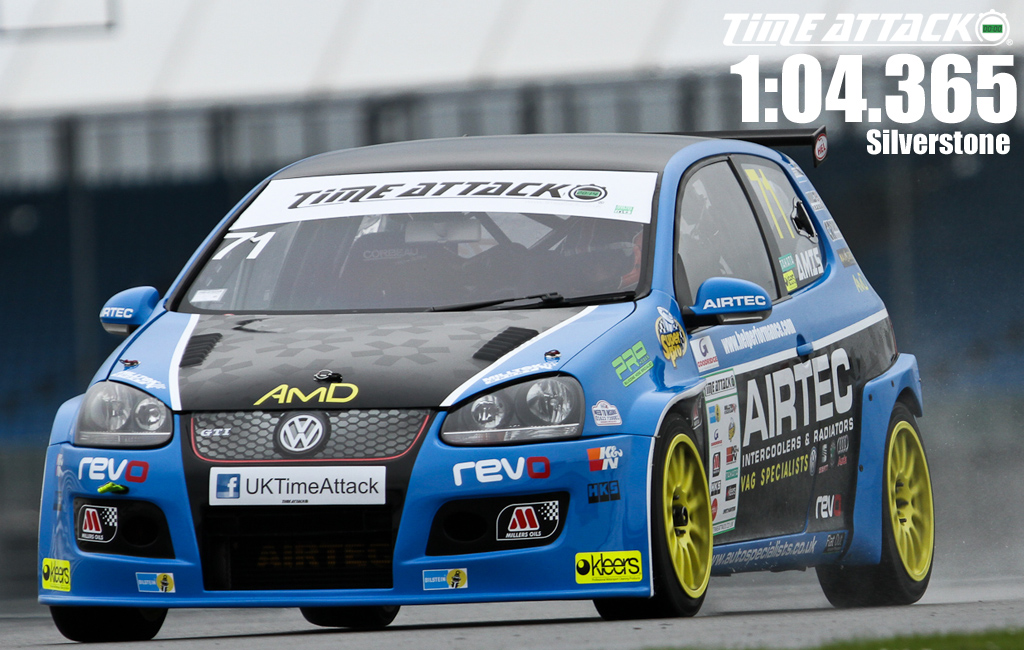 Ex-BTCC car driven by a Time Attack front-runner. Sounds like a recipe for success, doesn't it? In truth it is, especially with Airtec developing the car. The trouble is that Ronnie and his front-wheel-drive Golf are up against the 4WD guys in Club Pro this year, and in truth Ronnie struggled in the slippery conditions but was still quick. As he becomes more familiar with the car and the team dial it in to his liking, coupled to a warm and dry track, we're sure Ronnie will have enough to compete and he'll set new standards for FWD Time Attack cars in the process.
Want more information? :
Times recorded in the point scoring Championship final session at Round 1 [ Silverstone National circuit ]
Come to a future Time Attack event and see the action for yourself