Pro Classes – Round 2 Knockhill Scotland
The Pro-end of Time Attack nailed Knockhill…
After foggy and wet Warm-Up and Qualifying sessions, the Pro drivers took to a wet track for qualifying. When the sudden downpour finally stopped, the track dried quickly and we looked set for a dry Final.
Unfortunately, just as the Pro cars were lined up to attack the circuit for the final, the rain returned. It was a brief but heavy downpour. With most Pro cars wearing slicks, some teams attempted a dramatic change of tyres. This sudden change of weather was exciting enough but when the session re-started after a red flag, with just three minutes to go there was only a tenth of a second between Knockhill legend Andrew Gallagher in Charlie Shaw's AG Motorsport 1000bhp carbon-bodied Ford Focus, and Olly Clark in the Roger Clark Motorsport Gobstopper II. Who would come out on top in the most exciting climax to a Time Attack event in recent memory? Read on to find out..
Pro Extreme Class
Olly Clark:Roger Clark Motorsport "Gobstopper II" Subaru Impreza
It was Olly Clark who wrestled his Impreza to the top of the Pro Extreme pile in a frantic final shootout. When the red flags were waved to stop the session, Olly was already top of the Pro Extreme Championship contenders. However, he was behind a OHW entrant and Olly isn't too keen on second place. When the session restarted Olly was at the front of the queue. In very wet conditions he methodically set a "banker lap", taking him into the 54 second range, before going for a high-boost run and smashing into the 53s, taking top place in the final. Incidentally, Olly did plan to run one more lap, this time with the nitrous oxide injection switched on, but he ran out of time. His fastest time of the day, also the fastest Time Attack time of the day across all classes, was set during the relatively dry Qualifying session. Olly and GSII were the only duo to lap Knockhill under 53 seconds all day.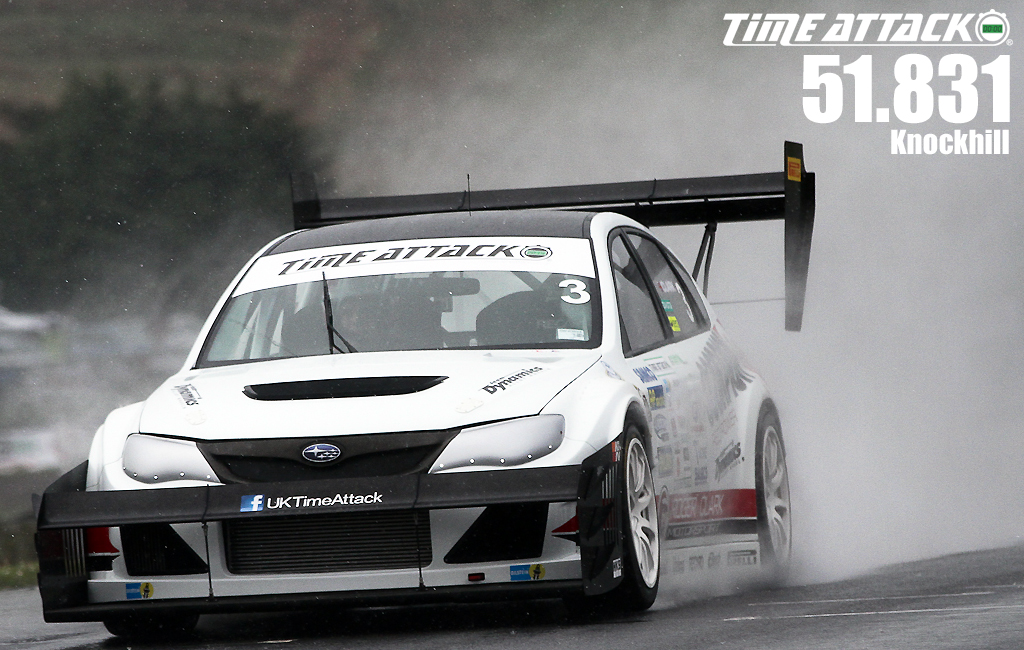 Marcus Webster:Midlands Performance BNR32 GT-R Nissan Skyline
Stand up and take a bow Marcus Webster. We've already given Marcus praise for stepping up into Pro Extreme when he could potentially compete in Pro (although a 1,000bhp GT-R isn't exactly slow!) However, at Knockhill he outdid himself. During the wet qualifying session Marcus drove the wheels off his GT-R, clocking a 53.0 lap time, second-fastest outright time of the day. We tip our proverbial Time Attack hat to Marcus for that one.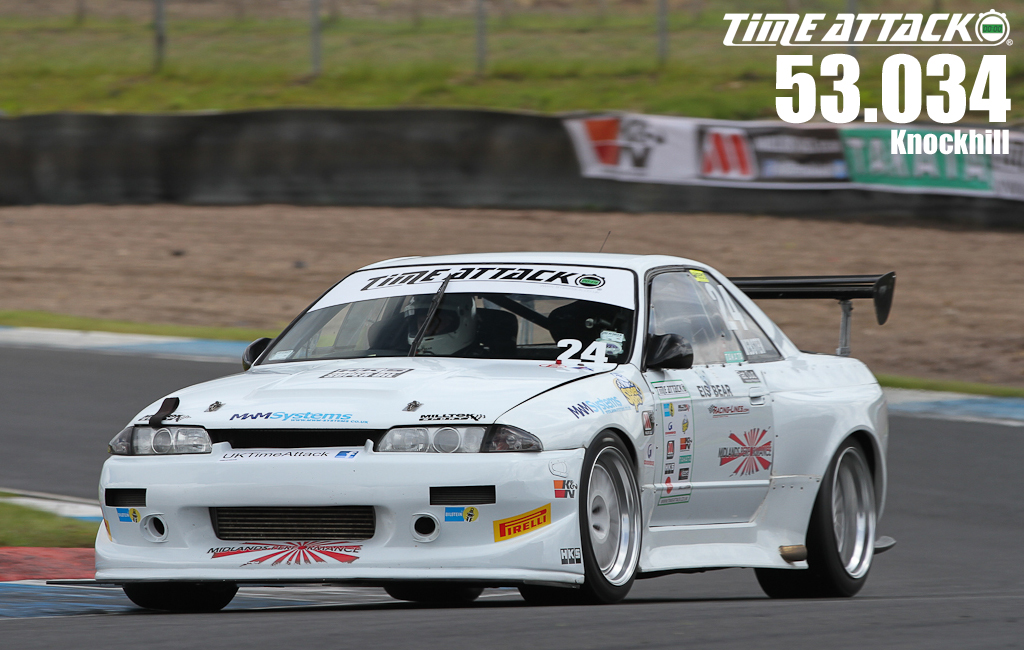 Gareth Lloyd:SVA Imports Mitsubishi Evo 6
Where to start with Gareth and the SVA Imports Evo? A fortnight ago this car was a bare shell. It was "finished" at midday on Friday, at the SVA HQ near Dover. Just about as far away from Scotland as it's possible to be within the UK. Still, veteran driver Gareth Lloyd strapped himself into the completely-untested car and set about the task at hand. His fastest time of the day was set in wet Qualifying, on low-boost and with all the toys switched off. When it came to the final, a power steering seal leaked fluid onto the hot exhaust, creating lots of smoke and Gareth sensibly parked it up immediately. It's a shame, as that one qualifying run was enough for third fastest time of the day outright. We wonder how much quicker Gareth and the new SVA could have gone?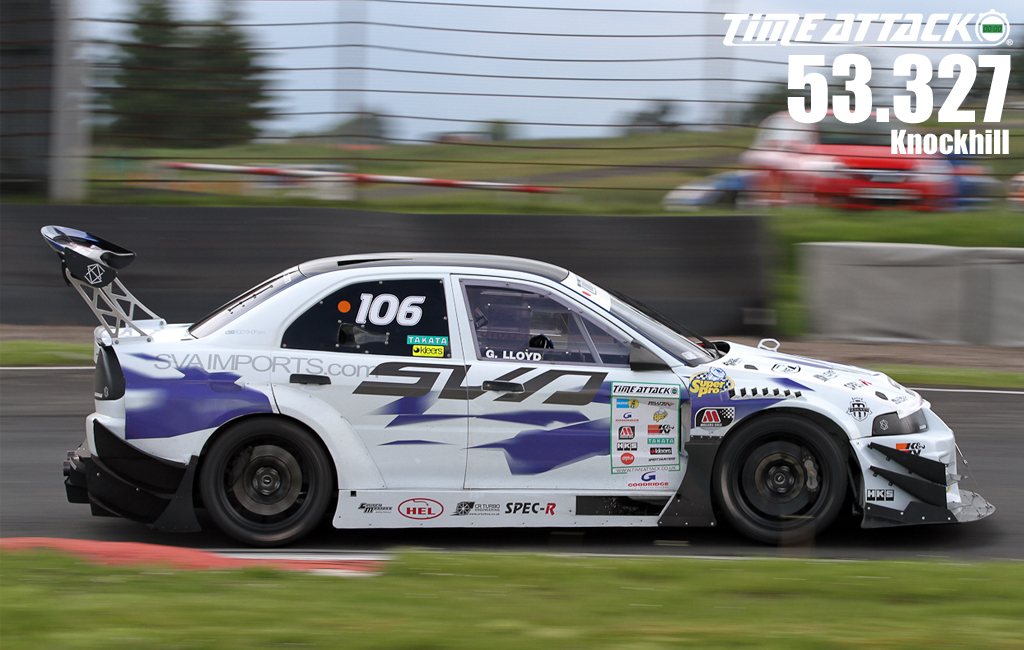 Andrew Gallagher:AG Motorsport Ford Focus Cosworth [One Hit Wonder]
After travelling all the way down to Brands Hatch at the end of last year, it was Andrew's turn to host the Time Attack party at a track he knows like the back of his hand. The car is now owned by Charlie Shaw, who also drove the car on the day, although not in Time Attack competition. That was all down to Andrew. It was going well for the team in general, until a broken input shaft required an on-the-spot gearbox rebuild. This meant Andrew essentially missed out on Qualifying, completing just four laps all over 1 minute. However, Andrew and the Focus came alive in the Final. For a long time Andrew held the fastest lap in the appalling conditions. After restart it was a straight shootout between Andrew and Olly Clark. It was spectacular to watch, with the weather and traffic both playing their part in the drama. A fine performance by Andrew to finish second in the Final, posting fourth-fastest time of the day in unfavourable conditions. Hopefully not the last time we'll see him in Time Attack competition this year.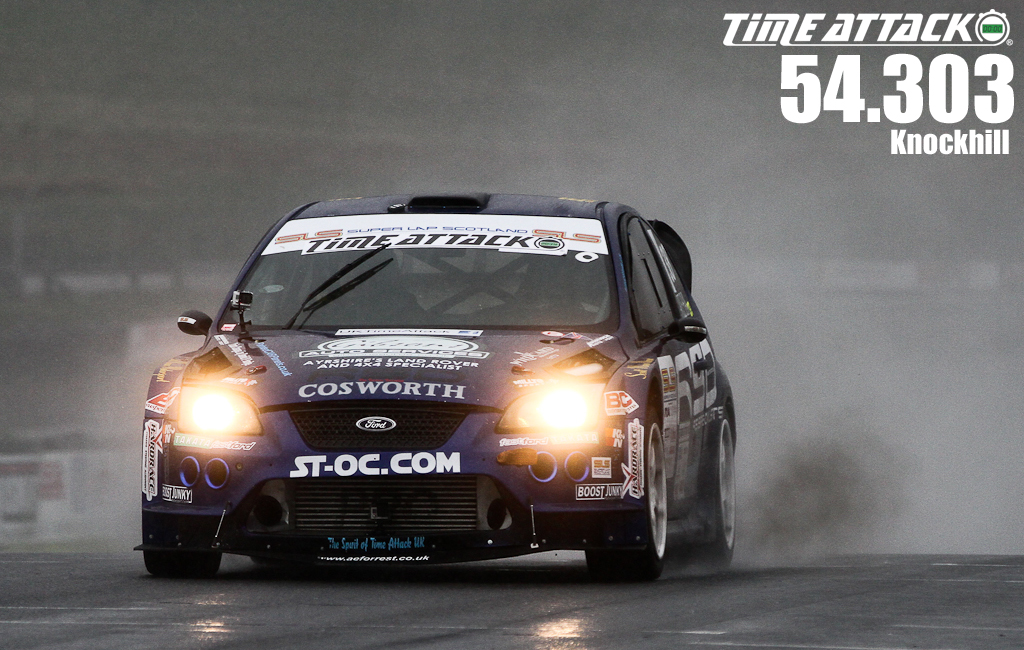 Pro Class
Scott Robson:Subaru Impreza
Scott showed amazing pace in Qualifying, recording a 56 second lap in the wet which turned out to be the fastest time of the day from a Pro Championship contender. Unfortunately, Scott wasn't able to better it in the final even though he felt the speed was in the car. Initially he struggled with traffic, and then before he could take advantage of some clear track an electrical fault appeared, bringing the car to a halt. His support team at RA Motorsport found the culprit after the event, a simple fuse. A frustrating and impressive result in equal measure for Scott. He was quickest Pro driver, but he knows he could have gone even quicker.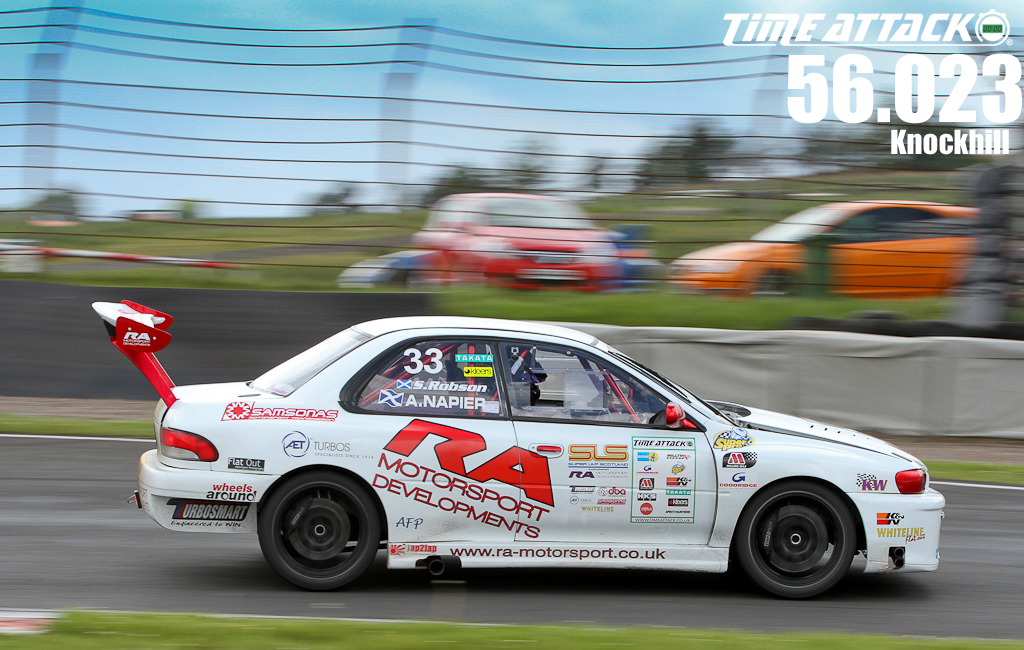 Simon Deaton:Porsche 997
As ever the drivers seat in Simon's Porsche was permanently occupied. In addition to his Time Attack duties, Simon also entered a competitive racing series that was having a round at Knockhill, and won! Returning to Time Attack business, Simon is known as a driver who loves the rain and so he proved. Despite having a rear-engined rear-wheel drive car, Simon pushed to the limits and Qualified in second place in Pro (setting his fastest lap), before winning the Pro Final with a 59.416 to take the overall points win in Pro. The ginger stig is collecting Championship points at a rapid rate.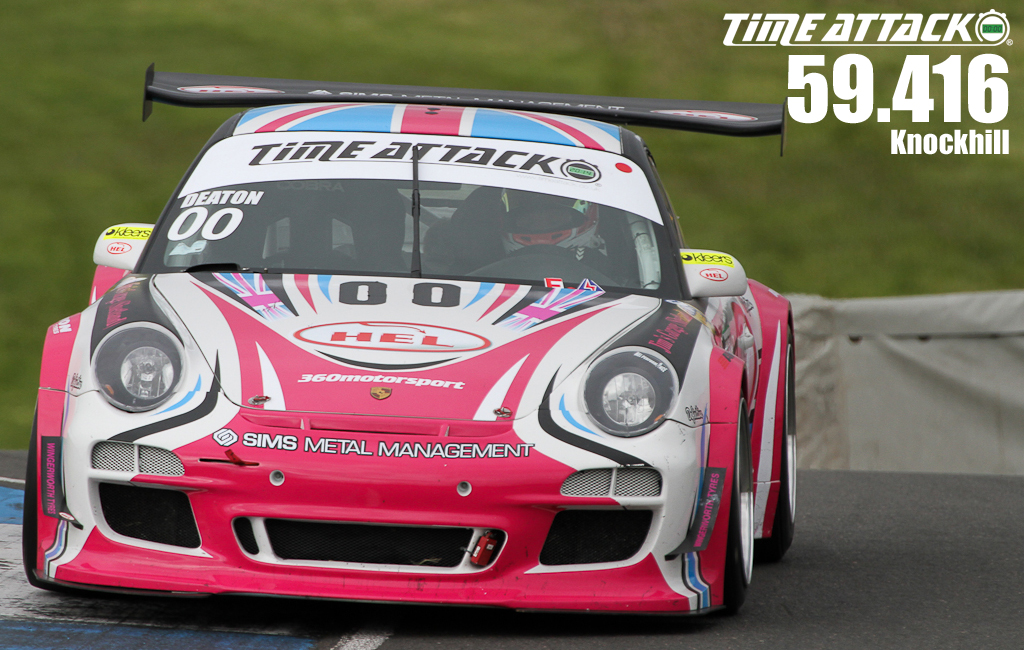 Andy Demitriou:Porsche 991 [One Hit Wonder]
Travelling all the way from Cyprus for the event was Andy Demitriou, in a borrowed Porsche 991. Andy will be bring his heavily-modified Mitsubishi Evo to future Time Attack events, and he let everyone know that he knows how to peddle. Andy was blistering quick in the 991, and the only driver outside Pro Extreme to break into the 53 second bracket. If his Evo is anywhere near as good as his driving, Andy is going to be real force to be reckoned with.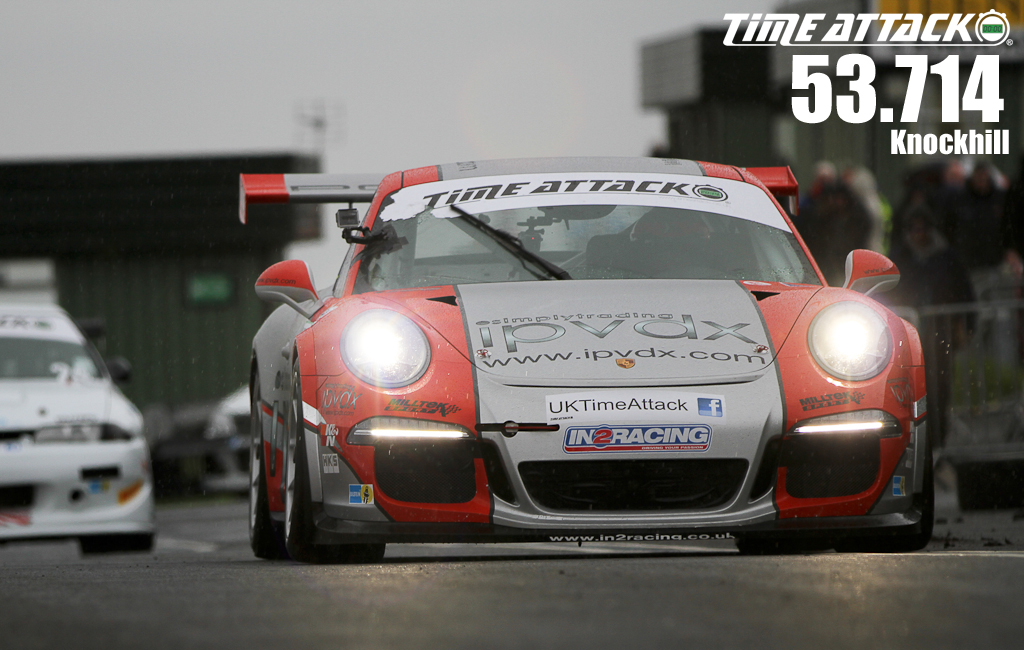 Michael Mahoney:Mitsubishi Evo [One Hit Wonder]
Michael Mahoney's Evo really lives up to it's name, having evolved over the years into the extreme machine it is today, complete with rear-mounted radiator and all. Entering this round as a One-Hit Wonder, Michael had a new fly-by-wire throttle body conversion, which he hoped would affect throttle response and make the car more driveable. A solid performance for Michael, especially considering he said he could hardly see where he was going at times!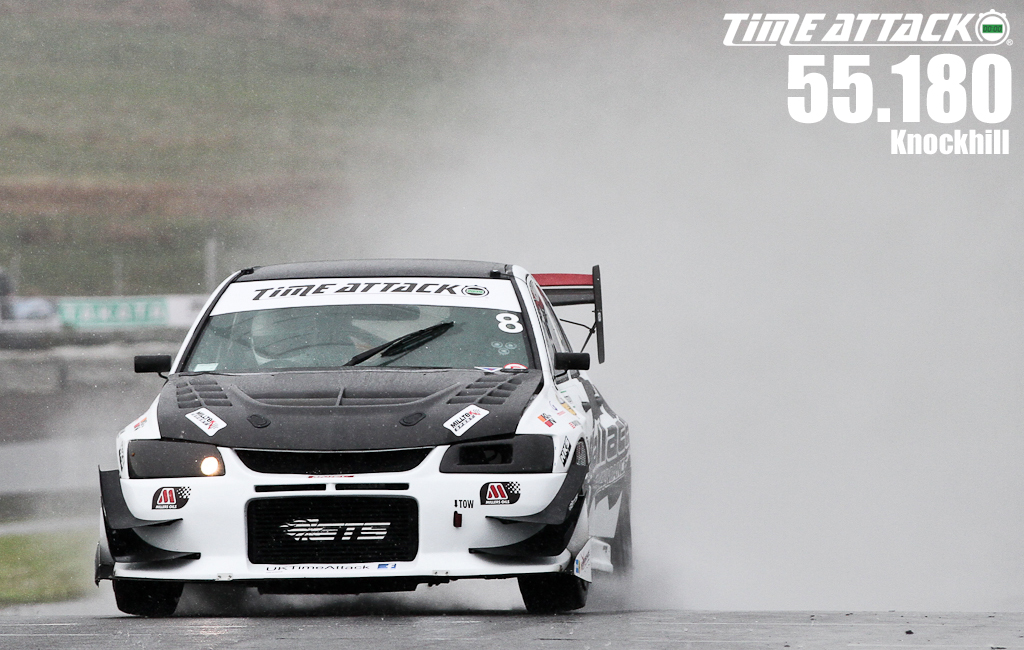 Club Pro
Andrew Barbour:Mitsubishi Evo 5
In common with every Club Pro competitor, Andrew Barbour set his fastest lap during Qualifying. The NR Autosport-supported Evo is showing it's pace in Andrew's hands. And feet for that matter. Andrew finished first in Qualifying on the drying track, putting over a second between himself and second place. However, when the rain came down in the final Andrew feels he made the wrong tyre choice. As a result he was 'only' third in the Final. Bottom-line is he picked up a nice selection of points from Knockhill and drove away with the fastest lap to boot.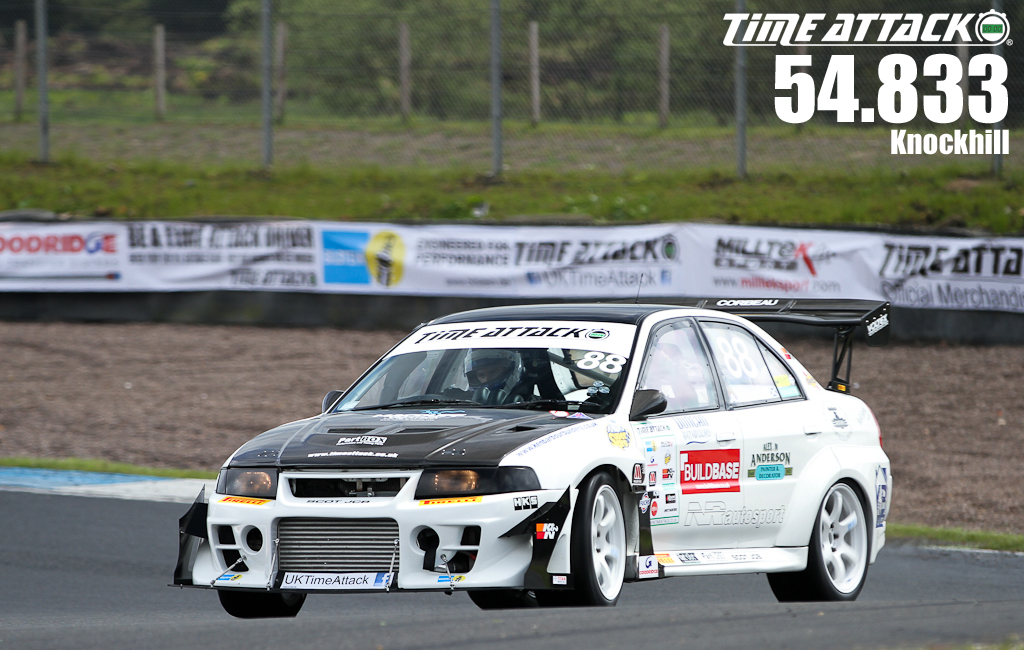 Phillip Reed:Mitsubishi Evo 6
It's only Phillip's second event in his new AP Tuning and Ross Sport Mitsubishi Evo 6, and yet he is already emerging as a potential Club Pro Championship winner. That's because once again Phillip earned enough points to take home the 1st place trophy, qualifying in second and winning the final. Phillip's fastest time was set in qualifying.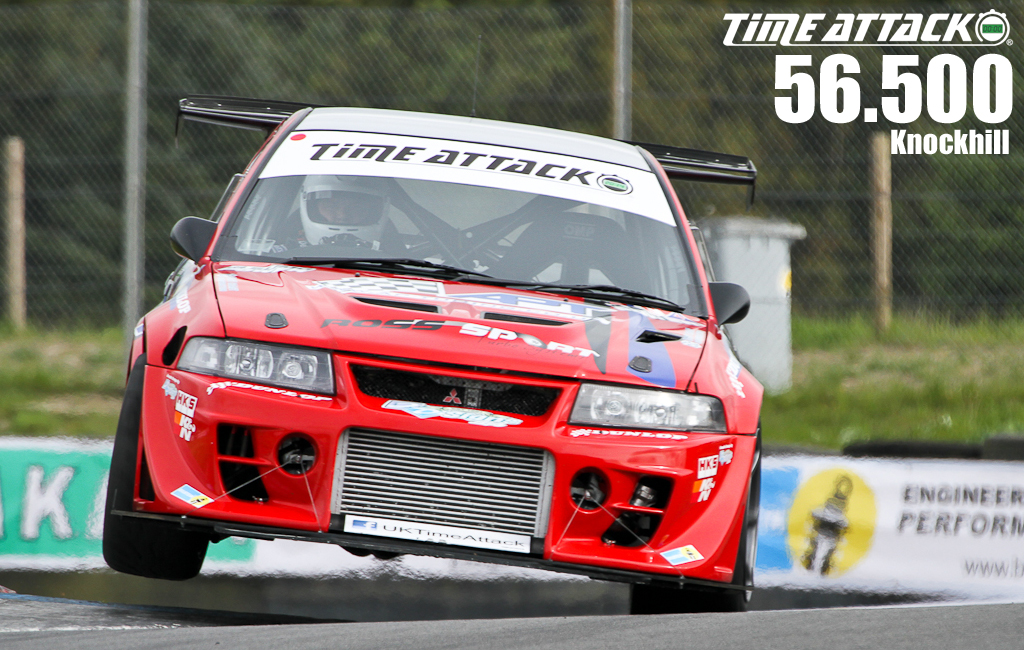 Brad Sheehan:Mitsubishi Evo 9
Not a weekend Brad will want to remember really. A series of small issues plagued his day, including a hole in his radiator which he managed to temporarily fix. In addition to the car issues, Brad really struggled to get space out on the busy track, claiming he was unintentionally held up on almost every lap. Still, after Qualifying in third place (setting his P.B in the process), Brad went on to put up a real fight in the Final. Despite his problems, Brad and his M.A.Developments-supported Evo 9 missed the top spot by just 0.160 seconds! Proof that Club Pro is one of the closest, hardest-fought classes in all of Time Attack.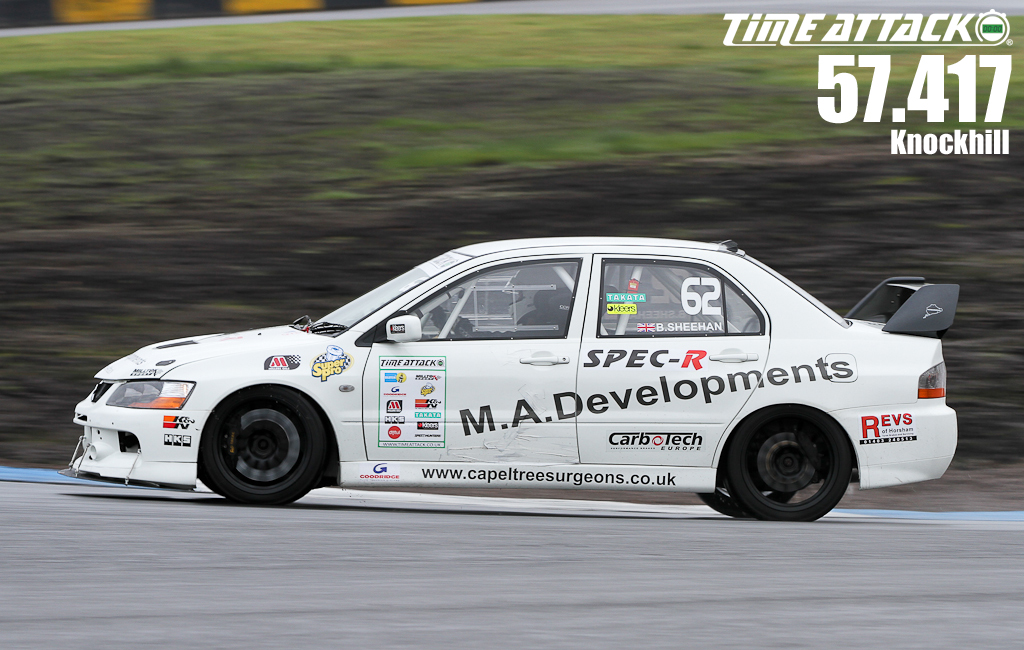 Ronnie Amis:VW Golf
One of the Time Attack drivers who was really looking forward to Knockhill, Ronnie Amis couldn't wait to hit the track. He didn't seem to care in the slightest about the spray kicked up by other cars, pointing out that having Kleers as a sponsor has it's benefits, specifically in keeping his windscreen clear in such awful conditions. Judging by the way Ronnie was attacking the high kerbs, he certainly didn't have a problem with visibility or bravery! Ultimately, Ronnie struggled to match the traction of his 4WD rivals at Knockhill, but with every event he's getting more familiar with the car and is closing the gap to the front.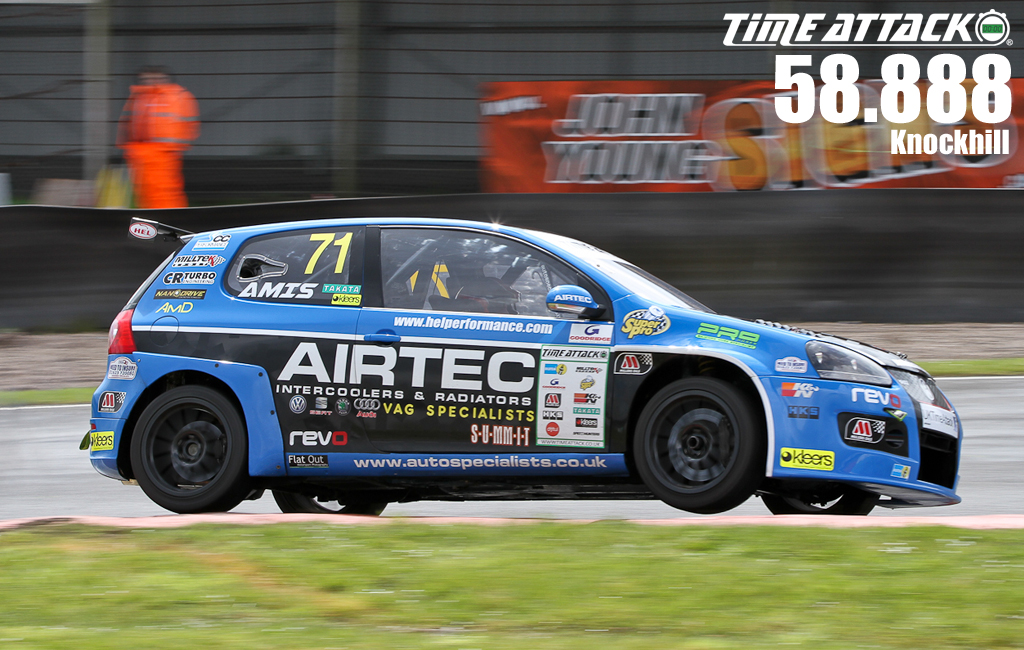 Jason Ogg:Subaru Impreza
A mixed weekend for Jason and "The Hulk". Some fairly substantial upgrades were fitted to Jason's car by RA Motorsport during the wee hours before the event, including a new Samsonas 6-speed sequential gearbox and a dry-sump system. Jason was also grateful to Andy Forrest, who cancelled his own plans over the weekend to map the car in time for the event. As a result, Jason was reasonably happy to just make it out on track, although finding out his wet tyres were technically classed outside the regs for his class just made his weekend even harder. Jason will look forward to getting the car sorted over the next few weeks, in time for Round 3 at Snetterton. He and the Hulk should be back on form by then and faster than ever.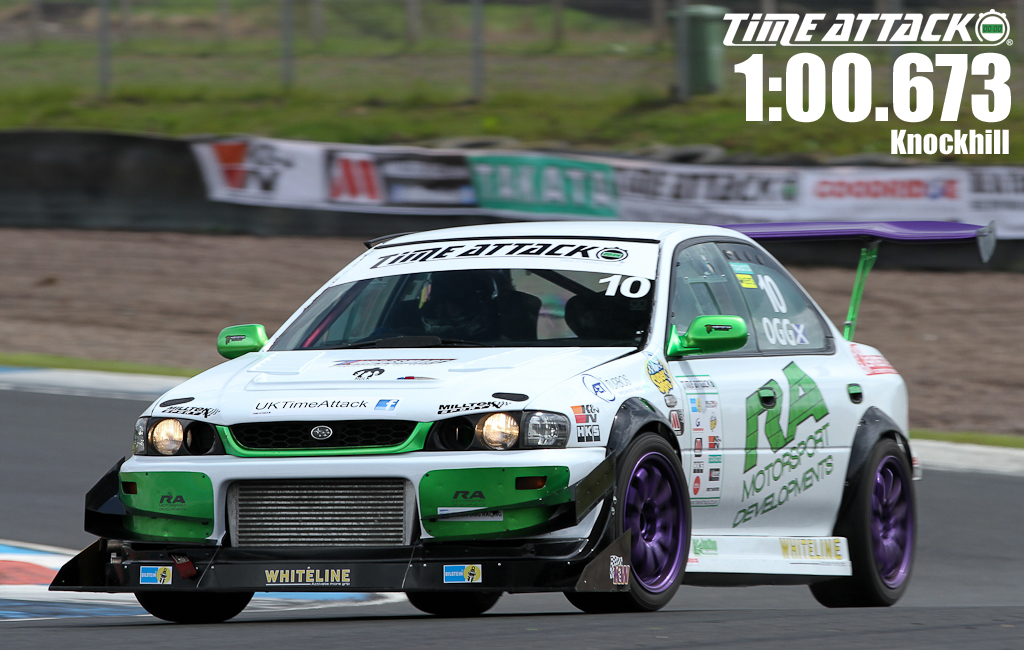 Russ Paton:Mitsubishi Evo 6
Fair play to Russ Paton for even getting to Knockhill. Russ had a substantial accident at Brands Hatch at the end of the 2013 Time Attack season, and has spent most of his evenings and weekends over winter piecing his new car together from a bare shell. Don't pay any attention to the lap times. Just making it back out on track was a victory for Russ and his car looked great too.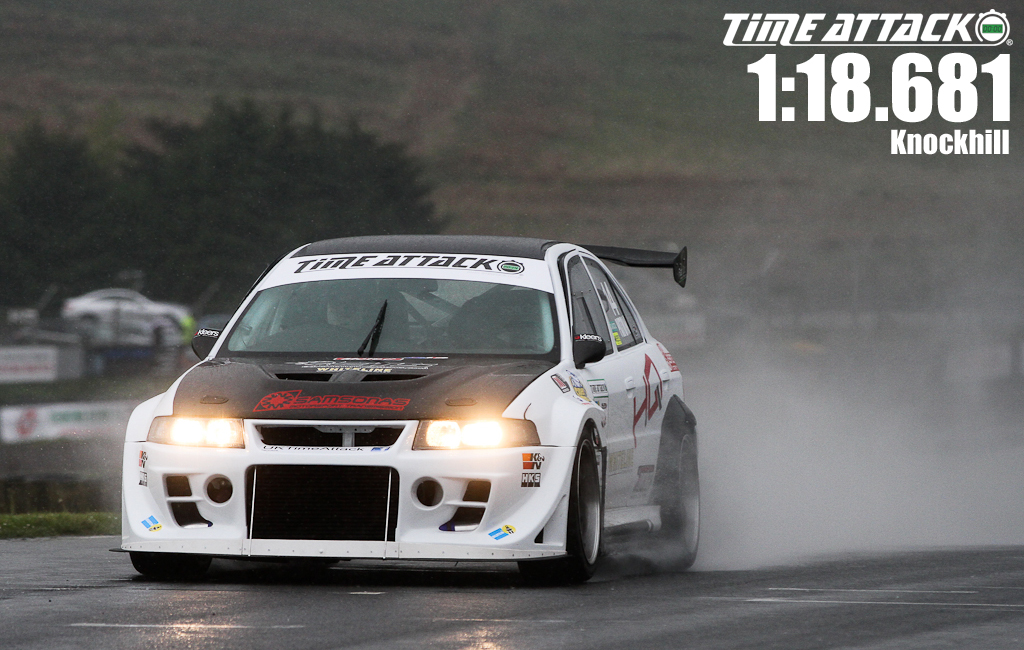 Round 3 takes place at Snetterton circuit on Saturday 5th July, for more information and to buy tickets to come and see the event and cars in action yourself – see here