Before you look to closely at the times from Brands Hatch on Saturday, we have to talk about the weather..
Cold, wet, damp.. then repeat. All day. So the times achieved on the day aren't representative of outright pace. They are however, a testament to how quick these cars are in slippery conditions – and how brave and skillful the drivers are. Coping with a wet track is difficult enough, but when the grip levels literally change with each corner, it becomes extremely difficult for the drivers to find the limits of adhesion, and for the teams to set the car up effectively.
Across the three Pro classes (Pro Extreme, Pro and Club Pro), two of the Championships were already decided. Andrew Barbour had sealed the Club Pro Championship in his NR Autosport Mitsubishi Evo, Richard Marshall the Pro Championship in his HEL Performance Evo prepared by Tractive Solutions. In Pro Extreme, Olly Clark in the Roger Clark Motorsport Subaru Impreza had to avoid a 130-point swing to confirm the title. His nearest rival being Marcus Webster in the Midlands Performance Nissan Skyline R32 GT-R. Also, with this being the debut for the new Pro Extreme class at Brands Hatch, the fastest time of the day would also set a new Pro Extreme lap record. So who came out on top?
PRO Extreme
NEW LAP RECORD : Gareth Lloyd – SVA Imports Mitsubishi Evo
Fastest in Practice, Qualifying and the Final. It's fair to say that Gareth Lloyd and the SVA Imports Mitsubishi Evo completely dominated Pro Extreme at Brands Hatch. Their fastest lap at Brands Hatch became their third Pro Extreme Lap Record of the year – along with Snetterton and Silverstone, which were also overall Time Attack lap records too. SVA Imports arrived at Brands Hatch knowing they were out of the Championship fight after a couple of low-scoring early rounds. However, they wanted to defend the outright lap record they set last year and came equipped with a huge selection of tyres. Having tested here the week before the event, they expected rain. They weren't wrong and both Gareth and the team adapted magnificently – putting in a stunning 48.673 on a cold track that had been rained on repeatedly throughout the day. In fact, Gareth could have gone a lot faster. On his fastest lap of the day, he came across three cars at the entry to Graham Hill bend – forcing him to briefly queue behind them, reducing his speed along Cooper Straight and also his compromising his entry to Surtees. Who knows how fast he would have gone without that traffic?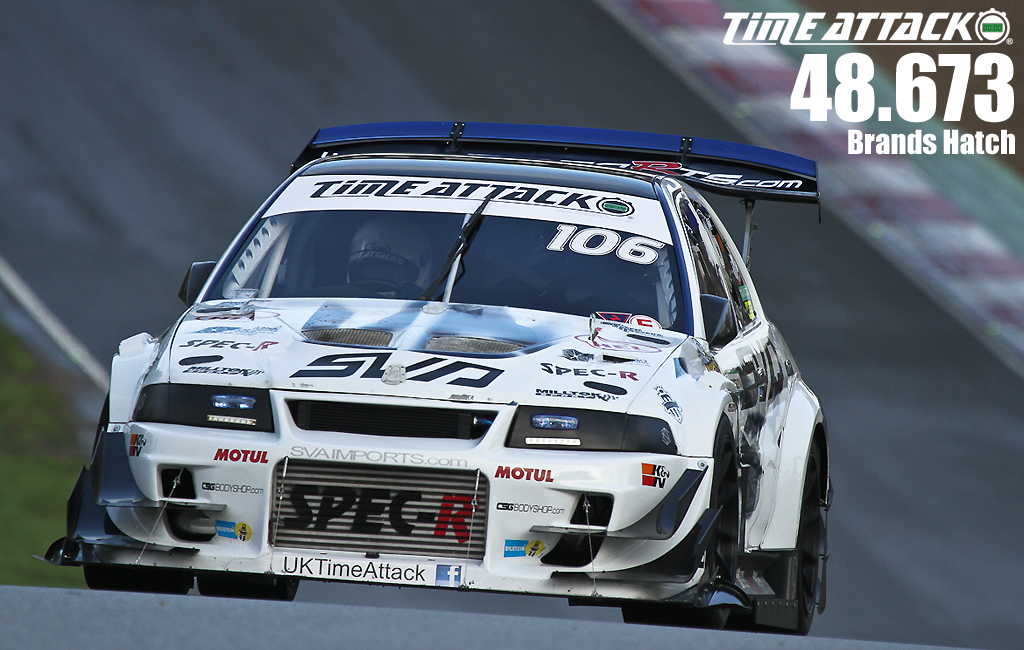 (OHW) Martin Short – Wake Energy Drinks / Rollcentre Racing Mosler MT 900 GT
With it's 7-litre V8 engine and pure racecar DNA, the Rollcentre Racing Super GT is a serious piece of machinery. Martin entered as a One-Hit-Wonder and his excitement began before he'd even reached the track. He suffered a blowout on his car transporter on the M25! Despite this, Martin recovered to put in a great performance in his Mosler MT 900 GT. Up against 4WD opposition in wet conditions, it shows how fast Martin and his rear-wheel-drive Mosler are.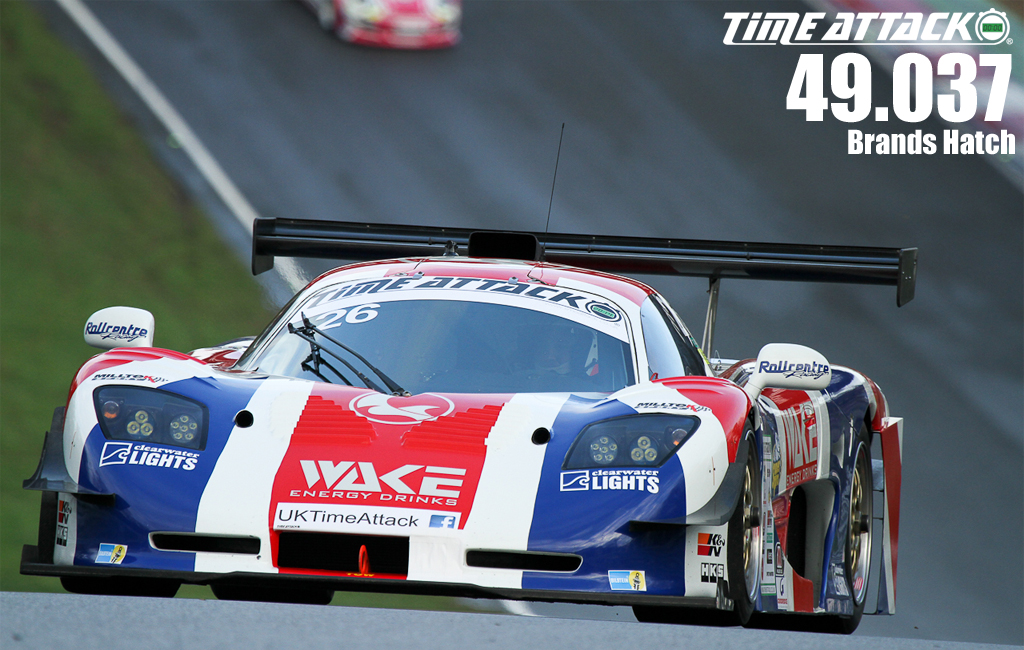 Marcus Webster – Midlands Performance Nissan Skyline R32 GT-R
What a season it's been for Marcus Webster and his Team Midlands Performance Nissan Skyline GT-R. Descriptions of Marcus' car are usually tagged with "1,000bhp", and while that's accurate it doesn't tell the full story. Horsepower alone doesn't buy you lap time, and as the season has progressed the 'Eis Bear' as Marcus is fondly known, has proved he can really drive. In the Final, our Pro Extreme drivers had time for one hot lap before it rained and Marcus made sure his counted. His car has been fast and consistent this year, and his second place finish at Brands Hatch was enough to seal the runner-up spot in the Championship. A fantastic achievement made even more impressive when you realise Marcus could technically run his car in Pro – choosing to enter Pro Extreme because he "wants to test himself against the very best". Fair play Marcus and well done!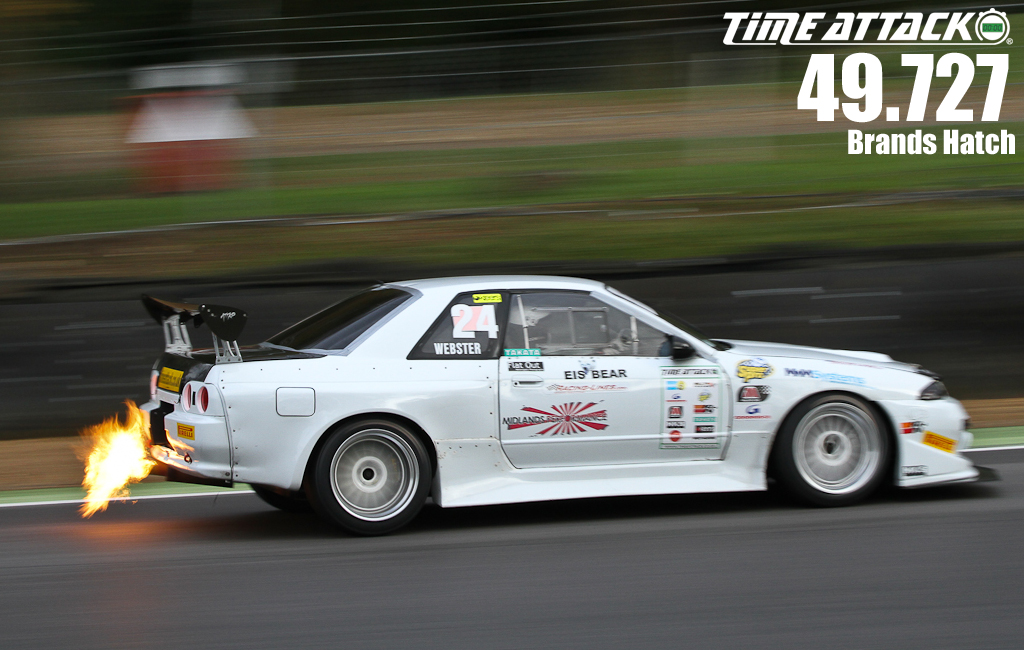 2014 PRO EXTREME CHAMPION : Olly Clark – Roger Clark Motorsport Subaru Impreza
Olly Clark and the immaculately-prepared RCM "Gobstopper II" Subaru Impreza are our inaugural Pro Extreme Time Attack Champions! They sealed the Championship by 70 points, with maximum points scores at Knockhill and Cadwell Park. Ironically, this was the first weekend all year that Olly and GSII hadn't qualified in first place, having to settle for second instead. RCM arrived at Brands Hatch with a new front aero package, designed using CFD (Computational Fluid Dynamics) just like F1 teams do now that testing is banned. The idea of the new front-end was to reduce drag while still providing lots of front downforce. Unfortunately, a mixture of the weather and bad timing meant they didn't really see the full effects. So while things didn't properly click at Brands Hatch, their speed and reliability throughout the year won them the first-ever Pro Extreme Championship. They end the season with two Pro Extreme Lap Records also (Knockhill and Cadwell Park) and countless new fans.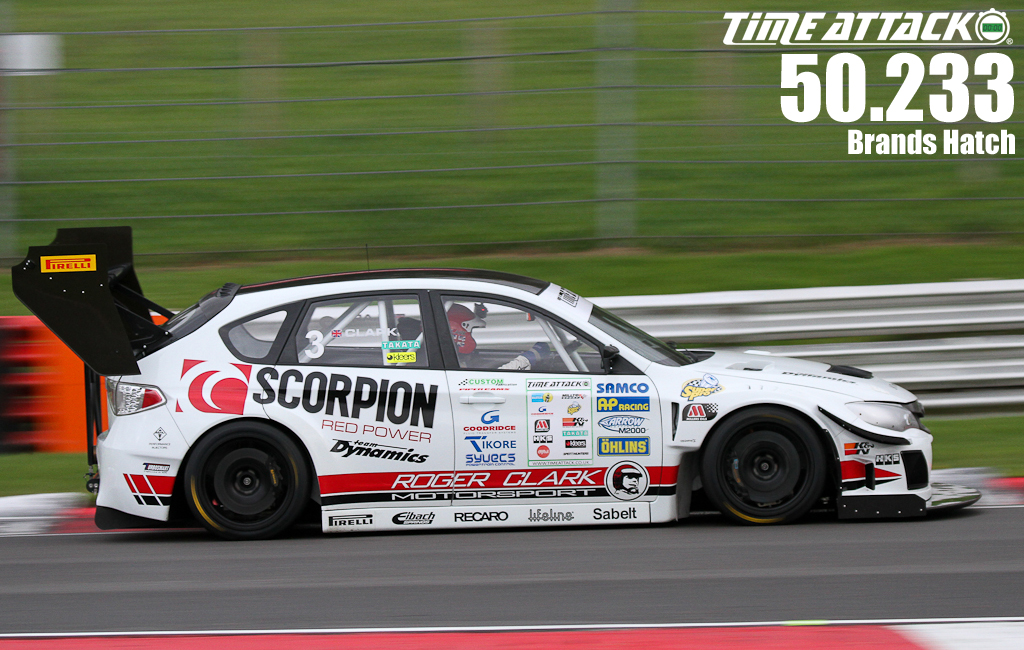 (OHW) Andrew Gallacher – AG Motorsport Ford Focus
It was a mixed return for the AG Motorsport Ford Focus owned by Charlie Shaw. With Andew Gallacher behind the wheel, we expected the Focus to be a contender and we weren't wrong. Under the bonnet is a 2.2-litre 4-cylinder Ford Cosworth engine capable of pushing out an insane 1,000bhp! Just as Andrew seemed to be getting comfortable behind the wheel, he suffered a spectacular rear tyre blow-out on the fastest part of the circuit. After accelerating up the Brabham straight, Andy was preparing to brake for the tricky Paddock Hill bend when his nearside rear tyre delaminated at 140mph! The flailing rubber ripped apart the bodywork. Andrew managed to control the car as it tried to go hard-right into the wall, slowly spinning into the gravel trap. Sadly, the damage kept him out of the competition for the rest of the day.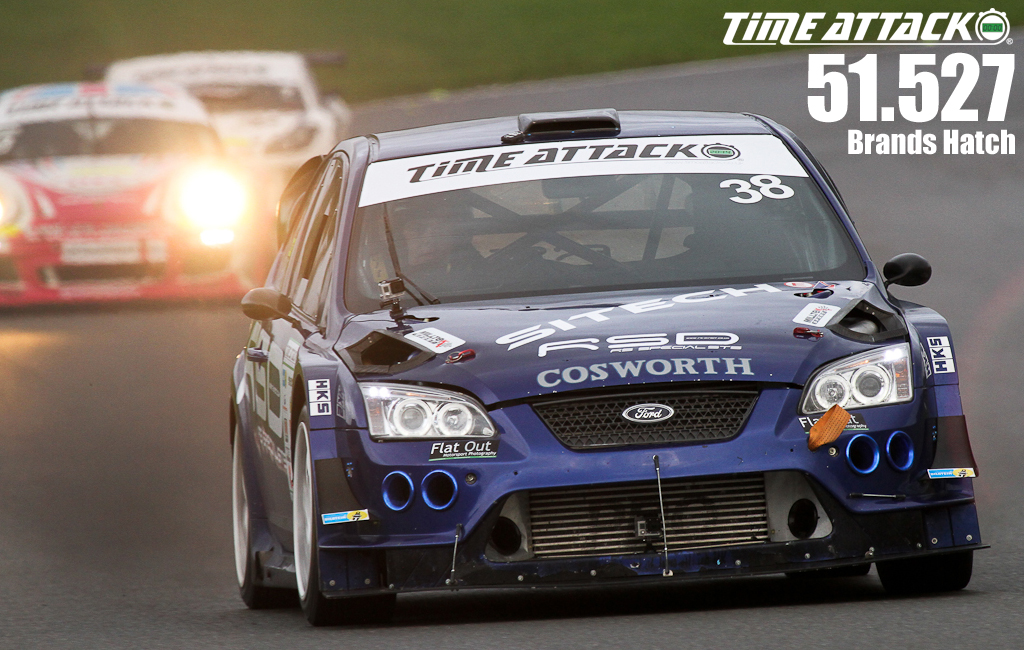 Andy Demetriou – Century Motorsport Ginetta G55
In a game of Time Attack 'Top Trumps', a Pro Extreme car with 2WD and 'only' 380bhp wouldn't win you many battles. However, the Century Motorsport Ginetta G55 is something of a giant-killer and Andy knows what he's doing behind the wheel. Sadly, he was a touch of the pace int he final reckoning, but with less than half the horsepower of some of his rivals and a smile on his face, Andy was loving the opportunity of pushing the Ginetta right up to the limits of adhesion and occasionally over it! He was still our there in the Night Attack doing exactly the same. 
PRO
(OHW) Steven Darley – Lateral Performance / SD Motorsport Subaru Impreza
Built by Steven Darley of SD Motorsport using the best bits available from Lateral Performance, "the Banana" is a very successful hill-climb car. After teasing us a couple of times throughout the year, Steven finally brought the car to Brands Hatch to compare with our Pro Class entrants, sliding behind the wheel himself. As expected, the short 1.2-mile Brands Hatch Indy circuit suited the Banana perfectly and Steven showed he's handy behind the wheel too. Steven set his fastest time on his last lap of Qualifying. When he took to the track in the Final, Steven hoped to be pushing the Pro Extreme guys. Sadly, as he lined up for a hot one he suffered gear linkage failure followed by a fuel pump connector failure. Even so, Steven was fastest Pro car at Brands Hatch.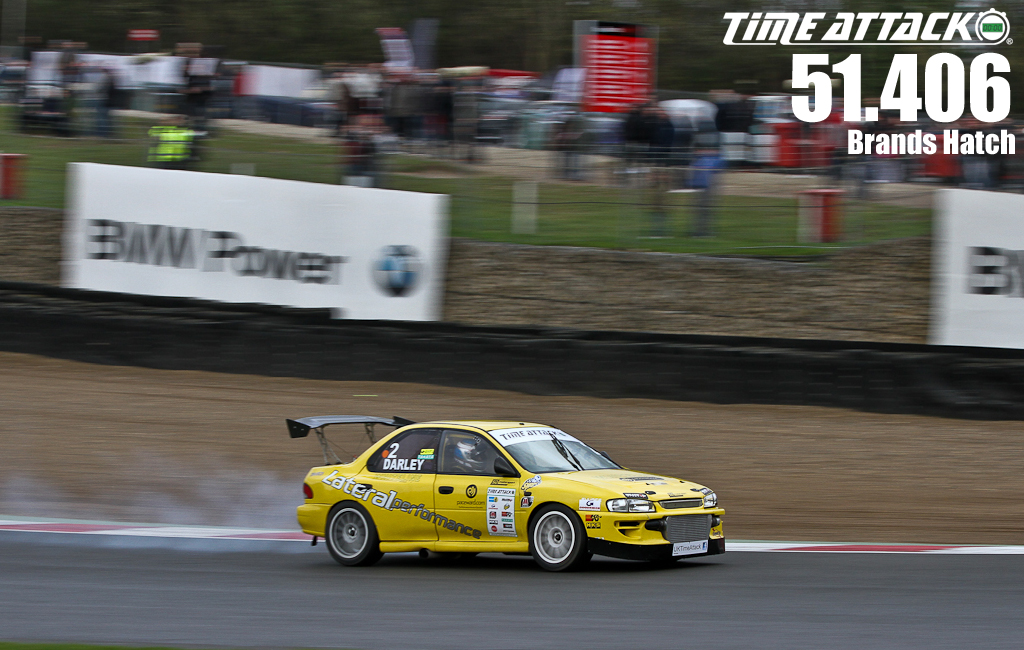 Ian Rowlance – 6R4.com Metro 6R4
It was a welcome return for this familiar Metro 6R4. A 2.8-litre twin-turbo version of the famous Goodmans V6 engine, this exact car had been involved in a huge crash here over twenty years ago, when it was a Rallycross car. Mark Pollard owned and drove the car at Silverstone but has since sold the car back to it's previous owner, and driver of the car at Brands Hatch, Ian Rowlance. He was immediately on the pace and scored maximum points, qualifying in first place before winning the final.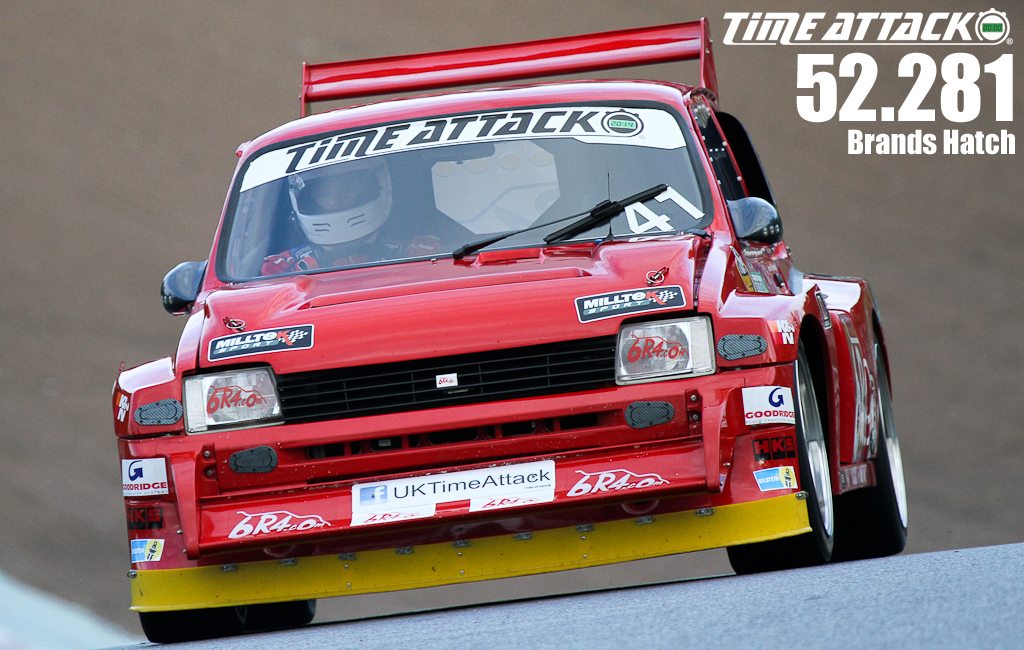 Scott Robson – RA Motorsport Developments Subaru Impreza
It was a strong finish to the season for RA Motorsport Subaru Impreza driver Scott Robson. He had a new front-end on his car, with a deeper red splitter and matching canards. It seemed to have an immediate impact too as Scott was clearly fast. In qualifying, he decided to save his wets for the final, going out on the damp track on slicks. He ended up just 0.1 seconds behind Ian in the 6R4. In the final, with new full-wets on the car, Scott completed his warm-up lap. That would become his only lap in the final, as an issue with the dry sump system on the car caused the Syvecs ECU to shut off power and save the engine. The good news is his Warm-Up lap was fast enough to take second place by 0.2 seconds! Scott is convinced he could have gone significantly faster but was still chuffed to seal second on the day, and second overall in the 2014 Pro Championship.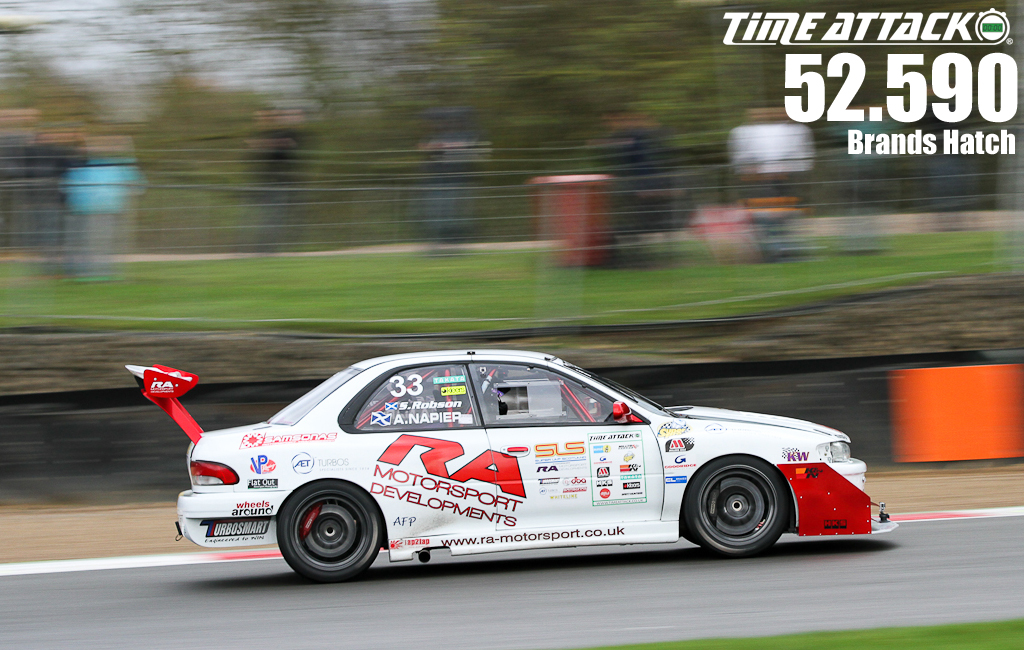 Simon Deaton – HEL Performance / Team Parker Racing Porsche 997 GT3-R
One of the few Time Attack drivers that always wants rain, Simon Deaton got his wish at Brands Hatch. Being the driver of a rear-engined, rear-wheel-drive Porsche, that might be surprising but Simon reckons it allows him to close up to the rest of the Pro class, who all have lots more power than his 420bhp 3.6-litre 6-cylinder GT3 engine. It certainly proved the case and Simon must have been dizzy by the end of the day, such was the amount of laps he completed, including the Night Attack.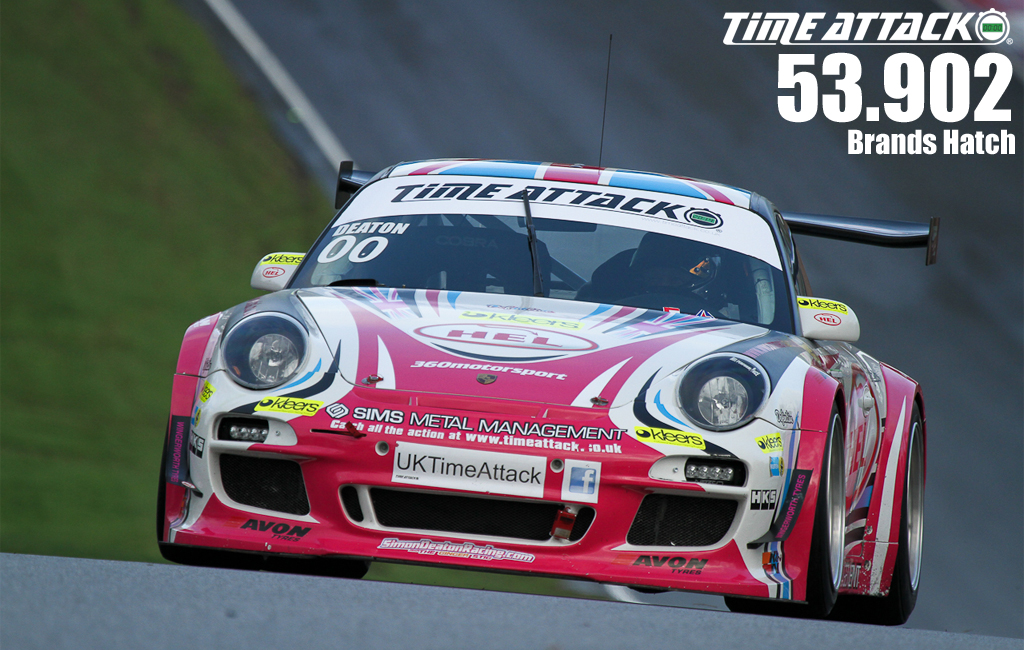 2014 PRO CHAMPION : Richard Marshall – HEL Performance / Tracktive Solutions Mitsubishi Evo
Our 2014 Pro Champion, Richard Marshall arrived at Brands Hatch with an immaculate record; maximum points in every round entered. However, after missing a round and scoring zero points he needed to perform to seal the Pro title. It was a challenging day all round for Richard and his team. He had limited laps in qualifying after a misfire, followed by issues with his tyre warmers and transfer box. Even so, with some quick thinking from his Tracktive Solutions support team, Richard was able to secure the points he needed to win the 2014 Pro Championship with an impressive total of 700 points form a maximum possible 750. Richard's final was brought to a premature end when a rear hub sheared off! So while it was a less-than-perfect day, Richard had achieved a virtually flawless Championship win.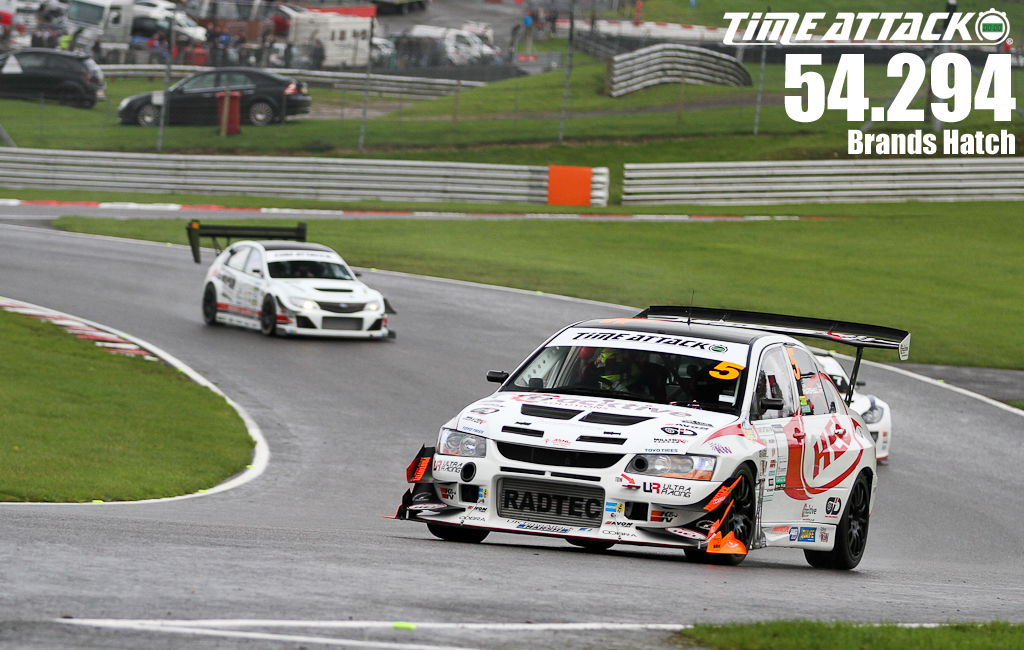 Club PRO
Jason Ogg – RA Motorsport Developments Subaru Impreza
Finally! Jason Ogg and his Subaru Impreza known as 'The Hulk' follow up on the potential they showed last year. Modifications for Brands Hatch included a smaller turbo. Well, in relative terms anyway, from a GT40 to a GT35. So not exactly small. There was also a new ignition system in place. After mapping by Andy Forrest the result was more power than before with less lag. It certainly seemed to work at Brands, as Jason pushed the car to third place in qualifying. Then it got even better. Jason went out and on his first flying lap he set the fastest time of the day in Pro, winning the final in the process. A brilliant performance.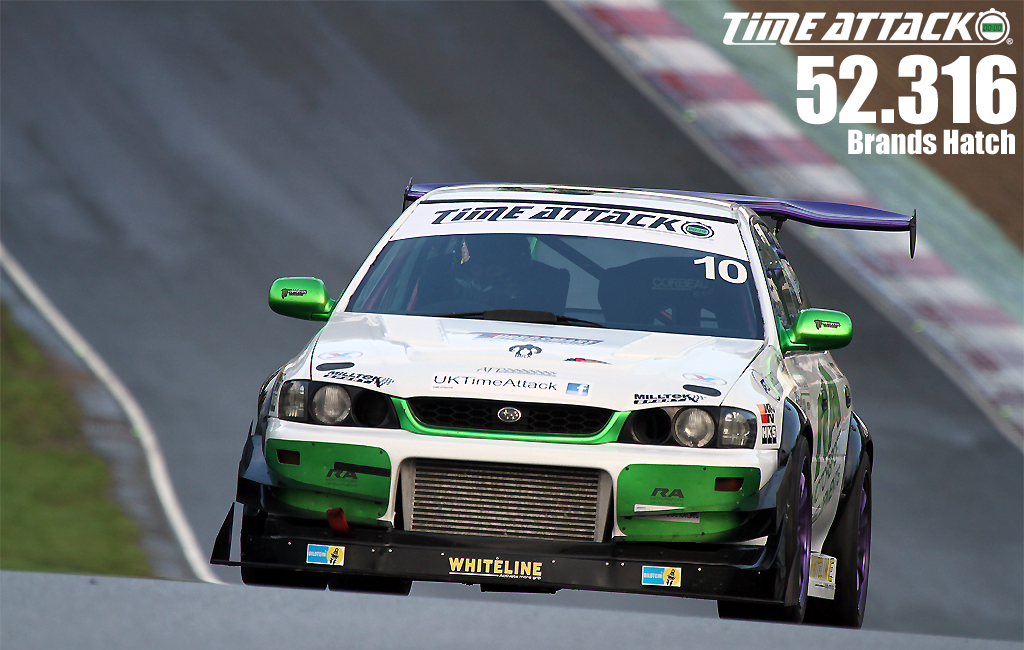 Brad Sheehan – M.A.Developments Mitsubishi Evo
If there was an award for 'Most Entertaining Driver of the Day', Brad Sheehan would have been a front-runner. Making a welcome return to the Championship, Brad was last seen way back at Round 2 and wasted no time getting back into the swing of it. He spent most of the day completely sideways, powersliding on the slippery surface especially though Graham Hill bend. His Evo is tuned by M.A.Developments and features a twin-scroll turbo setup, which is designed to combat turbo lag. As you can see from the distance between Brad and Jason Ogg's fastest times (just 0.01 seconds!), it clearly worked. These two were both extremely impressive on the day.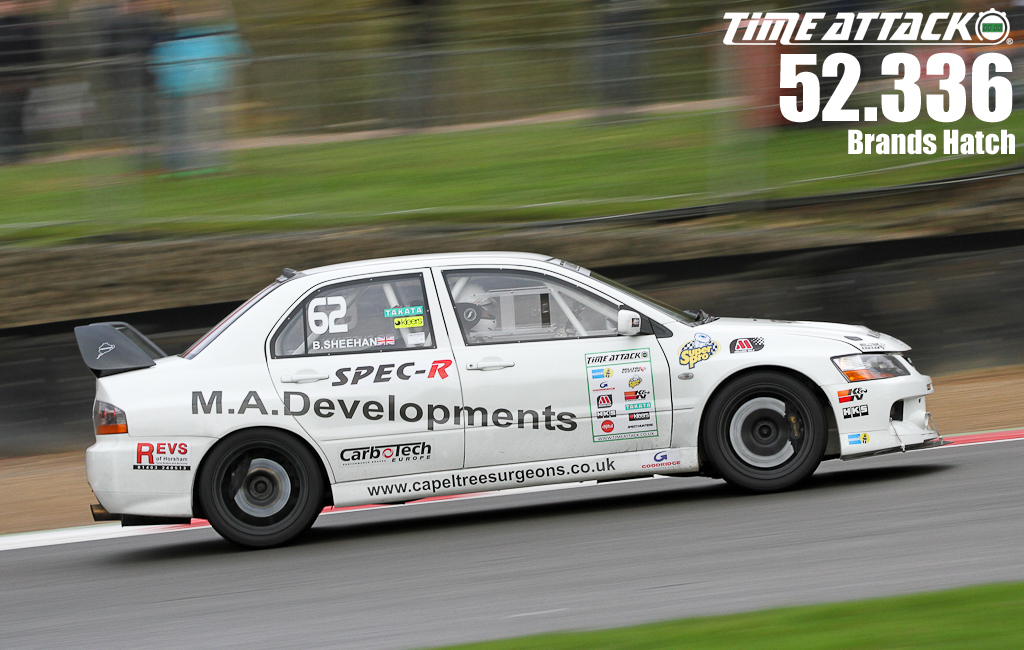 CLUB PRO CHAMPION : Andrew Barbour – NR Autosport Mitsubishi Evo
Andrew Barbour didn't need to push hard on Saturday. He'd already won the 2014 Club Pro Championship in his NR Autosport-supported Mitsubishi Evo. Along the way he's set new lap records and had two perfect 150-point weekends. Despite this he pushed on in the challenging conditions. Eventually there was just half a second covering the fastest times of the top three, showing what a competitive class Club Pro is. Will Andrew return to defend his Club Pro crown in 2015 or is he considering putting the slicks on and heading into Pro? We're looking forward to finding out. For now, we'll join Andrew in celebrating a hard-fought Championship.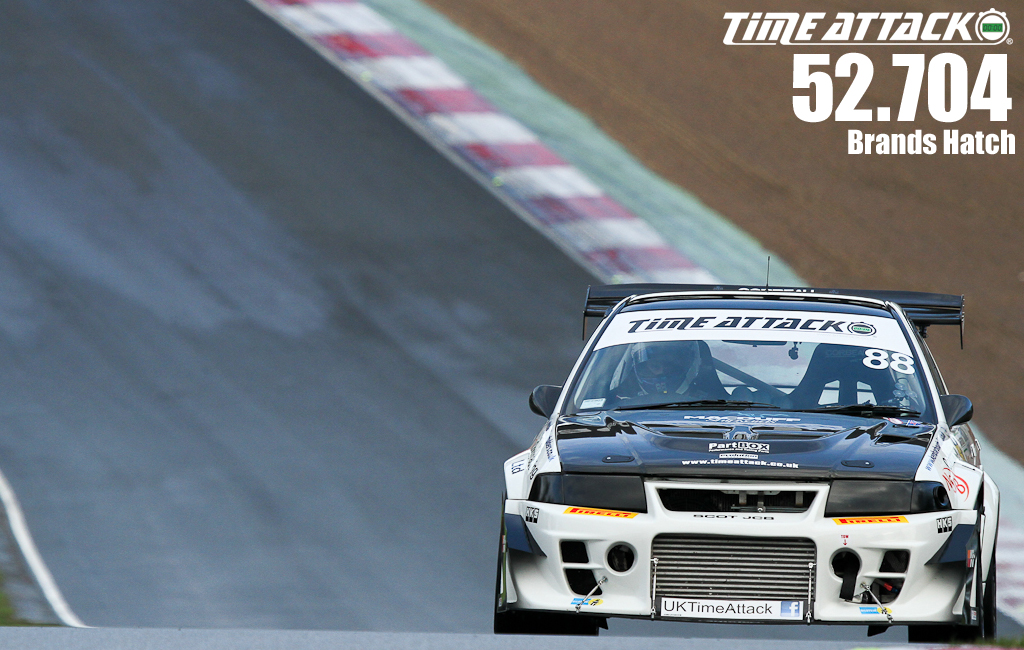 Ronnie Amis – Airtec VW Golf
It's been tough at time for Ronnie Amis in the Airtec VW Golf. Regularly touted as the "ex-BTCC Golf", it's often been overlooked that Ronnie is forced to use treaded 'semi-slicks' in Club Pro, when the car was developed on full slicks. He's also been massively down on power against his opposition, as the Airtec team use 2014 as a test year, choosing not to touch the NGTC-spec 2.0-litre turbo engine yet. Of course the final issue is that Ronnie is the only front-wheel-drive entrant in Club Pro, challenging the four-wheel-drive Evos and Imprezas. Despite all this, he's never been far from the fastest Club Pro times and a huge cheer went up when it was announced Ronnie had achieved third place in the Championship. Next year Ronnie's Golf will likely have more power and possibly some other tweaks. He'll also have the benefit of a full year of competition under his belt, so it will be interesting to see how he and the Airtec Golf progress in 2015.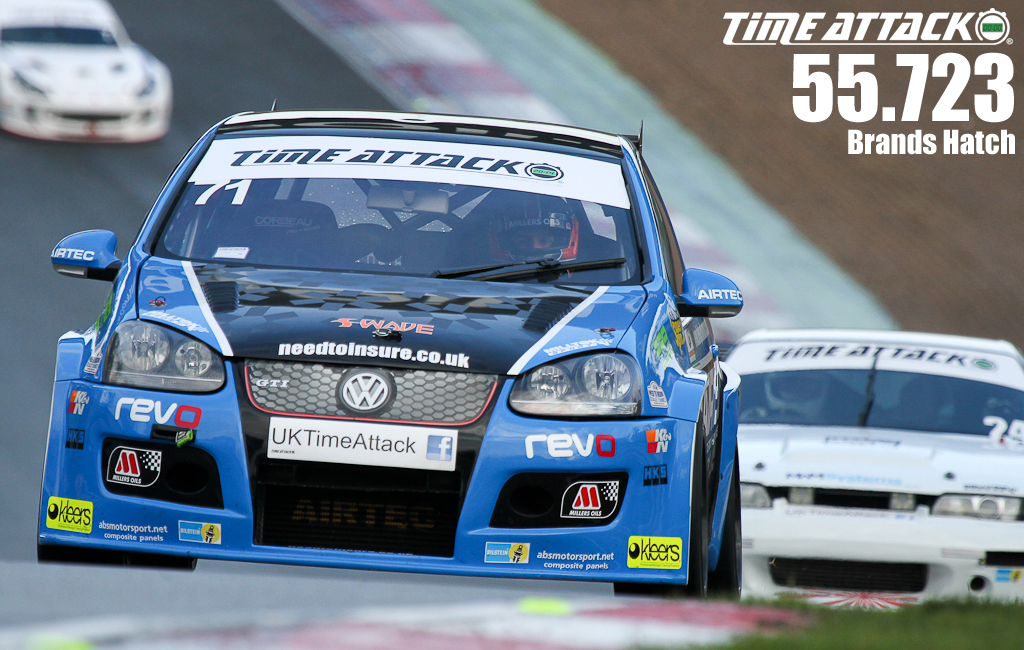 Russ Paton – HQ Garage Mitsubishi Evo
Returning to the scene of his heavy accident at the finale of last year's Time Attack Championship, Russ Paton had won even by turning up. He spent all winter and most of 2014 rebuilding his Evo from the remains of his old car after ploughing head-first into the tyre wall, so it was a victory to even set a lap time. It took Russ an incredible 19 hours to get to Brands Hatch, arriving with no sleep! Only for a suspected transfer box failure hampering his outright lap times. Another popular face in the paddock, we have nothing but respect for the dedication Russ shows for Time Attack. We hope he has far better luck next year.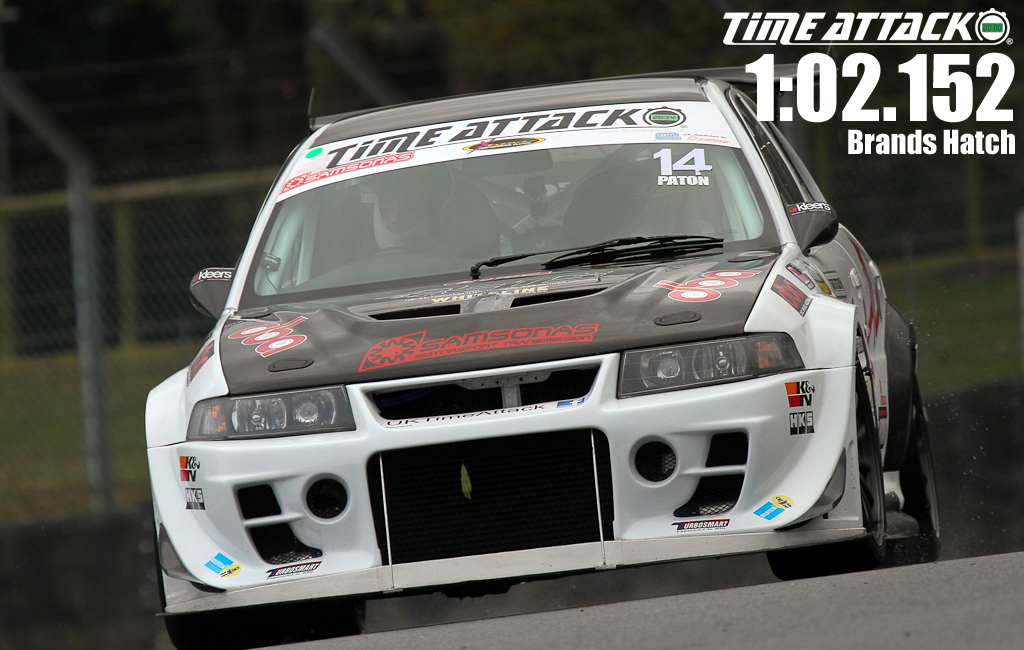 (OHW) Andrew Baird – Automek Lotus Elise
Another driver that had travelled all the way down from Scotland to the south of England was Automek's Andrew Baird. His Lotus features a Honda K24 engine with a large Rotrex supercharger attached to it! Not only is Andrew's Lotus very fast but it sounds savage too. As a One-Hit-Wonder, Andrew was using the event as a learning experience. He set his fastest time in qualifying, before politely pulling out of the final session so as not to get in the way of the regulars who were still fighting it out for the championship. That'll make him very popular, should he return in 2015. Andrew and his Lotus are far quicker than his FTD suggests, so we certainly hope to see him back next year.