Pro Classes Quickest Cadwell Park : Round 4 Cadwell Park
Huge Congratulations to the following drivers and their teams, for setting new Time Attack Lap Records at Round 4 on Saturday:
PRO Extreme – Olly Clark, RCM GSII Impreza 1:26.512
Club PRO – Andrew Barbour, NR Autosport Evo 1:32.991
Club RWD – Kevin Jones, Noble M12 GTO3 1:38.358
Club NA – Mark Burnett, Honda Civic 1:39.353
PRO Extreme
NEW LAP RECORD: Olly Clark – Roger Clark Motorsport "Gobstopper II" Subaru Impreza
Olly and the Roger Clark Motorsport team leave Cadwell Park with the provisional Championship lead, having scored maximum points in both qualifying and the final. They had an excellent day with total reliability, topping the timing sheets in every session throughout the day.
Olly qualified in first place with a blistering 1:26.512. Like every round his year, that set a new Pro Extreme lap record, but was an agonising 0.012 seconds behind the existing fastest Time Attack lap of Cadwell Park – the Pro class lap record of 1:26.500 set by Gavin Renshaw in 2013.
Onto the final and Olly immediately sets a 1:26.890 to put him top of the timing sheets. When Gareth Lloyd has a mechincal failure in the SVA Evo, it guarantees maximum points for Olly and RCM. Olly pulls into the pits.
A discussion breaks out amongst the RCM team. They're aware Olly's current 1:26.890 is just 0.390 seconds behind the outright Time Attack Lap Record set by Gavin Renshaw in the Pro Class NR Autosport Evo 9 in 2013. Olly fires up Gobstopper II once again. He's going after the record.
Olly crosses the line for his flying lap with just seconds to spare. It's now or never. Olly pushes GSII to the very limits, blasting the Impreza flat-out over Cadwell's crests, piercing a line through the narrow, twisting ribbon of track. He crosses the line, cheers go up in the crowd. He's done it! Olly has set a blistering 1:25.833!
However, a chief Marshall at the Mountain reported Olly for exceeding track limits at the tight right-hander before the climb up the Mountain. Staying within track limits is a huge part of the competition this year. Olly had run deep into the left-hander, leaving himself compromised into the right-hander. As a result, Olly put his wheels beyond the kerb, momentarily off track and knocking a corner post out of the ground in the process. It denied Olly and RCM an 'official' outright lap record in the process, which was unfortunate given the superb driving to achieve the time.
Watch Olly's 1:25.833 lap here
Gareth Lloyd – SVA Imports Mitsubishi Evo 6
A disappointing day for SVA Imports and Gareth Lloyd, but it could have been far worse. Gareth qualified in second place behind GSII, with what turned out to be his fastest time of the day (1:27.386).
When the Final came around, Gareth wound the SVA Evo up and went for it. Unfortunately he suffered power steering failure at well over 100mph, sending the Evo across the grass where Gareth was able to wrestle back some control and avoid a huge accident. They hadn't even been able to play with the news toys, turn the nitrous on, etc. So there's plenty left in this lap-time, but it will have to wait for the next Time Attack visit to Cadwell Park.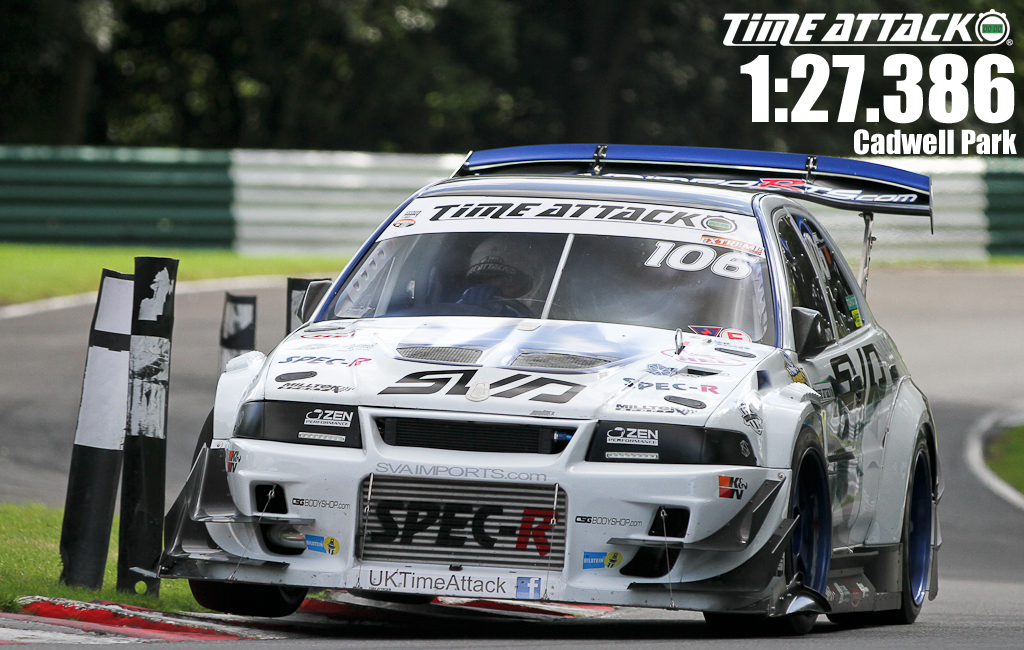 Evert Thomas – Audi S2
Our Dutch friend Evert Thomas was a very welcome addition to the Pro Extreme class. His Audi Quattro S2 is extremely rapid, and features that distinctive 5-cylinder soundtrack made so popular by the Group B rally cars back in the '80s.
Evert was just starting to find his way around Cadwell Park when he suffered a suspected turbo failure during his first qualifying lap. So his fastest time of the day was set during his fifth lap of the practice session, meaning there was plenty of time left in the car. Evert is unlikely to return in time for Silverstone but he did mention the final round at Brands Hatch in November. So don't be surprised to see him there.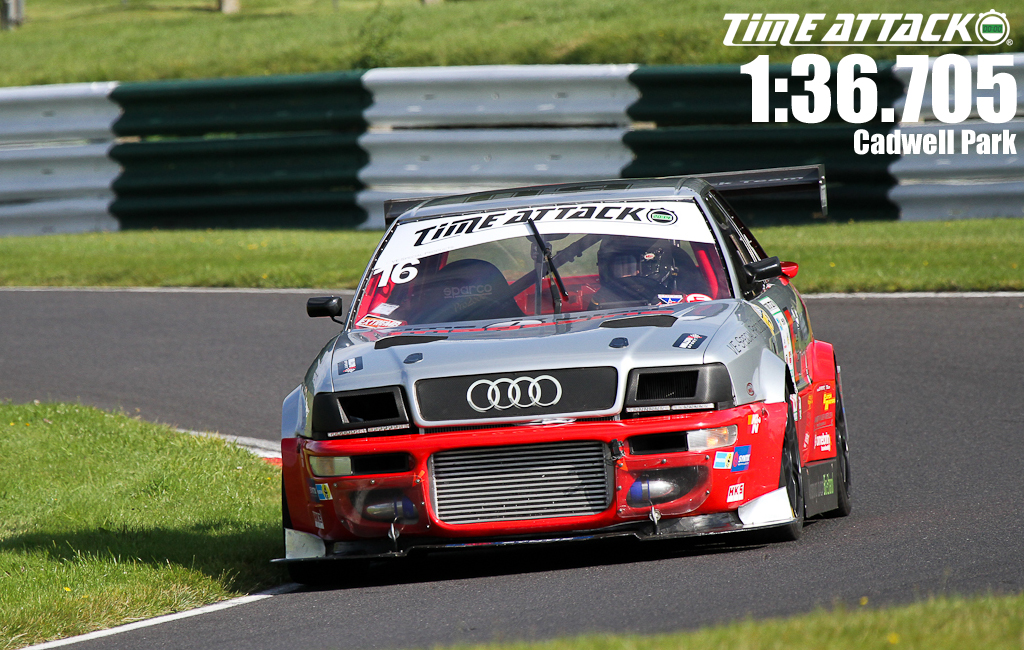 Marcus Webster – Team Midlands Performance Nissan Skyline R32 GT-R
Our Championship leader going into the weekend, Marcus Webster has been turning heads all year with his driving and the relative reliability of his R32 GT-R. Of course one of those had to break at Cadwell Park, and as Marcus held his nerve it was the car that let him down.
It was the climb up the Mountain that probably did the damage, with the big GT-R effectively bouncing it's way over the crest like so many of our Pro competitors. The combination of power and massive grip provided by huge slick tyres damaged either the sequential gearbox or the transfer box. The car still drove, but Marcus decided the nasty crunching noise that surfaced during the practice session meant he should retire the car before doing further damage. It's a huge shame because with the war of attrition all our Pro Extreme competitors faced at Cadwell Park, Marcus would have scored decent points just by recording a lap in qualifying and the final. Marcus is still in provisional second place in the Championship. It effectively means Cadwell Park is Marcus' dropped score, so he can't afford any more mechanical or driver errors during the remaining two rounds.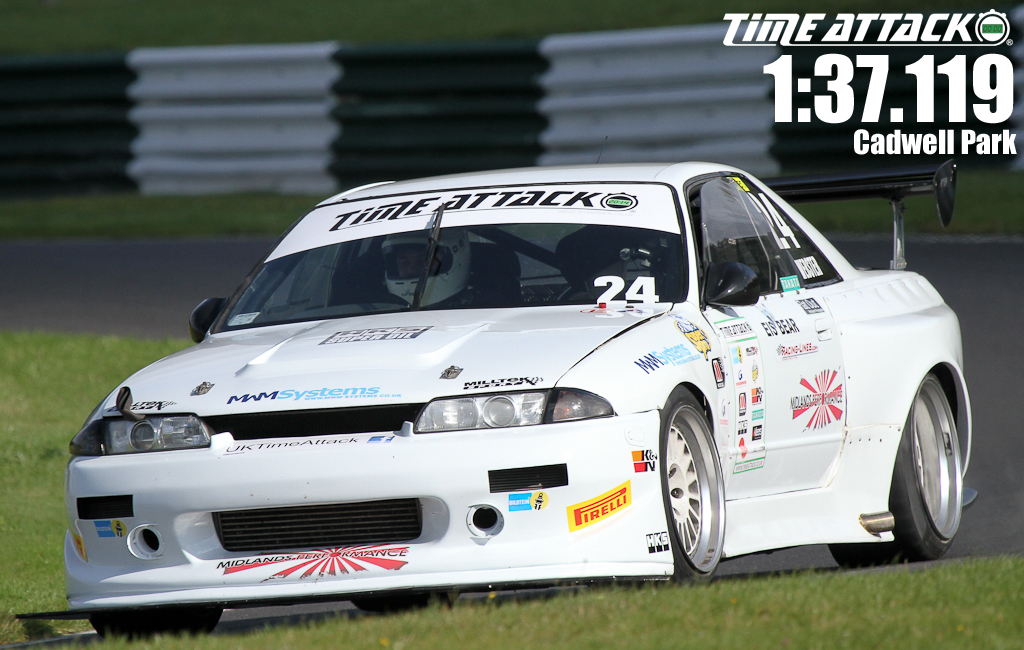 Peter Pentell – "LaSupra" Lancia Delta Integrale
LaSupra is quite a sight to behold. Effectively it's a spaceframe chassis, with composite Lancia Delta bodywork and a front mid-engined Toyota 2JZ-GTE engine and RWD running gear from a Mk4 Supra. Cadwell is a tricky circuit to learn, and Peter was another driver with zero experience of the track.
Ultimately, Peter never got to really attack the track. A small fire broke out under the bonnet during qualifying. Peter stopped the car near a fire marshall and eventually decided it wasn't worth risking any further damage before he and Andreas could find the problem. Therefore, his lap-time isn't truly reflective of this awesome car.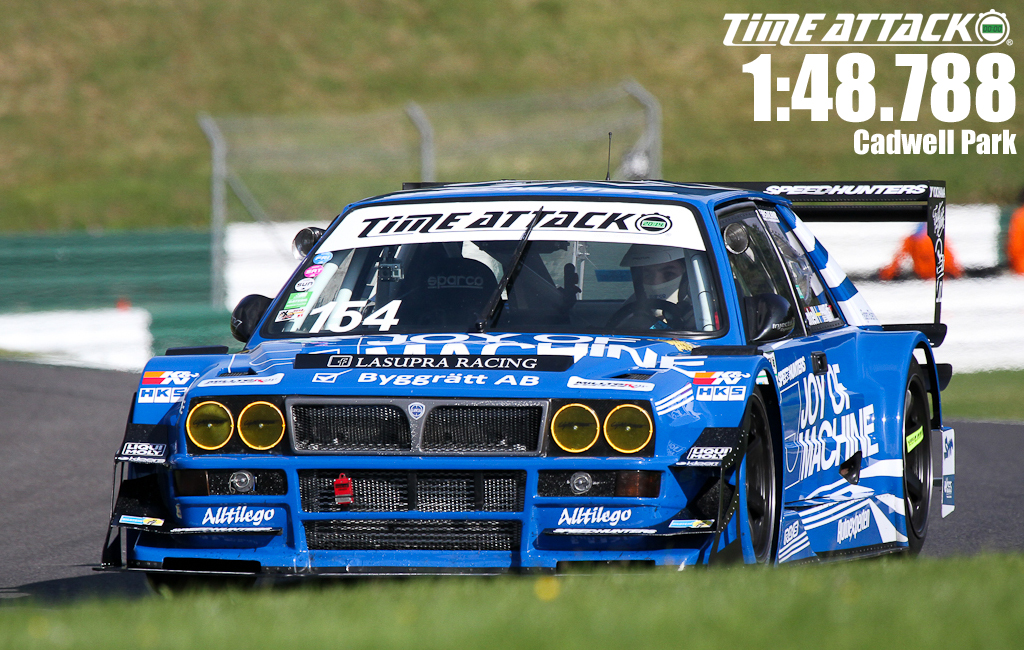 Granville Taylor – VW Beetle [No Time Set]
Words fail us sometimes. Just like Peter and LaSupra, Granville has built his VW Beetle into a completely unique vehicle running a rear mid-engined Subaru Impreza engine! However, Granville didn't even make it out of the Warm Up session. Cadwell Park has far steeper climbs and more sheer cambers than it appears in video footage, and somewhere during his very first lap the stress broke his rear nearside suspension arm. Granville suspects it was the legacy of previous crash damage – most likely a hairline fracture they didn't see. Now Granville can only repeat what he has done at every round so far this year, look to the next one. Still, his car was surrounded by interested fans all day, so his hard work isn't going unnoticed.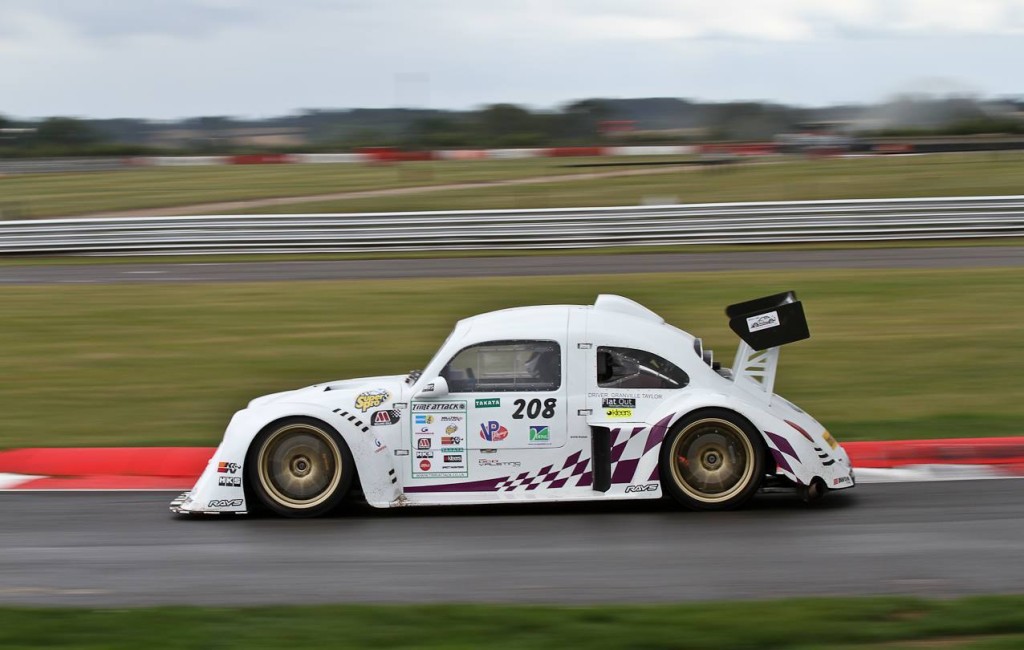 PRO
Gavin Renshaw – NR Autosport Mitsubishi Evo 9 – [One Hit Wonder]
Unusually, the fastest Pro time of the day was posted by a One Hit Wonder. However, if you know who that OHW is then it won't be such a shock. The reigning three-time Pro Championship winners Gavin Renshaw and Phil White's NR Autosport Mitsubishi Evo were back. Lap Record holders with several years of set-up experience in their back pocket, Gavin was back to defend the record at his favourite track.
Gavin now lives across the pond, working in the USA. He came back for this one round so you might expect him to be a bit rusty. Not a bit of it. Gavin was the quickest Pro class car in both qualifying and the final, and only Pro Extreme winner Olly Clark went quicker than him all day. Gavin also topped both speed traps outright on the day. Of course, as a One Hit Wonder, Gavin and the NR Evo don't score any Championship points, but they came and had a really good go at beating their own Pro lap record, which still stands at 1:26.500.
Watch Gavin's lap here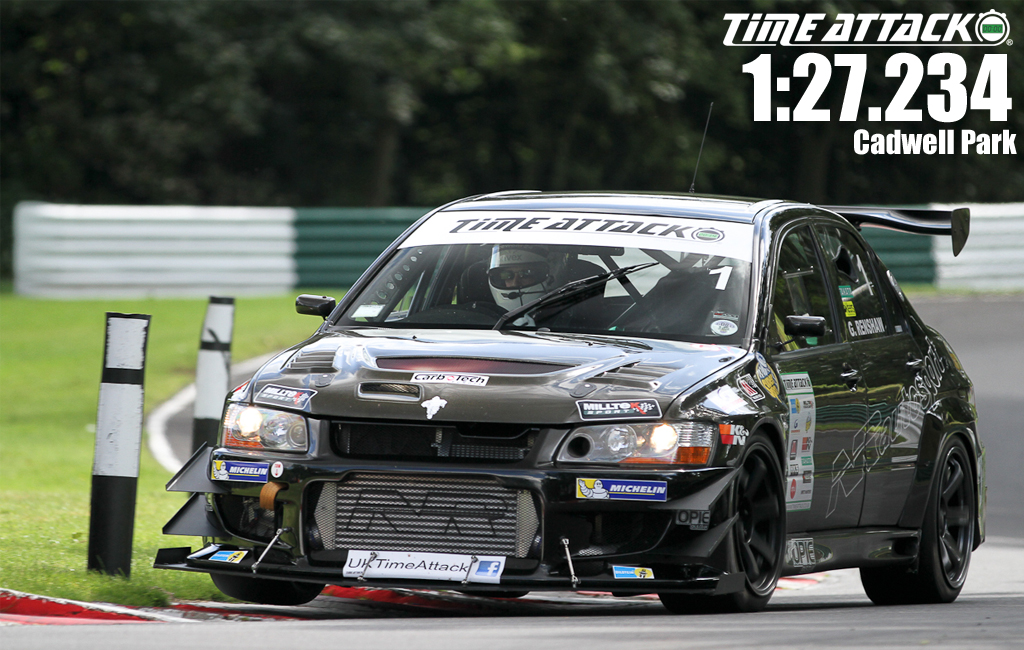 Richard Marshall – HEL Performance Mitsubishi Evo 9
Championship leader Richard Marshall had a plan this weekend: turn up, grab the maximum 150 points available and then take the car home in one piece. In those terms he had the perfect event. Richard isn't very familiar with Cadwell Park, and it's been the venue for some difficult events for him before. As it turns out, after sorting a minor fault early on, it was the reliability provided by Tracktive Solutions that earned Richard maximum points.
By the time Qualifying came around Richard only had one Championship rival remaining in Scott Robson, who then had his own incidents leaving him in the 2-minute range and giving Richard an unchallenged run at both qualifying and the final. As the saying goes: to finish first, first you have to finish. So it's a weekend to pat Tracktive Solutions on the back.
As for his fastest lap, Richard is the first to admit he could have gone quicker. He ran out of time to do any testing before Cadwell, and admits he forced himself to stick to the Championship game-plan rather than go for all-out glory.  It's now three maximum points scores and one zero (absent round), for Richard with just two events remaining. Provided the car stays reliable and Richard keeps it on the black stuff, he's in a very strong position to become 2014 Pro Champion.
Watch Richard's fastest lap from Qualifying (2nd fastest lap of day) here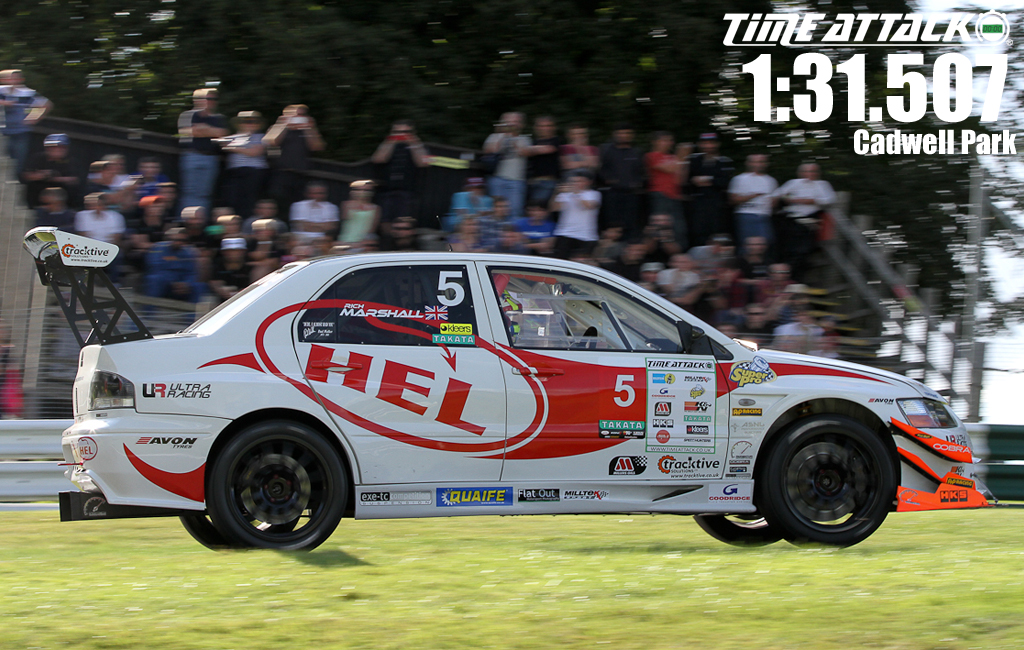 Scott Robson – RA Motorsport Developments Subaru Impreza
Having won at Cadwell Park in 2010 (Club Challenge), and with new softer Avon slicks to play with for the first time on the RA Motorsport Developments Subaru Impreza, Scott Robson was looking forward to Round 4. Unfortunately, Scott's mood turned from optimism to huge disappointment as the turbo went on his outlap in qualifying. Scott completed a steady lap without any boost to score a potentially vital 40 Championship points (2:29.777).
When he returned to the paddock his RA team-mate Jason Ogg offered the use of his turbo after suffering some mechanical maladies of his own. As the RA team rushed to get the job complete the schedule was brought forward slightly, and the clock ticked down the minutes until it was too late. Scott missed the final completely, meaning his fastest time of the day was actually set during practice. So definitely not representative of his potential pace.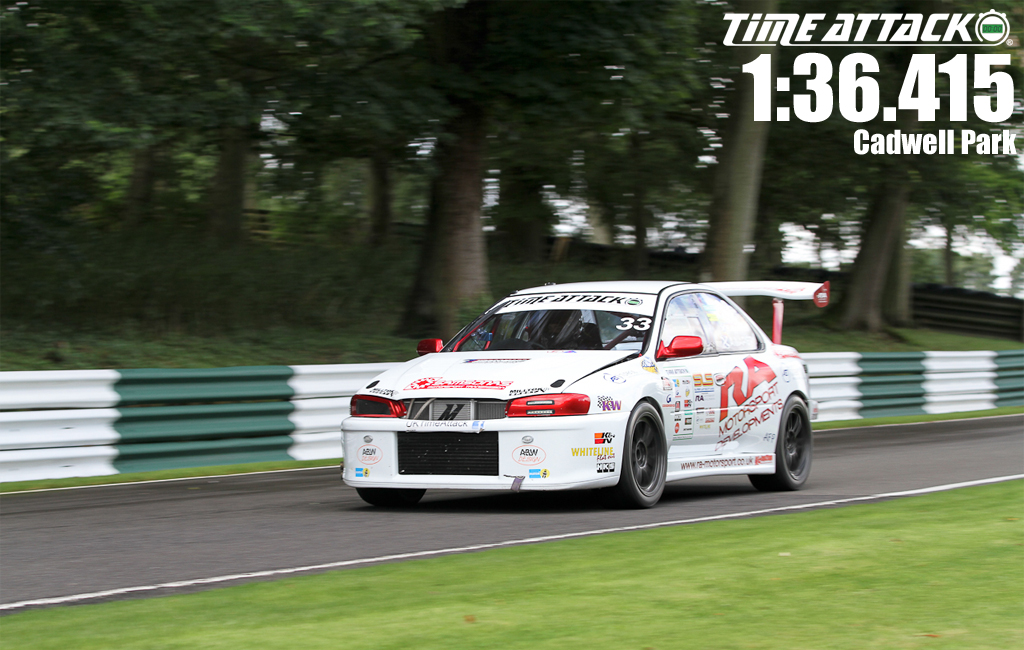 Club PRO
NEW LAP RECORD: Andrew Barbour – NR Autosport Mitsubishi Evo 5
What an epic battle we had in Club Pro and it was Andrew Barbour in the NR Autosport Mitsubishi Evo that came out on top – with a new Club Pro lap record of 1:32.991. You're looking at the fastest Time Attack car to lap Cadwell Park on 1B semi-slick tyres!
Andrew set the fastest lap in Club Pro at Snetterton during the last round, and in our pre-event report for Cadwell we questioned whether this marked a change in the Championship, and so it proved. Andrew and Phil Reed had been within tenths of each other all day, and quite often joined together on the same piece of track. It was exciting to watch.
The previous lap record was set by our 2013 Club Pro Champion Marc Kemp, in his title-winning season. At the start of the day it stood at 1:33.223. Andrew nearly beat it in qualifying (1:33.378), where he took the maximum 50 points for first place. Before going out and smashing the record on his last flying lap of the day (1:32.991). Andrew returned to the pits to cheers, pumping his fist in the air. It was a very popular record for the Scot, who has really brought himself back into the title race in the process.
Watch Andrew's Club Pro Record Lap here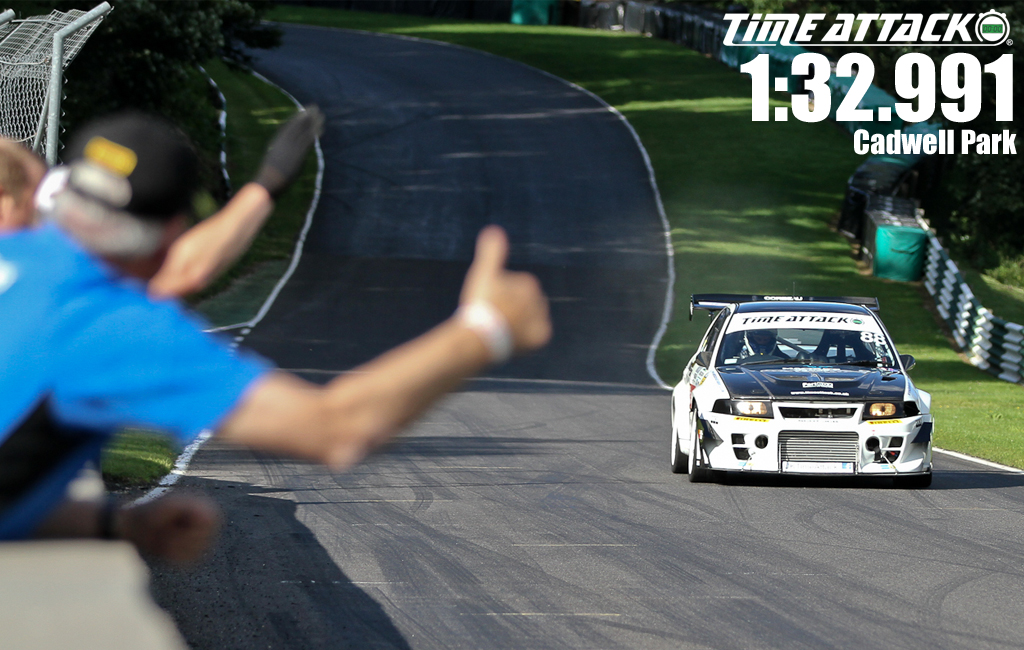 Phil Reed – Ross Sport / AP Tuning Mitsubishi Evo 6
Our Championship leader had frustrating day all round. It began with Phil shadowing Andrew around the circuit in practice, before setting the fastest time in Club Pro for that session. This was despite trying to find the right setup for his new suspension he had fitted for this round.
When qualifying began Phil went for it. He was two tenths up in the first sector when the throttle body broke. Disappointed, he returned to the pits and his team managed to provide a temporary fix in time for the final. Phil went out and on his first flyer was four tenths up by the Mountain. This set the fastest provisional lap in the Club Pro final (and his fastest time of the day) but on his second lap the same problem occurred.
Phil returned to the pits and had to watch as Andrew Barbour put in the laps to catch and eventually pass Phil's lap time to seal the win. It was a disappointing end for Phil, who never got to show his absolute pace. Even so, he can be pleased that his only lap in the final was just 0.032 seconds off the previous record!
The battle between Phil and Andrew isn't going away. If anything, it's just got even more intense.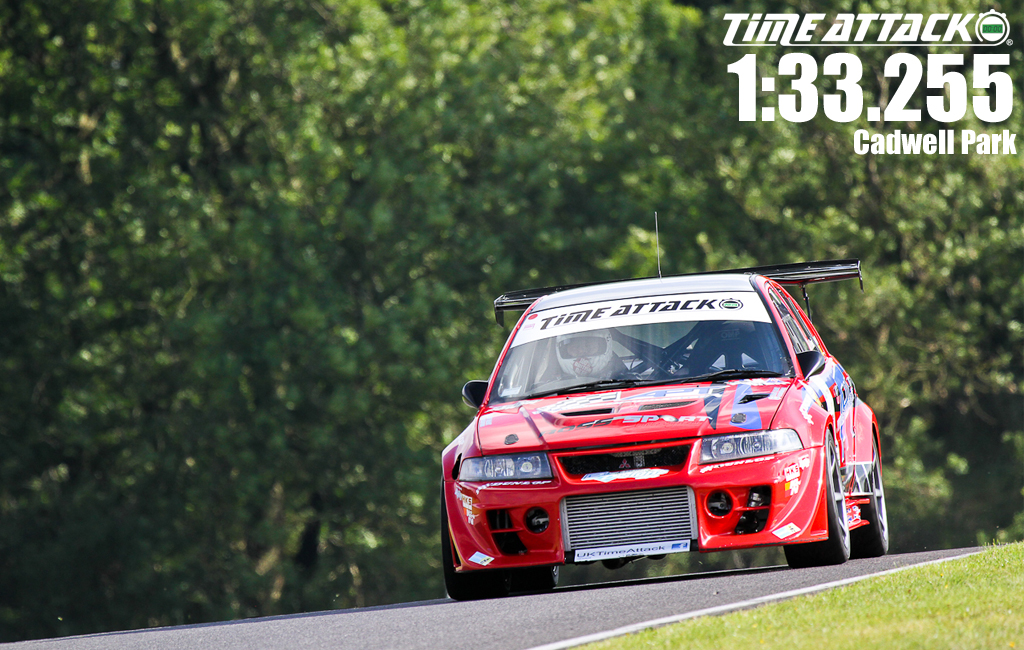 Ronnie Amis – Airtec VW Golf
Plucky Ronnie Amis continues to battle away in Club Pro in his FWD Airtec VW Golf, against cars with 4WD and at least 350bhp more! The Golf previously competed in the British Touring Car Championship, so it's a handling machine and as Ronnie gets to grips with it (and left hand drive!), he is closing the gap to the 4WD boys at the top of class.
Ronnie achieved his first podium of the season, setting his fastest lap during qualifying (1:38.774 versus a 1:38.927 in the final).  The cluster of 1:38 laps shows how consistent Ronnie is behind the wheel. While the flames that licked out from the twin-exit exhausts were definitely appreciated by the crowds. Plenty more to come from this combination we feel.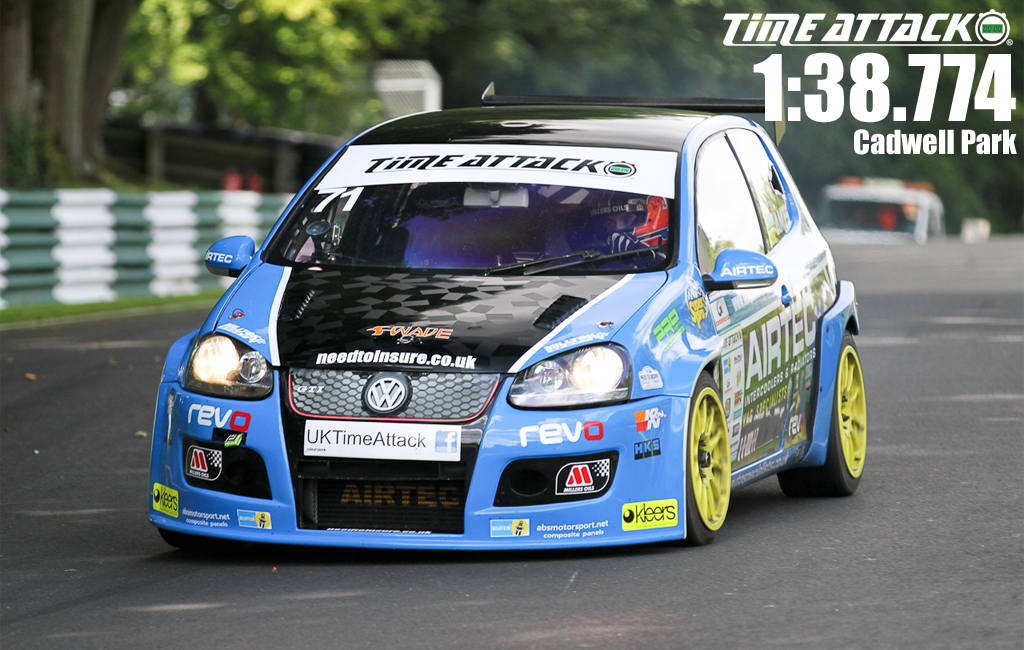 The next round of the 2014 Time Attack Championship takes place at Trax show, Silverstone on Sunday 7th September. You can buy tickets here