What an amazing weekend that was for our Pro Class drivers!
We had several high-profile One-Hit Wonders join us at Silvertone for Round 5, and the extra competition seemed to drive everyone on to reach new heights. We had new Time Attack Lap Records set in all three Pro classes!
New Pro Extreme & Outright Time Attack Lap Record – 54.116 – Gareth Lloyd, SVA Imports Evo 6
New Pro Lap Record – 57.930 – Richard Marshall, HEL Performance/Tracktive Solutions Mitsubishi Evo 9
New Club Pro Lap Record – 58.935 – Andrew Barbour, NR Autosport Mitsubishi Evo 5
Once the points scored at Silverstone were added to the leaderboards, we also had one Pro Class Champion crowned with one event still remaining:
2014 Club Pro Champion – Andrew Barbour, NR Autosport Mitsubishi Evo 5
So huge congratulations to both Andrew and NR Autosport! Andrew can now look forward to Brands Hatch with the pressure lifted and the opportunity to target another lap record! How did everyone else get on at Silverstone and what were their fastest times? Read on to find out..
PRO Extreme
NEW LAP RECORD: Gareth Lloyd – SVA Imports
In recent times SVA Imports have earned a reputation for saving their best until last. If you are familiar with the story of their wins at either the 2013 European Time Attack Masters or even the final round of last year's UK Time Attack Championship at Brands Hatch, you'll know what we mean. For those who aren't, it basically means SVA Imports and Gareth Lloyd don't always show us what they're truly capable of until the Final.
And so it proved at Silverstone. Going into Round 5, the Pro Extreme Lap Record for Silverstone National circuit was the 58.444 second lap, set by Olly Clark in the RCM GSII Impreza at Round 1. While the outright Time Attack lap record was the 57.989 set in the Pro Class by the same team but in GSI back in 2009.
With some new aero on the SVA car for this round, Gareth went out in the Warm-Up session without his transponder in the car, so he didn't even appear on the timing sheets. Tactical? Possibly, but the SVA Evo re-appeared on the timing sheets in the Practice session (57.534, 2nd in session), already faster than the old records. He then followed that up with a 55.618 in Qualifying, but was still in second place, just half a second off top spot.
Going into the final, it was starting to look like being Olly and RCM's day. Let's be blunt about this, Olly Clark had topped the timing sheets in every session, starting in the 56-second range and then consistently in the 55s. However, when the Final came around, SVA turned everything up to 11. They also switched on their nitrous oxide injection system, something that team principle Raef admits they hadn't used all year, until now. Gareth went out, eyes focused on the high-speed apexes and the challenge of effectively driving a new car. His first flying lap stunned everyone. A 54.116, a lap that smashed the Pro Extreme and outright Time Attack lap records – proving to be over a second faster than his nearest rival! A stunning achievement and a fitting climax to the Pro Extreme competition.
WATCH : Gareth's new Pro Extreme Lap Record
Olly Clark – Roger Clark Motorsport "Gobstopper II" Subaru Impreza
It must have been a strange journey home for the Roger Clark Motorsport team. Having been beaten in the Final by Gareth and SVA must have been disappointing but it's impossible for their day to have gone better up to that point; fastest in every session, breaking the old Pro Extreme and outright lap record in every session, qualifying in first place and finishing in second place in the final. That's 140 points from a possible maximum of 150, and a huge step towards the 2014 Pro Extreme Championship!
Olly recorded a 56.006 in the Warm-Up, a 55.574 in Practice and a 55.195 in Qualifying. Stunning and consistent lap times, all without using GSII's maximum tune, which includes nitrous oxide injection. That was saved for the Final, but a mixture of red flags, traffic and an intermittent gearbox ECU niggle that prevented gearchanges and forced Olly to keep re-setting the system, meant Olly never got the absolute maximum out of the car. Still, as RCM's resident genius Matt Clark admits, it was a very positive day all round for the team leading the Championship: "At the start of the day I wanted a 55 second lap, so we have to be happy. Of course, when you get a 55 you then want a 54! We didn't have a perfect final session but we can be very positive about the times we achieved and where it leaves us in the Championship. In general, it was a great day of Time Attack competition."
WATCH : Olly's 55.574 from Practice

Andy Forrest (OHW) – Forrest Performance Subaru Impreza
Where to start with our fastest One-Hit Wonder Andy Forrest and his 6-cylinder Subaru Impreza? Making his Time Attack debut at Silverstone, this is a car that is well-known amongst tuning enthusiasts and recently became the 2014 Ten Of The Best Champion. How did he get on? Very well in terms of lap time – beating the old Time Attack lap record in the Warm-Up with his fastest time of the day (57.011)!
That was on old tyres and low boost (V-Power fuel, 1.2bar boost and around 720bhp). As the day progressed Andy went through the stages of increasing boost (hence horsepower), and fitting stickier tyres (from the old used BTCC-spec ones he started with, through to 3-year old sprint slicks before unwrapping a new set of slicks for the Final). However, Andy battled with a misfire after that first session, eventually replacing one of the turbochargers with help from the Time Attack paddock; Paul Blamire supplied the replacement turbo, and it was fitted to a hot engine bay (ouch!) by Andy, Steven Darley of SD Motorsport and Phil from RA Motorsport. Well done guys!
Unfortunately the misfire re-appeared, most likely a boost control issue that can be easily solved but working against the clock between sessions, the guys did amazingly well just to replace the turbo and keep going. So we never got to see the result of Andy's maximum attack setting (new slicks, 2bar boost and around 1,000bhp!). Even so, Andy was very pleased to have beaten the old lap record on his first proper hot lap, on old tyres and low boost. An amazing achievement in itself.
A very special car and Andy is clearly no slouch behind the wheel. We hope to see Andy back at Time Attack very soon.
WATCH : The moment it went wrong for Andy

Simon Norris (OHW) – Norris Designs SWB Mitsubishi Evo
Another very special bespoke car that pushes the boundaries performance tuning. Simon Norris is a familiar name in Time Attack circles, and his unique Mitsubishi Evo features extreme modifications including a huge chunk missing from the middle, making it the only short-wheelbase Mitsubishi Evo we are aware of in the entire world!
Simon had just set a new UK drag racing record for Mitsubishi Evos at Santa Pod in the lead-up to the event (8.72 secs at 164.9mph!) So that shows you what this car is capable of in a straight line. With racing experience behind him too, Simon is able to come in and compete at the top table of UK Time Attack.
Unfortunately Simon had an intermittent misfire that plagued his day, but he was still able to put in some impressive lap times.

Marcus Webster – Midlands Performance Nissan Skyline R32 GT-R
Our early Pro Extreme Championship leader, Marcus Webster and his R32 GT-R are now the only combination that can beat Olly Clark to the 2014 Pro Extreme Championship title.
Marcus has kept himself in the hunt with some excellent driving. His GT-R packs a punch with a reported 1,000bhp+ and lots of mechanical grip, but lacks the intricate aero bodywork of his rivals. Marcus started the day well and was looking good in Qualifying, where he set his fastest time of the day. Then out of the blue Marcus suffered wheel stud failure and his rear nearside wheel fell off, sending the car into a dangerous spin that he managed to control without causing even more damage.
The team rushed to fit a new rear hub in time for the final, kindly supplied by the road car of Moff from TMS Motorsport that was in the car park! Unfortunately, the impact had cracked a boost pipe. Marcus returned to the pits, the issue was fixed but when he tried to rejoin the session he was stopped at the end of the pit lane by a red flag. The session was brought to an early end and Marcus was left to think about what might have been, as there was definitely more time there for him and his GT-R. It was one of those days, but now Marcus has to focus on Brands Hatch. Maximum points for Marcus and any kind of issue for RCM could see him crowned the 2014 Pro Extreme Champion.

Tim Hood (OHW) – TVR Sagaris
The sexy lines of Tim Hood's TVR Sagaris were a very welcome addition to the predominantly Japanese competition at Silverstone. A hardcore version of Blackpool's finest, it was clear from the outset that Tim wasn't messing about. He was immediately in the 58 second range from the outset, recording a 58.909 and the third-fastest time in the Warm-Up session!
Tim went quicker all day, eventually setting his fastest lap in the final (58.449). This is a 'proper job' by the way. Under the bonnet is a 7-litre V8 Chevy LS7 engine mated to a sequential gearbox. It's powerful, light and sounded absolutely awesome all day!

PRO
NEW LAP RECORD: Richard Marshall – HEL Performance Mitsubishi Evo 9
Hands up all those who though Gobstopper's Pro Class Lap Record would survive another year? Richard Marshall turned up to Silverstone armed with maximum points from every round, one missed round and one eye on the record.
Tracktive Soultions have helped create one extremely fast Evo. At Silverstone, Richard was on the pace of some of our Pro Extreme drivers, which says a lot.  Richard was immediately quicker than he had ever been at Silverstone, and proceeded to get faster with every session. Upping the boost and fitting newer tyres, Richard took to the track to complete a blistering 57.930. A new Pro lap record!
Frustratingly, Richard reckons there was even more lap time there. Reviewing the telemetry, it became clear that Richard had lost over a second on that lap while using a new line through Brooklands and Luffield. When he tried to drive the perfect lap in the final, which in theory was easily in the 56-second range by returning to his original line plus the maximum attack boost setting giving more power than in qualifying, Rich had a spectacular sideways moment.
At first he suspected some kind of wheel issue or puncture, but on returning to the pits it became clear the head gasket had gone, leaking coolant onto a rear tyre! Rich left knowing he'd left lap time on the track, but pleased with yet another set of maximum points, while knowing he was capable of chasing down some Pro Extreme guys too.
WATCH : Richard's new Pro Class Lap Record

Peter Cook (OHW) – AP Tuning Mitsubishi Evo
Peter's name is cropping up more and more in Time Attack circles. Peter was once again the fastest Pro Class One-Hit Wonder at Silverstone in his stealthy Mitsubishi Evo. It's becoming a habit. Saving his best until last, Peter went out and set his fastest time of the day in the final. With this kind of pace we wonder if Peter is going to compete in next year's Pro Championship? It looks like he has the pace.
WATCH : Peter's entire final session

Gary Hayward (OHW) – AP Tuning Mitsubishi Evo
Stepping in at the last minute to fill the space left by Phil Reed was AP Tuning boss Gary Hayward in his own Mitsubishi Evo. Gary was chuffed to be a massive 5-seconds faster than he was last time he drove Silverstone National, it wasn't without issue. He set his fastest time in qualifying while running 1.4 bar boost but the engine was already showing signs of lifting the cylinder head. Being an 'in for a pound' kind of guy, Gary pressed on and turned the boost up to 1.8bar for the final and went for it. Sadly the fun only lasted half a lap before the same problem occured. Still, Gary had set a much faster personal best time and sampled the thrill of Time Attack competition too.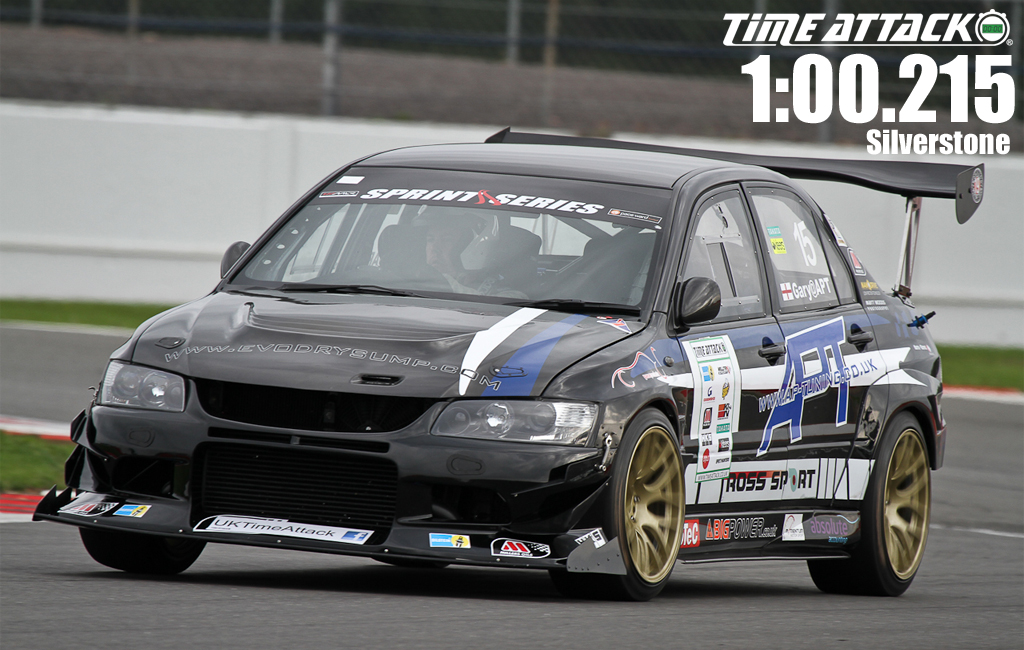 Scott Robson – RA Motorsport Subaru Impreza
RA Motorsport had fitted a new AET Turbo to Scott's Subaru Impreza in time for Silverstone, which ran faultlessly all day. It was great to see the weather stay dry and the wider wheels and slicks go on Scott's car. It looks even meaner sat on the wider rubber!
Scott described his Silverstone experience as "another decent day at the office", finishing in second place behind Rich Marshall in both qualifying and the final. He mentioned traffic issues at times but the car ran well all day. Scott promises a big push for the final round at Brands Hatch, and some new aero for the car. So we look forward to seeing that in November.

Simon Deaton – HEL Performance Porsche 997 GT3R
Time Attack is so extreme these days that Simon Deaton's 997 GT3R racer is actually well down on horsepower compared to it's rivals! This means Simon has to make up time through the corners and if spectator reports are to be believed, particularly in the braking zones where Simon was "the last of the last brakers" all day.
Probably the only driver in the field who wouldn't have minded a bit of rain, Simon pushed as hard as he dared but the long straights at Silverstone highlighted the power differential between his naturally-aspirated Porsche and the turbo competition. Still, he was great to watch and set his fastest time of the day in the final, showing that he was going faster and faster with every lap.

CLUB PRO
NEW LAP RECORD: Andrew Barbour – NR Autosport Mitsubishi Evo 5
2014 CLUB PRO CHAMPION
Huge Congratulations to Andrew Barbour and his NR Autosport Mitsubishi Evo for the perfect weekend; Maximum points, a new lap record and enough total points to be crowned 2014 Club Pro Champion with one event to spare!
Andrew admits he was praying for it stay dry all day so that he could really push the limits of the track and the car. he couldn't have wished for better weather and the car was equally helpful, feeling really strong during the morning warm-up.
Andrew broke the existing Club Pro record of 1:00.26 for the first time during qualifying (59.671), before going out and absolutely smashing it in the final with a 58.935! This makes Andrew the fastest ever Time Attack competitor around Silverstone National in a car wearing treaded 1B "semi-slick" tyres.
An absolutely amazing achievement by Andrew and the NR Autosport team.
WATCH : Andrew's new Club Pro Lap Record

Russ Paton – HQ Garage Mitsubishi Evo
Russ arrived at Silverstone having had very little sleep, the result of a last-minute engine change after a crack was discovered in the previous block. He battled through to score a very impressive second place in the final, where he set his fastest lap of the day on his final flying lap of the event.

Jason Ogg – RA Motorsport Subaru Impreza
Subaru Impreza driver Jason Ogg completed the first all-Scottish podium in UK Time Attack! Interesting timing considering the forthcoming vote on Scottish Independence.
He was made to work for it though. The warm-Up and practice sessions went well on low boost. Jason was easing himself back into Time Attack after missing Snetterton due to a family bereavement and only completing a couple of laps at Cadwell Park. His team replaced the turbo wastegate to solve a boost leak before qualifying but the misfire that has plagued him all season returned. Ultimately, Jason knew that he only had to complete a lap in the final to secure third place after Ronnie Amis had problems with his VW Golf. As a result, Jason's fastest time was the lap he completed in the warm up session on low boost. He says it was frustrating that he couldn't challenge Russ and Andrew in the final, but promises a few changes for the final round at Brands Hatch, where he hopes to put up a real fight against the Evos.

Ronnie Amis – Airtec VW Golf
"Things didn't quite go according to plan" – That's how Ronnie Amis summed up Round 5. The Golf was understeering in the early sessions, which the team later discovered was due to a broken anti-roll bar. With that fixed, Ronnie headed out for qualifying, noting a strange noise from the starter motor. He took to the track and set the third fastest lap time, his fastest time of the day and 0.6 seconds faster than he went at Round 1. Showing that Ronnie is making progress in the left hand drive ex-BTCC Airtec Golf.
Sadly Ronnie never made it out for the final. when doing their pre-session checks a crack was discovered in the gearbox adapter plate. The decision was made to retire the car to prevent any further damage. The final round is at Brands Hatch, Ronnie's home circuit. So expect him to have a stronger showing in November.
WATCH : A fly-by of Ronnie in action
WATCH : Ronnie's Qualifying session

The final round of the 2014 Time Attack Championship takes place at Brands Hatch on Saturday 8th November. You can buy tickets here
You can view the current Championship leader boards here