The rain at Snetterton provided a special challenge to the Club classes. These cars have limited aero compared to the likes of Pro Extreme, but most of the cars are still tuned to put out big horsepower. The result was more than the odd waved flag as our Club Challenge drivers pushed to the limit ..and quite often beyond it!
CLUB 4WD CHALLENGE
Damien Bradley – Subaru Legacy
The white Legacy continues to set the pace in Club 4WD. Damien was proudly displaying a pair of Torco flags outside his garage all day, attracting curious visitors who wanted to know more. At first it seemed like the fancy fuel wasn't making a difference, as Damien was bottom of the timing sheet in both the morning warm-up and practice sessions. However, Damien presumably turned everything up to eleven at lunch time, because he blitzed both qualifying and the final to snatch maximum points – setting his fastest time of the day on his last flying lap of the day. As we've said before, that's a good indication of a driver that is getting the most from their car. Can anyone stop Bradley this year?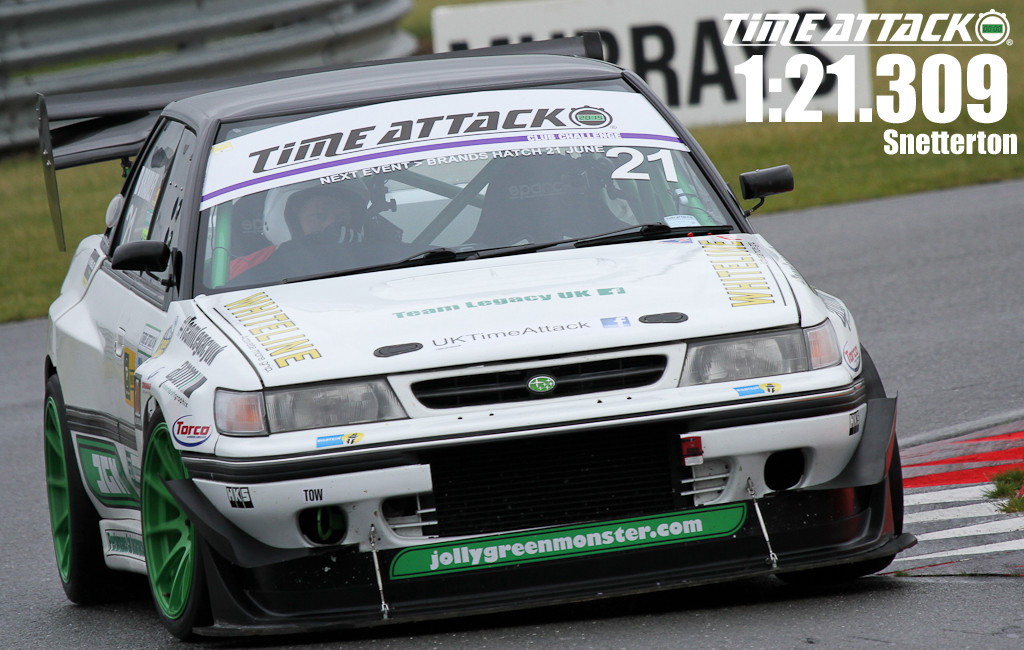 Josef Calleja – Subaru Impreza
It wasn't the orange, white and blue colour-scheme that was turning heads towards Josef's Impreza – okay, maybe it had a little bit to do with it – but it was his pace that really got the crowds interested. He was only just behind Damien in both the points-scoring sessions. Looking at the speed traps is interesting. Josef was only a couple of miles-per-hour slower than Damien at the end of the Bentley straight, but was almost 10mph slower across the start-finish line, indicating that the second half of the Snetterton 200 circuit is where Josef lost time.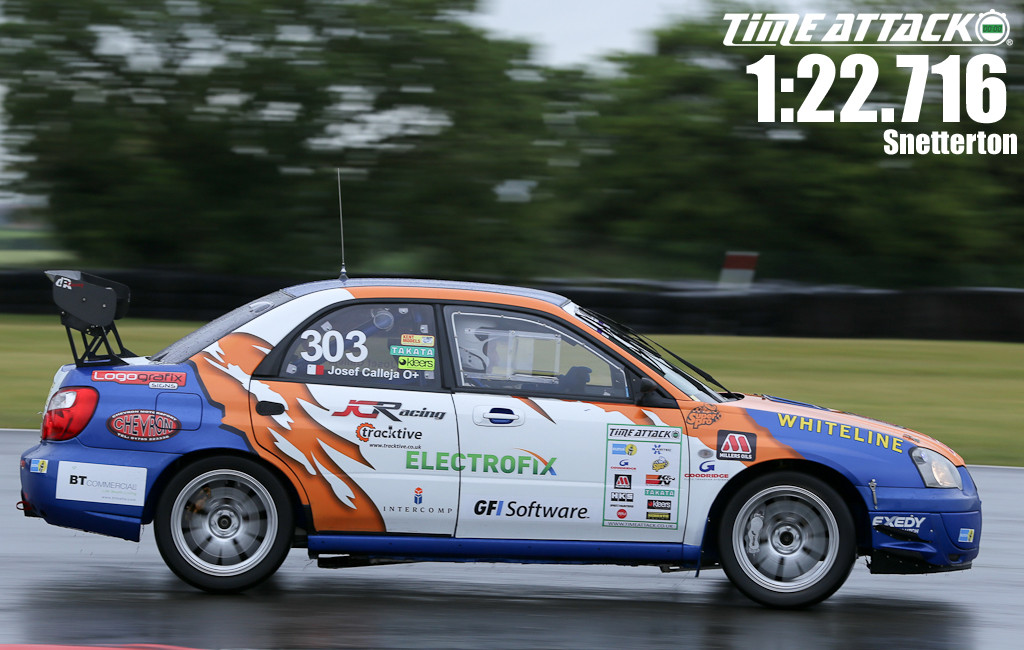 Simon Griffiths – Mitsubishi Lancer Evo III
Simon admits he's probably a couple of hundred horsepower down on his Club 4WD rivals this year. In Time Attack terms, the spec of his Lancer Evo III is relatively modest, with plenty of factory parts still in place. Of course it's no slouch, but the power difference needed to be made up by Simon and on a track with long straights it was a difficult task. Simon has proved he's fast in the past, but things didn't really click for him at Snetterton. He'll be glad to see the more twisty Brands Hatch Indy circuit is up next on June 21st.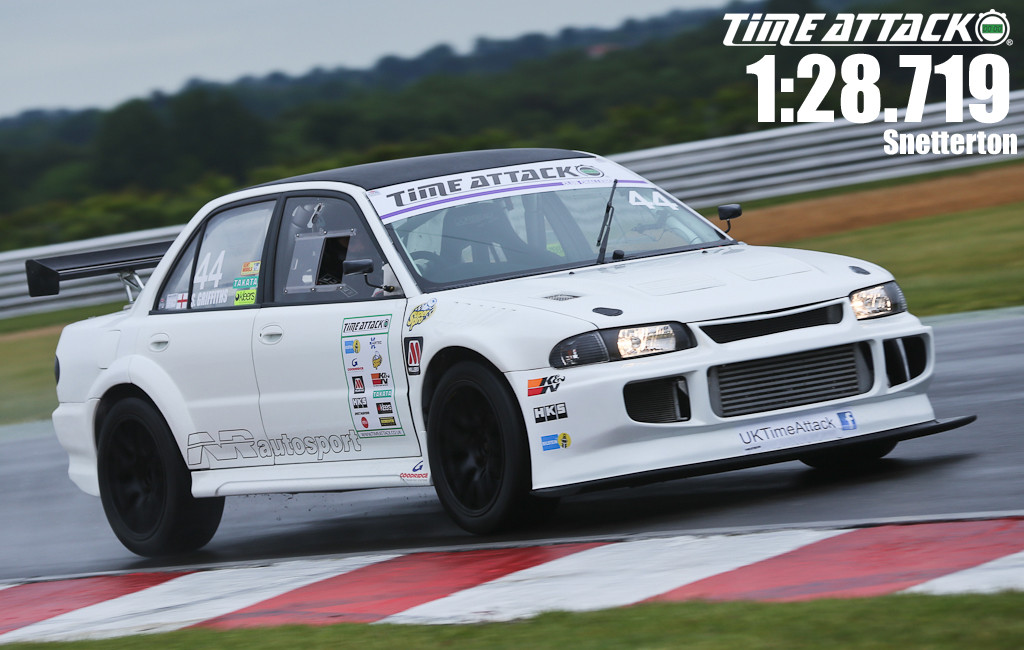 CLUB RWD CHALLENGE
Umar Masood – Mazda RX-7
A return to form for Umar and his Mazda RX-7. He was clearly having fun exploring the limits all day, often sideways and always pushing hard. Umar left Snetterton with maximum points, after impressive wins in both qualifying and the final, several seconds ahead of his closest competitor in both sessions.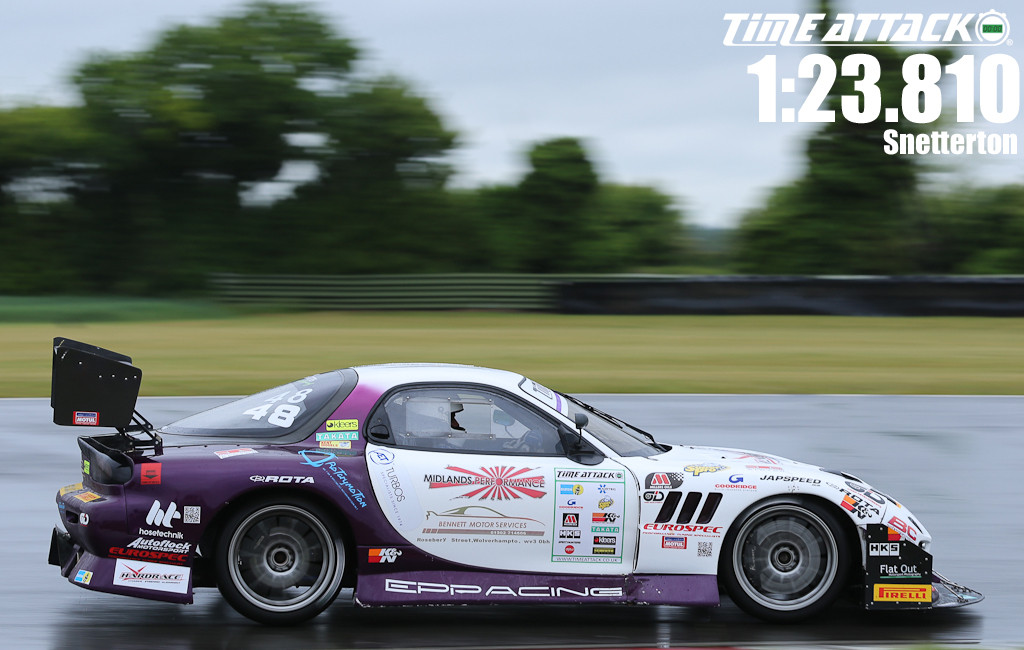 Simon Roberts – Noble M12 GTO3
Simon appeared on the pace in the morning sessions before Umar pulled a gap on him in qualifying. The Noble was clearly no slouch however. Despite finishing in the runner-up spot in the final, Simon's Noble clocked the fastest speeds through the two speed traps in Club RWD overall, 126mph on the Bentley straight and 132mph over the start-finish straight.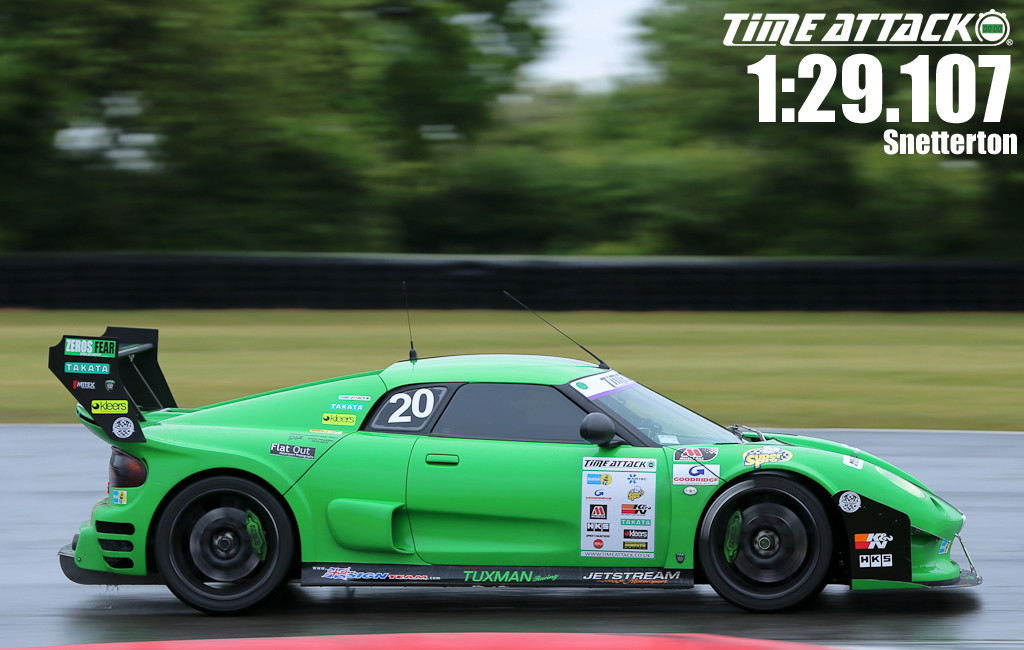 James Pinkerton (OHW) – Mazda RX-7
One-Hit Wonder James Pinkerton really impressed us. As a OHW James was not eligible for any Championship points, but it didn't stop him having a real battle with Simon Roberts in the Noble all day. James pipped Simon in the wet qualifying session (1:42.501 vs 1:42.725), before the order was reversed in the drying final session when both drivers set their fastest times of the day. Definitely a driver and car combination that could be competitive over a full season.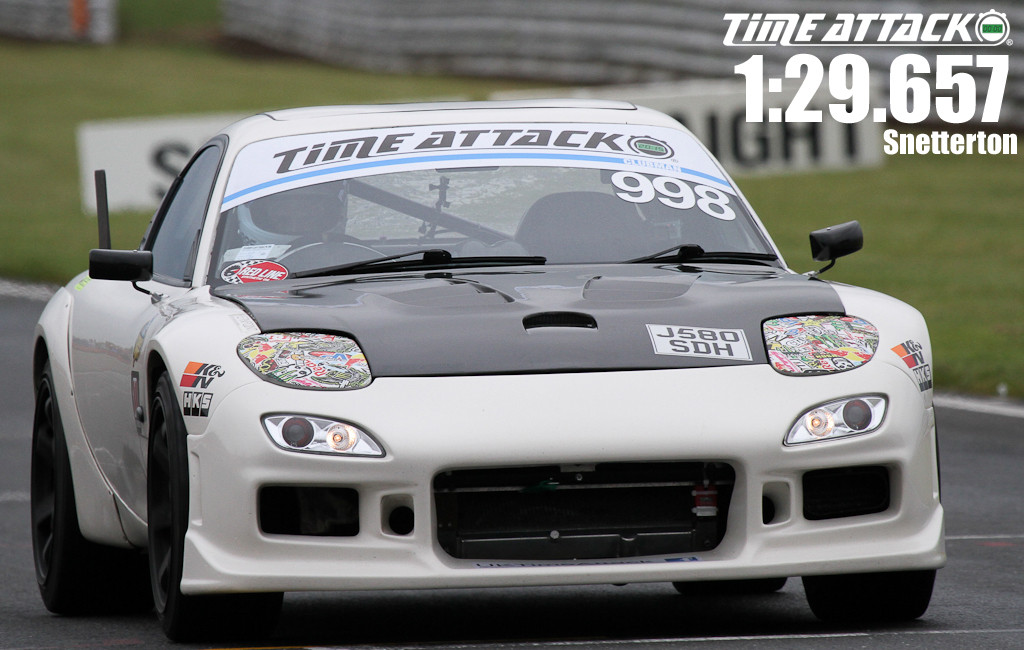 Anthony Woo – Nissan 200SX
Effectively a new car, Anthony was still getting used to the beast that Japanese tuning specialists Eurospec have helped create. This Nissan 200SX has a big spec list but it was a case of finding the grip at Snetterton for Anthony. After a disappointing qualifying session, Anthony picked himself up and went back out onto a drying track for the final, earning himself third place and a pat on the back from his team. Another car/driver combo with more performance to come at future rounds.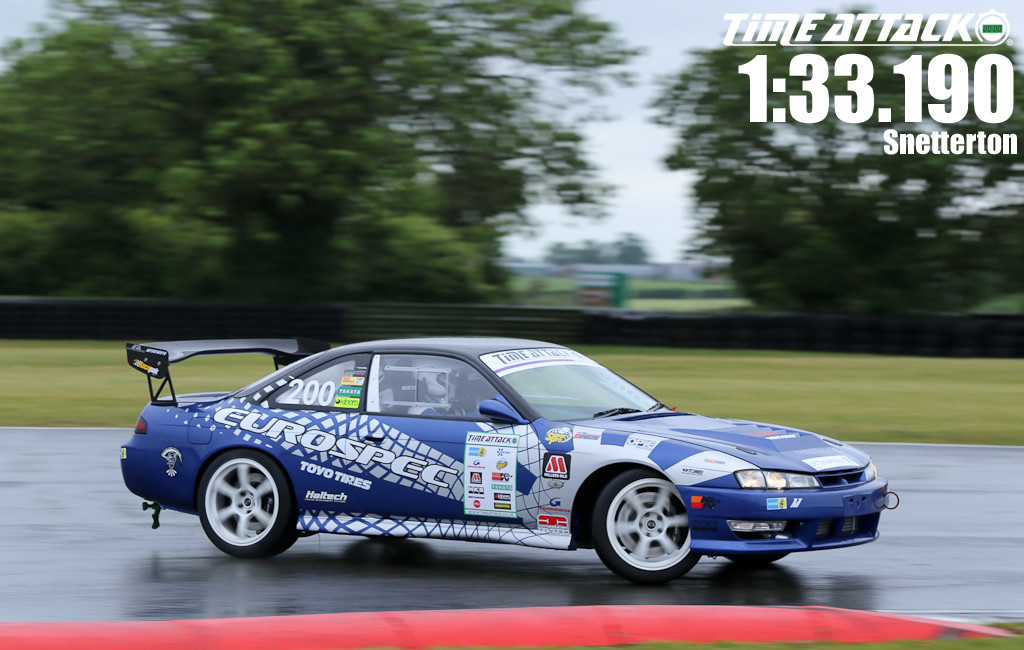 James Proctor – Nissan 350Z
Making the transition from front-wheel drive to rear-wheel drive isn't easy, but James Proctor is showing he's getting used to the big VR Dyno Tuning Zed. With less power than most of his Club RWD classmates, James did a great job of staying in touch with the pack on a track that features two decent straights.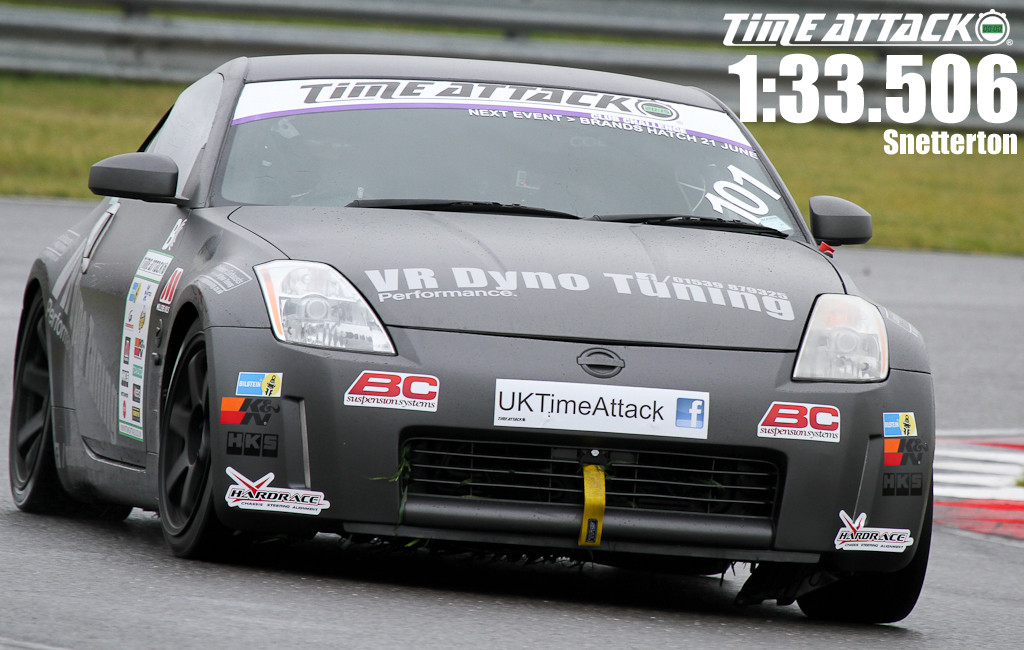 Alex Newman (OHW) – Nissan 200SX
Another One-Hit Wonder, Alex matched his fellow 200SX driver Anthony Woo's time in the morning practice session before setting his fastest lap in qualifying. Alex did not take part in the final session, when the track was considerably drier. So his fastest time looks further adrift of the field than it really was.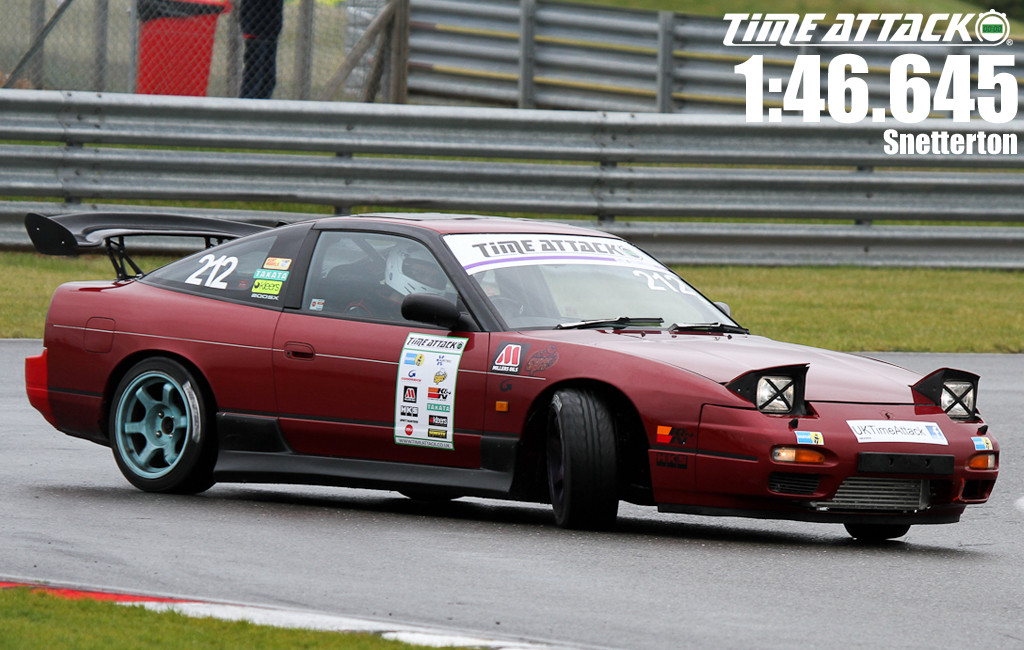 CLUB FWD CHALLENGE
Daniel Clark – Vauxhall Astra
What a day for Daniel Clark! Struggling for grip on tyres that he had driven on since 2013, Daniel was pushing to the limits and beyond all day. Several times he left the track and skidded across the grass. Daniel was battling it out in qualifying with Marc Donnelly until he slid off the track and kissed a barrier, bringing the red flags out and a premature end to the session. As a result he finished second in qualifying by just 0.243 seconds. In the final, that rivalry continued and it was Daniel that came out on top in a nail-biting climax. Very well driven.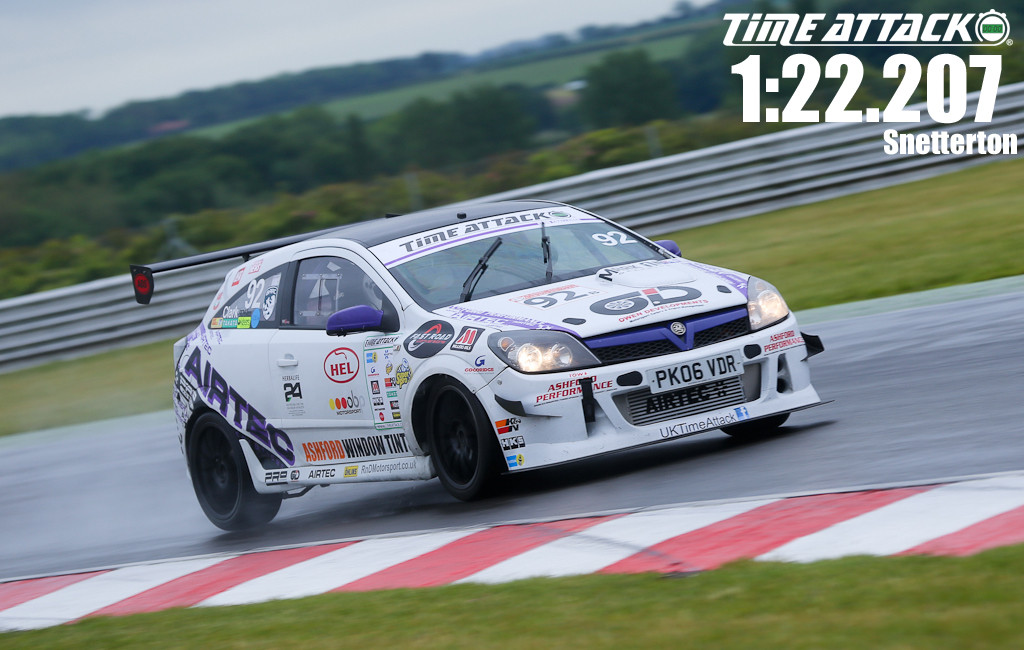 Marc Donnelly – Ford Escort
Marc's Escort arrived with exactly the same suspension setup as Cadwell Park. That meant it was very aggressive, as it proved as the rear end of Marc's front-wheel drive Escort was seen swinging about all day! It's got some grunt too. The Focus RS-powered Mk3 Escort was the fastest of all Club Challenge cars at the end of the Bentley straight (136mph). Marc was fastest in Club FWD qualifying and second in the final, just missing out on top spot by 0.175 seconds. However, he was given a one place penalty in the final for passing a slowing car under a yellow flag.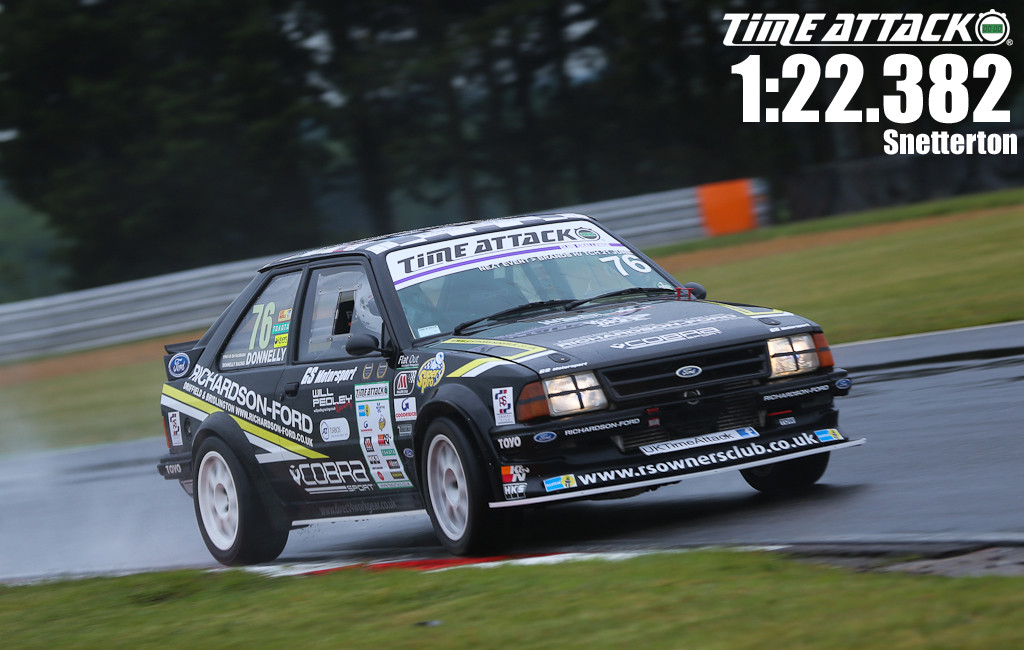 Martyn Henry – Vauxhall Astra
Photos of Martyn Henry flying through the air have gone viral since Sunday! Martyn had a spectacular incident which he skillfully managed to recover from without rolling the car over. However, it did break a wheel, hub, bent the axle, etc. Somehow he got it all repaired in time for the final – with help from Russ Paton's crew – where considering the frantic activity that had been going on in his pit garage, Martyn drove bravely to achieve his fastest time of the day. He certainly didn't hold back.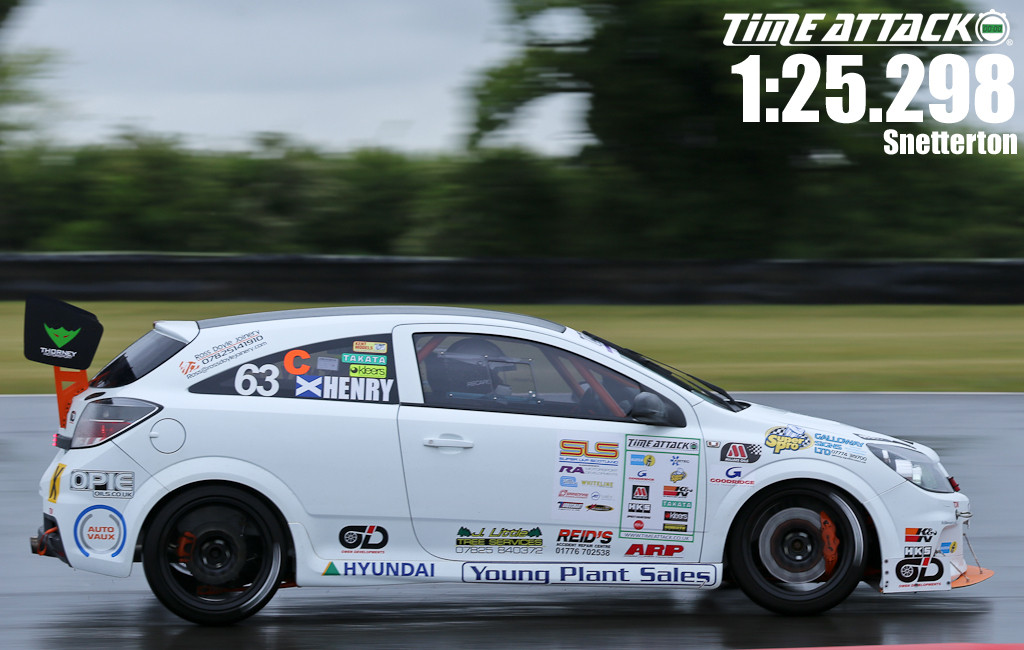 Paul Waddington – Honda Civic
The bright yellow Civic certainly attracted attention, especially at the rear with that big wing and cut-away bumper. That aero appeared to play a part in Paul's performance at Snetterton. He was clearly making up time around the corners with his driving because he was down the order through the speed traps, understandably so considering he's pitting his 2.0-litre naturally-aspirated K20-swap Civic against the big turbo boys. Brands Hatch Indy circuit is up next and rewards handling over brute force, which should suit Paul and his Civic even better.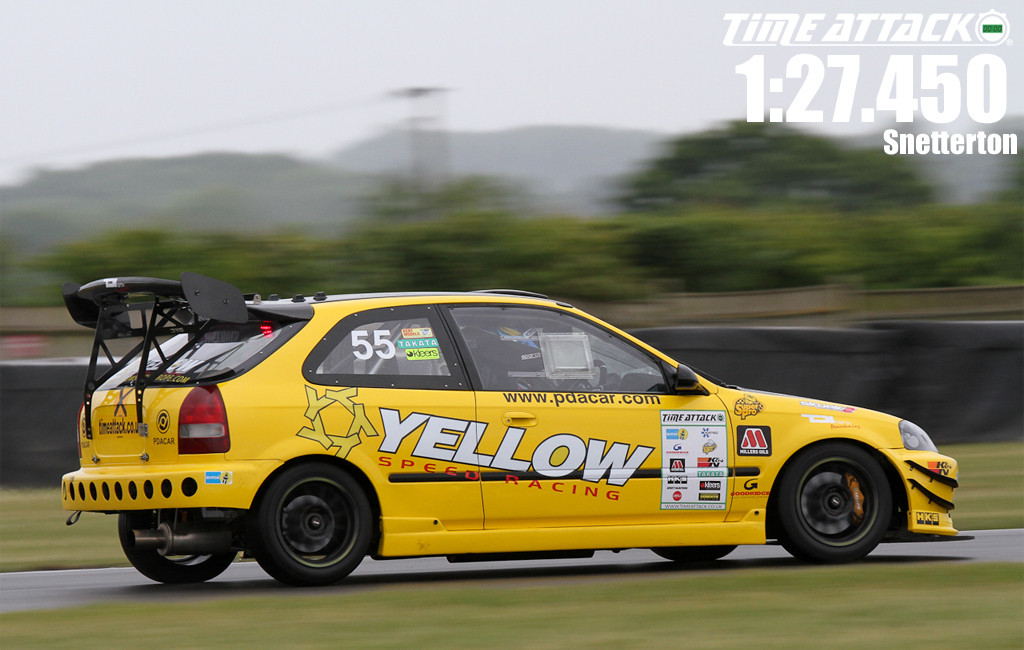 Neil Wrenn – Honda Civic
So much promise but it was a disappointing end to Neil Wrenn's day in his turbocharged Honda Civic. Neil has made big improvements to his car this year and was one to watch. He even removed much of the front-end aero he had fitted before Cadwell Park, in order to swap a bit of downforce for straight line speed. He qualified in third place and was looking on the pace. However, when the final came and he turned everything up to eleven and bang! Bit cloud of steam out the back. Neil pulled over and his day was done, Thanks to a cracked cylinder liner. He hopes to be at Brands Hatch but with only three weeks until then, he's got his work cut out. We hope he makes it because this is one of the cars that is evolving at pace this year.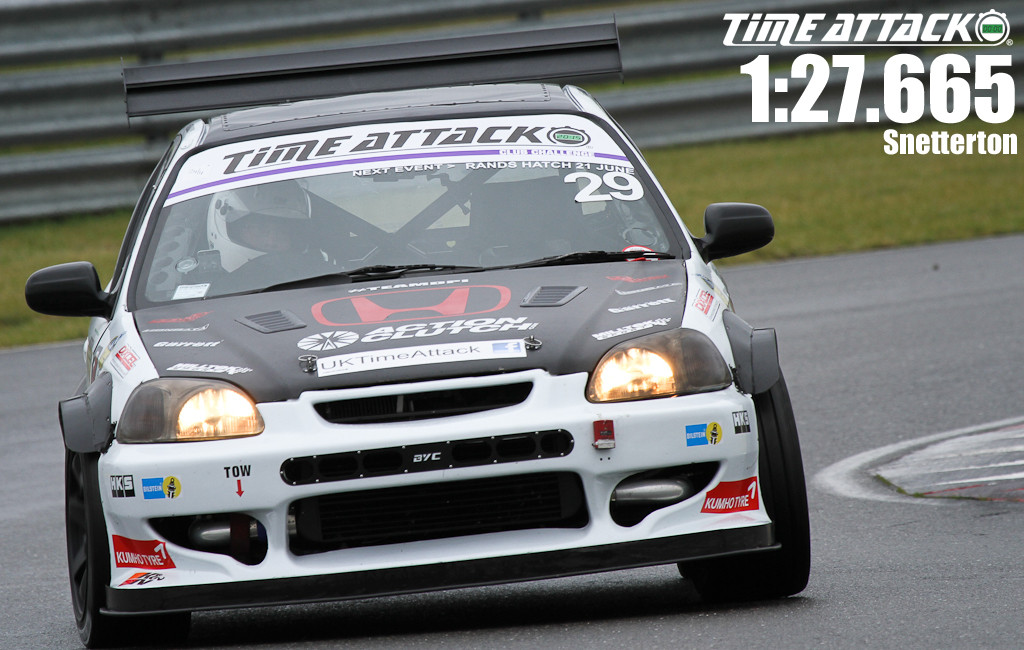 Adrian Daniel – Vauxhall Astra
Guess how Adrian's day ended? A hardcore barbecue enthusiast, Adrian clearly couldn't wait until the final session finished to get the bangers on the go. In all seriousness, Adrian loves driving in the wet and applying the light touch required on all the controls. He qualified well and thought he could improve in the final. When it came, he turned up the boost and went for it. Shortly after he saw flames flicking out from under the bonnet. It appears an oil line had come loose or split and sprayed all over the hot exhaust manifold. Luckily Adrian had the composure to find a marshal post and the fire was extinguished quickly. Let's hope the damage isn't too bad and we see Adrian and the DM Motorsport Engineering Astra on June 21st.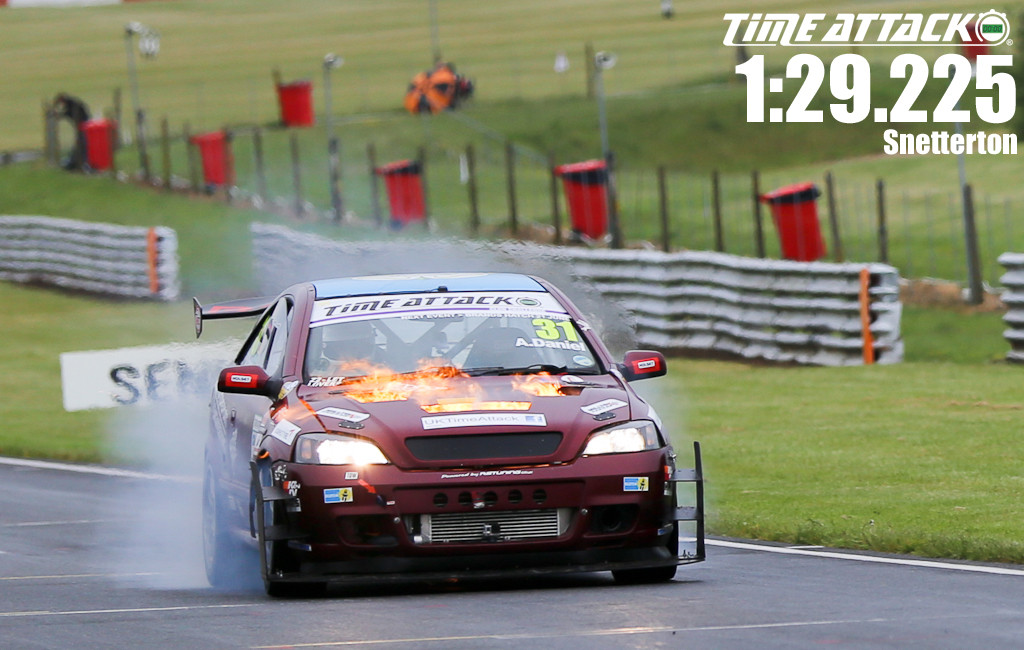 Dan Lewis – Renault Megane
The stealthy grey Renault went under the radar in the morning sessions. However, when the final arrived so did Dan Lewis, leap-frogging several drivers who had been faster earlier on in the day. Another driver who didn't necessarily gel with the conditions and track until the very end and will want to look ahead to Brands Hatch.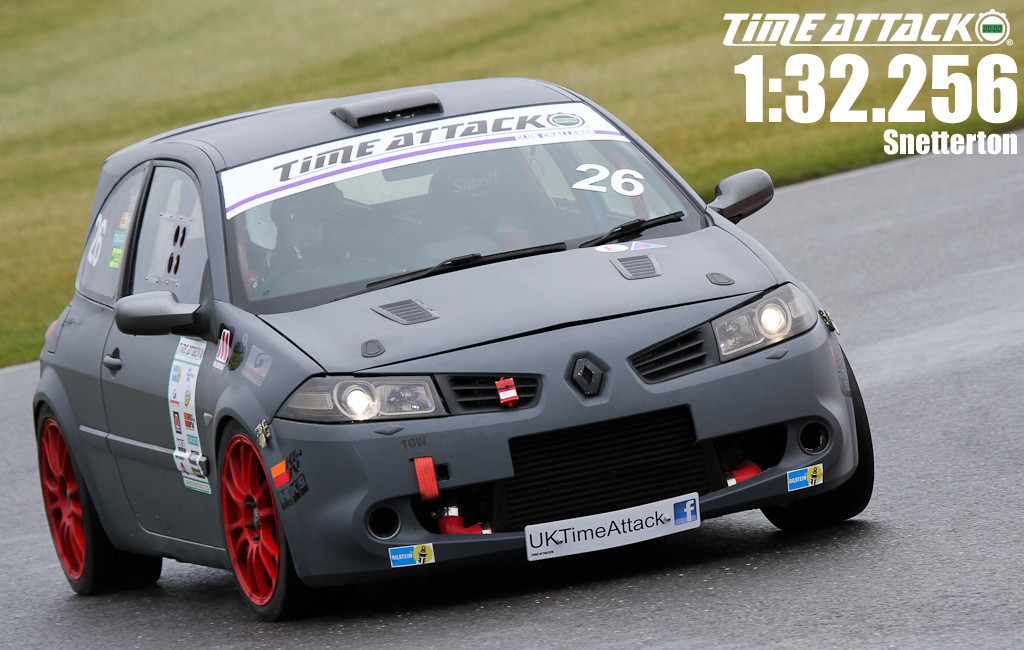 Jonathan Morris – Ford Focus
Jonathan became involved in a real battle with Dan Lewis in his Ford Focus. Jonathan won the battle in a wet qualifying session but lost the war, as Dan beat him by just 0.090 seconds in the final. Incidentally, it was in the final session that both drivers set their fastest times of the day.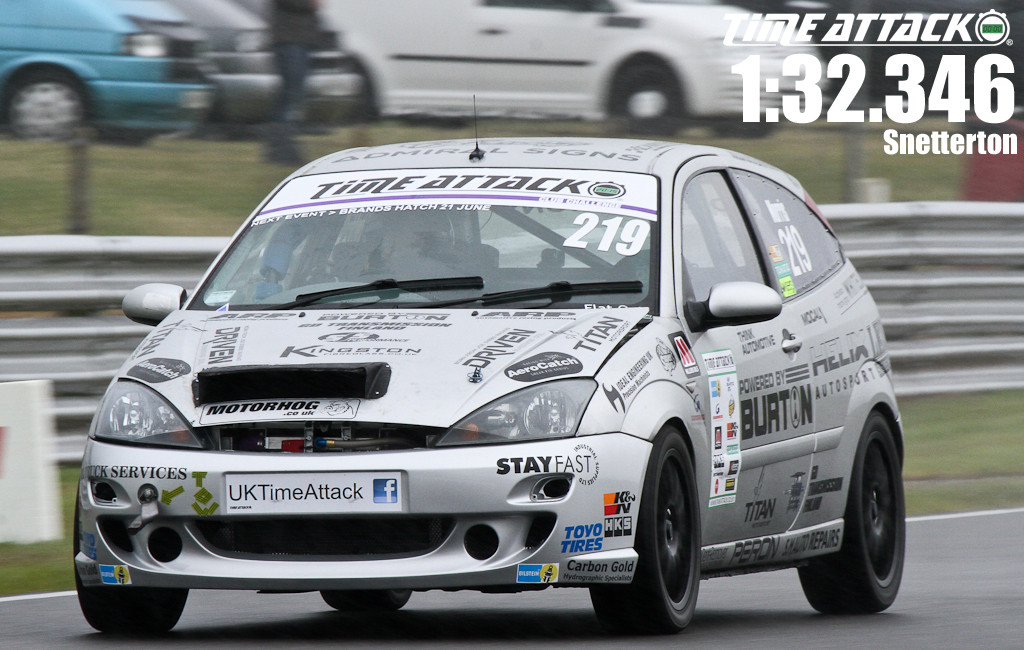 Darren Spooner – Peugeot 205
We really felt for Darren Spooner. He showed blistering early pace in his Peugeot 205, topping the overall Club Challenge time sheet in the morning. This was something of a surprise, as his little Pug only has a 1.6-litre turbocharged engine, so it's theoretically down on power compared to his rivals, most of whom have engines of 2.0-litre capacity or more. He was flying though. Right up until the point a boost pipe cracked, preventing him from realising that potential in the final. Very frustrating, but in a strange way also very positive as his pace was clearly there. Brands Hatch is going to be an epic fight in Club FWD, especially if Darren's car is back to full power.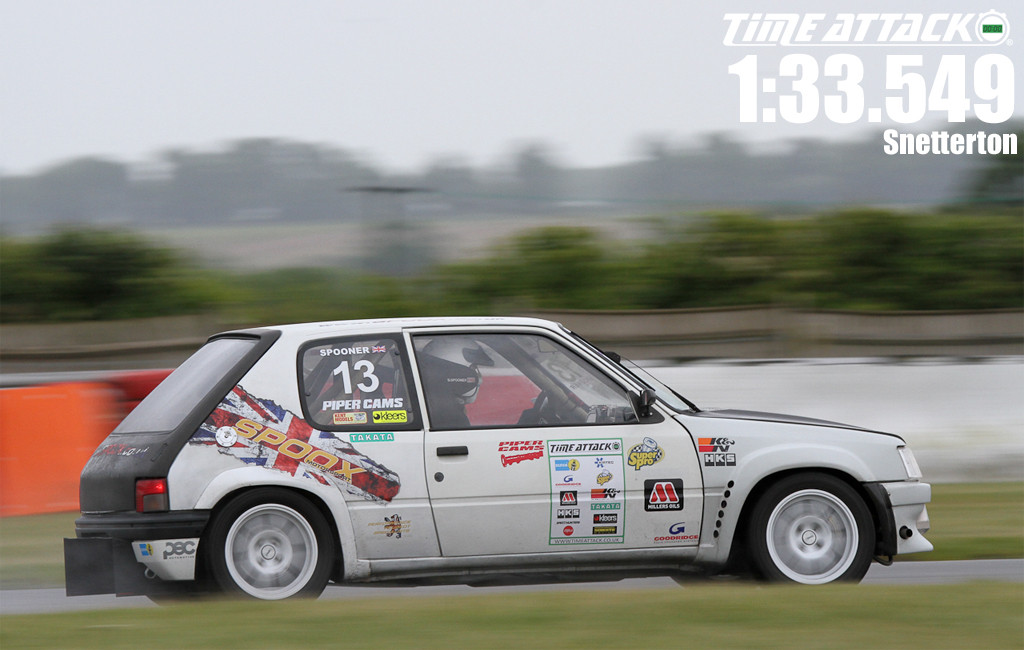 Antonio Giovinazzo – Alfa Romeo 155
The ever-cheerful Giovinazzo brothers are as much a part of Time Attack as Andy Barnes' beard. The home-turbocharged 2.0-litre twinspark Alfa 155 once again pounded around lap after lap. The engine is clearly healthy because the Alfa was a little way up the Club Challenge speed trap list this time around. Definitely showing improvement.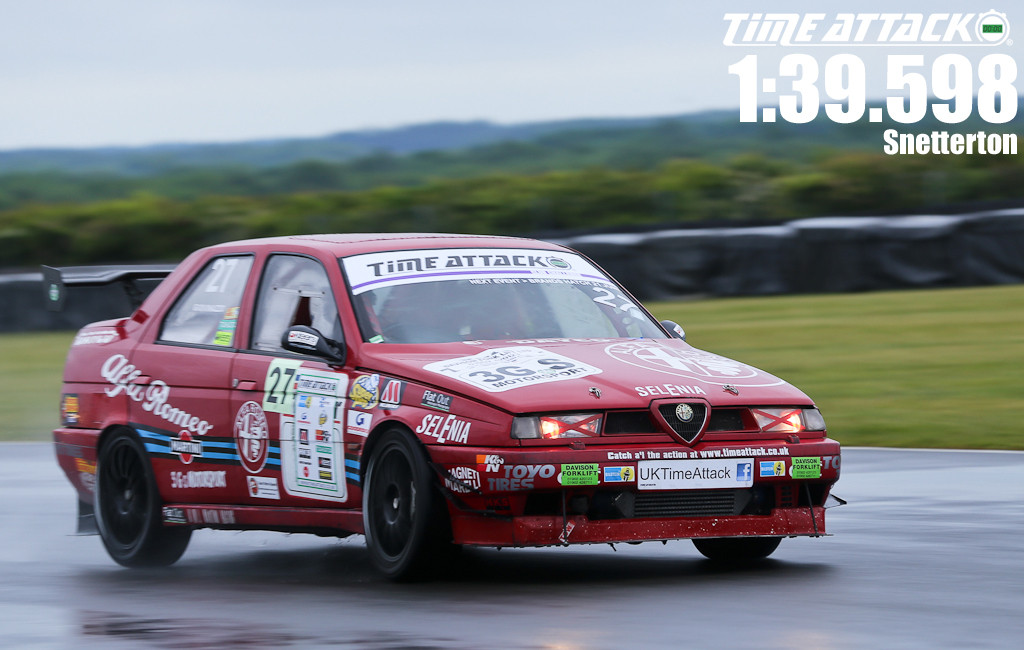 Jeff Alden – Vauxhall Astra
One of the most popular teams in the pitlane, Jeff Alden and Book Club Racing had a tricky day. Their Vauxhall Astra has all sorts of new parts, meaning it's much quicker than it was before. Or at least it should have been. Unfortunately, a worn gearbox meant Jeff lost fifth gear, which was pretty disastrous considering he was already topping the F20 5-speed 'box out in fifth anyway! Then the engine let go just four laps into qualifying. A day to forget maybe but Jeff still seemed to be having a blast, as always.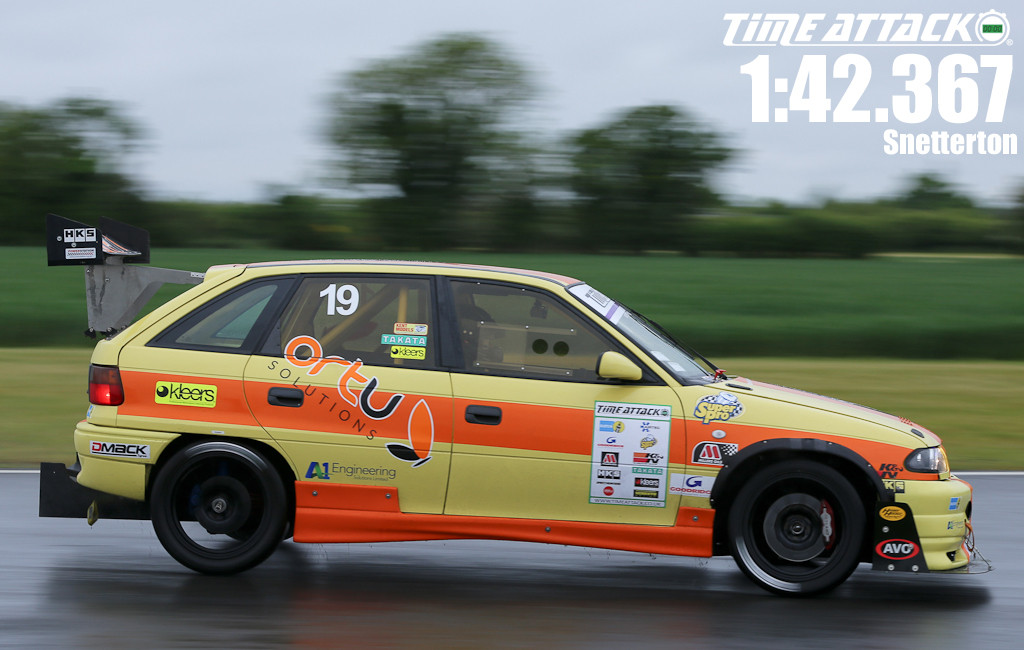 The next round of the UK Time Attack Championship takes place at Brands Hatch on June 21st. You can buy tickets here or on the gate. If you buy tickets before midday on Wednesday 17th June you save money too. What are you waiting for?