The entry-level end of Time Attack offered plenty of excitement around the Snetterton 200 circuit. All day we had a cycle of rain showers followed by short dry spells, which made judging grip levels very difficult. Thanks to a brief rain shower right at the beginning of their final session, the drivers of this collection of cars generally set their fastest times of the day during the qualifying session.
Our Pocket Rocket competitors are driving cars that were originally equipped with an engine capactiy of 1,750cc or less. While the Clubman class features cars with very minor modifications. Just before Snetterton the decision was made to split Clubman; Clubman for hot hatches and the like, Clubman+ for those cars that are more expensive, more capable on track from the factory, than the Clubman cars. So a lightly modified 2.0-litre NA Civic Type-R can be separated from a lightly modified Lancer Evo or GT-R, for example. Finally, our Classic & Retro Club class supports drivers of those 'analogue' cars we all love, from a time before driver assists. As all four classes are new for 2015, each fastest time of the day has set a new lap record. Congratulations to everyone who managed to earn one in the difficult conditions.
POCKET ROCKET
New Lap Record!
Richard O'Dwyer – Mini Cooper S
It was a triumphant return to Time Attack for Richard O'Dwyer. He was runner-up in the wet final session (1:33.110), but had already peaked in terms of lap time. Richard set the fastest Pocket Rocket time of the day outright in his 1320Mini Turbo during qualifying. A very quick time considering the relatively small engine capacity, and always up there in the speed traps.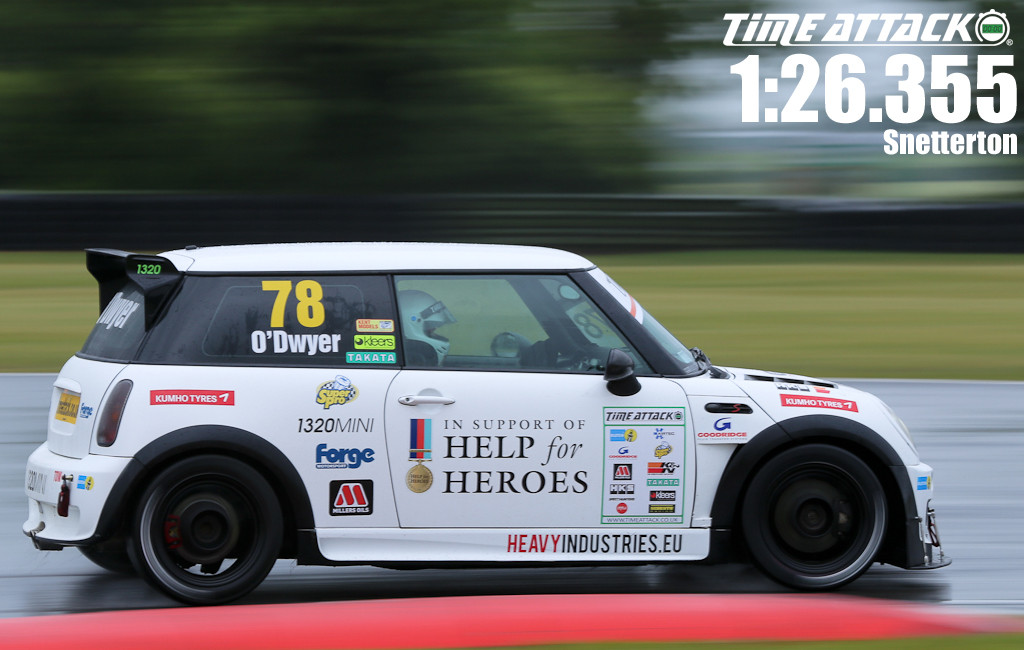 Stewart Summers – Citroën Saxo
What a difference a year makes. The last time Stewart Summers was at Snetterton in a Saxo, he rolled it onto it's roof spectacularly at Murrays. This time around he was fastest Pocket Rocket in the wet final session (1:31.991) and second fastest in qualifying (1:28.098), in his supercharged Saxo. An excellent, and very brave, drive.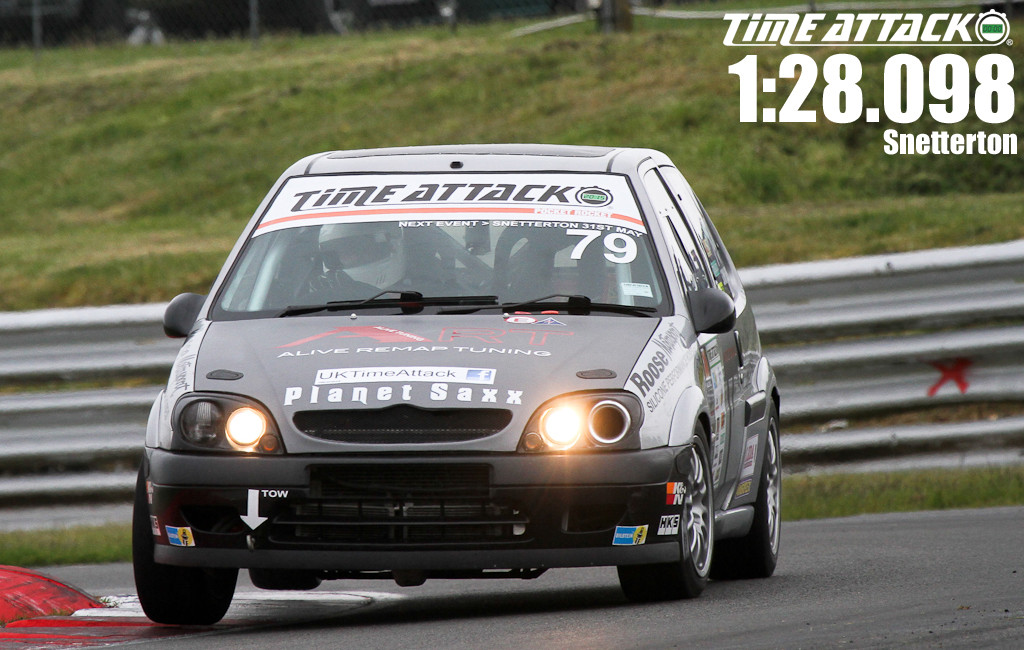 Tim Kite – Mini Cooper S
Another 1320Mini Turbo, Tim Kite went from a Sprintex supercharger to a GT28 turbo this year and it's clearly given the little Mini some grunt. Tim was third in qualifying, where he set his fastest time of the day. He went on to finish sixth in the wet final session. However, out of all the Pocket Rockets, Tim was the was quickest through the speed trap at the end of the Bentley straight in both the qualifying and final sessions.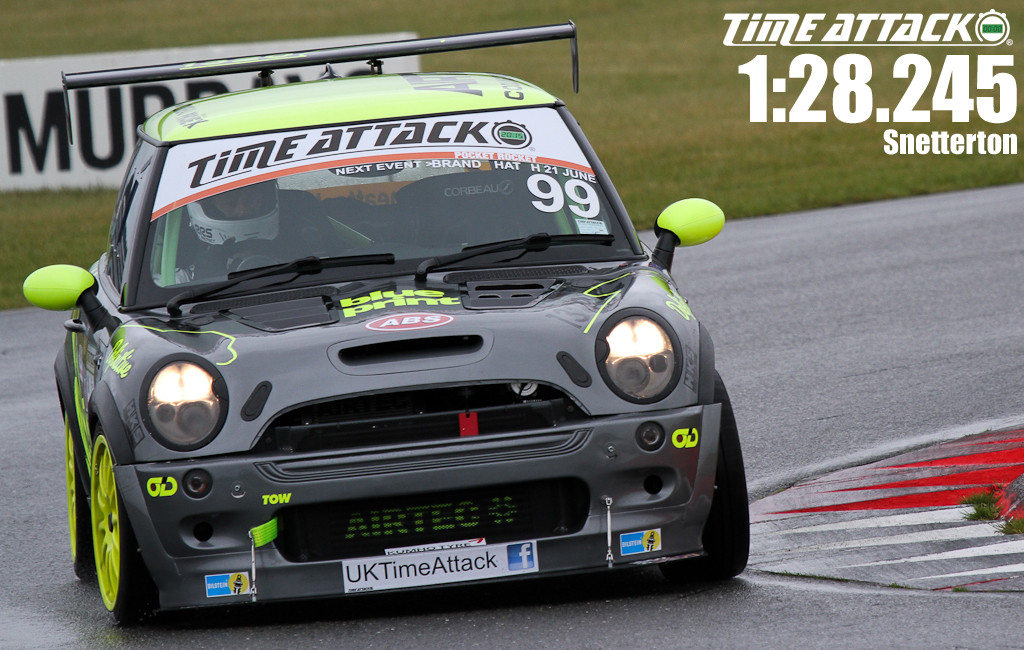 Robert Oldman – Ford Fiesta ST
You couldn't miss Robert Oldman's brightly-coloured Ford Fiesta. Another driver who set his fastest time of the day in qualifying, Robert pushed his way up the order to grab the third step of the podium in the challenging final session. His Fiesta ST can probably be seen from outer space and is prepared by SCC Performance.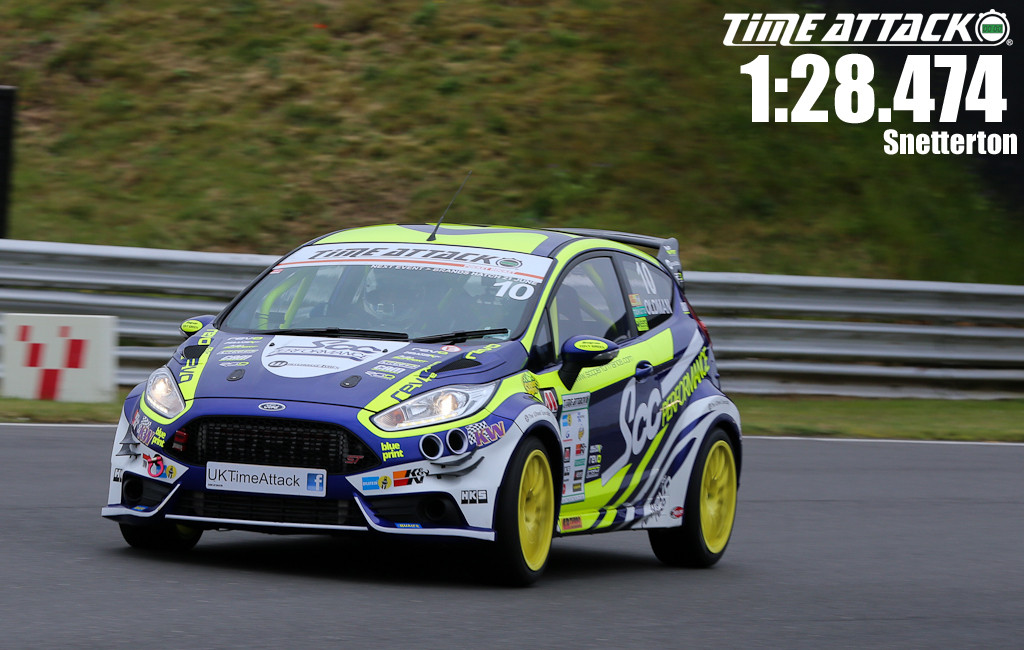 Sam Weller – Peugeot 106
The Peugeot 106 is an under-used car in Time Attack. It's lightweight and has good chassis balance even in stock form. So it was great to see Sam Weller taking the fight to the rest of the Pocket Rockets. He was the last of four cars that set 1:28s laps in qualifying. Mr Consistent, Sam finished fifth in both qualifying and the final.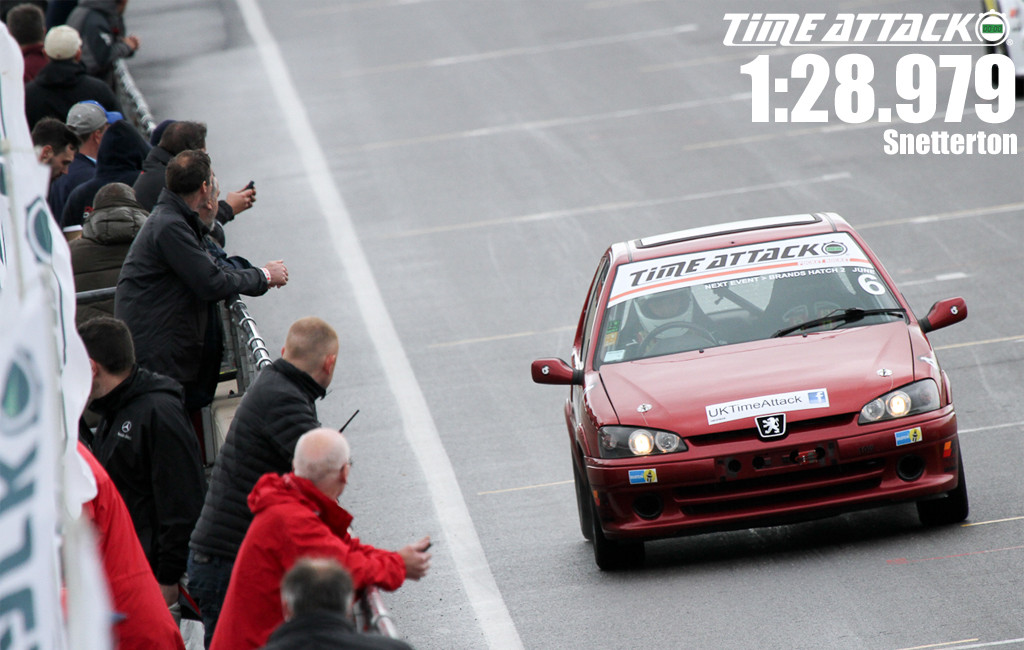 Sam Brabham – Airtec Fiesta ST Celebrity Car
The son of LeMans winner David Brabham and Grandson of triple Formula One World Champion Sir Jack Brabham O.B.E, young Sam Brabham has huge shoes to fill. Not literally, of course. Sam was behind the wheel of our Airtec Fiesta ST at Snetterton. It was a big change from the rear-wheel drive Formula Ford single seater he's used to, but Sam progress sensibly throughout the day and ended up pushing the Fiesta to fourth place in the final (1:35.271).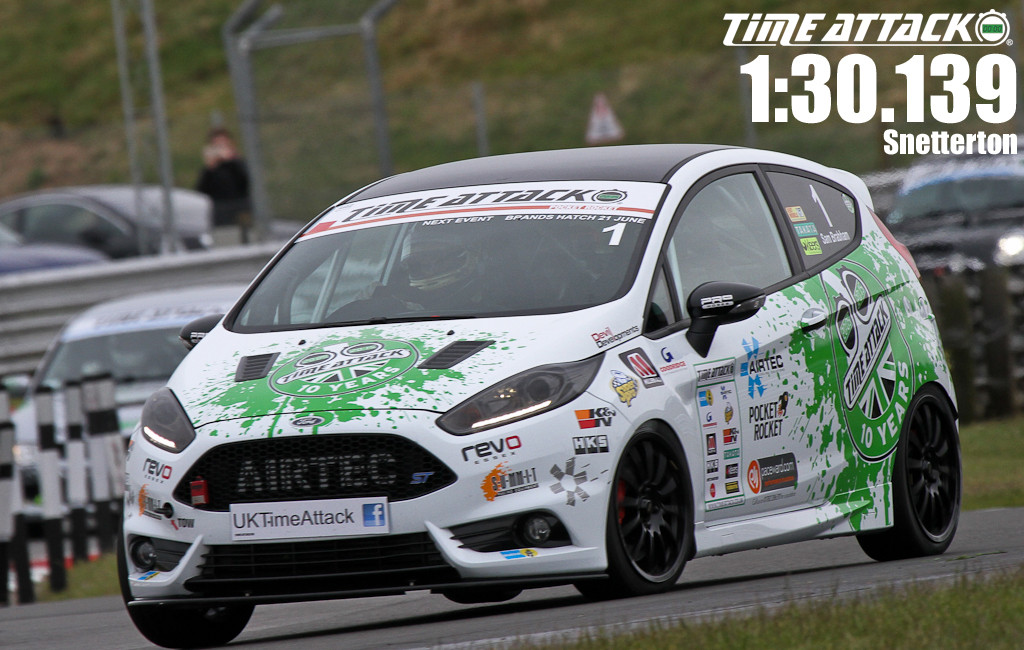 Andrew Kime (OHW) – Citroën Saxo
Early in the day there were rumours that Andrew's Saxo had expired but thankfully that wasn't the case. He completed the full day, setting his fastest lap time during qualifying. It's worth noting Andrew was quick through the latter part of the lap, featuring higher in the sector 2 rankings than his final position. Perhaps indicating that his Saxo was down on power slightly against it's rivals, but handled the direction switch of Brundle and Nelson, and the long Coram corner, particularly well?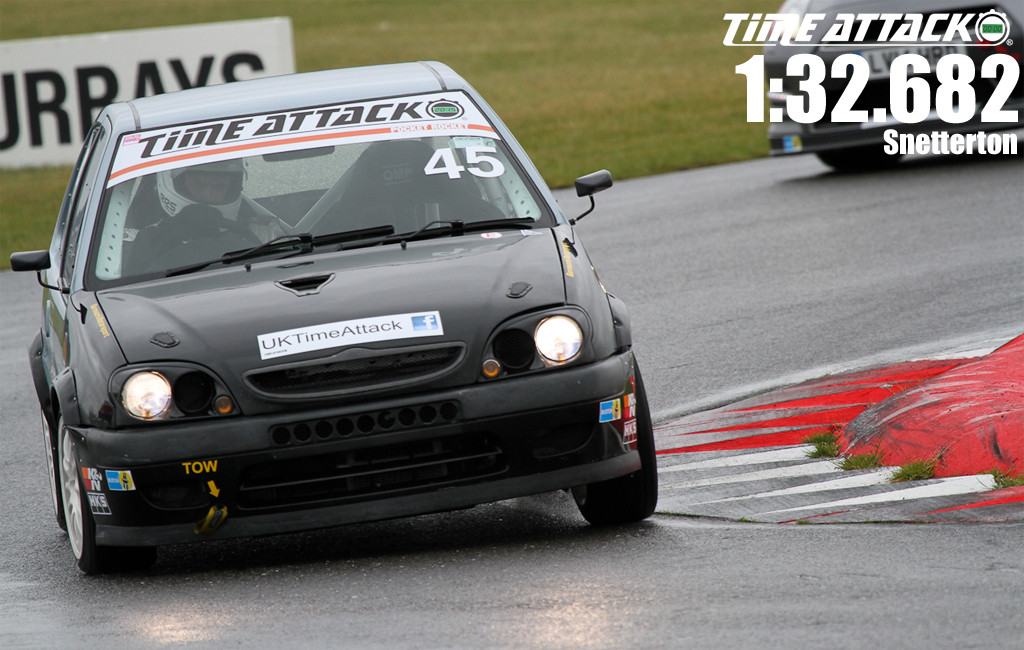 Adam Barnett – Mazda MX-5
Adam took the unusual step of removing some aero before Snetterton. Those of you familiar with the home-brewed supercharged Mazda MX-5 will know there used to be a large rear wing on the boot. It actually provided too much downforce, so he removed it. Considering the miserable weather conditions at Snetterton, he may have been wishing it was still there? One to keep an eye on at Brands Hatch, as it should suit the little rear-wheel drive roadster.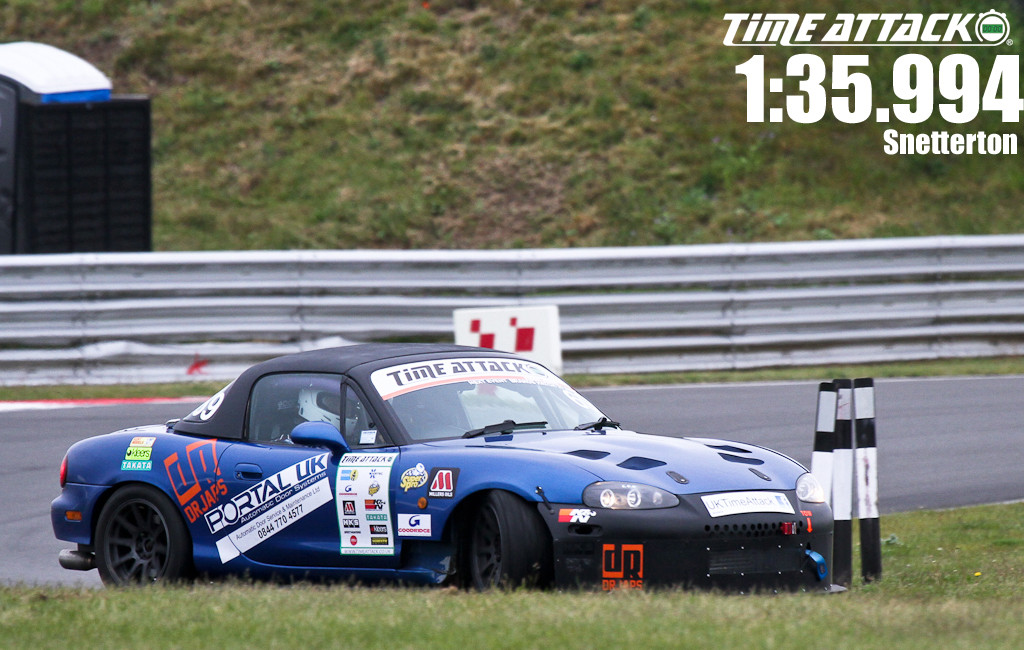 Ali Arshid – Suzuki Swift Sport
CTC Performance pulled an all-nighter to get Ali Arshid's supercharged Suzuki Swift ready. Ali didn't arrive at Snetterton until after the warm-up and practice sessions were over, and he had never driven the track before! So his first session was the fastest session, so his time isn't truly representative of what he and the car can do. Hopefully he'll get to participate in the whole day next time!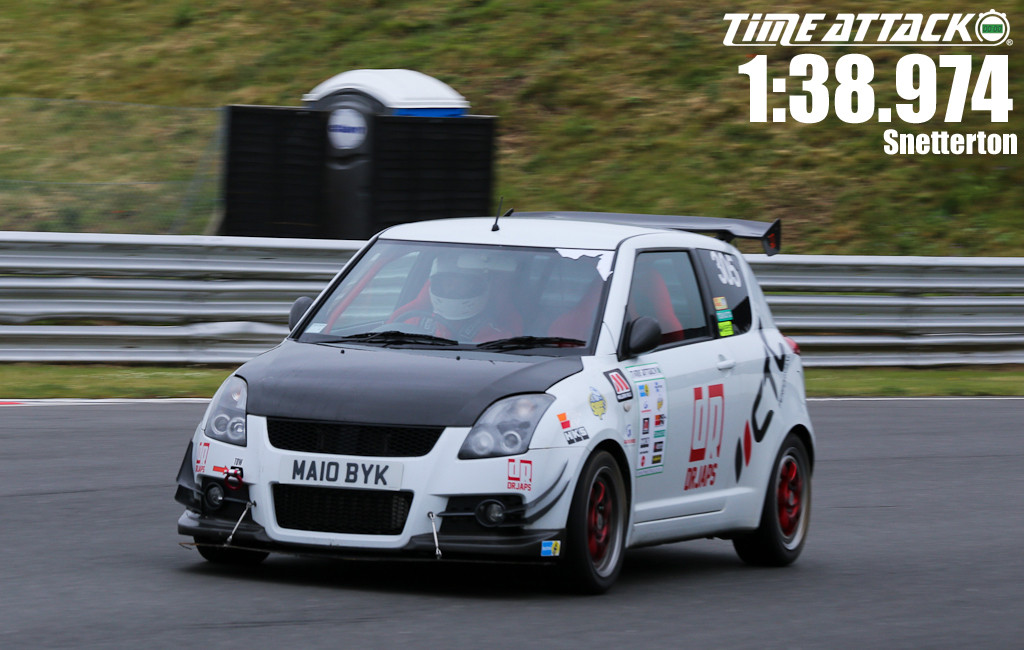 Classic & Retro Club
New Lap Record!
Jeff Whitbrook – Daihatsu Charade GTti
There aren't many Daihatsu Charade GTtis left, which is a shame because they're a truly bonkers little car – and Jeff's is more bonkers than all of them. Under the bonnet the 1.0-litre turbo engine is gone, replaced by a B18C4 Honda engine and DC2 gearbox. Oh, and a TD04 turbo. In other words, a whole load more power and traction. Jeff didn't perform so well when the rain came out in the final, but during qualifying he pipped Alan Tolley's Sierra XR4x4 to the fastest Classic & Retro Club lap time of the day, and a new lap record.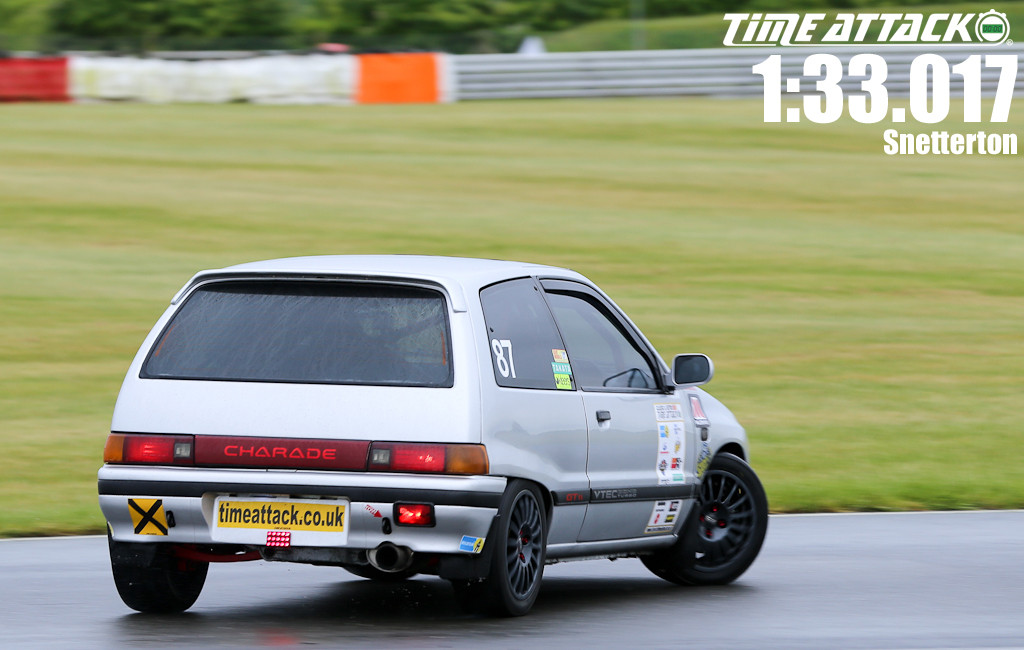 Alan Tolley – Ford Sierra XR4x4
Ford Sierra driver Alan Tolley joined us for the first time at Snetterton. His XR Sierra is another rare car, and he pushed Jeff close in qualifying, where he set his fastest lap. Alan is one of the few drivers that went close to his qualifying time in the wet final. No doubt the combination of Alan's driving and the grip provided by the Sierra's four-wheel drive system.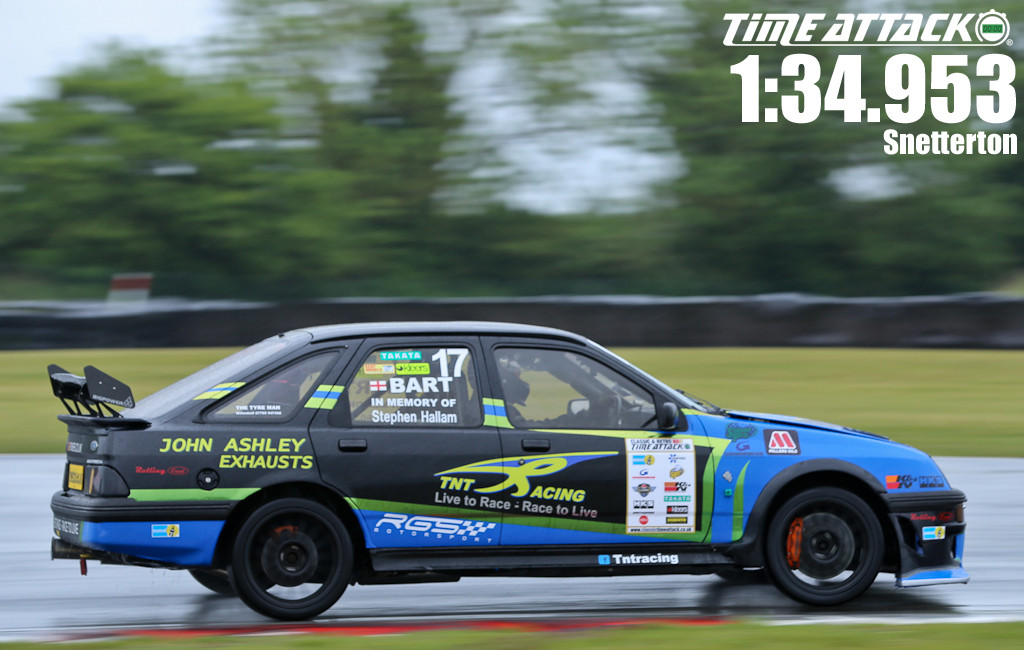 CLUBMAN
New Lap Record!
Warren Greenland (OHW) – Vauxhall Astra
Warren hit the jackpot at Snetterton. A One-Hit Wonder, he's carried out a smash-and-grab on the Clubman lap record! The speed of his Vauxhall Astra down the Bentley straight (128mph) was only beaten by Clubman+ GT-R driver Mark Flook. Well driven by Warren on the day.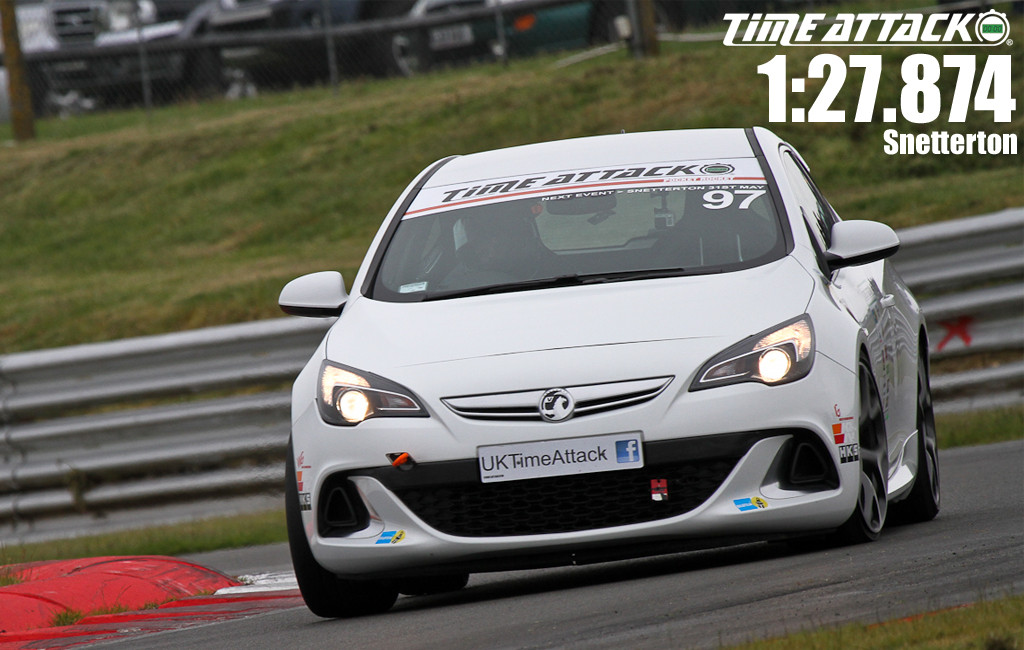 Ollie Novell – Toyota Corolla
If you're a fan of sprinting then you might have seen Ollie's VVTLi engined Corolla T-Sport before. He's modified it gradually from a road car to a sprint car, and now he's in Time Attack. The Corolla was buzzing through the gears all day, and with Warren unable to score points as a One-Hit Wonder, Ollie took well-deserved maximum points from both qualifying and the final.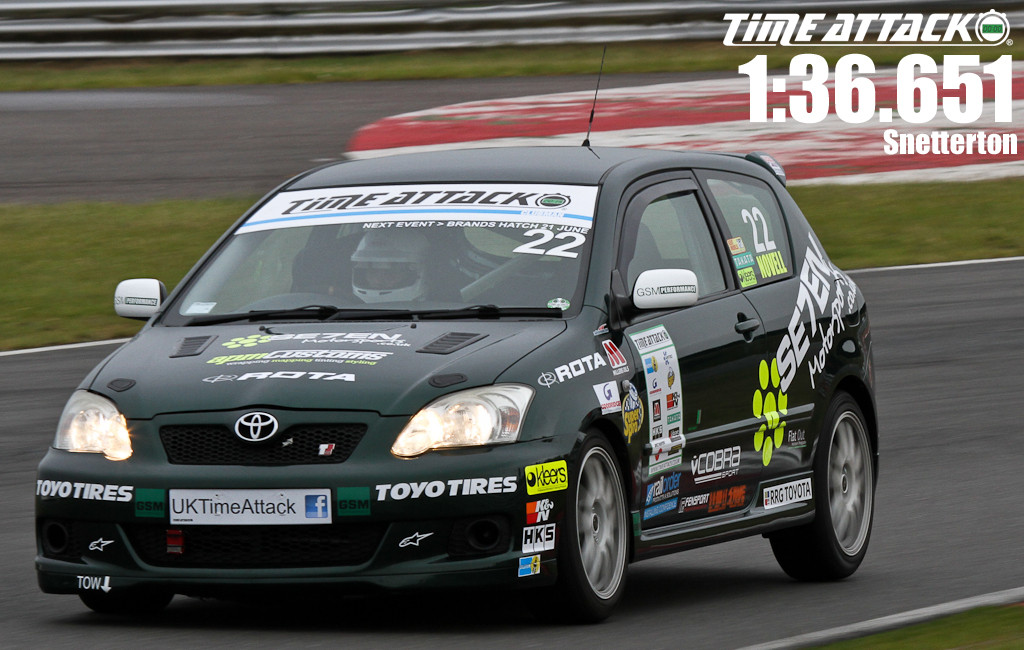 Jon Ellis – Mini Cooper S
Unlike the Club Challenge Minis, Jon Ellis' Cooper S is very mildly modified, making it the perfect Clubman car. Interestingly, Jon set his fastest time in both qualifying and final, on the very last lap. We always say that suggests a driver that is doing a great job. A good sign for the future.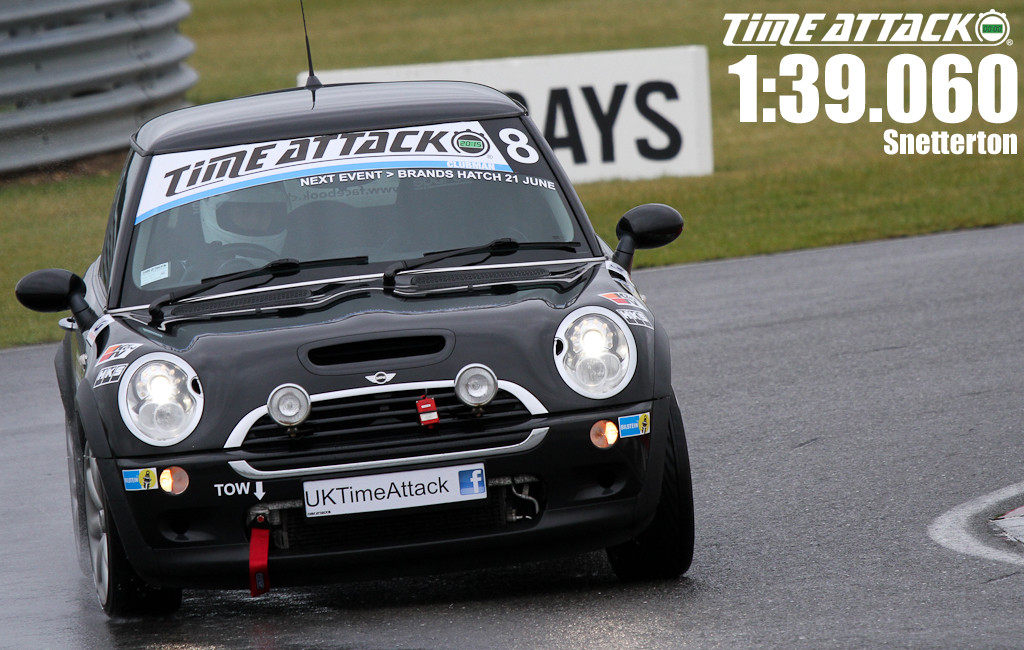 Sam Fleet (OHW) – Honda Civic Type-R
Another One-Hit-Wonder and another very mildly modified Clubman car. Exhaust, suspension and brake modifications pretty much cover the upgrades on Sam's Civic Type-R, and although he's done trackdays before he has never done any competitive driving like this. So if you're wondering if you can jump in without any experience, there's your answer. Sam had a great time and has already booked himself in as a One-Hit-Wonder at the next round, Brands Hatch on June 21st.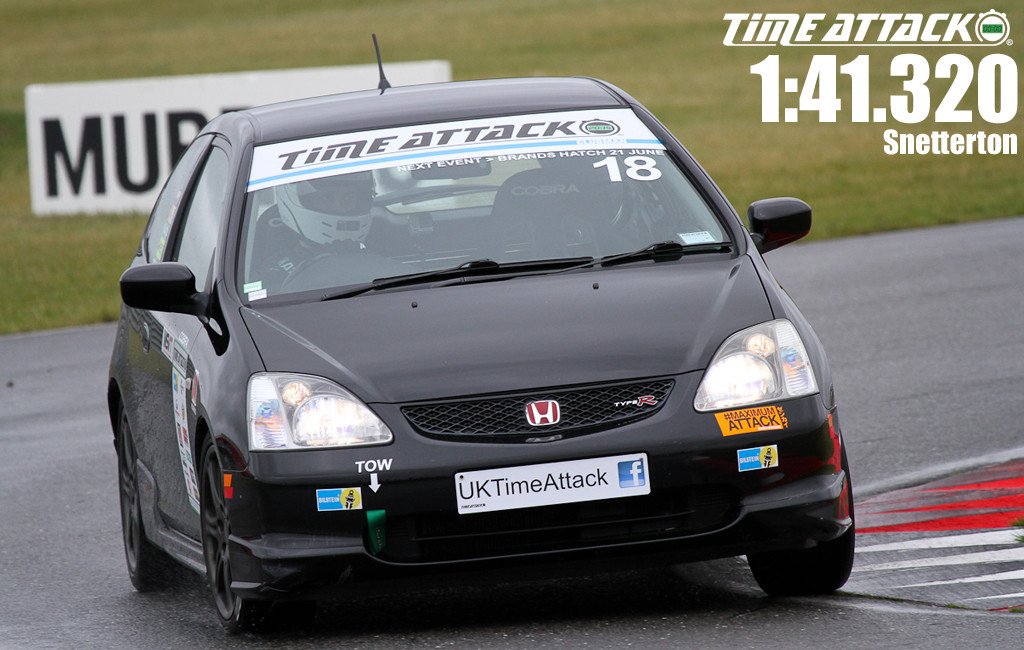 CLUBMAN+
New Lap Record!
Mark Flook – Nissan R35 GT-R
A set of brake discs and pads, plus a downpipe. That's the total sum of the modifications on Mark Flook's daily-driven family car. Of course a GT-R is a very effective track weapon in factory trim, hence the creation of a new Clubman+ class to cater for 4WD turbocharged beasts like this. Or any lightly-tuned sports cars that can challenge it. Mark topped every session of the day, and the speed trap tables in both qualifying and the final. A dominant performance. However, he was given a one position penalty for passing a slowing car under waved yellow flags.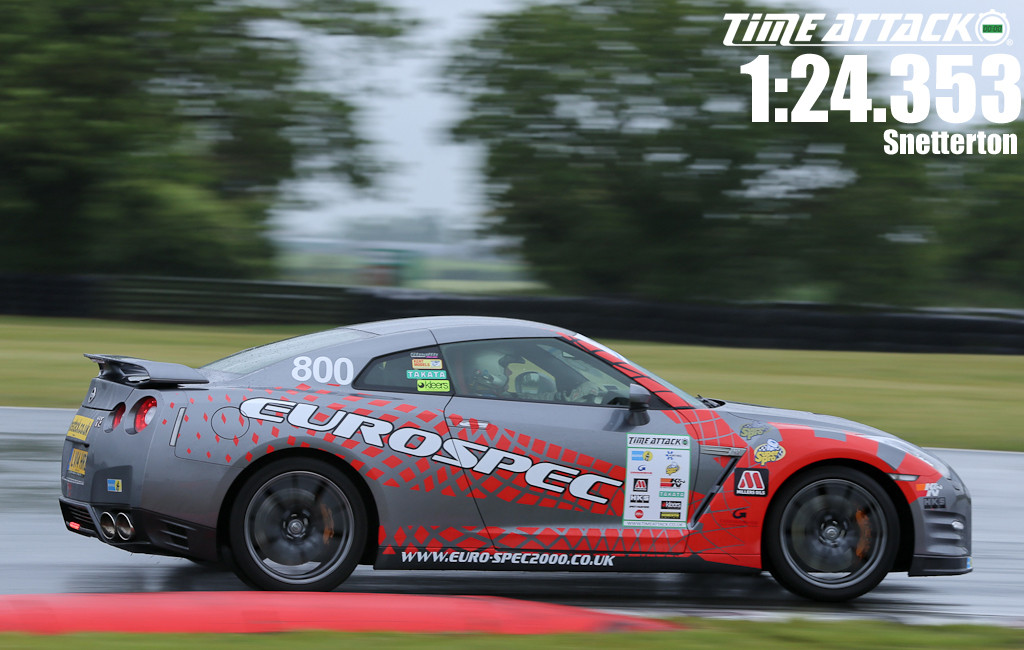 Alan Shepherd – Ford Focus RS
Behind Mark, Alan Shepherd was the best of the rest in Clubman+ all day. He was the one to benefit from Mark's penalty, and put in an impressive display to stay so close to the big GT-R all day long.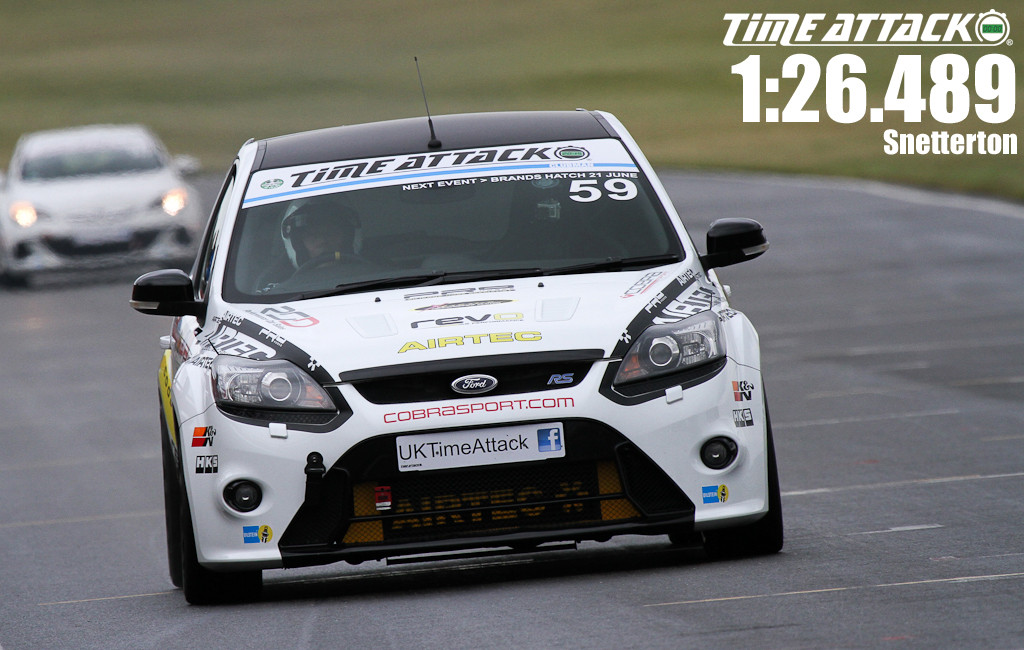 Ben Cook (OHW) – BMW M3
A last-minute One-Hit-Wonder, Ben Cook and his BMW M3 performed admirably. The car is barely modified and Ben managed to stay ahead of two 4WD Mitsubishi Lancer Evos in slippery conditions.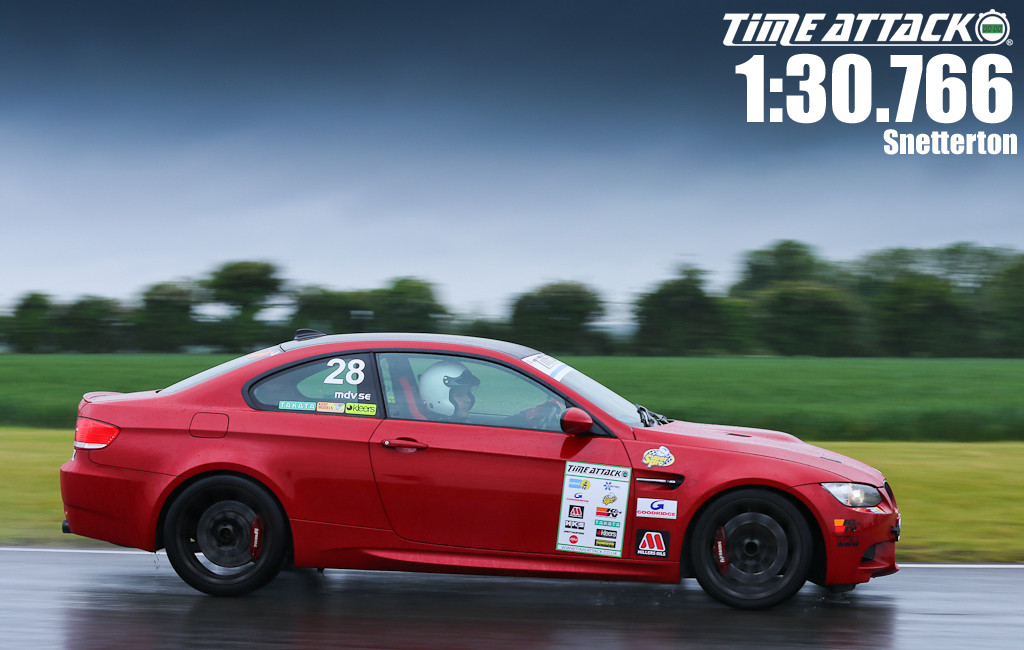 Jonny Roose – Mitsubishi Lancer Evo VIII
In the battle of the Evos it was Jonny Roose that came out on top. Jonny set his fastest time of the day on his last lap in qualifying.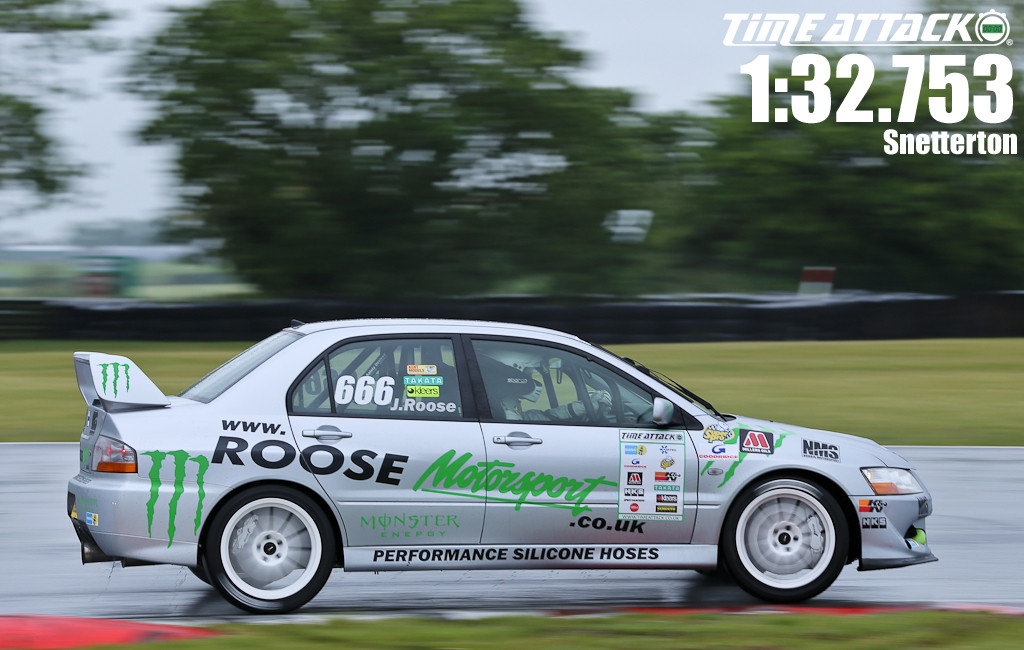 Lee Jordan – Mitsubishi Evo V
Last but by no means least, Lee Jordan set his fastest time while qualifying in the final Clubman+ position. However, when the wet final came along, Lee leap-frogged Jonny Roose (1:39.664 vs 1:44.283). So maybe he was saving something for the final but got caught out by the weather?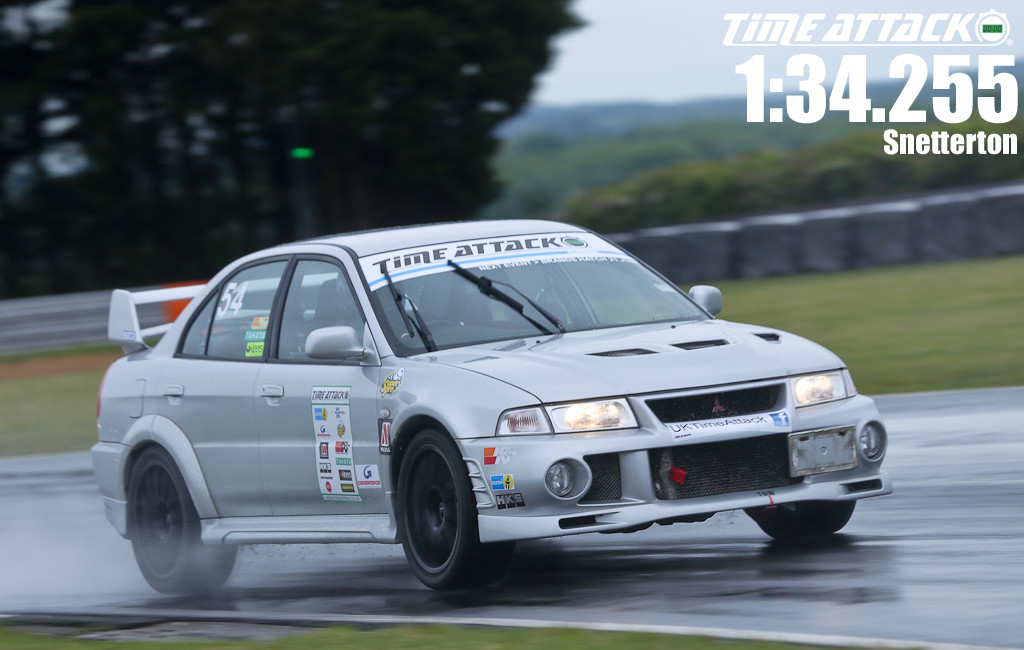 You can buy tickets to Round 3 of the UK Time Attack Championship at Brands Hatch on June 21st here