Talking about the weather gets boring. So let's talk about something else, like putting on a round of Time Attack after a 6-hour endurance race the night before.
The track was super greasy. Perhaps there were small spots of fluid on the track, dropped by the previous day's endurance racers doing everything they can to keep their car going. Or perhaps it was simply the amount of rubber they had laid down onto the racing line, but either way when the rain came down the track became extremely slippery. With short 20-minute sessions, the challenge for our drivers would be getting the heat into their tyres and brakes, while searching for the grip on the ice rink. Sorry, circuit.
That being said, the drainage at Snetterton is excellent. So as the day progressed, the track went through phases of being wet, damp and even dry in a couple of places. A recipe for an exciting day for the drivers and spectators, but little chance of any new lap records.
PRO Extreme
New Lap Record!
Gareth Lloyd : SVA Imports Mitsubishi Lancer Evo VI
Bang! You weren't expecting that, were you? Neither were we. The SVA Imports Mitsubishi Lancer Evo VI and Gareth Lloyd made a jaw-dropping return to Time Attack, after electrical gremlins minimized their running time at Cadwell Park in the opening round.
Such is the development of the car (and Gareth's driving) that Gareth topped the Practice session on low boost, won qualifying without switching the anti-lag on, and went on to win the Final in a time that beat their own lap record set last year (1:10.880) – hitting an astonishing 171.1mph at the speed trap towards the end of the Bentley straight, and crossing the line at 152.5mph!
He might have gone even quicker too. At the end of the final session, Gareth was on a hot one. He set a personal best first sector and looked odds-on to go even faster, before catching traffic at Murrays that forced him to tighten his exit onto the Senna straight. Crossing the line in a 1:10.576, just 0.009 seconds slower than the new record. More in the bag? Probably. Almost certainly. He'd buzzed the speed trap at Bentley at 172.9mph on that lap, fastest of the event overall.
The bottom line is SVA Imports and Gareth Lloyd still leave Snetterton with maximum Championship points and yet another Lap Record to add to their impressive collection.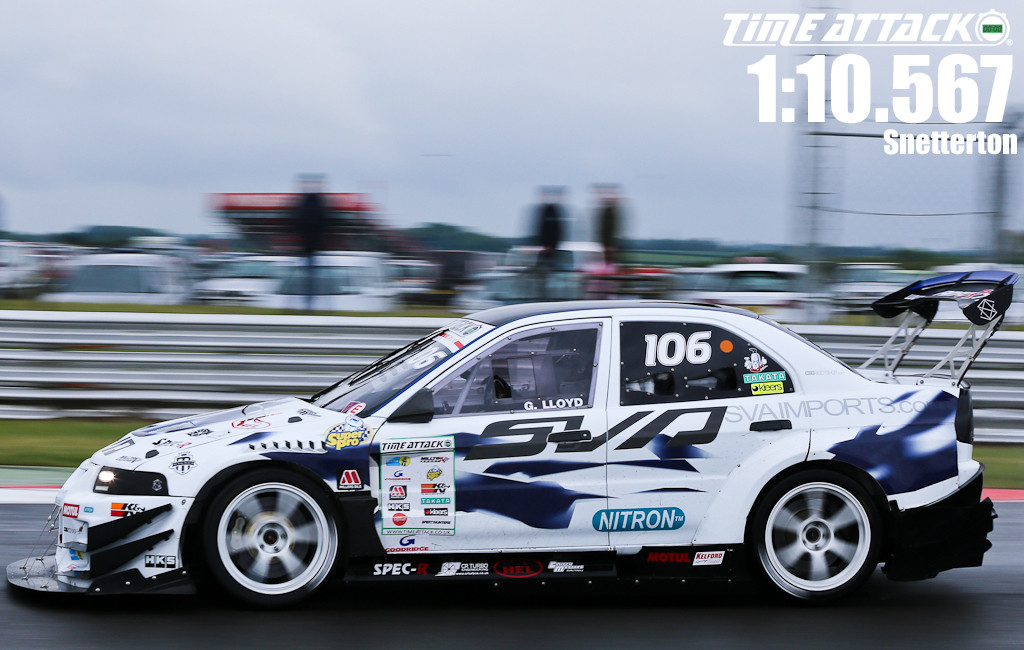 Andy Papageorgiou : Black Mamba Mitsubishi Lancer Evo VIII
Backing up his round 1 victory was always going to be tough in such a competitive field, but Andy and Black Mamaba threatened to do it again.
They had a challenging day, missing practice and at one point Andy had to leave the circuit and return to his hotel. There was lots of activity on Black Mamba going on all day, and this is still very much a new car. Even with the niggles, Andy went out and qualified in second place on a wet track (1:20.466), almost matching Lloyd's speed through the sector 1 speed trap on the Bentley straight (160.9mph).
In the final, Andy built up the speed and set his PB for the event on his last lap. An indication that he did his job as a driver to extract every last bit of performance from the car when it mattered most.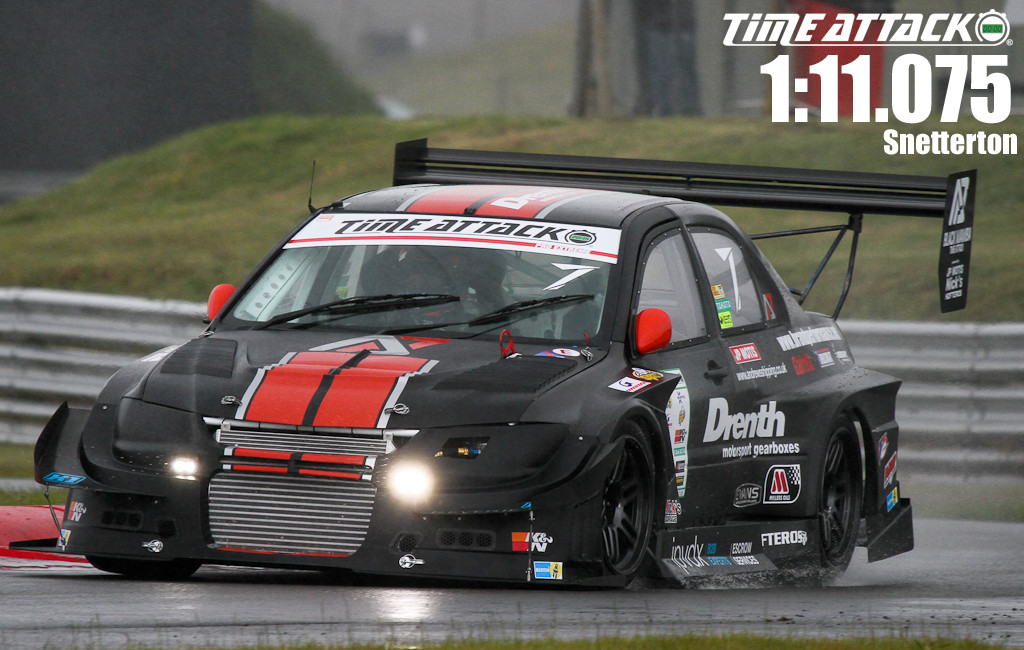 Phil Reed : Ross Sport Mitsubishi Lancer Evo VI
Phil Reed deserves a pat on the back for his performance at Snetterton. You only have to look at his car briefly to know it doesn't share the same amount of aerodynamic aids that the SVA and Black Mamba Lancer Evo do – although it does still have some rather hefty canards up front that rise up along the front wing.
Despite this, or perhaps partly because of this, Phil Reed was fastest across the start-finish line in the final. Every single one of his laps in the final recorded a high speed through that trap than SVA, Black Mamba, or anyone else at the event. So he's clearly got the second half of the lap absolutely nailed, and a lot of power under the bonnet of his Ross Sport Evo VI.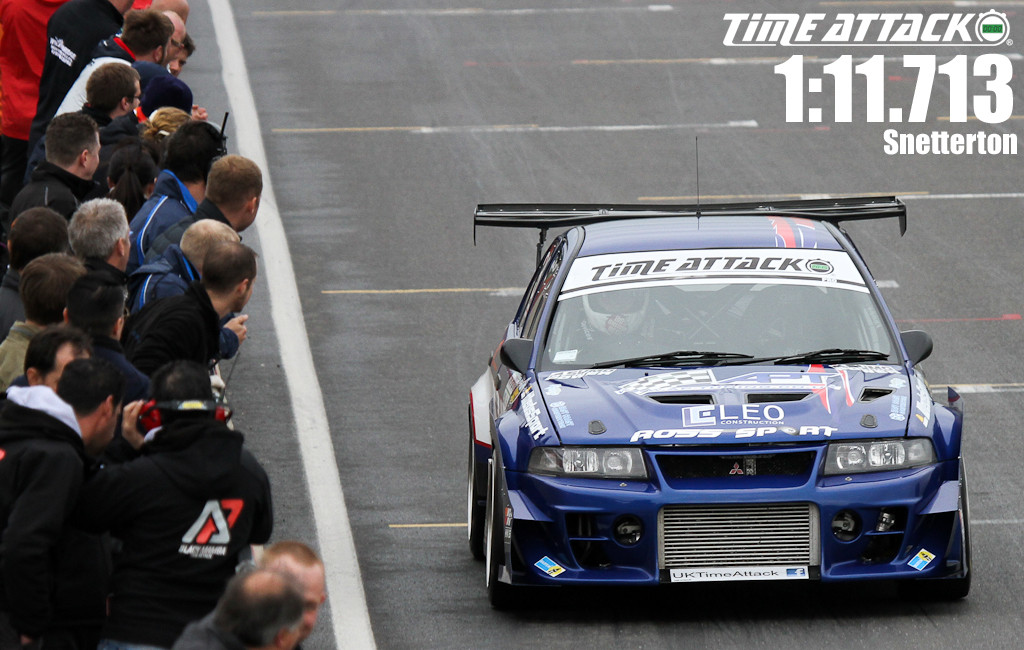 Andrew Barbour : NR Autosport Mitsubishi Lancer Evo IX
It was Andrew's birthday at Snetterton but he kept that quiet. Qualifying was the first time the Flyin' Scotsman had driven his new car on full wets, so it was a tall order for him to get comfortable in the car in just two 20-minute sessions. Even so, he did a great job in a top four that was covered by just over three seconds. Andrew was happy to finish the day without any real problems, and a couple of seconds quicker than he was last year in his old car. There's still plenty more to come from this combination.
Brad Sheehan : NR Autosport Mitsubishi Lancer Evo IX
Brad looked like he was on for a good result. Third fastest in practice, Brad had a disappointing qualifying session but was building up to the final. As you see from the photo, Brad was pushing the limits all day, learning where and how hard to push on both wets and slicks. Unfortunately, four laps into the final he suffered a broken differential, just as he had got the tyres and brakes up to temperature. Next time.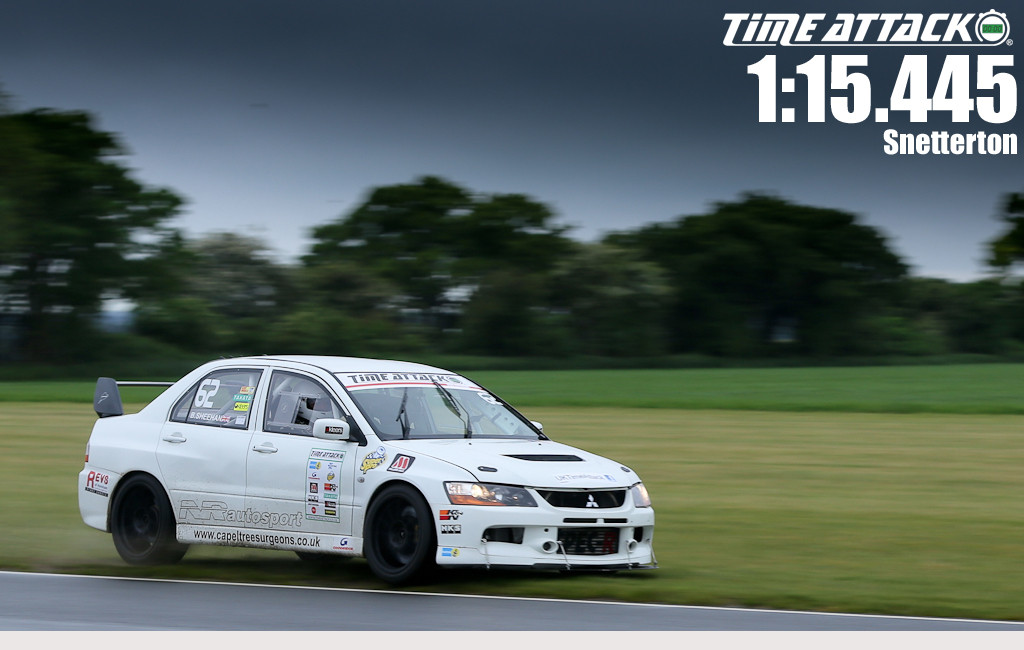 Richard Marshall : HEL Performance Mistubishi Lancer Evo IX
The thoughts of everyone at Time Attack are with Richard Marshall. Family issues meant his head was never solely focused on the track this weekend. Still, he pushed on with a positive attitude but wasn't really rewarded as gearbox wear made finding gears difficult, especially third which pretty much disappeared. An event to forget for the Iceman. We wish him well and hope he's had some good news by the time we reach Brands Hatch.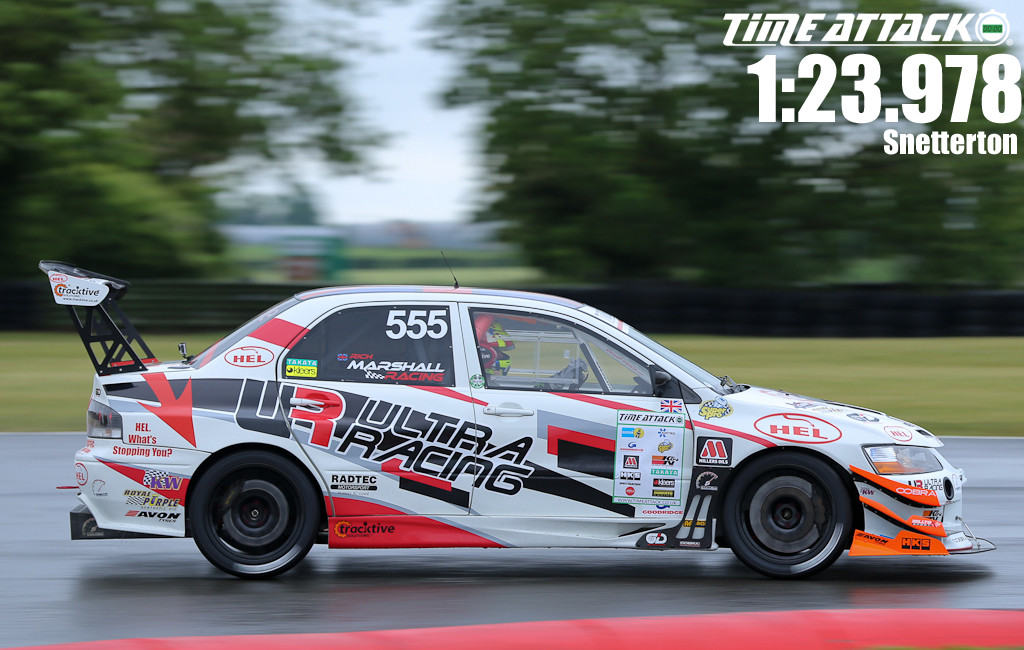 PRO
Lee Broadhurst : KTM X-Bow
What a fantastic result for Lee Broadhurst. The Pro car with the least horsepower, it looked like being a difficult day for Lee as he faced two cars putting out double the power, on a track with two long straights.
His KTM weighs much less of course, and it was the combination of this and his bravery that resulted in Lee setting the fastest Pro time of the day, winning the final in the process. British GT Champion had offered Lee some advice about one corner in particular, something along the lines of "flat-out". With the track starting to dry, it was in the final session that Lee finally decided to go for it. The result was 100 points and a whole load of respect from the spectators.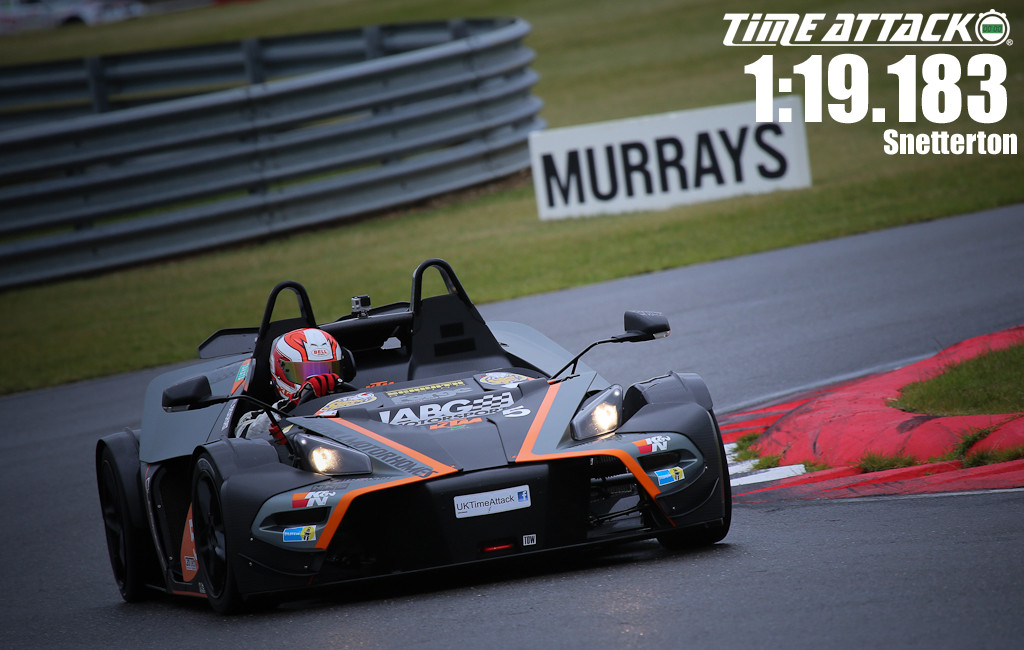 Kevin Jones – Noble M12 GTO3
Fastest in both the morning warm-up and practice sessions, Kevin was looking good until a driveshaft failure ruined his rhythm. Kevin finished second in both qualifying and the final, to different rivals. So a mixed day but by no means a disaster in terms of Championship points.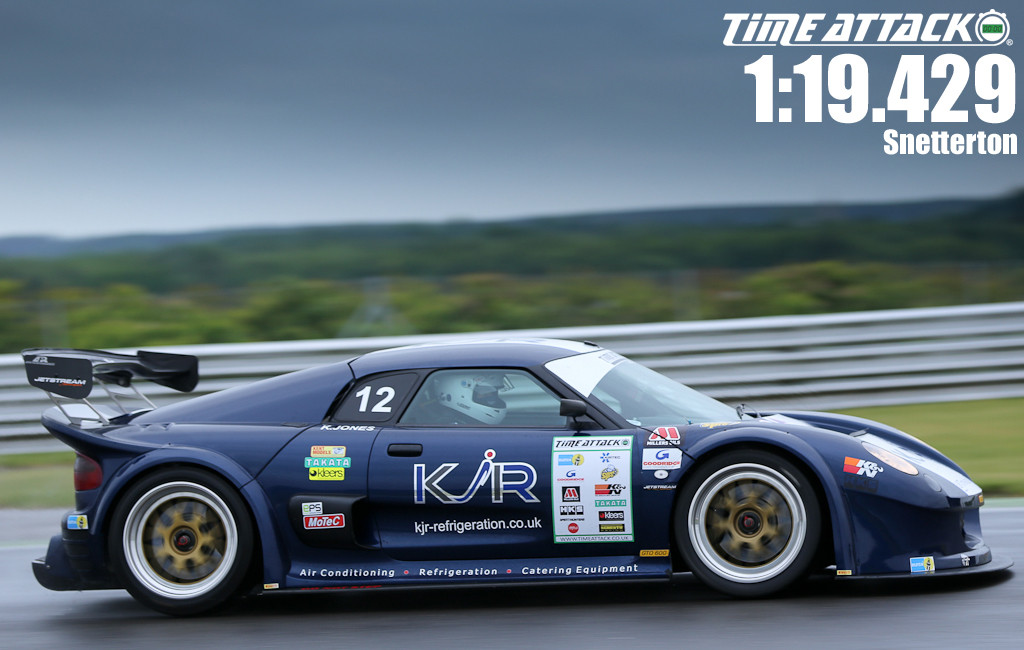 Dalibor Kvasai – "Kermit II" Mazda RX-7
Revs and power were increased for Kermit II at Snetterton, but we still haven't see what the car is capable of. Dalibor turned the form book on it's head as he piloted KII to first place in qualifying, several seconds ahead of his rivals in a very wet session. Top marks for Dalibor, who set his fastest time in the final session, where he dropped a second off the pace of his rivals. You sense there were a few gremlins creeping in towards the end of the day. Hopefully we'll get a healthy, full-power Kermit II at Brands Hatch on June 21st?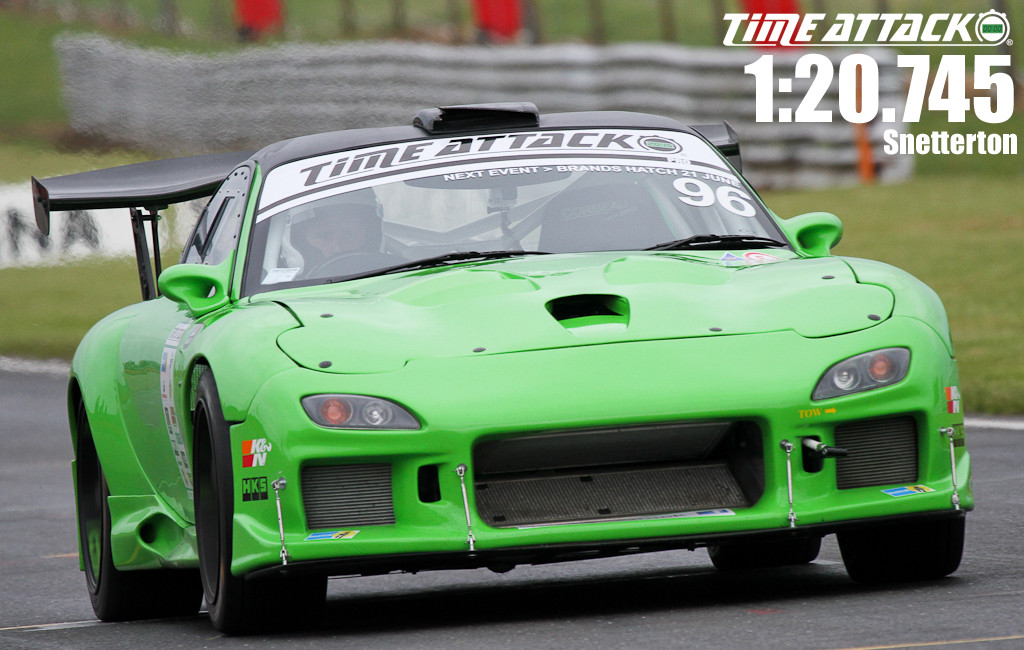 CLASSIC & RETRO PRO
New Lap Record!
Lloyd Wright – RSR Escort
Out on his own, Lloyd Wright turned plenty of heads in his Mk1 Ford Escort at Snetterton. Under the bonnet you won't find a pinto or even a Cosworth YB engine, but two Suzuki Hayabusa motorbike engines sharing a common crank to make a high-revving V8. The engine is actually from a Radical race car. So it's around 400bhp, lighter than an empty crisp packet and running on slicks. Which on the day were wrapped around brand new Magnesium-centered split-rims. Lloyd had fun pushing hard in the damp conditions but struggled with tyre temperature, admitting he has one eye on challenging the Pro Extreme guys. Next up is the twisty Brands Hatch Indy circuit, so it will be interesting to see how close Lloyd can get to them there.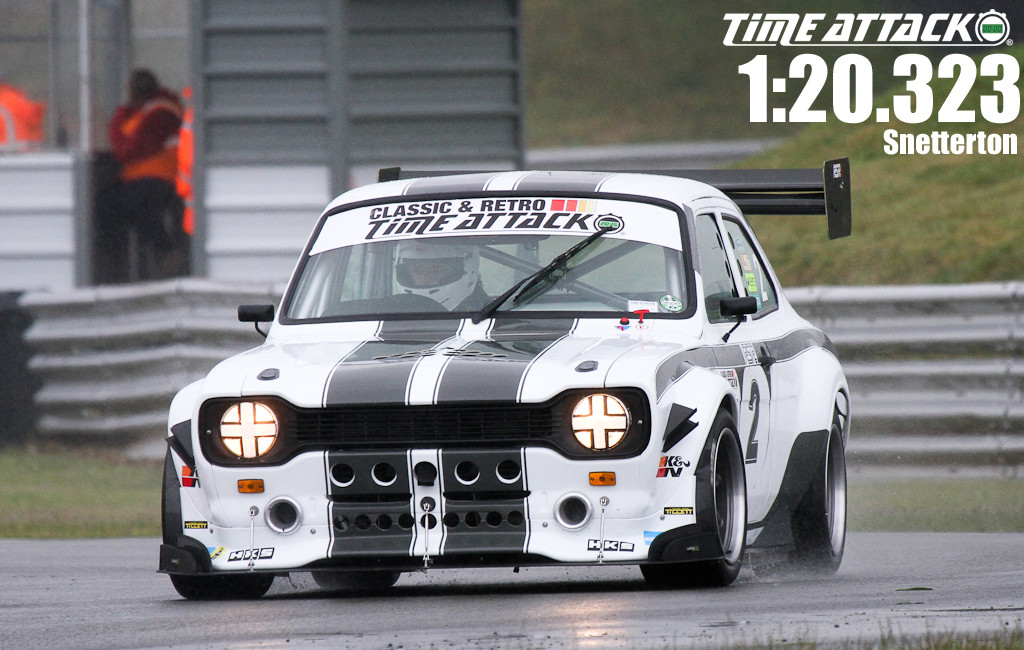 CLUB PRO
Russ Paton – Garage HQ Mitsubishi Lancer Evo VI
Videos of the build of this car went viral last year following a meeting with the armco at Brands Hatch in 2013.  The new car continues to get quicker with Russ behind the wheel. His time in the final, his fastest of the day, was seriously impressive. In drying conditions he went over four seconds clear of his closest rival. A serious bit of kit and well-driven on the day.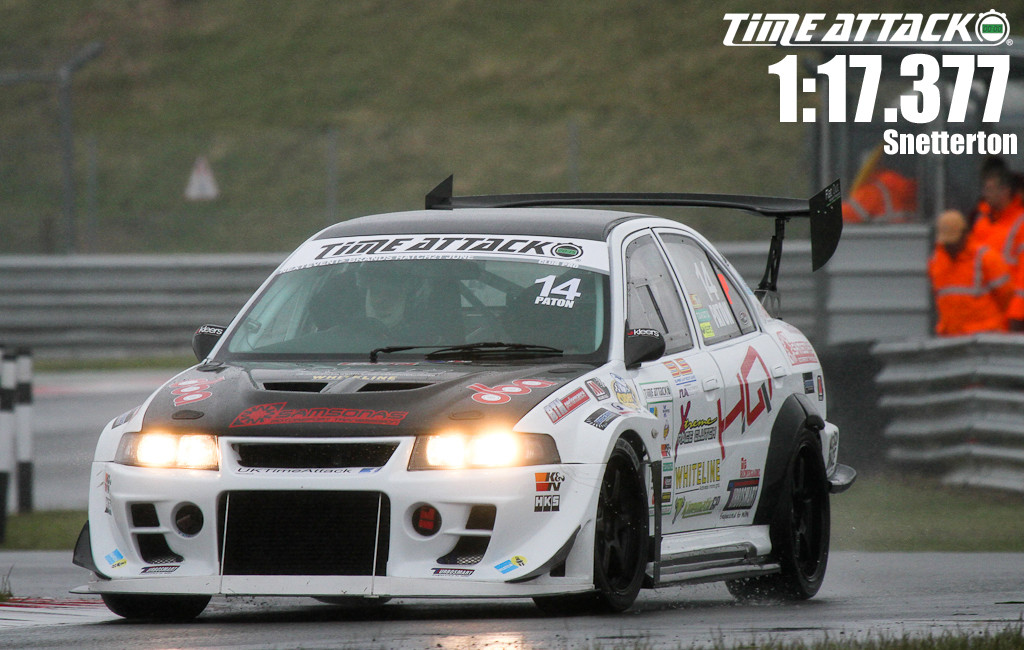 Ronnie Amis : Airtec VW Golf
It's standard practice to mention this car's former life as a BTCC racer but things are moving on now. Ronnie and the Airtec team have begun their development of the Golf after a year of becoming familiar with it. Power is now up from around 300bhp to around 370bhp, with lots of setup changes helping to keep Ronnie on the black stuff. Whatever they're doing is working because Ronnie's Golf was the fastest 2WD car in Club Pro. Perhaps even more impressive is the fact Ronnie won a wet qualifying session (1:35.520), beating the 4WD Lancer Evo of Russ Paton by 0.166 seconds. Impressive stuff.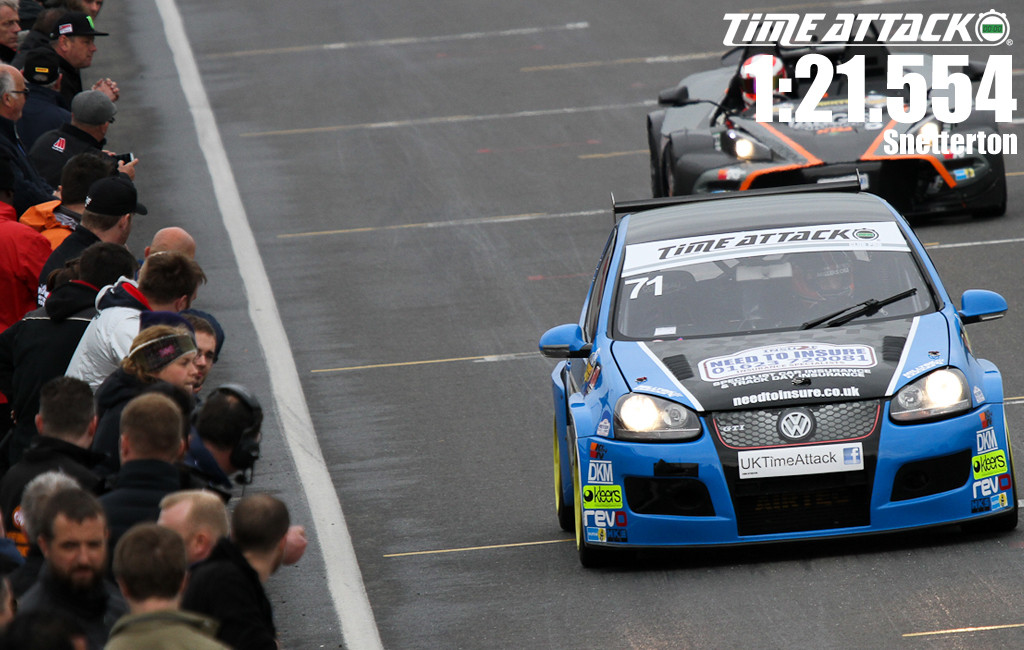 Jonny Fletcher : Vauxhall Astra
The black Astra was spitting flames all day long from that side-exit exhaust. Perhaps Jonny was trying to dry the track for everyone? The truth is things didn't really gel for Jonny on the day. He's still getting used to Club Pro, having campaigned his Astra successfully in the Club FWD Challenge. He goes well at Brands Hatch, so he's definitely one to watch next time out.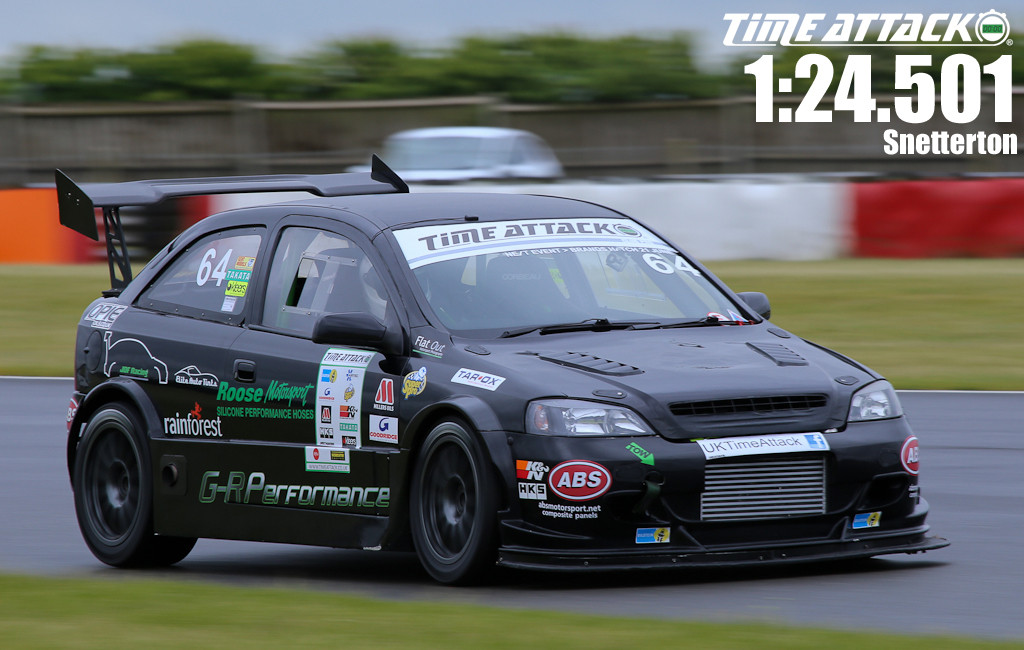 Lee Mabbett : Toyota Corolla T-Sport
A new car and driver combo for Time Attack in 2015, and a very welcome addition. Lee's Corolla has a 1.8-litre 2ZZ-GE engine fed boost by a Rotrex supercharger, with a Quaife LSD doing it's best to give the front wheels grip. There is an even higher power motor in development, which should bring a substantial performance boost at future rounds. Especially if we can avoid more rain..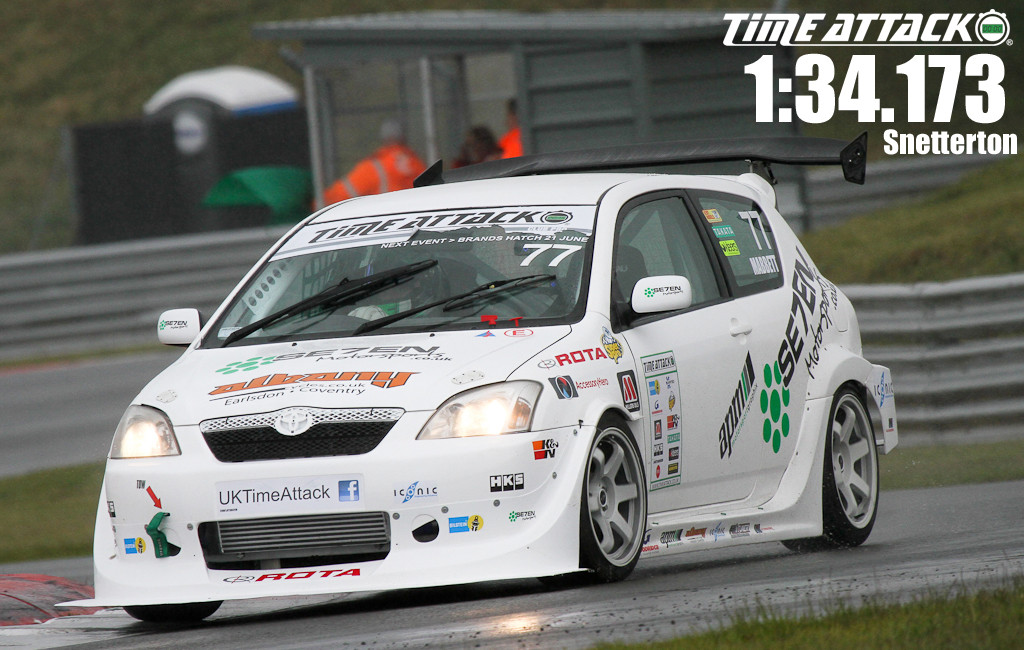 Round 3 of the UK Time Attack Championship takes place at Tunerfest on the Brands Hatch Indy circuit, Sunday 21st June. You can buy tickets here