As the 2016 nears we have pleasure in confirming the classing structure for the coming season.
There are a small number of updates to the classing compared to 2015 in accordance with the progression of teams, class popularity and competition format during the 2015 season.
The graphic below offers a snapshot of the high level details, if you would like to know more about how to enter your car and more specific information, please contact our Championship Coordinator, Simon Slade. Simons details can be found on the contact us page on this website.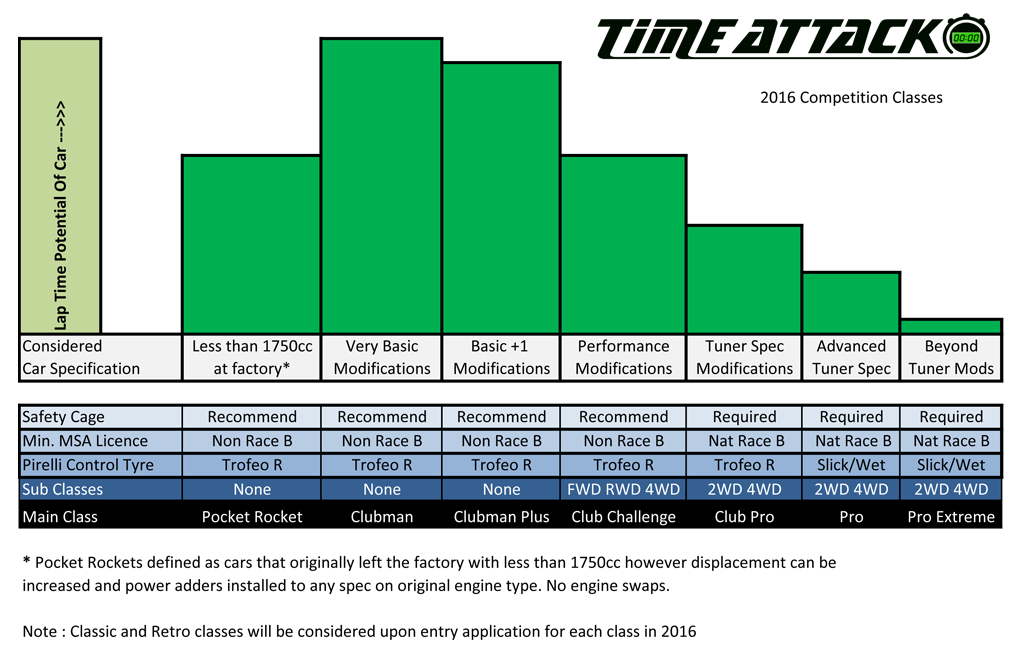 The notes within the chart [considered car specification] are purely as a guide to the vehicles that loosely fit those classes and are not definitions of what is acceptable.
Time Attack classing uses car specification and driver experience as an initial guide to help define competitor level. However, classing is ultimately categorised using the lap time potential of each car and team. This ensures that our open policy of car modification continues to exist and we encourage, in most instances [not all], continual development of cars within each class with minimal restrictions .
The more a car is modified and tuned, the quicker it should go and therefore, the further up the classing structure it moves – as demonstrated in the chart. This has always been –  and will continue to be – the underpinning  philosophy of Time Attack.
We generally accept each and every type of production-based car and aim to fit them within our structure somewhere relevant to the Championship points table for each category, sub-class and speed on track. We do not operate any power-to-weight scenarios or restrictions on car modification. We have some rules about car specifications – specifically when it comes to safety and aero. If you have questions about what you can or cannot do to your car, you may consult our Chief Scrutineer, having studied our regulations [ which can be obtained from Simon Slade upon application ].
Cars can and will be moved between classes during the season and at our discretion with consultation with the teams to ensure that competition remains fair and safe.
There are two routes of entry available for each sub-class:
Full season Championship entry: To include point scoring, representation on the podium, trophies for first, second and third and overall championship status
Single Round Entry – our suck it and see option: Eligible for up to three rounds per season, 1st place only class trophy and no championship points
2016 competitor entry prices for all classes have been frozen at the current rates for the coming season.
The provisional 2016 events calendar has been confirmed and can be found here

If you would like to receive a copy of our regulations, discuss your entry, get more information on how to enter and find out what it costs and whats involved, Simon Slade is our Championship Coordinator and will be delighted to speak to you and help you get on track. Simon can be contacted on email using the contact us page.
We also welcome you to come and see us at Autosport Intl at the NEC in January where we will have a stand and our staff will be on hand to discuss the coming season. Stand # 6760 Hall 6.