What better way to end the 2015 UK Time Attack Championship, than to return to where it all started ten years ago? A lot has changed in the world of Time Attack in that time. Many names have come and gone. Many lap records have been set, some of which have lasted longer than others. We had a sunny, dry day and the entire Rockingham International Super Sportscar Long circuit to do battle on.
We have four classes in this session, two of which were still up for grabs. The Clubman title would be won by with Jon Ellis in his Mini Cooper S or Ollie Novell in his Toyota Corolla T-Sport. While the Classic & Retro Club champ would be either Alan Tolley in the Cosworth YB-powered Sierra XR4x4 or Jeff Whitbrook in the Honda turbo-powered Charade GTTI. Mark Flook had already earned enough points to win Clubman+, while Stewart Summer had dominated the Pocket Rocket class in similar fashion. There was still plenty to play for in these classes too, as the fastest time in each class on the day would also set the first ever Time Attack lap record around the International Super Sportscar Long circuit.
Clubman+
Inaugural Clubman+ Lap Record!
Jonny Roose : Mitsubishi Lancer Evo VIII
Jonny Roose and his Mitsubishi Lancer Evo VIII have been getting faster all year. Part of that is down to the car, which is backed by Norris Motorsport and run by Roose Motorsport. The rest is down to Jonny himself. He's been taking driving tuition from former Time Attack Club Pro Champion Marc Kemp at Panic Link Motorsport, and it shows. Jonny topped the Clubman+ time sheets all day, setting a 1:40.905 in qualifying and a 1:40.631 in the final. He scored 15 points at Rockingham, the maximum score possible, helping him claim the runner-up spot in the Clubman+ Championship.
Mark McManus (Single Round Entry) : Seat Ibiza
The Forge Motorsport front-mounted intercooler clearly visible at the front of Mark's Seat Ibiza signals it's intentions. Mark was locked in a battle all day with fellow Clubman+ Single Round Entry Darren Meddings in the Subaru Impreza. Mark qualified in fourth place in Clubman+ behind Darren, with a best of 1:43.038 right at the end of the session. However, when the final arrived so did the chance to win a trophy for the fastest Single Round Entry in Clubman+. After a hard fight, Mark emerged victorious! His best lap of 1:42.400 in the final was the second-fastest time in Clubman+ overall, most importantly it was 0.048s quicker than Darren Meddings in third place, meaning it was Mark who drove home with the trophy and a smile on his face.
Darren Meddings (Single Round Entry) : Subaru Impreza
Darren's Impreza is exactly what Clubman+ is all about, a quick car with limited modifications, but the right ones in the right areas. The car is supported by MB Developments, and Darren returned to Time Attack after having a great time at Croft in the last round. Darren qualified in second place behind Jonny Roose, with a time of 1:42.532. In the final, he went marginally quicker, setting a 1:42.448. Unfortunately for Darren, this was a tantalizing 0.048s behind Mark McManus in the battle for fastest Single Round Entry. Still, another excellent performance from Darren and his Impreza.
Alan Shepherd : Ford Focus
It's been a tricky year for Airtec boss Alan Shepherd in the Ford Focus RS. He started out in Clubman, before his speed resulted in him being bumped up to Clubman+, amongst the more powerful four-wheel drive cars including an R35 Nissan GT-R and a Mitsubishi Lancer Evo VIII. Considering the different performance levels of the cars in standard trim, Alan has done extremely well to be on the pace at every round. Alan set a 1:42.828 in qualifying, good enough for the runner-up spot among the Championship contenders and third overall in Clubman+. In the final he set a 1:43.242, fourth overall in Clubman+ and once again runner-up of the championship drivers. The 13 points Alan scored at Rockingham helped him secure third place in the championship standings at the end of the year. A podium position is a decent reward for his hard work throughout the year.
Leigh Jordan : Mitsubishi Lancer Evo V
Leigh Jordan has been very quick at times this year, for example picking up a second place at Cadwell Park and a third place at Snetterton. However, he was marginally off the pace at Rockingham. The International Super Sportscar Long circuit was new to many of our drivers, Leigh among them. So it was a very steep learning curve on the day. Leigh recorded a 1:44.386 in qualifying, earning him fifth place in Clubman+ (third of the Championship contenders). Leigh grabbed the same spot in the final, with a time of 1:44.554.
Chris Milner (Single Round Entry) : Vauxhall Astra VXR
The blue DS Motorsport Astra was a welcome addition to Clubman+ at Rockingham. Chris had never driven on soft semi-slicks before, with his only driving experience being three and a half trackdays! Again, this is exactly what Clubman and Clubman+ is here to do, open a door into Time Attack competition. Chris admits the sessions flew past faster than he anticipated, probably because he was having so much fun. He set a 1:50.668 during qualifying, and a 1:50.511 in the final. He left feeling he could have gone faster, but for someone with such little track-driving experience Chris did a great job.
Clubman
Inaugural Clubman Lap Record!
Warren Greenland (Single Round Entry) : Vauxhall Astra Van
They say the fastest car on the road is an Astra van. Well, Warren Greenland proved that might be the case at Rockingham. With his Astra J VXR and Corsa track car both undergoing upgrades, Warren decided to use his work van instead. It has a remapped 1.9-litre diesel, with a few other goodies including an Mfactory LSD, hybrid Turbo Dynamics turbo, KW coilover suspension and Alcon 4-pot brakes. He was right on the edge of the Clubman regs, but with a heavy diesel engine (and being a van!) it was decided that the odds were sufficiently stacked against him. To be honest, we all wanted to see how he compared. The huge torque helped of course, but Warren can obviously drive a bit, as he negotiated the tight infield far faster than we thought possible. As a Single Round Entry, Warren wasn't able to score any points but he did top the Clubman time sheet in all four sessions. He managed an impressive 1:48.213 in qualifying, followed by an even quicker 1:48.096 in the final. Surely this is the first and only Time Attack lap record set by a diesel van, anywhere in the world?
Chris Atkins (Single Round Entry) : Renault Clio 200 RS
Chris Atkins put in a strong performance at Rockingham to cancel out the nightmare weekend he had at Oulton Park earlier in the year. His Renault Clio 200 RS carried the message "Thanks Dad", in recognition of the help he's had from his Dad Paul Atkins. He was also quick to point out the help he's had from Bro Sport, Midlands Renault Specialists, Kalaztaisport Renault and Stuart Millican Racing. Chris was happy that he beat both Ollie and Jon, who were battling for the championship title. Chris recorded a 1:49.183 in qualifying, and a 1:48.908 in the final. He got close to Warren's lap times too, which is impressive considering the power difference between the two cars and the minimal modifications on the Clio.
Ollie Novell : Toyota Corolla T-Sport
A power steering issue didn't help Ollie, on a day when he needed a good result to secure the Time Attack Clubman Championship. With help from the Se7en Motorsports team, Ollie navigated his way around the issues to grab the points he needed to win his first Time Attack Championship. Ollie set a 1:51.783 in qualifying, followed by a 1:50.142 in the final. Both times were quicker than those set by his Championship rival Jon Ellis, meaning that Ollie ended up with a healthy 6 point lead in the final standings. Ollie was disappointed he couldn't match the pace of our two rapid Single Round Entry drivers, but with a car that wasn't 100% he was just happy to have sealed the title. Ollie is now considering what to do next year, and has already hinted that he might change classes. Sounds interesting.
Jon Ellis : Mini Cooper S
Jon Ellis made a surprising admission at the start of the day. He's really enjoyed his debut year in Time Attack, but has always been too busy getting his car ready or driving it on track, to take much of the day in. So he made the extremely unusual decision to put his hot laps in early in each session, before parking up and watching the remaining minutes as a spectator! So he completed just six laps in qualifying, with a best of 1:54.219. Then he managed another six in the final, setting a best lap time of 1:52.794. It was a slightly bizarre end to the Clubman Championship fight that had come down to the wire, but it says a lot about Jon's approach to Time Attack in his daily-driven Mini. In some ways we wish Jon had gone all out in every session, but it's refreshing to find someone who is not only a Time Attack driver but a huge Time Attack fan too.
Pocket Rocket
Inaugural Pocket Rocket Lap Record!
Stewart Summers : Citroen Saxo
It was fitting that Stewart dominated the Pocket Rocket class once again at Rockingham in his supercharged Citroen Saxo, he's been doing that all year. In the final calculations, Stewart's dropped round score was the only final he didn't win, and even then he qualified in first place and finished runner-up! In fact, from a maximum possible 75 points, Stewart scored an incredible 74 points! He qualified in first place with a stunning 1:40.869, his fastest time of the day. That was almost three seconds clear of his nearest rival, it was also the fastest time set in the entire session across all four classes – beating the Clubman+ Evo and Impreza drivers too! Stewart went marginally slower in the final with a best of 1:40.941, still way out in front of the rest of the Pocket Rocket field and second fastest in the session overall, across all four classes. We've run out of superlatives to describe Stewart's performance this year. A properly sorted Pocket Rocket, driven by a very talented driver.
Robert Oldman : Ford Fiesta ST
Winner of the Best Presented Team of the Year award, SCC Performance boss Robert Oldman has shown he's handy behind the wheel this season too. He went into the Rockingham final in the middle of a fight with Mini turbo drivers Tim Kite and Richard O'Dwyer, for second place in the championship. Richard had pulled out of the final, but was sitting in a provisional second place, so that meant Robert had to beat Tim on the day and score big points to leap-frog Richard. In the early warm-up and practice sessions, Robert finished in third place, behind Tim on both occasions. When qualifying began it became clear that Robert had been keeping something up his sleeve, but it was still close. When qualifying ended, Robert had earned the runner-up spot, behind Stewart and ahead of Tim by a tiny 0.152s! It was a similar story in the final too, where Robert finished runner-up once again, this time finishing 0.7-seconds ahead of Tim. A great performance that resulted in the Fiesta ST driver grabbing the runner-up spot in the Championship. So Robert had several nice trophies to take back to SCC HQ from the final round of the year.
Tim Kite : Mini Cooper S
The distinctive grey and hi-vis yellow Mini has appeared neat the front of the Time Attack time sheets all year. The Mini Cooper S is supported by Airtec, and the factory supercharger has been replaced with a 1320Mini turbo conversion running an Owen Developments turbo. Tim started well, beating his Championship rival Robert Oldman's times in both the warm-up and practice sessions. When qualifying came, Tim managed a 1:43.683 on his last lap, good enough for third place. This turned out to be Tim's fastest time of the day. In the final, he set a 1:43.714 right at the start of the session, once again earning him third place. The 11 points he earned at Rockingham helped him gain fourth place in the overall Championship table, an agonizing two points off the Championship podium. In fact, only four points covered second to fourth place in the Championship at the end of the year, showing just how close the fight was. All things considered, a decent debut year for Tim in Pocket Rockets.
Thomas Mühlenz : Time Attack Championship / Airtec Ford Fiesta ST
We've had a range of famous names and faces behind the wheel of our Time Attack Championship 10th Anniversary Ford Fiesta ST prepared by Airtec. For the final round, it seemed fitting to give one of our sponsors an opportunity to share in the fun. The lucky man was Thomas Mühlenz, who joined us from Takata and Schroth Racing. Judging by his times, Thomas is a quick driver. In a car that was completely new to him, and on a circuit he had never driven before, Thomas was chasing our top three drivers all day, as they pushed hard for those Championship points. Thomas recorded a 1:45.395 in qualifying, followed by a 1:44.462 in the final, fourth fastest in both sessions.
Adam Barnett : Mazda MX-5
The only rear-wheel drive car in the Pocket Rocket class this year, Adam and his supercharged Mazda MX-5 have had an up-and-down season. He's been quick, but he's also suffered from a few mechanical issues, most notably high inlet temperatures, which have left him thinking about a turbo conversion for next year. He's certainly entertained us all with his oversteer antics, and it was no different at Rockingham. Adam set a 1:49.749 in qualifying, before chopping a decent amount off that time in the final, with a best of 1:48.777.
Ali Arshid : Suzuki Swift
Ali Arshid was noticeably quicker at Rockingham than he was at the start of the year. He's learning fast in his CTC Performance supercharged Suzuki Swift. Ali set a 1:48.995 right at the end of qualifying, his fastest time of the day, earning him fifth place. He couldn't quite match that pace in the final, recording a best of 1:49.595. Ali is another driver who has used this year to learn the format and make his car reliable. He now has a decent base on which to build for the future.
Andrew Kime : Mini Cooper S
Andrew's fastest time of the day is not representative of his true pace at Rockingham. He managed only three laps in the warm-up session before being forced to retire the car for the day. A disappointing day for the Saxo driver, who impressed us with his pace at Croft in round 5.
Classic & Retro Club
Inaugural Classic & Retro Club Lap Record!
Alan Tolley : Ford Sierra XR4x4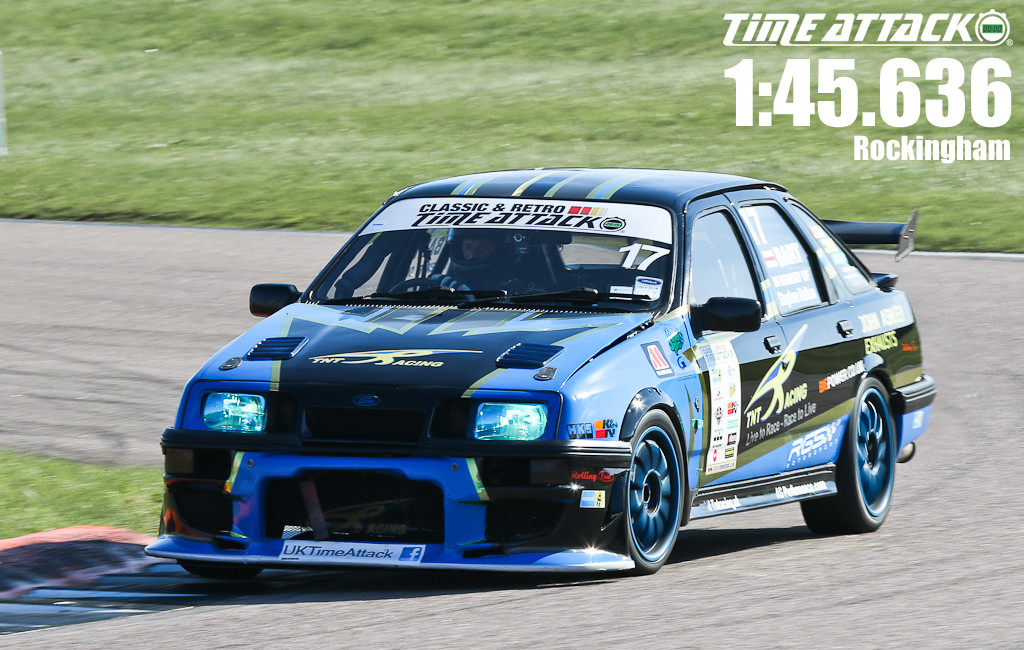 Heading into the final, it was a simple case of winner takes all, and the result couldn't have been closer. Alan Tolley started the year late, missing round one through ill health. Despite the serious nature of his illness, Alan has refused to be put off doing what he loves. The TNT Racing Ford Sierra is an XR4x4 with a 2.0-litre turbo Cosworth YB engine under the bonnet, and it's been a case of 'little vs large' all year as Alan's big Sierra went up against the lightweight Daihatsu of Jeff Whitbrook. Things were looking dodgy for Alan when he finished runner-up to Jeff in qualifying by a nail-biting 0.137s, setting a 1:47.262. This meant the outlook was simple. In the final, if Alan lost he would also lose the title by one point. If he won, he would be level with Jeff on points, but would be crowned Champion based on the number of event wins (3 vs 2). As the minutes counted down in the final, the tension was incredible. When the session ended, Alan was fastest. He had won! In fact, his 1:45.636 turned out to be over a second clear of Jeff's time. An incredibly close fight and both drivers later shared their respect for each other. A close fight, but one carried out in the right spirit. Alan can be really proud of his Classic & Retro Club Championship and his Rockingham lap record.
Jeff Whitbrook : Daihatsu Charade GTTI
When Jeff Whitbrook first arrived on the scene, we weren't aware of the firepower he was packing. The Daihatsu Charade GTTI usually has a 1.0-litre turbocharged 3-cylinder engine under the bonnet, that makes them nippy rather than quick. Jeff's car is a beast, with a turbocharged Honda B-Series somehow stuffed under the bonnet! Jeff fought Alan all year, with both the nimble Daihatsu and stable Sierra finding certain tracks where they had an advantage, the drivers had to make up the rest. Jeff kept his nerve in qualifying, grabbing first place with a 1:47.125. This gave him a shot at the title. All he had to do was beat Alan in the final, and the title would be his. Sadly for Jeff, it wasn't to be. He managed to improve his time from qualifying, setting a best of 1:46.771 in the final, his fastest time of the day. Alan was just faster in that important final session of the year. Jeff is a great competitor and feel proud of his achievements this year, that includes two wins and two lap records.
It's not racing.. it's TIME ATTACK!
Final Championship Points Table