Pro Classes – Round 3 Snetterton
We often say the track conditions are "challenging", but at Snetterton they really were. A series of rain showers hit the track, often mid-session. Add some splilt fluids and random gusts of heavy wind and you can imagine how our drivers felt.
A mixture of excitement and apprehension passed down the pit-lane. Peter Pentell, creator and driver of the incredible LaSupra Racing Lancia Delta 2JZ, had travelled all the way from Sweden for the event with his friend and team-mate Andreas. Peter had intended to compete this weekend but issues beyond his control meant he was there without his famous blue and white Lancia, although Peter did hint he and his car would be at UK Time Attack very soon, possibly even for the next Round at Cadwell Park on Saturday 9th August. So put that one in your diary.
What did Peter think of our 'changeable' British weather? "It's crazy!" he said. Can't argue with him there.
PRO Extreme
Gareth Lloyd:SVA Imports Mitsubishi Evo 6
Gareth left spectators open-mouthed as he fired over the line in the final to record a new outright Time Attack lap record at Snetterton. The all-new SVA Imports Evo made it's debut at Knockhill last time out but was missing a few bits that were added in time for this round, so the car is getting closer to it's proper 2014 spec. Incredibly, Gareth set this 1:10.880 Snetterton 200 lap record on his 'banker' lap. The track was still not completely dry and Gareth hadn't used all the toys, including the nitrous oxide injection that stayed switched-off all day.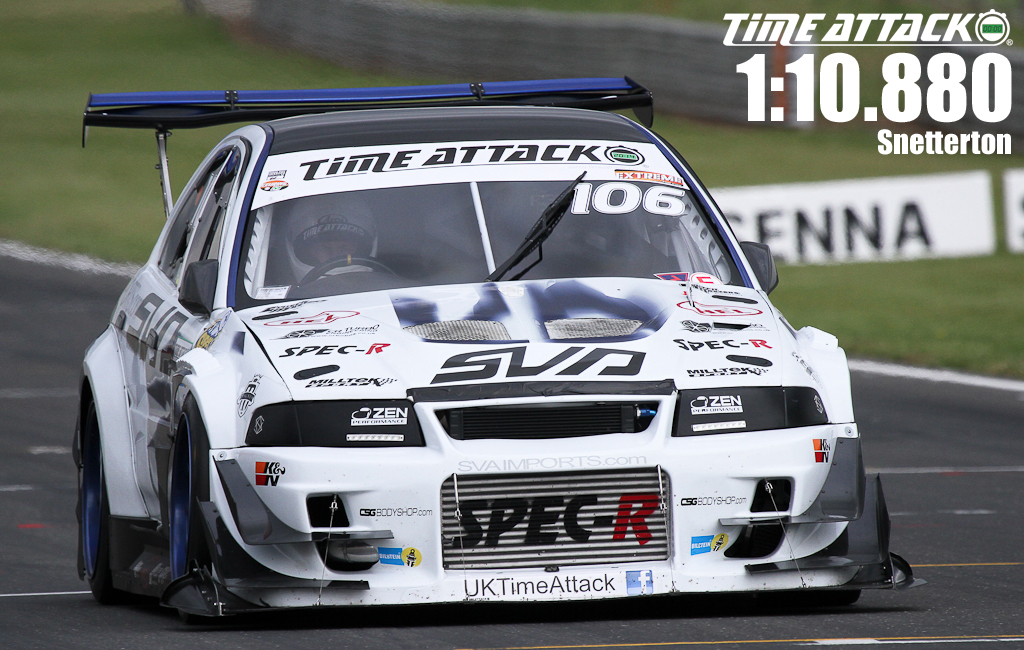 Olly Clark:Roger Clark Motorsport "Gobstopper II" Subaru Impreza
Fastest in the damp qualifying session by 0.266 seconds over Gareth Lloyd and SVA Imports, we were all looking forward to seeing a real shoot-out between the pair in the final. Unfortunately, GSII suffered a mysterious mechanical issue during the final 20-minute session, leaving a frustrated Olly Clark to circulate at low speed to collect some points. His qualifying lap was the second-fastest lap of the day.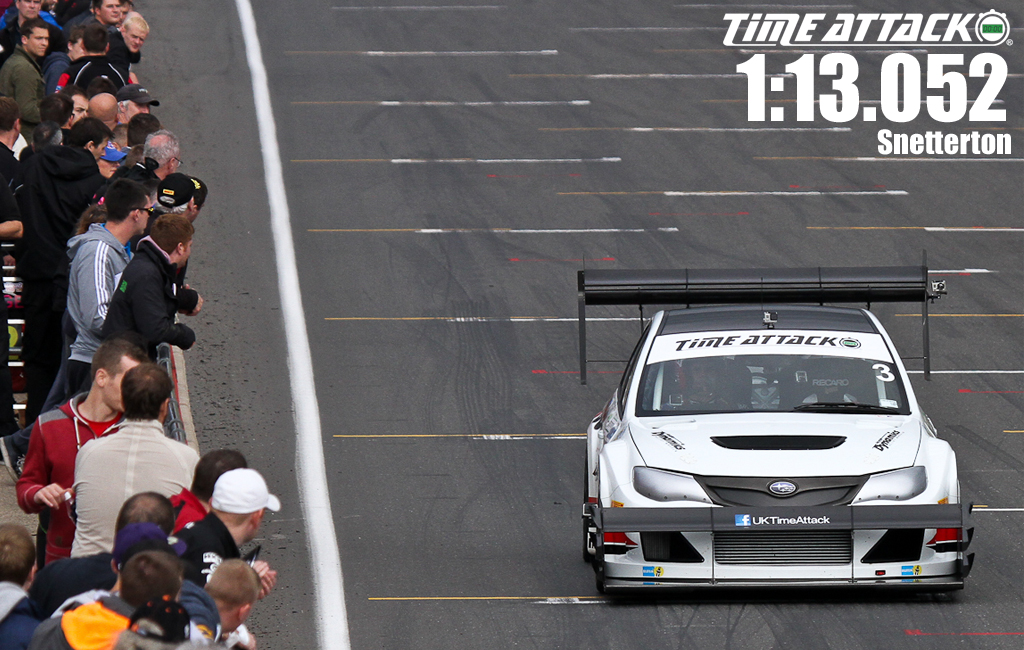 Marcus Webster:Midlands Performance Nissan Skyline R32 GT-R
If there was a time to call Marcus Webster an underdog, surely that time is coming to an end? Marcus' R32 GT-R isn't as 'Extreme' as some of the cars driven by his rivals. With a less specialised chassis and fewer electronic 'tricks' than some of the Extreme Class, it's assumed the 1,000bhp+ RB engine under the bonnet is responsible for his speed. While the speed trap backs up the huge power claims, with Marcus consistently being the fastest car across the start-finish line (at just over 150mph) – there's more to it than that. Marcus' Skyline is larger and heavier than some if his rivals and he still manages comparable lap times. Even more impressive at Snetterton, when his paddle-shift system failed followed by his flat-shift system, so he was shifting gears manually.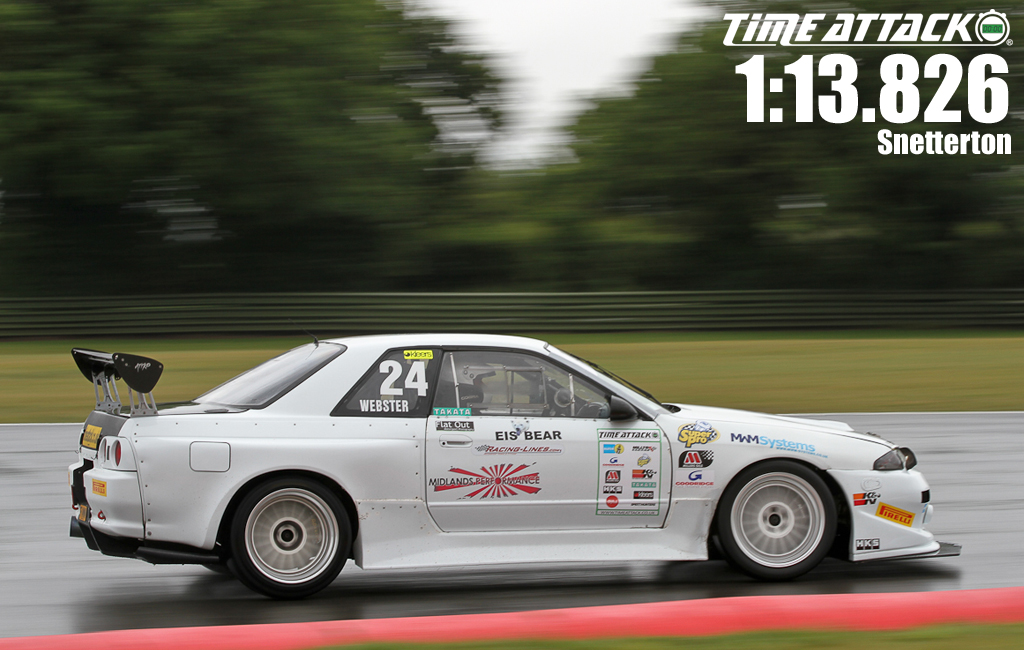 One-Hit Wonder (OHW) Andy Demitriou:"Black Mamba" Mitsubishi Evo 8
A brand new car driven by a new entrant to the Pro Extreme Class! Cypriot Andy Demitriou entered the last round at Knockhill as a One-Hit Wonder in a borrowed Porsche 991. Now he's back with a specially-built Evo 8, ready to take the fight to the UK Time Attack paddock. Andy was modest with his predictions for Snetterton, pointing out this would be the first time he'd driven the car in anger. After an exciting start, where Andy traded fastest lap times in the warm-up and practice sessions, the gearbox casing split and put him out of the event. Andy is a very welcome addition to UK Time Attack and there's no doubt both he and his car will get faster as the Championship continues.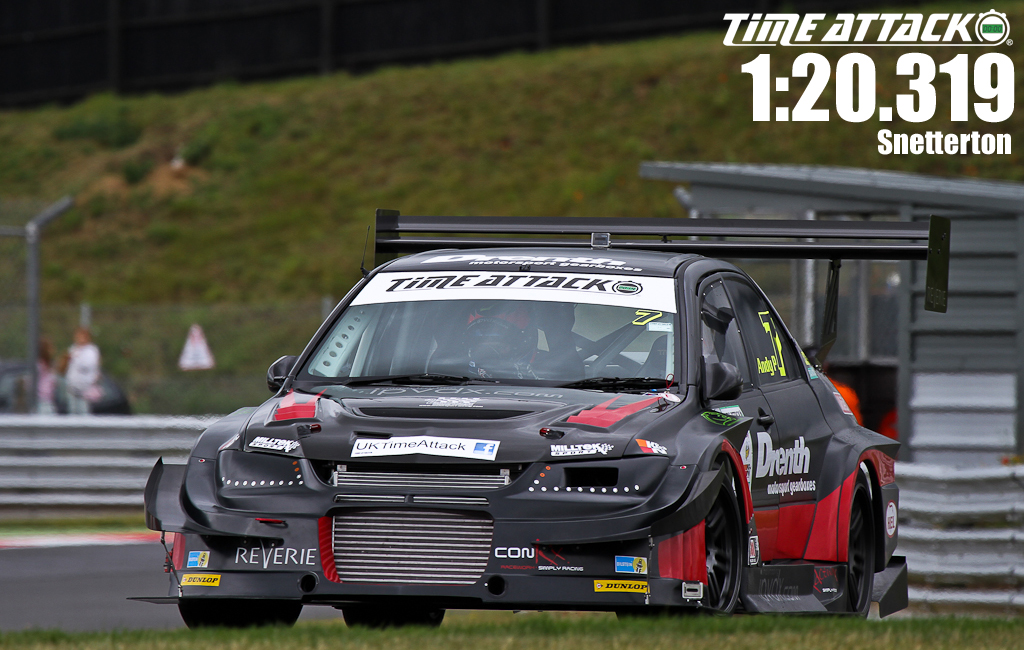 Granville Taylor:"White Wizard" VW Beetle Prototype
Another weekend to forget for the unluckiest man in Time Attack. A wiring issue kept Granville out of the warm-up session and minimized his running in the Practice session. In the final, Granville pulled into the pit lane with smoke or steam pouring from the prototype he built from a '60s VW Beetle road car. Granville set his fastest time during qualifying. We're crossing our fingers and avoiding walking under ladders on Granville's behalf for Cadwell Park. To his credit, Granville was still smiling despite his obvious disappointment.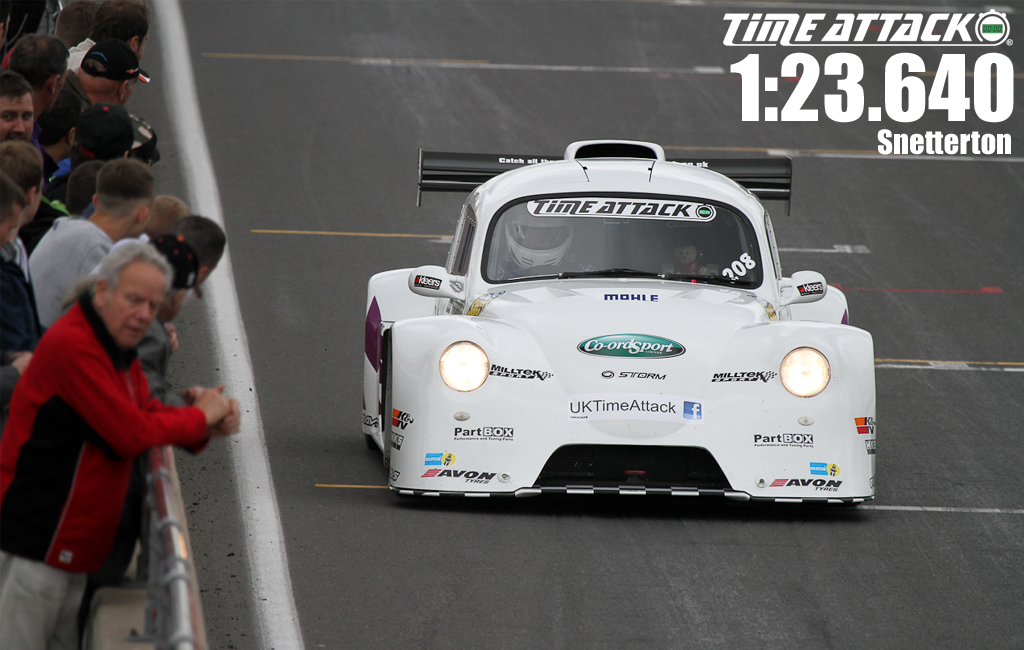 PRO
Richard Marshall:HEL Performance Mitsubishi Evo 9
After missing out on Round 2, Richard Marshall needed a strong weekend at Snetterton, and that's exactly what he achieved. In the build-up to the event Richard's Evo underwent further tweaks; Tracktive Solutions lowered the engine and gearbox by 20mm, fitted a new Quaife gearbox, a new paddle-shift system and had Owen Developments design and build a new turbo for the car. In changing conditions with no intermediate tyres, Richard had to gamble on either slicks or wets. Somehow he managed to make the right choices, qualifying in 1st place in Pro with a three second gap to his nearest rival. Richard then went on to set his fastest lap in the final, despite having an issue with a boost hose clamp that meant he only got a couple of laps in. Maximum points for Richard at a critical time in the Championship.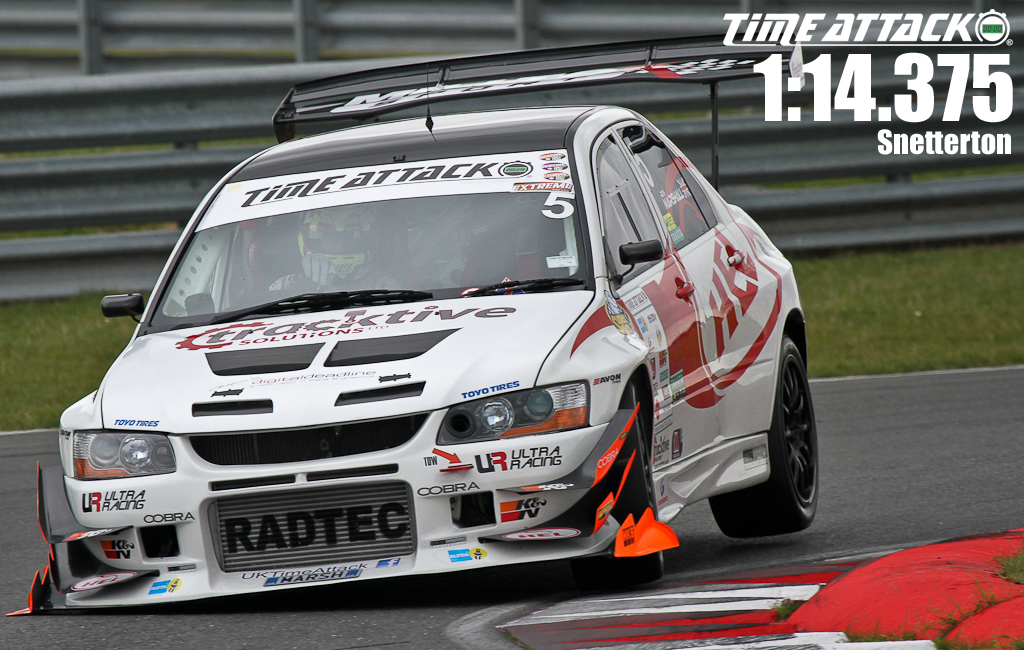 Scott Robson:RA Motorsport Subaru Impreza
If there was an award for pounding in the most laps, Scott Robson might well have won it. Every session the white and red RA Motorsport-supported Impreza was flying around the track, even when most of Scott's competitors had pitted due to rain. During the day, Scott was black-flagged for breaking the noise limit. Cue a scramble from the RA Motorsport guys to cut and re-weld the exhaust!  Scott's reward was the second-fastest Pro time of the day, set during the final, and second place on the podium at the end of the day. Although he was left slightly frustrated, as a rising oil temperature forced him to abandon what he is sure would have been his fastest lap in the final.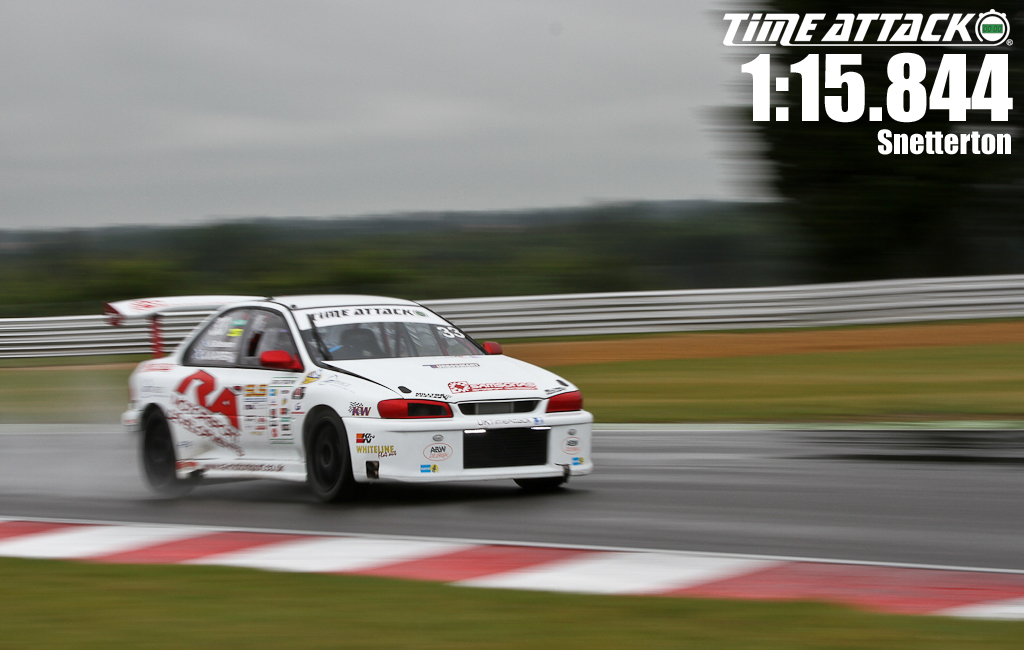 Simon Deaton:HEL Performance Porsche 997 Cup
One of the few drivers in the pit-lane pleased to see rain, Simon Deaton completed more wet laps than anyone else. The Porsche driver loves wet conditions, as he claims it pushes the focus from the car and towards the ability of the driver. A positive weekend for Simon, who missed out on second place in the final by just 0.6 seconds but still grabbed third spot on the podium.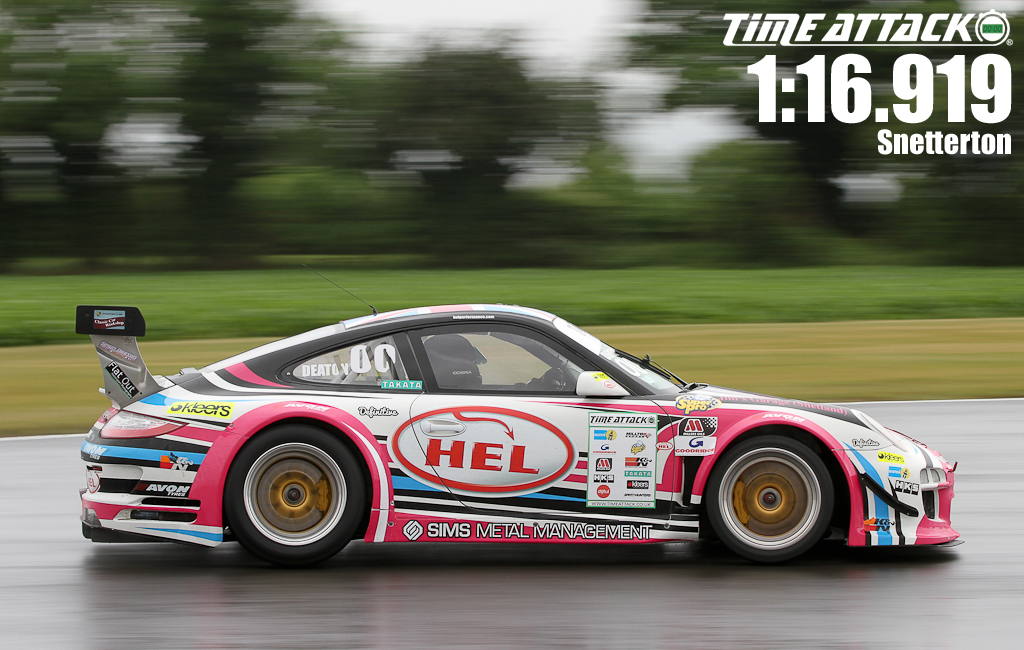 One Hit Wonder (OHW)  Peter Cook:AP Tuning Mitsubishi Evo 9
Newcomer Peter Cook drove very well in his AP Tuning-supported Mitsubishi Evo. The stealthy black machine sounded very nice too. Peter failed to record a time in the final, setting his fastest time of the day during qualifying.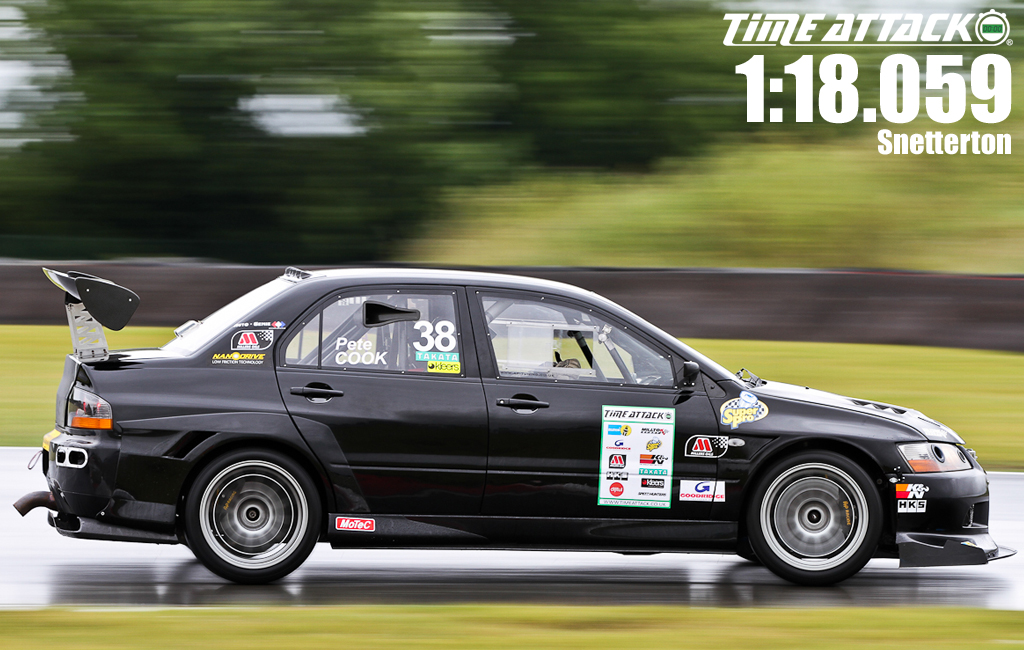 Club PRO
Andrew Barbour:NR Autosport Mitsubishi Evo 5
The exhaust note of this Mitsubishi sounded particularly fearsome all day, perhaps a reflection of Andrew's focused aggression for this round? Andrew had a few issues with the car which were thankfully sorted quickly by Nick Rountree of NR Autosport. Andrew was understandably delighted with his day; 2nd in qualifying and 1st in the final, where he also set the fastest time of the day in Club Pro. The fight for the Championship is still on.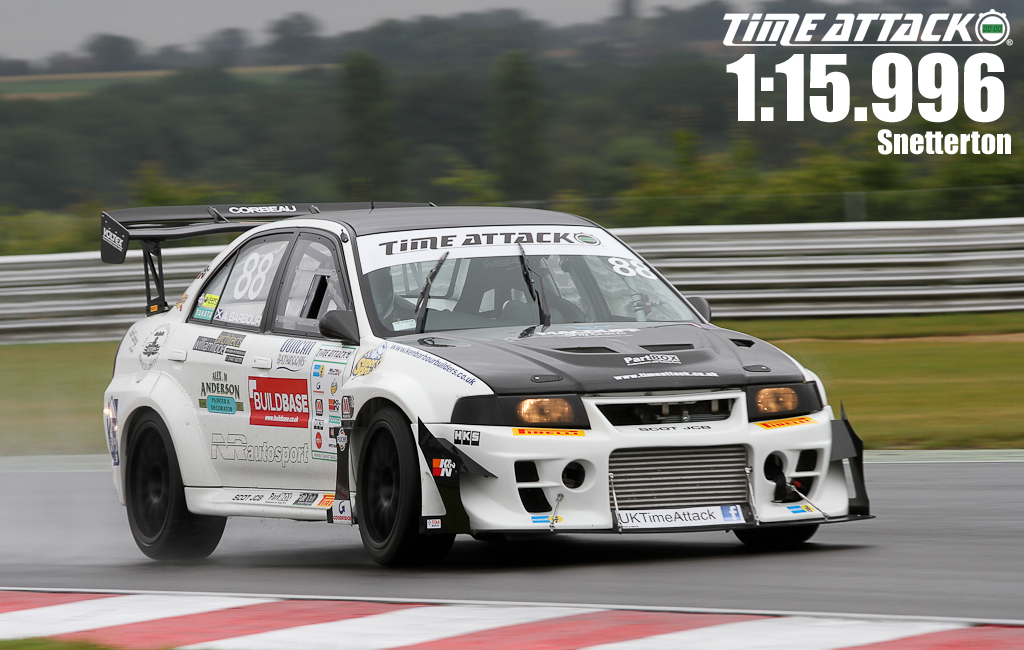 Phil Reed:AP Tuning / Ross Sport Mitsubishi Evo 6
A new spot on the podium for Phil this round, having won both opening rounds so far. During the warm-up, Phil managed to break his gearbox. It was a case of act fast or retire the car, so it was quickly taken on a 60-mile round-trip to the AP Tuning workshop where a new 'box was quickly fitted. The car returned to the track just in time for qualifying! Phil finished second fastest in class and second overall in terms of points, a great result considering the disasterous start to the day, valuable points were saved thanks to the quick-thinking and actions of Phil's support team. However, it does mean Andrew Barbour closes the gap slightly in the Championship standings. Cadwell Park will be exciting!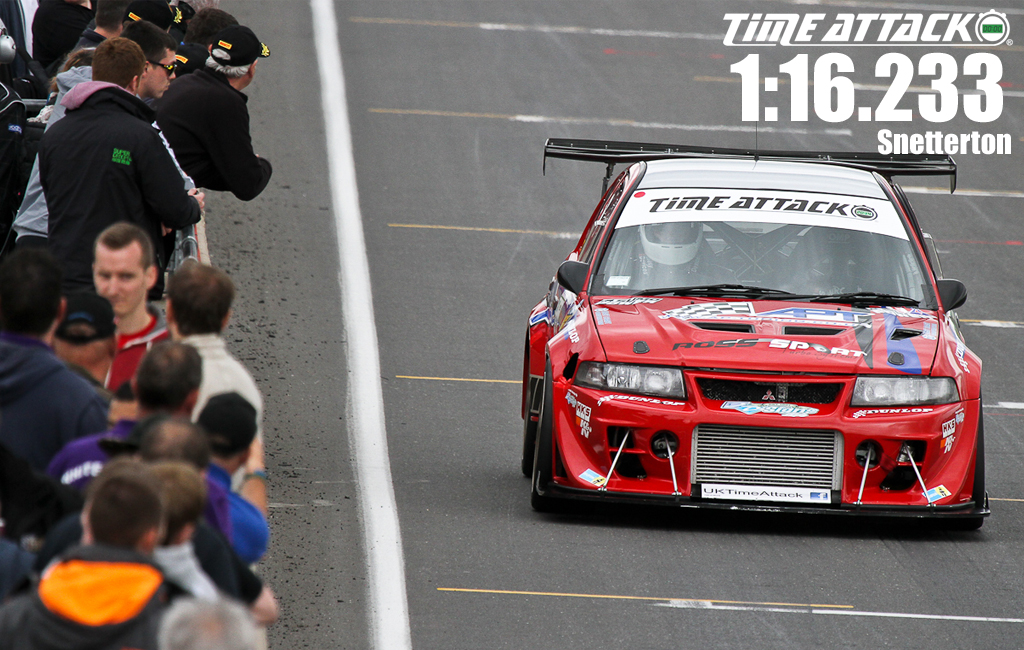 Russ Paton:HQ Garage Mitsubishi Evo 6
Rebuilt after that big crash last year using parts from friends, customers and Ebay, Russ' Evo is performing well above the level his budget would suggest.
 Ronnie Amis: Airtec VW Golf
Incredibly, the dry spells during the day were the first time Ronnie had driven the car in the dry! Ronnie's steep learning curve continues in the ex-BTCC Golf, although he says that both he and the Airtec team learned a lot at Snetterton. Hopefully we'll see him closer to the front at the twisty Cadwell Park next time out.
The next UK Time Attack event is Round 4 at Cadwell Park on Saturday 9th August and you can buy tickets HERE. Join us!